Ever wondered what some functions on a watch are there for and when you would ever use them? Don't worry, you're not alone, and we've got five of the coolest, but useless functions on watches today.
Watches are by design useful. At the very least, they tell the time. And maybe they tell what the date is, or the day of the week. And if you're lucky enough, they'll tell you the month, year, phases of the moon, what time it is in another time zone and let you time two things at once. So yes, depending on your profession and interests lots that can be useful.
We covered five of the most useful daily functions of modern watches a few weeks ago, which you can read here, but today we're looking at five cool functions, that are more about bragging rights than being useful in daily life. So let's dive in.
A Retrograde (Anything)
A retrograde function is cool. Essentially, rather than displaying a function like the seconds, minutes, time or date in a normal circular dial or window, it displays it in an arc. It counts up based on the function it's designed for, and for the sake of this explanation, let's say it's a date display with numbers from 1 to 31. Rather than just revolving around a dial in a circular fashion, once it gets to the end of the arc, it flicks back and resets, a little like a seconds hand on a chronograph instantly flicks back to the start on reset.
So, it's a cool show piece, especially if the function indicates a period of time that is short, like seconds or minutes that you can enjoy many times a day. Less so when it's a date as you'll probably never see it reset at midnight unless you stay up just to see it do it's party trick. Now whilst the retrograde function does display something useful, the actual retrograde function itself serves no purpose other than a cool movement flex!
The Rattrapante (Split Seconds Chronograph)
The Rattratpante, or more colloquially a split second chronograph, is one very cool complication, and in terms of chronograph complications, one of the most complex any movement manufacture can put into a watch. It allows a wearer to time 2 different elapsed times at the same time via multiple pushers and 2 chronograph seconds hands. Due to the complexity, this function usually comes on very high-end pieces, and as such, normally attracts a very large price tag. However, there are some more reasonably priced models out there if you look hard enough.
The Ratrapantte is a very cool function, rare and depending on your brand and model, a big flex for any wearer that will have fellow watch enthusiasts drooling over it at get togethers. But in everyday life, you'll find very few occasions to actually use it. Unless you're cooking a steak and need one rarer than the other…
The Flyback Chronograph
The flyback chronograph fits into a similar category as the above. The flyback chronograph allows the user to start the chronograph function, time a selected amount of time and then hit the reset pusher to reset the time and start timing again almost instantaneously without having to press the stop/start and then reset. Whilst it was designed to time laps without any loss of time, in the real world for us everyday wearers, it's not as useful.
As a party trick it's cool, you get to see the seconds function instantly flick back to start timing again, and on a model like the Zenth Defy 21 Ultraviolet, it's even cooler on the 1/10th second chronograph hand. At least if it's just to occupy the kids!
The Moonphase
The moonphase is a beautiful function and display on a watch. And some brands do these so very well using techniques from laser ablating, to detailed micro photo's of the moons, to gold discs with adventurine glass to represent the night sky behind. And some are stunning!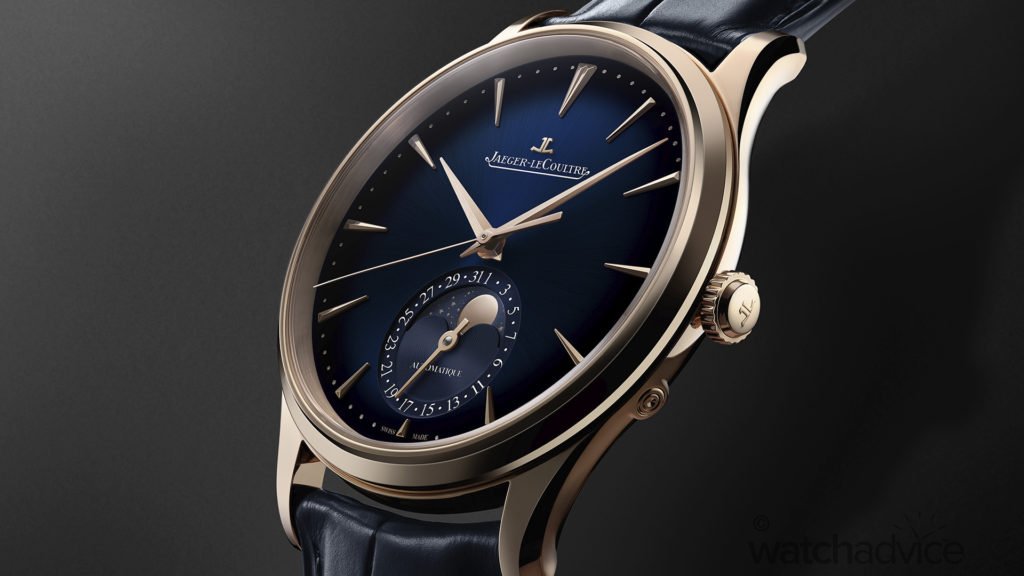 But how relevant and useful is it for most people today? If you're a budding astronomer, or need to track the phases of the moon to get that full moon photo then maybe. But for most of us, it's nothing more than a cool display on the dial that adds to the overall aesthetic of the watch. As not helpful as it is, it doesn't stop some of us from wanting one!
The 1/10th Second Small Seconds Hand    
We've saved the best for last! Out of all of the above, the 1/10th second small seconds hand is probably the least useful functions on a watch today. The four above have some real world applications should you choose to find it, but the 1/10th second small seconds hand has no purpose what so ever.
With a small seconds hand, it's just that. Shows the time ticking away as it should and tells you at what point in the minute you're at so you can set the time accurately and to a reference time. With the 1/10th of a second small seconds you can't really do this. The hands spins around the dial every 10 seconds and as a result, you don't have a reference point as to where it is. So why have it? Why not?! It's the pure definition of a brand doing something for no other reason other than because it can!
So there you have it. Five cool, but relatively useless everyday functions that you can get on a watch today. Most of these won't break the bank to have, but we would suggest asking yourself, why do I want this function? As with most watches, additional functions usually means additional dollars on the price.
Do you agree? Did we miss any that should be here? Tell us in the comments below.