Early March – Tissot released its new look line up of a revived model line, the Chemin des Tourelles, named after the location of the brands first headquarters in Le Locle. I had the pleasure of going hands on with several of its key pieces, and in particular the 39 mm version, with sunburst blue dial and brown leather strap.
What we like
Beautifully finished deep blue sunburst dial
Case wears comfortably on the wrist
Smart, classic design
What we don't like
Crystal reflects the light a lot, detracting from the dial
Clasp isn't as sturdy as you would expect
Movement could be finished better with the see-through case back
Overall rating: 7.125/10
Value for money: 7/10
Wearability: 7/10
Design: 8/10
Build quality: 6.5/10
Now I should start out by stating that this watch retails for AUD $1,175, which by many people's standard in the crazy world of watches we live in, could be considered quite cheap. However, this is a great entry level price point for a Swiss watch, and as such, I'm reviewing it with this in mind, and to be honest, I've worn plenty of watched that are 3x or more in price that are probably on par if not a little less appealing or well built! So, here we go…
Tissot holds a fond place in my heart. It was the first ever Swiss watch I bought. I had my first ever job in Sydney, and even though I wasn't earning much, being a junior sales co-ordinator at a major radio network, I wanted to reward myself. So one lunch time I went to one of the local watch dealers, and a Tissot PRS 200 Chronograph with a white dial caught my eye. The fact that is was quartz and on sale may have had something to do with why I bought it as well. It cost me a whole week's salary, and I ate packet noodles for the rest of that month. But it was so worth it!
So when I had the chance to review the newly released Chemin des Tourelles line, and wear a couple around for the week, I jumped at the chance. 20 years on, I wanted to see how Tissot fares today, now that I'm older and much wiser when it comes to watches compared to that 23 year old that bought his first Swiss watch.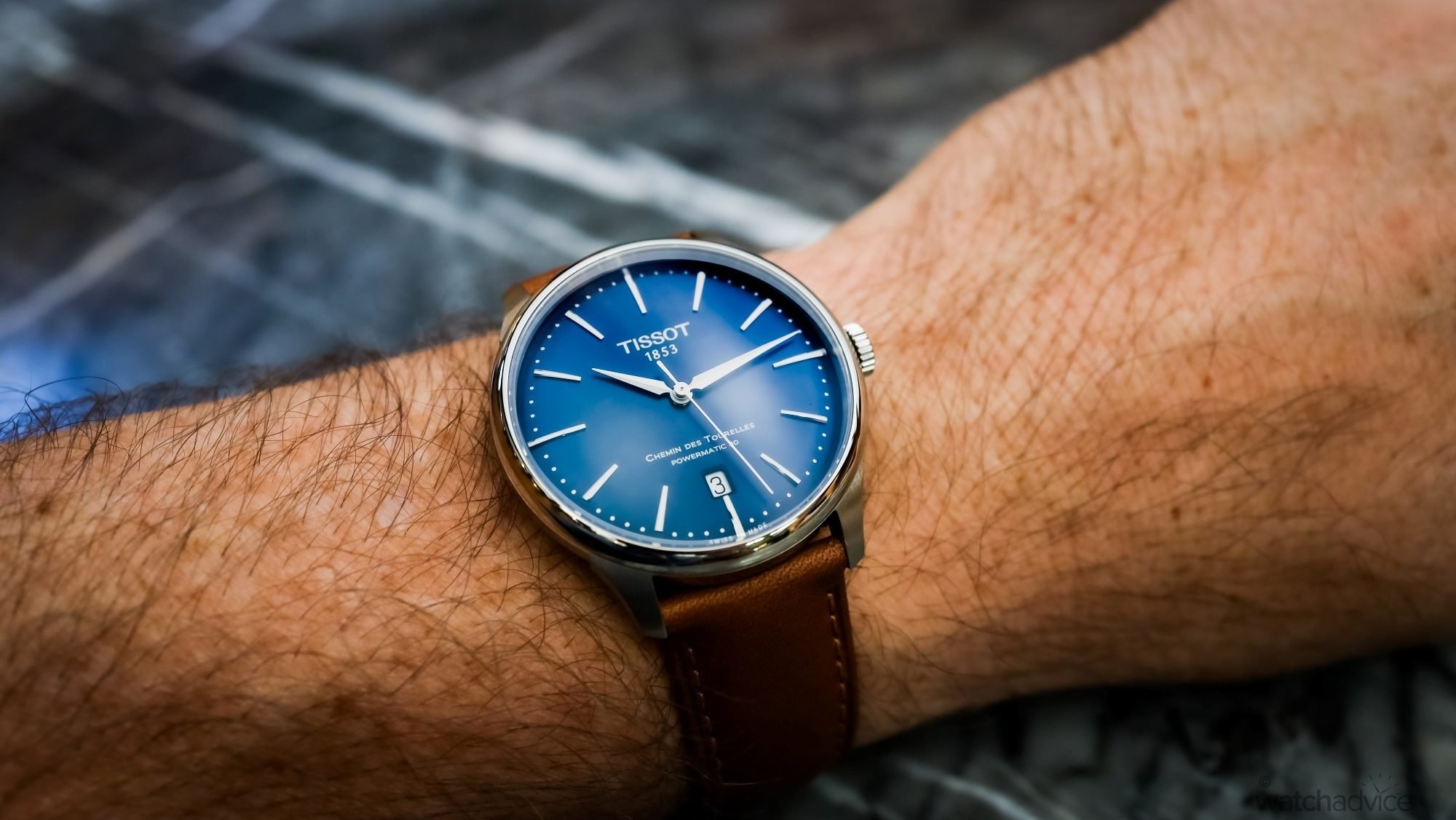 The Design
Opening the box, I was pleasantly surprised. The 39mm Blue Sunburst dial, on the brown leather strap looked surprisingly good for a watch at this price point. However, it represents decent value for money. I've seen a lot of not so good looking watches for 10x the price point, so for just over a grand, a nice looking dress watch such as this ticks a lot of boxes.
The blue dial is quite stunning to look at. Finished in a lacquered deep blue sunburst, it plays with the light a lot. Changing colours from almost black, to deep blue, to almost a navy blue with bright columns of light in the sun. One small irritation that myself and my colleagues had was the anti-reflective coating, or lack there of. Whilst Tissot says it does have an AR coating, the domed dial did reflect the light quite a lot, detracting from that stunning dial colour.
Offsetting the deep blue dial are the applied indices in polished steel with one small detail that I did think was unique – the dial curves at the edges to follow the curvature of the crystal, and as such, Tissot have curved the indices as well as the minutes and second hands. It's only noticeable when looking closely, so not to detract from the classic dial design.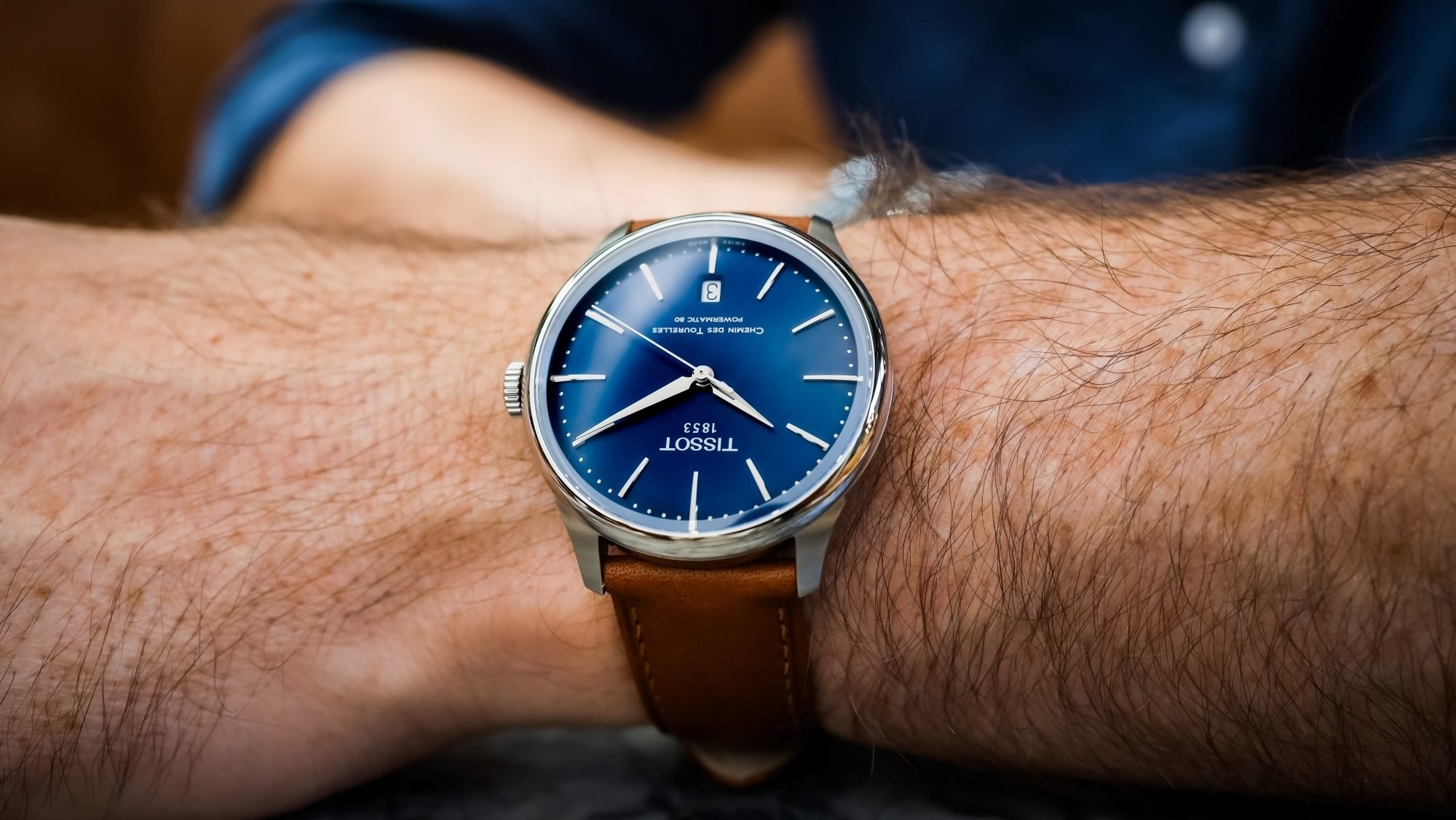 The case is finished well for a piece at this price – with a combination of polished steel around the dial, fixed bezel, and the case is angled with the top half finished in brushed steel, and the underside polished. This gives the case an almost three-dimensional effect, and is continued on down through the lugs.
The leather strap that comes standard with the Chemin des Tourelles is decent quality. Tanned cow leather, with a synthetic inner lining and bolstered and stitched. It's not buttery soft when you first put it on the wrist, but there have been very few straps I've tried on in my time that do. There are a couple of exceptions however, like the TAG Heuer Autavia Flyback Chronograph, which you can read about here.
The other added functionality which seems to be more and more common these days is the quick change strap and bracelet options Tissot have added. Tissot have gone in the direction of a slide mechanism on the spring bar, meaning you can just slide the lever, and pop out the strap or bracelet, and then quickly put the new one on. In my opinion, it's less refined than Zenith's push button, or IWC's clasp system, but again, this is a watch that costs around 10x less, so I feel it's right for this watch.
The buckle design is your typical push button deployant clasp, and Tissot have done a reasonable job with the look and feel. Polished outer buckle with the embossed "T" logo on the outside, and 2 strap minders to keep it in place and secure. If I had one small criticism of the buckle, I would say it was not as sturdy as I felt it could be, and you had to really make sure that it was secured properly, as it did pop open once or twice whilst fastening it. This is a minor irritation however, and not a deal breaker.
The Movement
Flipping the watch over, and the Chemin des Tourelles utilises a see through case back, showcasing the Tissot Powermatic 80 Movement with Tissot's patented Nivachron Balance. This gives the watch 80 hours of power reserve, which is superior to many other higher priced watches with less power reserve, and in addition, Nivochron uses a proprietary titanium based alloy for the balance spring, making it antimagnetic.
The Chemin des Tourelles isn't COSC, so a high level of accuracy isn't guaranteed. I had this on my wrist for a good week, and in that time, it didn't appear to lose a massive amount of time, maybe about a minute across the week, or approximately -10s a day. This is very reasonable for an automatic watch with 80 hours power reserve and whilst the movement finishing isn't stunning, I wouldn't expect it to be at this price, but the fact that you can see it, is a win in my mind!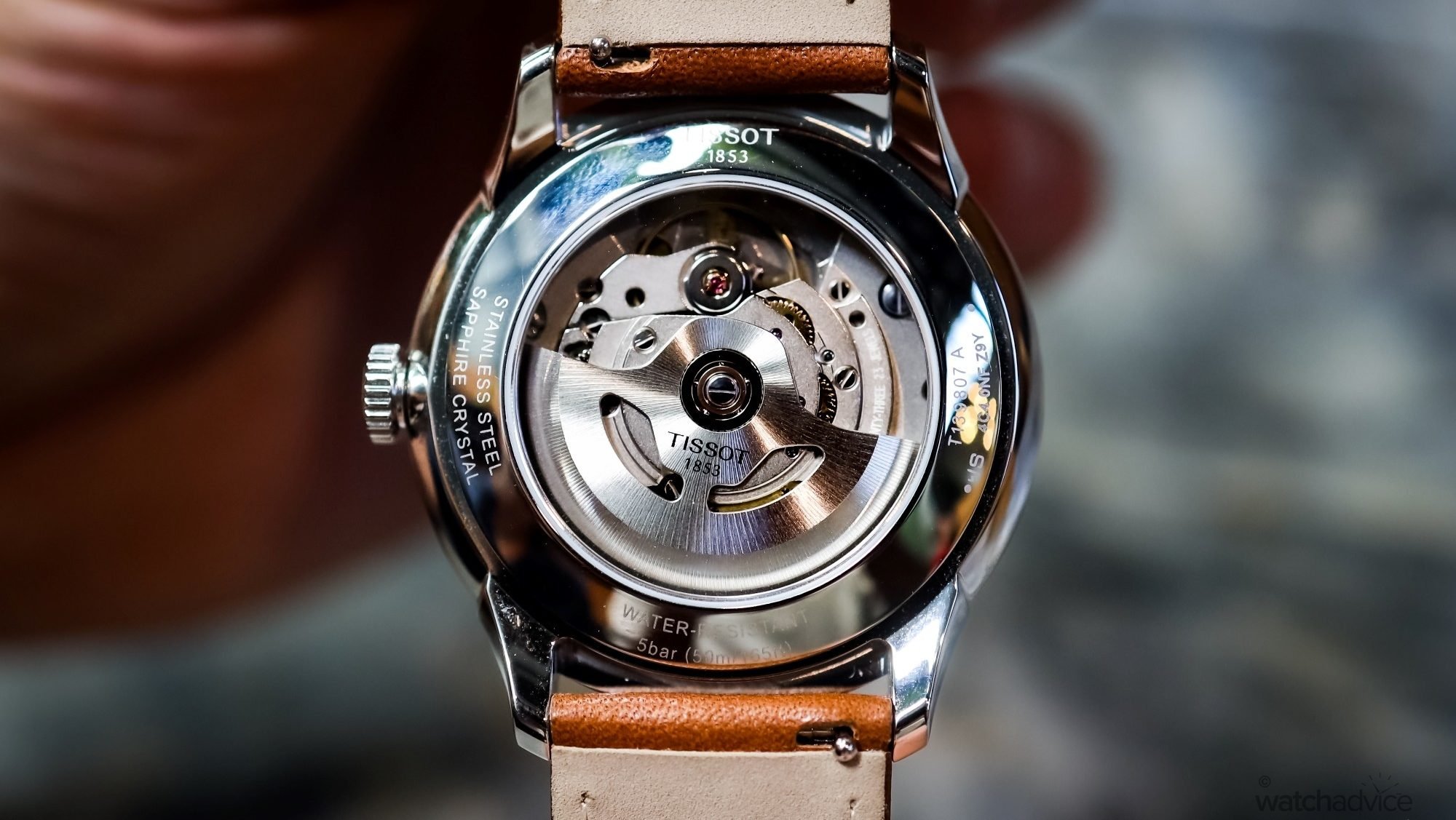 Typically, dress watches don't get much water resistance and 30m or 3bar is very common. Tissot have produced their new Chemin des Tourelles line with a much more attractive 50m or 5bar resistance. Now I don't think I would head to the beach, or dive in the pool with it on, as my comfort level is generally 100m for this, unless the watch has a screw down crown, and in this model, this is not the case. But it means that you can wear it everyday and not fear that you may get water penetrating the case through normal activities like washing your hands, watering the garden, or just playing with the kids under the sprinkler.
How it wears
Once the leather strap was worn in a little and shaped to my wrist, the watch was comfortable. Being a 39mm case, 42mm lug to lug and only 11.2mm thick (as the domed crystal adds a little height to the 8.3mm case thickness), it sits nicely. My wrist being about 17cm or so in circumference, I didn't feel that it wore too small, given I normally wear 40mm+ watches, and could easily be worn by people with much smaller wrists.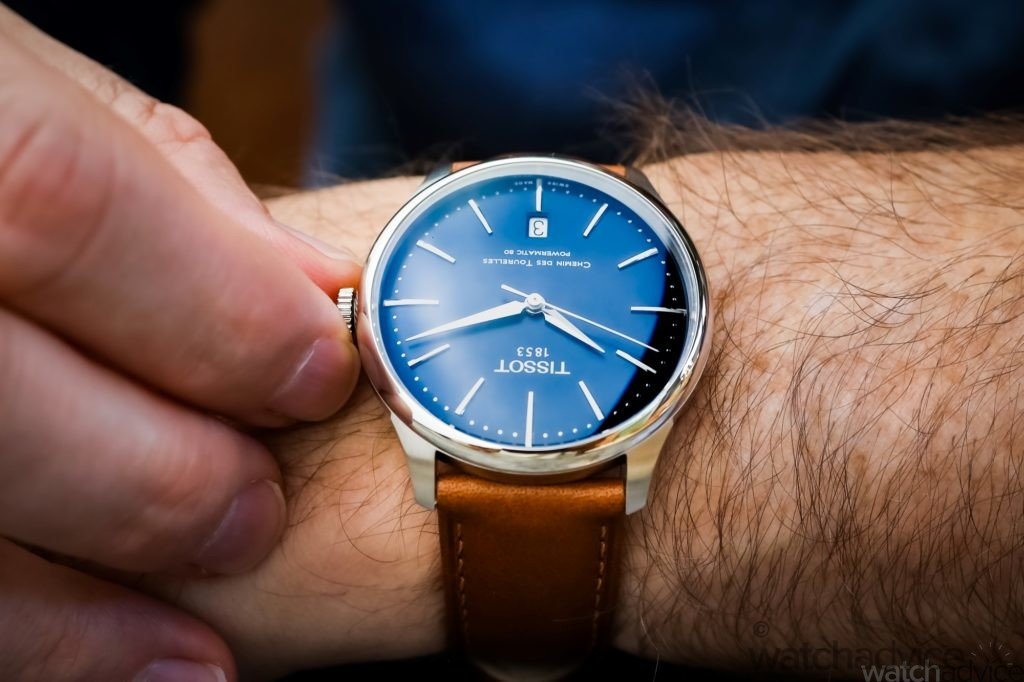 The short lug distance also makes the watch wear maybe slightly smaller than the measurements would suggest, but this is perfectly ok given the style of watch. Interestingly, I didn't think I could pull off this watch in a more casual setting, but as I'm not wearing a lot of suits these days, I was keen to give it a go.
The blue and brown combination does help dressing this down, and when paired with a casual summer outfit, actually worked well. I even received several compliments from people at the local café who noticed the watch and asked about it, and I was more than happy to have a conversation about it. If this isn't proof that watches can bring people together, I don't know what is!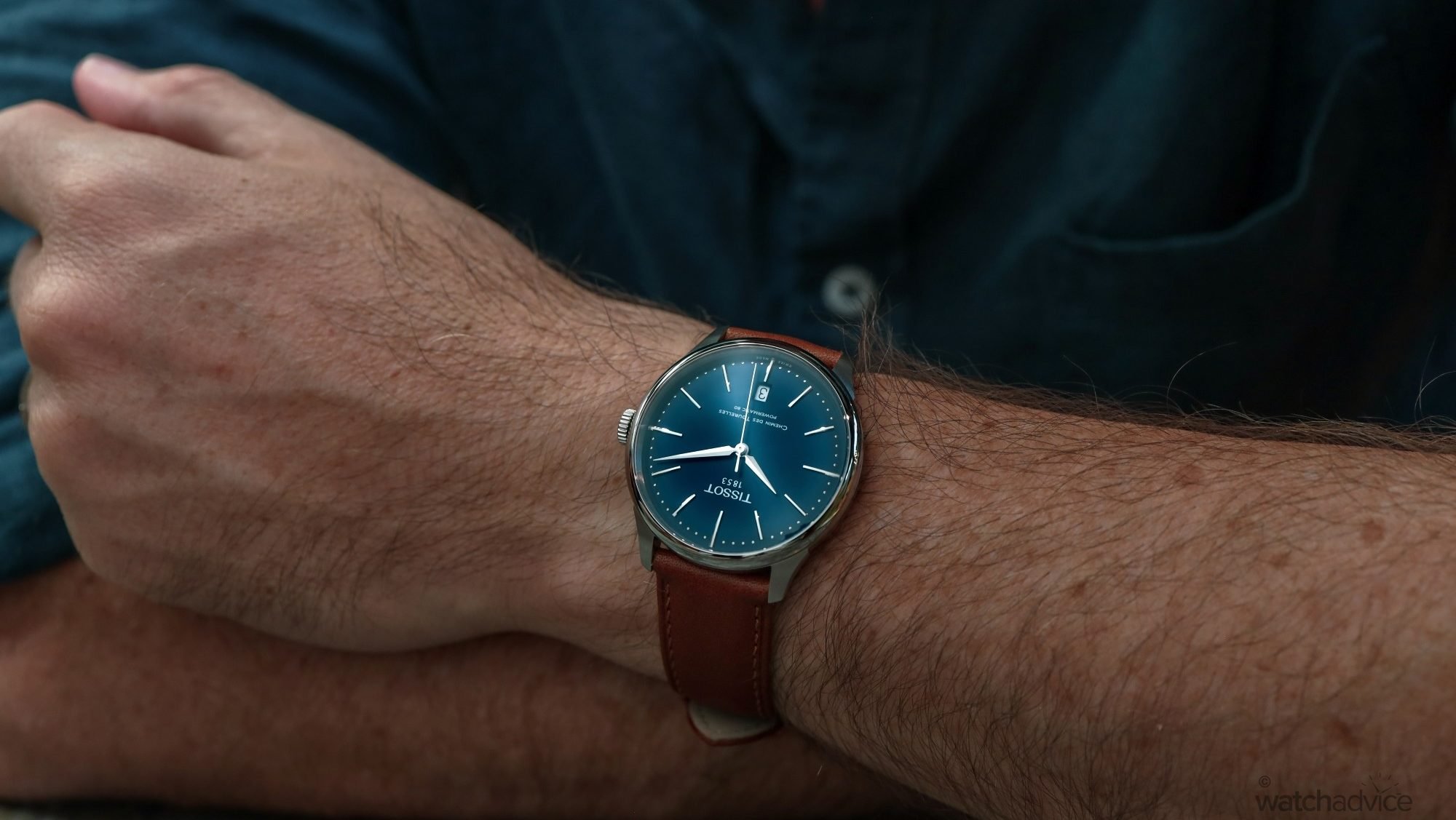 Whilst I mainly focused on the the blue dial variant with the tan leather strap, I also had the pleasure of trying out the grey dial on steel bracelet to compare and contrast the two. Whilst they are the same watches essentially, the design aesthetic makes a huge difference. The slate grey dial gives the face an almost industrial look, and on the steel bracelet the watch becomes much more less a dress watch, and more of a sports watch, albeit a dressier one.
The fitted bracelet works well with the lugs and moulds to the wrist well. Initially I thought it may wear slightly bigger, but I did not notice much of a difference at all. This fact is good to know, as it means that if you wanted to change the strap for the bracelet over, you're not fundamentally altering the way it wears, or appears to wear!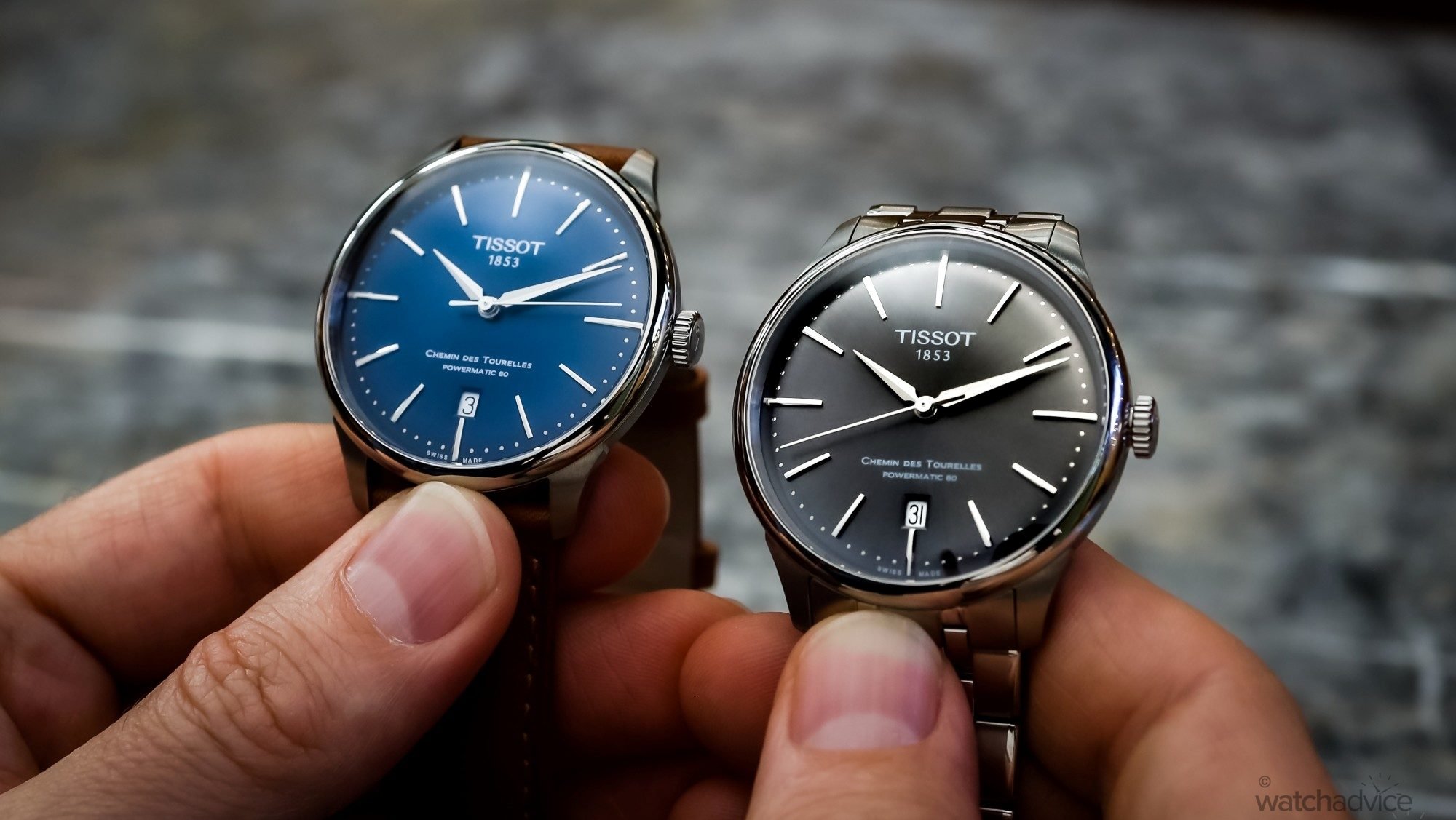 The bracelet design is quite classic – keeping with the traditions of the model line. The five link bracelet is somewhat reminiscent of the Omega Seamaster bracelet, with the brushed middle and outer links contrasted with the polished smaller inner links. On this piece, it does seem to complement it well, and whilst I know that this style of bracelet may have detractors due to it being a little dated for 2023, it does add to the more dressy nature and charm of the Chemin des Tourelles.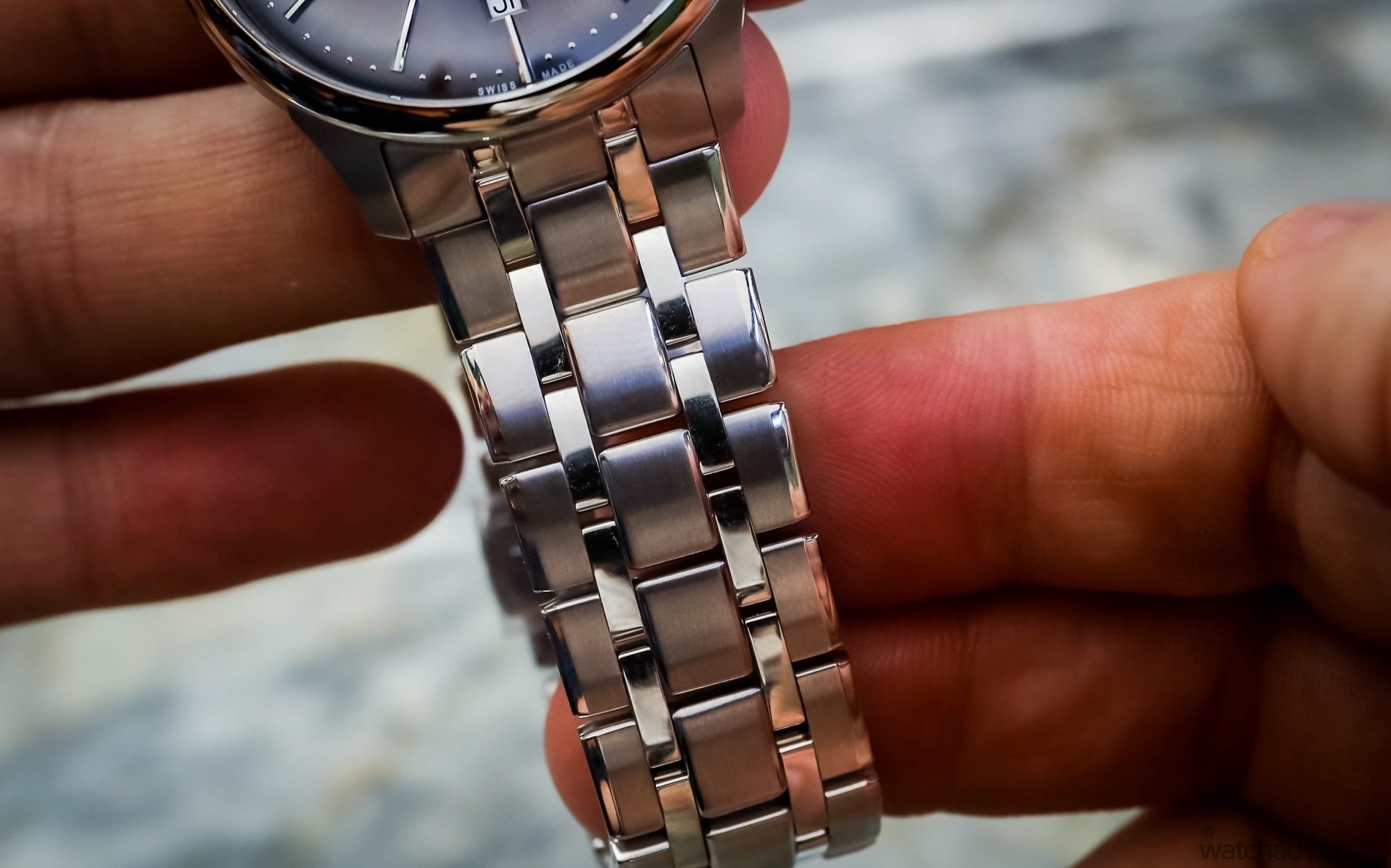 Final Thoughts
The new look Tissot Chemin des Tourelles gives watch enthusiasts a great option at the circa $1000 price point. This makes it perfect for the new collector looking for a nice and well put together watch, without having to spend copious amounts of money. With an 80 power reserve, and great looks that rival a watch at 2-3 times the price, Tissot has given new (and even seasoned) collectors something to consider. Whilst it doesn't have the manufacturing quality or finishing of other pieces, it's not meant to in my opinion. This is a value play, and Tissot has delivered on this. I'd say go check out the pieces for yourself, and make your own mind up. But remember, for AUD $1,175 on leather and $1,300 on steel, there are few swiss brands that will be comparable. The closest I can think of is the Longines Elegant Collection, but at around AUD $3,000 for similar style, size and specifications, whilst better finished, you're still paying almost 3x the price. And it is for this reason, the new Tissot Chemin des Tourelles collection should be considered!
Reference: T139.807.16.041.00 (Blue dial, leather strap) /
T139.807.11.061.00 (Grey dial, steel bracelet)
Specification:
Case: 39 mm, Lug-Lug 42mm and 11.2mm thick
Case Material: Combination of brushed and polished 316L Steel
Dial: Sunburst Blue / Slate Grey
Crystal: Sapphire crystal, scratch resistant with anti-reflective coating
Water resistance: 50m / 5bar
Movement: Tissot Powermatic 80.111 with 23 Jewels and Nivachron Balance Spring
Power reserve: 80 Hours
Strap: Tan Cow Leather outer, synthetic inner lining / 5 link brushed and polished steel bracelet
Australian Recommended Retail Price: Collection ranges from AUD $1,175 AUD on leather, through to AUD $1,300 on steel
Availability: Available online at tissotwatches.com, Tissot Boutiques and Authorised Dealers now