With many complications and functions available on watches these days, it's hard to know which are useful for everyday. So we're taking a look at five of the most useful daily complications on the modern watch.
Telling the time and date will be what 90% of us use our watch for. However, there are a lot of complications that brands add to watches these days. Some are highly useful, and some are just there to show off – both for the brand to showcase their horological chops, and for the wearer who's probably forked out a lot of money for it or just plain nerding out on it!
But what other functions and complications can be useful in our daily lives? Now I'm not talking basic day and date functions here. Whilst these are technically complications, these are common for almost every watch brand to have a piece with either day or day/date. And for the purposes of this article, I'm excluding small seconds too – as this is just another iteration of a seconds hand, albeit a slightly harder to make one.
No what I'm talking about are complications or functions that may not be on every watch, ones that are specific to some models for specific reasons. BUT…all have great uses in every day life, or have reason to be used regularly if not each day, and some you may be aware of, and some you may not have thought of!
The Dive Bezel
Whilst this was originally designed as an easy way for divers to time their dive and make sure they had enough air, the dive bezel can be extremely useful in daily life for timing well, anything really. Want to boil rice for 10 minutes? Need to visually show your 6 year old how long 'til we leave for Grandmas? Cooking a roast and can't be bothered to go through the hassle to set the oven timer? Easy, set the bezel so the required time minute marker aligns with the minute hand and counts down to the triangle lume pip. It's easy, super quick and as it counts down, you can quickly see how long you have left.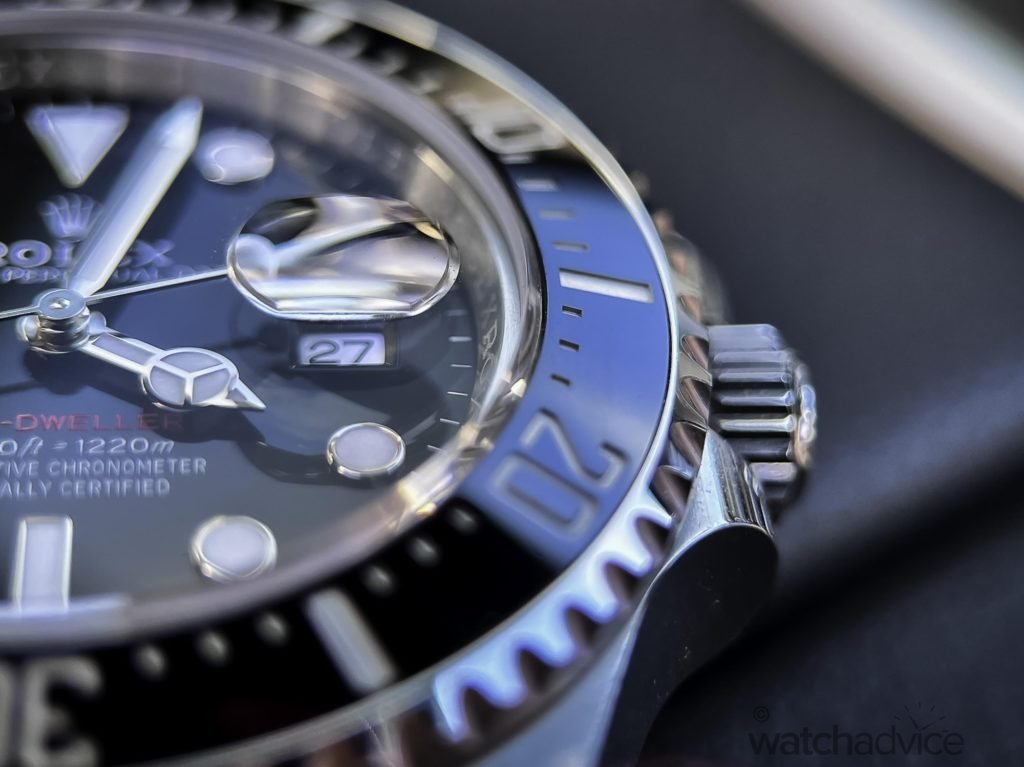 This is one function I've come to use a lot nowadays, and being very honest, not something I ever used to do with a dive bezel, and I've owned quite a few divers! For me, the ease and quickness of use for anything under an hour (which is 99% of stuff I need to time) is what makes it super useful. The example above about letting your 6 year old know when it's time to leave is actually one I do a lot. Kids are visual, so to set the bezel for however long it will be until we need to go out makes it easy for her to visually process in her mind. It's gold!
The GMT Function
Whilst the GMT function was originally designed for pilots, it's actually a pretty useful function for both travellers and when you're not changing time zones. These days may more of us are travelling overseas, or interstate where you have different time zones, so a GMT where you can track a second, or third time zone is very useful.
When you're not travelling, it's still great to track a second time zone if you've family or friends across the country or the world, or making sure you're not scheduling those pesky conference calls with interstate colleagues at the wrong time! If you haven't read our article on the GMT and it's functionality, then read all about it here!
The Perpetual Calendar
Now I said at the start I wouldn't look at a basic day or date function, but a perpetual calendar is anything but! The one drawback of a mechanical watch is that for most with a day or date (or both), you still need to adjust it regularly to take into account those months with only 30 days, and of course February. It can be annoying!
The perpetual calendar solves this by only needing to be adjusted in most cases, once every 100 years. Through the marvel of science and engineering, the perpetual calendar takes into account each day of the month, and every month of the year, even taking into account leap years and on some watches, moonphases. It's perfect for those that don't want to change the date every second month or so, and with the money to afford one, as you'll be hard pressed to find one under about $40,000!
The Chronograph
We looked at the dive bezel above as a great way to time things, and it's great when you want to time a known period of time, like 10 minutes to cook rice. However, the chronograph is much better at looking at elapsed time for an event that has no known time – such as for motorsports to track lap times. Cool, but unless you're Max Verstappen's engineer on the Red Bull pit wall, not all that useful in daily life.
But, bare with me here. It's great for occupying kids! My 6 year old daughter absolutely loves the chronograph function on watches. She loves pressing the pusher and starting it, stopping and resetting it. Whilst I don't encourage this too often, it's great bonding with her over something I love. You can also get your kids to do stuff fast, and make it into a game, seeing how fast they can do the chore and time them on the watch. Give it a go and see, you'll thank me later!
The Minute Repeater
This is one complication that normally requires some serious dollars. However, there are some pieces on the market like the Christopher Ward Bel Canto that have a chiming function for under $5,000. However, for most, you're looking at 10x this at least. But, if you have the cash, then a chiming watch can be useful.
Depending on the brand and model, you can set the chiming function to sound at certain intervals within the hour or on the hour. Great for making you aware of time going by, and if you're in a job that requires you to keep track of time regularly, like a lawyer or accountant that works with billable hours, then a minute repeater is a cool useable function that let's you know how time is tracking.
So there you have it – five useful functions and complications that you can utilise daily or weekly on a watch. Whilst there are plenty of other complications out there, some useful, and some not so useful, these are probably the most useful on a regular basis.
Agree of disagree? Leave your comments below!