After seeing the press release, then having all three colourways for our hands on review for a few weeks, I pulled the trigger on the yellow Tissot Sideral S. But why?
I've been wearing the yellow Tissot Sideral S now for about 2 months. And whilst we already did a hands on review on the collection, which you can read about here, this is an "Owner's Perspective" with a difference. I mean, how can I do another review of a watch that I reviewed a few months back?
To start I thought I'd elaborate on my review, especially now than rather than playing around with 3 colours, I've just the one to wear as part of my small collection. I said that the Tissot Sideral was one of those watches that you buy to add to a collection, not to start it, or to have as your one watch. Mostly because it's not an everyday watch when you think about. It's bright yellow for one, with a yellow inner track on the dial and a kind of pointless regatta timer on the inner scale.
To add to this, its black carbon case isn't all that versatile either, nor is its looks. It's a very out there sports watch. BUT that's exactly what it's designed to be. A faithful recreation of the original yellow fiberglass cased Sideral S from 1971. However, with 300m water resistance, Tissot's PowerMatic 80 movement with 80hrs of power reserve and their anti-magnetic Nivachron balance spring, it's the perfect weekend watch, or holiday watch, or really, anything that you want to wear it for when you just want something fun on your wrist.
Thankfully here in Queensland, Australia it's Spring time, and as we don't really get all that cold, spring is the start of Summer, even in September. And with school holidays fast approaching, I decided that testing out the Sideral on a week long holiday up on the Sunshine Coast at the beach with the family was exactly the place to wear this each and every day – along with a few others of course!
On The Wrist
I mentioned in the Hands On review that it wore super comfortable, given the pretty soft and flexible rubber strap, and being proportioned at 41mm in diameter with really no lugs, it hugs the wrist perfectly. Which is exactly what you want when you're in the surf, or out in the heat with sunscreen on combined with sand and sweat.
The one aspect I wasn't 100% sure of was the strap fasteners. The Sideral has a unique strap where you thread one half through the other, and then with the studs, push then through the holes on each side to fix in place. This made me a little uneasy as I thought they would be easy to knock open, however, I've not yet had any instance of this happening.
Even with the body surfing I've been doing all this week, or taking my daughter out into the surf and playing around with her jumping in the waves and throwing her around in the pool (yes, my 6 year old loves anything that involves water, jumping, diving and me throwing her into the pool doing summersaults!) And the strap didn't budge! The other aspect is that when fastened snugly, you don't ever feel the need to try and loosen it like you would with a steel bracelet, or leather. It just hugs the wrists perfectly, and never really gets uncomfortable. It's a nice change.
The Looks
Really, this is summed up by saying "It's a bright yellow sports watch!" But, I love this fact. Over the European summer, we've seen a lot of higher end brands bring out 'Summer Watches', from Hublot's Big Bang Unico launched on the French Riviera in a Mediterranean Azur blue and white to Omega's 75th Seamaster collection they launched in Mykonos in "Summer Blue" to Zenith's Defy Skyline in an iced blue dial and strap combo. Summer is all about being bright!
The Tissot Sideral has this in spades. And whilst most of these brands that launched summer watches did so in blue colour variants, I loved the fact that whilst Tissot has a blue, the yellow just popped on the wrist, and wasn't something you'd see on many other wrists, or any for that fact. Whilst I've seen others in a few online forums and chat groups I'm apart of, I'm yet to come across one in the wild first hand.
Summer for me is all about getting out, doing fun things outdoors with the family, and 8/10 times, this involves activities on the coast thanks to our proximity to some of Australia's best beaches. So a summer watch needed to be able to handle this, and look somewhat fun and funky on the wrist, and what better colour to represent this, and go with a pair of board shorts than bright yellow!
The Value Proposition
I put my order in for the Sideral S back in June, just before the July price rise that all brands seemed to have implemented. So for around AUD $1,500, it was hard to pass up. Even now at just a tad over AUD $1,600, it's still great value for money in my mind. Not only is it a fun, easy wearing comfortable watch, it's an automatic with 80 hours of power, 300m water resistant, anti-magnetic and very robust. It's not a watch that you feel you need to baby, and nor should you. It's meant to be worn and worn well.
It's also a fun watch to photograph. Whilst this is probably not high on the list of 'Must Haves' for most people, being a watch journalist and photographer, it's kind of up there on my list. I've fallen in love with watches in the past purely on how they photograph. Whilst the domed sapphire crystal does sometimes make it a little tricky (nowhere near as hard as my Panerai Luminor 312), the contrasting yellow and black on the case, dial and strap is cool, and if you get the right angle and light, makes for some great shots!
The other thing that gives the Tissot Sideral value, at least in my mind is its uniqueness. There are loads of other watches out there that look somewhat similar to each other. Dive watches are especially guilty of this as many try to take design cues, or just blatantly rip off the Rolex Submariner or a myriad of Seiko divers that all have similar looks, and again, taking some cues from the OG Sub.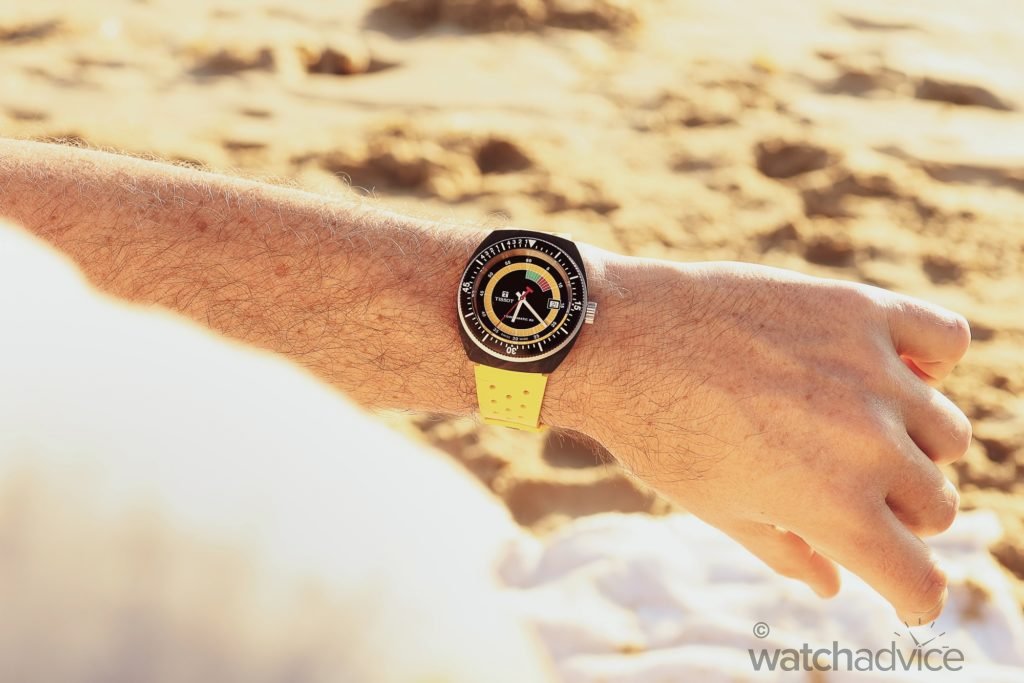 The Tissot is just Tissot through and through. An homage to the original Sideral from 42 years ago, just a little more modernised and updated for a 2023 watch buyer. I had someone comment on the fact it looks like a Doxa, which in some ways it is. Doxa brought out their Sub in 1967, 2 years prior to Tissot introducing the Sideral. However, if you look vintage Seastar divers from the late 60's, you'll also see some resemblance too – but then again, this is the world of watches, no design is ever sacred!
Final Thoughts
The Tissot Sideral S is a great watch to add to the collection if you're like me, and want something knock about and fun. A watch that won't break the bank, and can be added to a collection to break up the everyday. And whilst it's not an everyday watch in my opinion, this is all subjective to what your everyday looks like. If you're a surf instructor, or a life guard, or someone who is always outdoors and doing active things, then maybe it is your everyday watch.
I wore this everyday on my holidays and loved it, and once I return to my normal, then it will take a slight back seat, but will still see wrist time at least a couple of times a week, even if it's just to get in a quick gym session or I'm wanting to break up the day and wear something that is joyful! Watch collecting is about having fun, and sometimes we need to remind ourselves of this. The Sideral does just that for me…which is why I bought it in the first place!
Reference: T145_407_97_057_00 (Yellow)
Specification:
Case: 41mm diameter, 46.5mm Lug-Lug, 14mm thick
Case: Forged carbon and stainless steel case with black PVD, unidirectional, watersports look bezel
Dial: Black dial with multi-coloured luminescent hour and minute markers with regatta countdown using Super-LumiNova®. Hour and minute baton hands coated with Super-LumiNova®
Crystal: Sapphire crystal
Water resistance: 300m / 30bar
Movement: Mechanical self-winding Powermatic 80 Nivachron movement
Power reserve: 80 Hours
Strap: Perforated rubber strap with unique bracelet fastening system
Australian Recommended Retail Price: AUD $1,635
Availability: Available online at tissotwatches.com, Tissot Boutiques and Authorised Dealers now.