Over the past couple of weeks, I've been playing around with the new Tissot Sideral collection, and at first I wasn't sure of what to make of them. But after trying them on and wearing them, I now get it!
What We Love
Bright colours really pop
Super comfortable to wear
Totally unique look
What We Don't
Strap fastening system
Bezel action is rough
Not an everyday watch or for everyone
Overall Rating: 8.125/10
Value for money: 8/10
Wearability: 9/10
Design: 8/10
Build quality: 7.5/10
Initial Thoughts
When I first saw the press release on the Tissot Sideral collection (Which we covered here), I wasn't sure what to make of them. A colourful re-invention of a sports watch from 1971 with a regatta timer – would it work? The short answer is yes, it does! A fun and playful watch, these are not to be taken seriously. Whilst the original was a serious watch 50 yeas ago, the 2023 Sideral takes that seriousness and flips it on its head.
At $1,550 AUD, these are not overly expensive pieces in comparison to the larger world of luxury watches where many pieces are now into the $10,000+ range. And I'll go out on a limb here and say these are not entry level either, despite their price. Why? Because they're not an everyday wearing watch, they are designed to have fun with, and in my opinion, this is a watch that even seasoned collectors can add to their collection for that reason. After having all three models for a couple of weeks to play with, I'm even considering getting one. And here's why…
The Design
The new Tissot Sideral collection is based on the 1971 Sideral S model, which according to Tissot, "embodied innovation, adventure, and the excitement of the unknown". It was a serious watch designed for people who needed a piece that could handle what you dished out. Fast forward to 2023, and the new Sideral collection has taken it's 52 year old relative and given it some updates, but kept that original design, almost down to a tee.
The case is a retro throwback, almost Tourneau in shape, and the outer case is made from forged carbon, which gives the Sideral a cool edgy look to it. Whilst the red and yellow versions have a plain black case with the typical grey carbon striations throughout, the blue variant's case in infused with blue, giving it a much more unique look and really coming out in the sunlight.
On the dial, Tissot have given each piece an inner seconds track that colour matches to the strap. The Yellow and Blue variant really pop here as they are bright, where as the Red version's dial much more subtle, almost looking like it's a transparent red on the black dial, making it a dull maroon colour. I feel they could have gone all the way with this one like the other two however.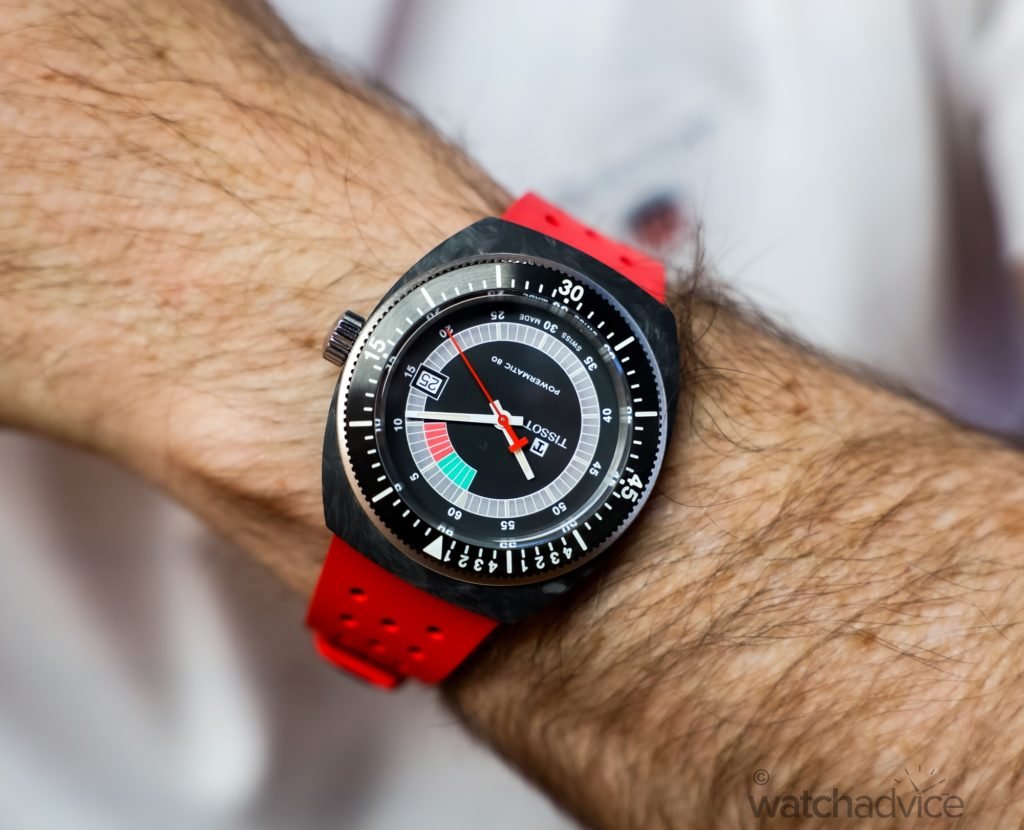 Inside the inner seconds track is a second inner 10 minute regatta timer countdown track, with the first 5 minutes in green, the second 5 minutes in red. It is a nice design cue, but unless you race yachts, and the race starts on the hour, this is more a case of form over function. The black carbon bezel does have a 10 minute countdown indicator on it, which is a much more usable and functional element. One small critique is the bezel action. The 120 click bezel is rough when turning it, and doesn't give you that satisfying smooth clicking action other more higher end pieces do. However, it's not a major issue unless you plan on using it a lot.
Tissot have given the Siderals colourful rubber straps that do really pop. I found myself gravitating towards the yellow version more than the others. There is something about the yellow strap and yellow inner track that stands out and contrasts super well with the black forged carbon case and bezel. Again, it's the fun element coming out here, it's designed to stand out and if you're going to wear a bright colourful watch, why not wear the brightest one?
As the original Sideral S was designed for the more adventurous type, the new 2023 collection have given the pieces plenty of lume. The bezel numerals and indices, inner seconds track 5 minute markers, regatta timing sector and hands are all lumed, and when lit up and fully charged, make for quite a light display!
The strap fastening method is slightly different to most other watches out there. It's a unique button fastening system where you thread the strap through the 'buckle' that fastens to the holes in the strap, and the longer section then plugs into the opposite side so it's fastened on both sections securely. I had my reservations on the security of this method, but it's actually very secure and not once came off.
How It Wears
In short, the Sideral is a very comfortable watch! It was the one thing that I noticed immediately when first trying it on, and had me wearing it over other pieces each day. The rubber strap is so pliable and sits perfectly around the wrist. The case is a not too big, not too small 41mm, and with no lugs, has a fairly small 46.5mm lug to lug width. The case is on the slightly thick side at 14mm, but due to the 41mm size, the way it sits flat on the wrist and the light weight, it wears very well and true to size. On my 17.5cm wrist, it sits flush in the middle without a lot of movement and isn't oversized. (see pockets shots below for perspective). If you're a little more slight of wrist, then I would say it's safe on any wrist larger than about 15-16cm circumference.
The colour ways of the Tissot whilst playful and great for weekends and holidays, are not an everyday watch unless you're in more casual clothes. But this is the point I was making at the start – it shouldn't be you're only watch, it's the watch you put on for casual occasions and trips to the beach, out with friends etc. On that note, there is a colourway for everyone's tastes, and if you're not into the brighter colours, Tissot does offer straps that aren't as bright – green, black and brown that can be easily swapped via Tissot's quick change system.
The Movement
Inside the new Tissot Sideral is the Powermatic 80 movement with Tissot's patented Nivachron Balance. This gives the watch 80 hours of power reserve, which is superior to many other higher priced watches with less power reserve, and in addition, Nivochron uses a proprietary titanium based alloy for the balance spring, making it antimagnetic.
The movement isn't finished to any major standard, but at this price point, I wouldn't expect it to be. It's a workhorse movement designed to run and run well. Over the week or so, the pieces I had seemed to keep good time and I didn't notice it loosing or gaining too much each day. With 80 hours of power reserve, it also means that you can wear it a couple of times a week and will still be running if not left too long between wears.
Final Thoughts
The new Tissot Siderals are the type of watches that need to be tried on and worn to fully appreciate them. They are not your typical watch that you would buy to wear daily, but maybe you would if you want to have fun and smile each day?! They're a holiday for your wrist, and should be treated as such.
For AUD $1,550, they represent great value for money with what you get. A fun, colourful watch, easy to wear and super comfortable, light and sturdy with an 80 hour power reserve to rival some brand's that are 10x the price. I found myself looking at them and smiling each time I glanced at my wrist, and right now the only question in my mind is, why wouldn't I get one?
Reference: T145_407_97_057_00 (Yellow), T145_407_97_057_01 (Blue), T145_407_97_057_02 (Red)
Specification:
Case: 41mm diameter, 46.5mm Lug-Lug, 14mm thick
Case: Forged carbon and stainless steel case with black PVD, unidirectional, watersports look bezel
Dial: Black dial with multi-coloured luminescent hour and minute markers with regatta countdown using Super-LumiNova®. Hour and minute baton hands coated with Super-LumiNova®
Crystal: Sapphire crystal
Water resistance: 300m / 30bar
Movement: Mechanical self-winding Powermatic 80 Nivachron movement
Power reserve: 80 Hours
Strap: Perforated rubber strap with unique bracelet fastening system
Australian Recommended Retail Price: AUD $1,635 as of July 1st 2023
Availability: Available online at tissotwatches.com, Tissot Boutiques and Authorised Dealers now.