On 9th November 1989, the Berlin wall fell, paving the way towards reunification of Germany which took place on 3rd October 1990. On 3rd October 2020 Germany will be celebrating 30th anniversary of this historic day and to acknowledge this day the German watchmaker SINN will introduce the U1 DE special edition watch in three variatns. For the German watchmaker SINN this day is significant as it symbolises the merging of East and West to this day: qualified engineer Lothar Schmidt, owner of Sinn Spezialuhren GmbH, and Doctor of Engineering Ronald Boldt, co-owner and Managing Director of Sächsische Uhrentechnologie GmbH Glashütte (SUG), have continued to develop the partnership established in 1999 between Sinn Spezialuhren and SUG.
Sächsische Uhrentechnologie GmbH (SUG) produced only watch cases, many well-known watchmakers make up the main customer base for their cases and SINN is one of those companies. Lothar Schmidt and Ronald Boldt have created an upmarket case manufacturing company, which is now successfully managed primarily by Daniel Boldt.
Model U1 DE special edition for the 30th anniversary of German reunification is limited to 300 pieces. The watch case has been given black hard coating using TEGIMENT technology which provides highly effective protection against scratches. The method is not, however, based on the application of a coating. Instead it is the surface of the material itself, which is hardened by means of a special process, thereby creating a protective layer ("tegimentum" in Latin).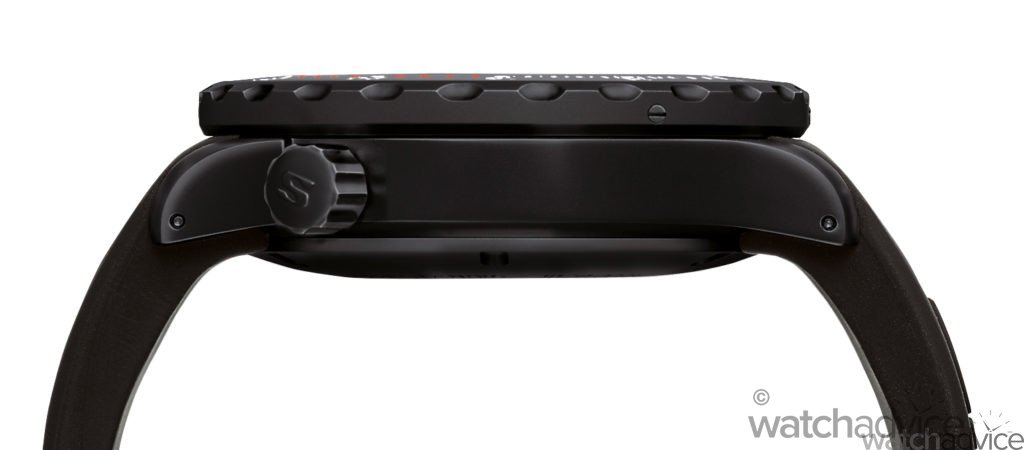 To mark the special occasion, SINN has designed the watch in Germany's national colours: black, red, and gold, with a high-gloss, gold-plated second hand. The colours black, red and gold, have always been a symbol of German reunification and are anchored in the constitution as the colours of the flag, go all the way back to the Wars of Liberation (Germany, 1813–1815). The black, red, and gold flag appeared in its present-day form at the Hambach Festival of 1832 for the first time. Reunification was celebrated with the raising of a black, red, and gold flag in front of the Reichstag building in Berlin.
The case and crown are made of high-strength seawater-resistant German Submarine Steel and boasts outstanding non-magnetic properties. The diving watch is pressure resistant up to 1,000 m diving depth. It has been tested as per European diving equipment standards and certified by DNV GL. The DNV GL's shared roots stretch back to 1864, when Det Norske Veritas (DNV) was founded as a membership organisation in Oslo and Germanischer Lloyd (GL), a new non-profit association based in Hamburg was formed out of a desire to achieve transparency to evaluate the quality of ships and deliver the results to stakeholders. The bezel has white minute markers with minute ratcheting. The crown at 4 o'clock to prevent pressure on the back of the hand. The front crystal is scratch resistant sapphire.
The watch has three variants, U1 DE with solid bracelet in stainless steel with Black Hard Coating, U1 DE with black silicone strap and U1 DE with red silicone strap. At 44mm the U1 DE is a reasonable size for a diver's watch. The watch has date window at 3 o' clock and has the watch name U1 DE in red. The dial has luminous hands, hour markers and luminous key mark on the bezel. U1 DE special edition has a non-display case back, this is mainly to obtain the 1,000 m pressure resistance.
There are statements of historical significance, eternalised in history books and in public consciousness. 'Now what belongs together will grow together' is just such a statement, made by Willy Brandt when the Berlin Wall came down on 9 November 1989. Now a popular saying, this quote provided guidance to many people in the East and West, as the former chancellor had spoken from the heart, calling for everyone to work together to shape the process of reunification. Which isn't as easy as it sounds. People often get stuck in their mindset in their own world.
Lothar Schmidt and Ronald Boldt didn't have this problem. In fact, they welcomed the idea of 'growing together' and actually put it into practice – also because the ridiculous clichés of know-it-all Western Germans and whinging Eastern Germans never played a role. Looking back, the two of them talk about an exemplary partnership between East and West. There were plenty of setbacks after SUG was founded in 1999. The disastrous flood of 2002 resulted in a complete write-off for the company, which was then forced to start over from scratch. They also weathered the financial crisis of 2008 and the watchmaking crisis of 2016 together. Despite all these trials, they managed to raise SUG to a technical standard that now fulfils the highest demands in terms of technology and quality.

Strictly speaking, the partnership between Lothar Schmidt and Ronald Boldt began in 1998 at a motorway service area, where they got together for the first time to discuss the idea of collaboration. They had good chemistry from the start and there was such a high level of trust between the two that it didn't take them long to decide: 'We'll do it!' There were two factors that made it an easy decision: Ronald Boldt was eager to be self-employed and find a business partner for the new company he was planning to start. And Lothar Schmidt was looking for a new supplier of high-quality cases. The fact that both of them are technically minded further promoted the mutual understanding and trust. The local circumstances in Glashütte were also just right: there weren't any companies that could produce high-quality cases for mechanical movements out of premium materials even in small batches.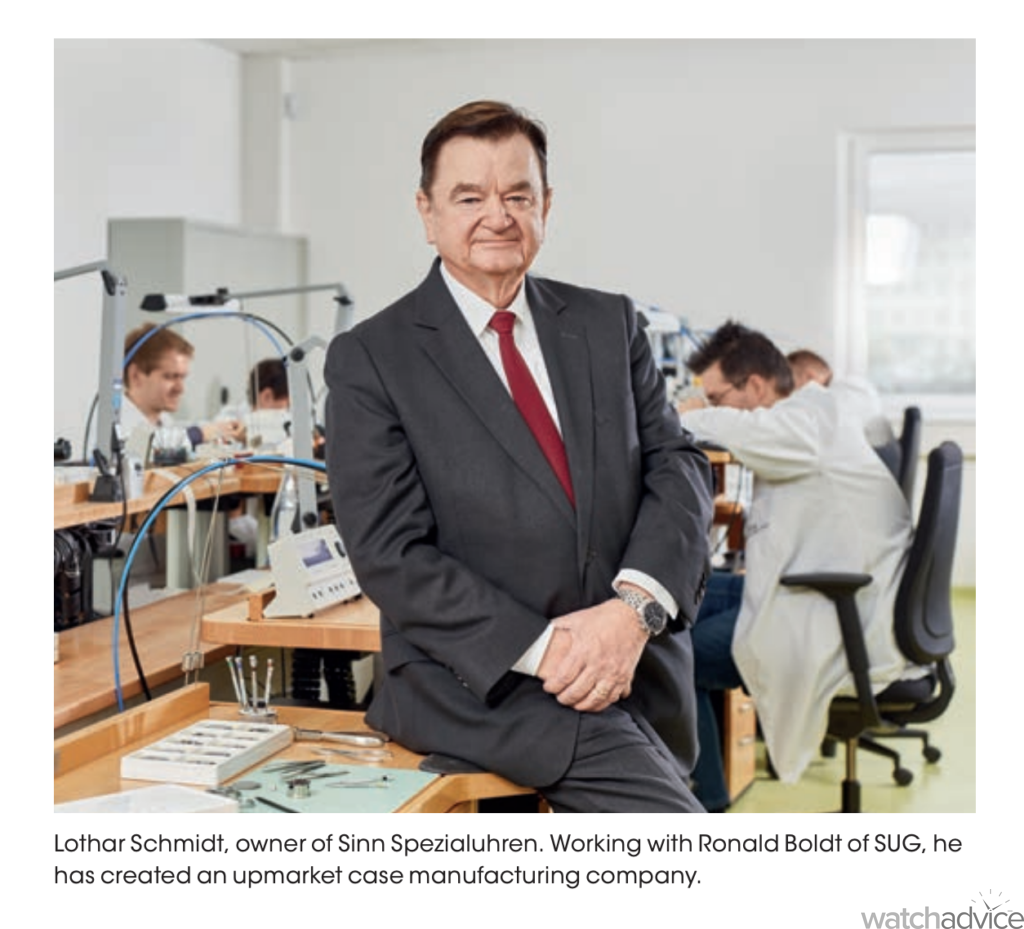 What followed was nothing short of groundbreaking, as developing a company with a new technological focus from the ground up and without the support of a group or investors was a bold move. SUG is now housed in its own historical company building with cutting-edge workspaces on the 'watch mile' in Glashütte. And it's a case manufacturing brand whose name stands for premium German engineering in the precision engineering sector. Continuity has also been ensured, as son Daniel Boldt has assumed a majority of the management responsibilities at SUG, which he has been a part of in a variety of positions since it was founded.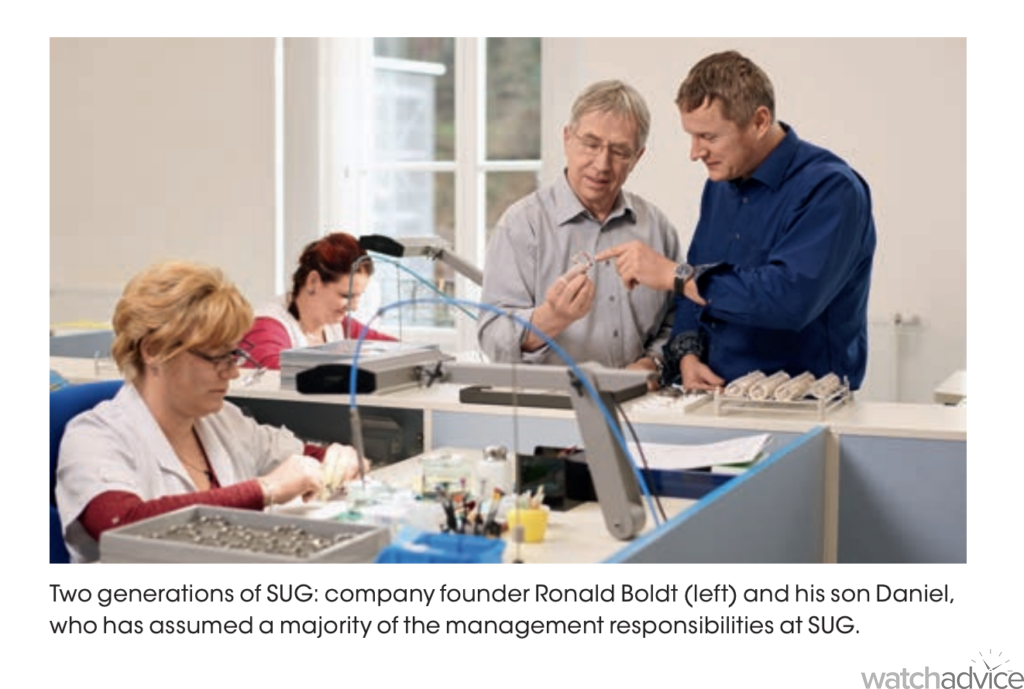 For Lothar Schmidt and Ronald Boldt, it was always what they had in common and what united them that allowed them to embrace the concept of growing together. This insight has always been a matter of course from the very beginning and has since become an important milestone in the histories of both companies. Ronald Boldt put it best during his speech for SUG's 20th anniversary: 'If ever there were an award presented for an extraordinary East-West partnership, our chances would be very good'.
SINN U1 DE Specification:
Case Diameter: 44mm
Dial: Matt Black
Case: German Submarine Steel, black
Functions: Hour and minutes
Water Resistance: 100 ATM / 1000 meters
Australian Pricing :
U1 DE with solid bracelet – $4,320.00
U1 DE with black silicone strap – $4,210.00
Availability: Available now, Limited Edition of 300 units Worldwide.
For Store locations visit Sinn.de