April 30, 2020 saw an announcement many fans of German watchmaking had ben waiting for. Sinn, the German manufacturer announced the release of the Sinn model U50, a dive watch made of submarine steel.
Sinn has worked hard to earn its reputation as a manufacturer of tool watches that can, as the greatest once said, take a licking and keep on ticking. The new line up of U50 dive watches feature Sinn's signature Tegimented steel, a process which results in ultra-durable, scratch and corrosion resistant watches.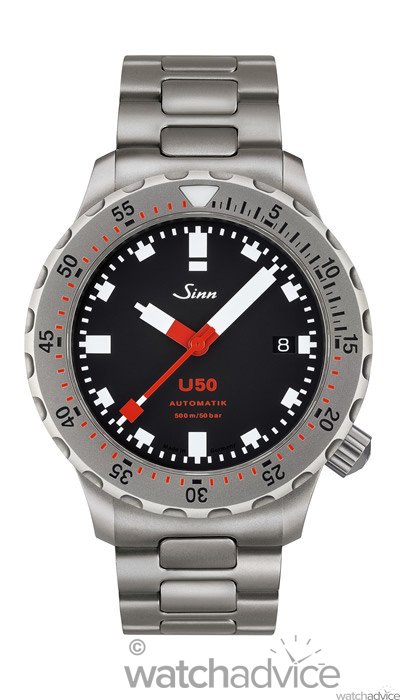 What is immediately noticeable about the new collection is that it is essentially a sized down version of the previous U1 model lineup. A welcome and anticipated change for the German brand as the previous 44mm case size excluded a large portion of wearers. The new 41mm case size sees the striking design more readily accessible to the watch wearing masses.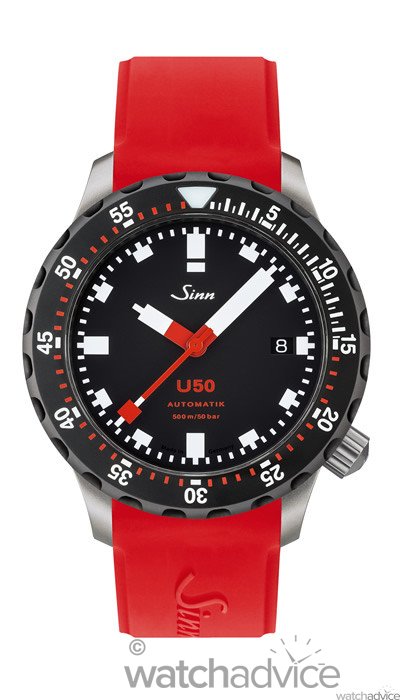 There have been concessions of course, the U1 at 44mm is rated to a whopping 1000m water resistance whilst the U50 lineup only 500m. This will no doubt have an enormous impact on its desk diving and swimming pool abilities, after all this is likely all the watch will see out in the wild.
Keeping tradition for Sinn, the model line features the expected German utilitarian design, blocky indices and sturdy case and bracelets. The U50 line up is focused quite clearly on brutal legibility, this is a watch to be used and used hard.
Internally we find a Selita SW300-1 automatic movement, beating away at a standard 28,800bph and offering 38 hours power reserve beneath a solid case back. The movement is nothing special, but it is reliable and endlessly serviceable.
As far as strap options for the line, Sinn offers the U50, U50 S and U50 SDR with its signature H-link bracelet, which will be black coated in the U50 S model to match the case. There are also a raft of smooth molded rubber straps available in either Red, Black or White in keeping with the dial designs.
With the U50 line up offering its slimmed down design and more mainstream appealing case size, look for this range to be a big hit for the brand in 2020.
Australian Pricing:
Sinn U50 solid bracelet (ref 1050.010) – $4,320.00
Sinn U50 S solid bracelet (ref 1050.020) – $4,755.00
Sinn U50 SDR solid bracelet (ref 1050.050) – $4,570.00