Chiming timepieces are both unique and beautifully complex. No other brand does it quite like Jaeger-LeCoultre, and The Sound Maker Exhibition allows you to experience their chiming timepieces up close and personal.
Intimate boutique experiences are rare these days, with many brands reserving these for their clientele. So unless you've bought a watch from them, the chances to get up close and hands on with exclusive and limited pieces are few and far between. Jaeger-LeCoultre however are approaching how they let both customers and non-customers interact with their brand a little differently. They want more people to be able to experience their brand, the watches and the history behind them.
Earlier this year, the Maison brought their 1931 Nomadic Café to Sydney and Melbourne, giving the public a little taste of Swiss hospitality, bringing a small part of the Vallée de Joux to Australia. If you missed this, you can read all about it in our coverage here, and our interview with Jaeger-LeCoultre's Country Manager, Justin Devaux here.
This was an indication on how Jaeger-LeCoultre is approaching its brand in Australia. And now, they've another activation, The Sound Maker, this time focusing on their chiming time pieces, many of which are heritage pieces and have historical relevance, and the others, some very exclusive and rare pieces from their current High Watchmaking catalogue.
Reserve your spot here for the Jaeger-LeCoultre Sound Maker Exhibition Sydney
Sounds marking the time is not a new thing. For more than 600 years, the passing hours have been marked by sound, with people all over Europe organising their daily routines according to the chimes of the turret clocks on village churches and town halls. In fact the word clock itself is derived from "cloche", the Old French word for bell (which can in turn be traced back to the Latin "clocca" – the sound of a chime).
Chiming timepieces originated through the collision of two worlds. The watchmakers who were constantly innovating and designing more and more complications for their watches, and the wealthy clients, who wanted to have something unique and showed they had wealth and were connoisseurs.
It was during this time where Jaeger-LeCoultre's founder Antoine LeCoultre played a key role, not just as a watchmaker, but as the inventor of machines that could measure and cut components more accurately and on a smaller scale than ever before. As a result, the Vallée de Joux became celebrated for producing both chiming watches and music boxes of ever-greater complexity, smaller in size and with more beautiful sounds.
Since producing its first minute repeater in 1870, Jaeger-LeCoultre has developed more than 200 chiming watch calibres, producing some 100 minute repeaters before the year 1900. Not only this, but up until the mid 20th Century, Jaeger-LeCoultre also produced chiming mechanisms for many other high end brands at the time.
The Sound Maker exhibition which is currently running in Melbourne until the 14th, and then in Sydney from the 22nd to the 31st of August (grab your spot here) is a celebration of the brand's rich history with sound devices. Jaeger-LeCoultre has brought some amazing pieces to Australia from it's home in Switzerland, and not all are watches.
There is a beautiful music box from the 1820's, fitted with a LeCoultre 'Peigne' mechanism and set in a finely decorated tortoise-shell box. Interestingly, before Antoine LeCoultre turned to watchmaking, he and his father invented a new type of 'keyboard' for mechanical music boxes.
Cut from a single piece of metal and shaped like a comb (peigne in French), it improved the quality of the sound, and prevented the instrument from detuning. Variations of this device became standard for almost all music boxes.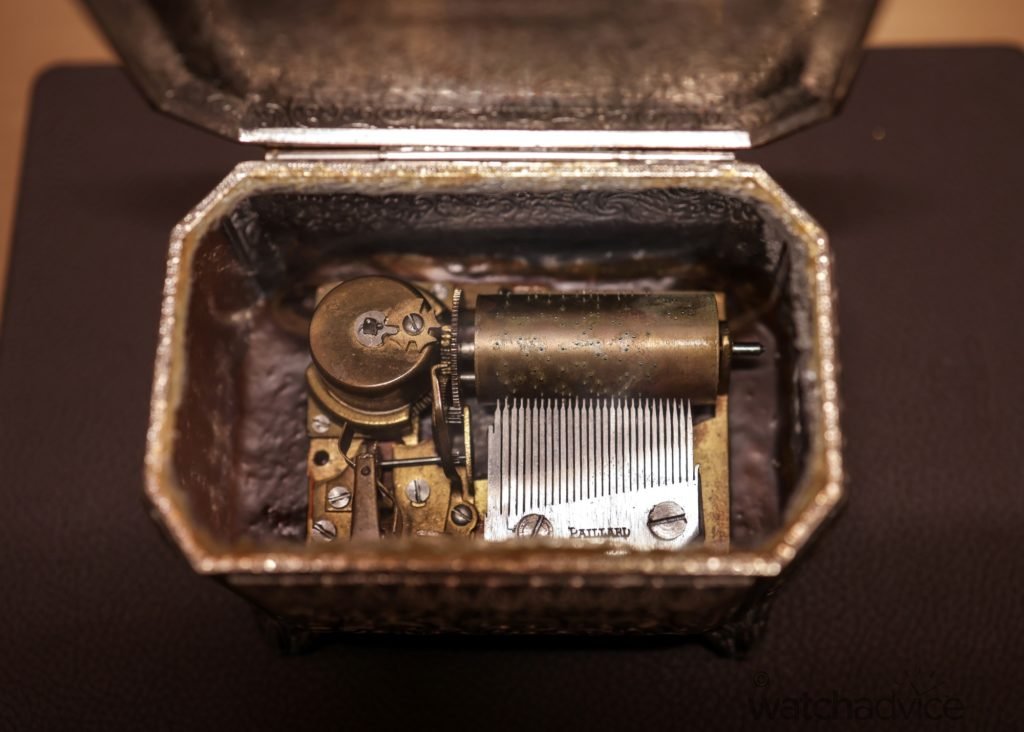 They also have some beautifully decorated chiming pocket watches from the late 1800's through to the middle of last century, like the one pictured below which features a pair of jacquemarts (animated figures) who strike two bells simultaneously. This particular piece dates back to circa 1894 and is decorated with enamelling and engraving, demonstrating great artistic flair and attention to detail.
If vintage historical or heritage pieces are not your thing, then there are plenty of current production pieces to see – most of which are exclusive and very limited in number given the level of craftsmanship and detail that goes into each – some taking up to a year to be produced due to the skillset involved in both the artisanal decorating and movement assembly and finishing.
Whilst you can go into the boutique to see these heritage models and current exclusive pieces on display, the best way to experience The Sound Maker is by booking a spot for the full experience. This way you're able to see some of these pieces up close and personal, see the pieces in action and hear the chiming sounds. Plus you have your own intimate 1 hour experience with the staff at the Jaeger-LeCoultre boutique.
Whilst the Melbourne Sound Maker experiences are all booked out – there are still some spots available for the Sydney exhibit, which if you are quick, can register via the following link: Jaeger-LeCoultre Sound Maker Boutique Exhibition Sydney
Watch Advice was lucky enough to get an exclusive first look last week in Melbourne prior to opening to the public, and the below video is just a little sneak peak of what is currently being displayed at The Sound Maker Exhibition in Melbourne, and what will be on display in Sydney from the 22nd.
The Sound Maker is a free event, and spots are filling up fast, so if you're a watch lover, or are just curious to see these beautiful pieces, then jump on the registration link below and head into the King Street Boutique to see it for yourself!
Melbourne will be running until the 14th August with all 1 hour spots filled, but all piece are on display to view. The Jaeger-LeCoultre Sound Maker Boutique Exhibition Sydney starts on the 22nd Of August and runs through to the 31st August. Spots are filling fast, so jump on the registration site to get your spot!