Last week, Ulysse Nardin's CEO Patrick Pruniaux launched their latest Freak – the Freak One at quite possibly one of Sydney's most iconic locations, Bondi Beach. And thanks to The Hour Glass (official retailer in Australia) we were there to get up close and personal with Patrick whilst having the chance to try on the new Freak One.
Ulysee Nardin has a long history in watchmaking that include several firsts for the industry. However, up until a few year back, the brand had been languishing under the Kering Group, the holding company for both Ulysse Nardin and Girard Perregaux (and may other luxury brands like Gucci and Balenciaga). But in January 2022, Kering decided to sell it's 100% ownership of Sowind Group SA back to the brand's management, headed by Patrick Pruniaux, essentially making Ulysse Nardin independent again.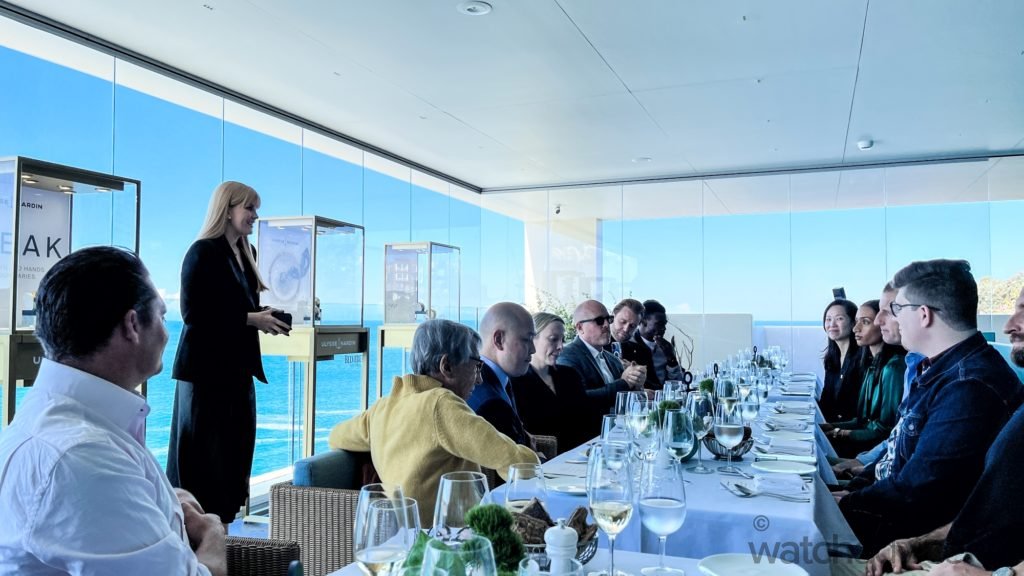 Now free to dictate it's own destiny, Ulysse Nardin is going from strength to strength under Patrick's leadership, and this is showcased in their watches, their movements and technical innovation and as Patrick puts it, a boldness to do what other's are not.
Ulysse Nardin is a brand that has it's history tied to the ocean, dating way back to 1846 when Ulysse Nardin himself set out to develop his own marine chronometers for navigation, and subsequently pocket watches and then wrist watches. And this heritage runs deep (pardon the pun!), so to launch the new model at an iconic ocean side venue, like Bondi Icebergs, makes complete sense and sets the tone perfectly for it's launch into Australia, so much so, Patrick Pruniaux comments "I'm so pleased and glad that I'm here, and I think this place (Talking about Bondi) represents and illustrates very well what we stand for, I mean there couldn't be any better place than this one!"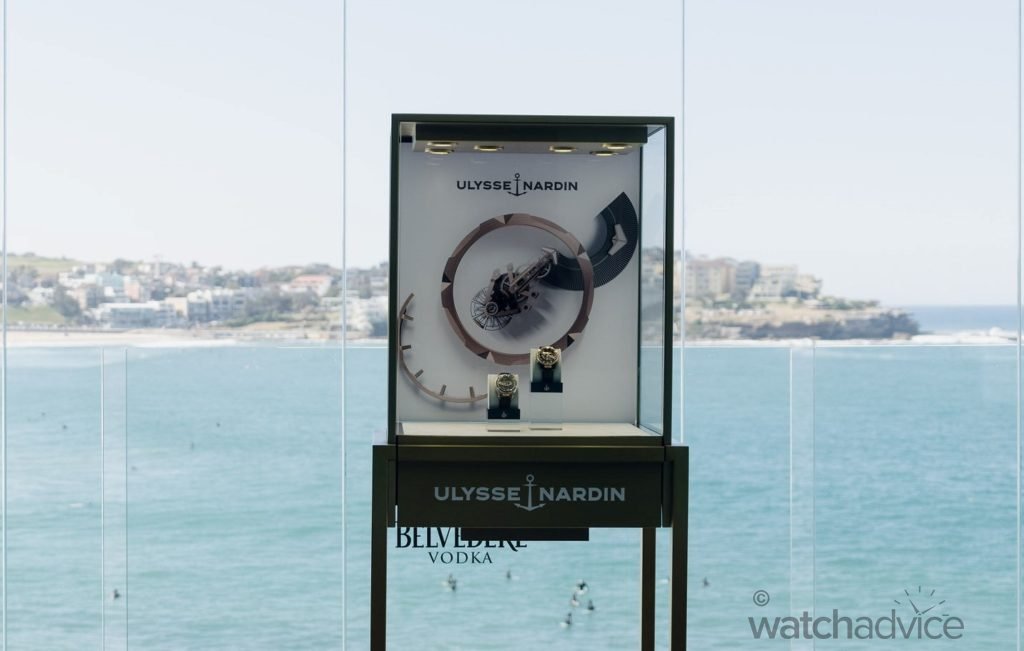 Guests were treated to a great seafood lunch, with spanning views of Bondi beach on a glorious sunny Autumn day, and to be able to sit down with both Patrick, Clemence Le Rolland (Brand Manager for UN) and senior staff from The Hour Glass was a rare chance to understand the brand better and it's plans for Australia.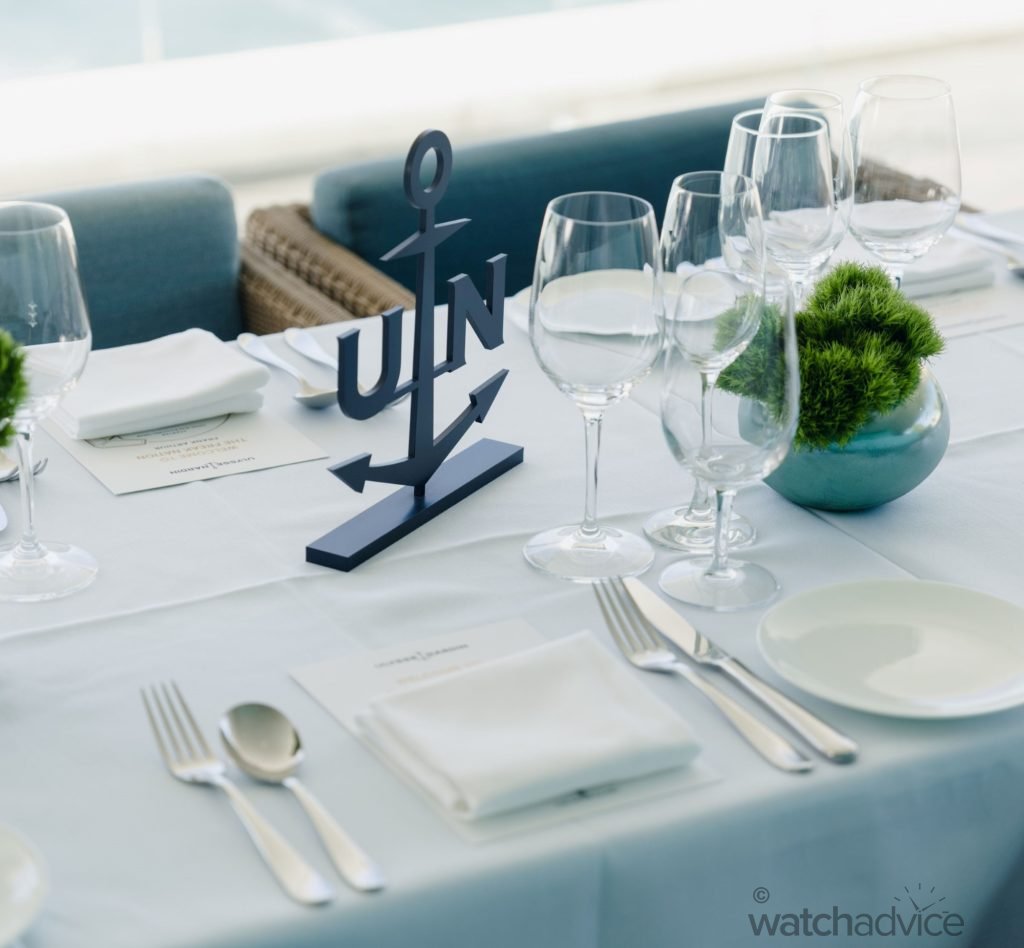 According to Patrick, the Australian market is a perfect fit for Ulysse Nardin:
"Actually when you think of it, in a country like Australia, its almost the perfect fit. I mean the mindset here, the evolution of Luxury in the Australian market whiich is absolutely stunning, the audacity also, I can see Australian watch lovers coming to bands, starting with mass luxury brand and then going to more specialist brands, the appetite to discover new brands, plus the products are made for living, not for status…I relly feel there is a great fit in the Australian market!"
This sentiment is great to hear, as too often smaller or independent brands don't focus much on this part of the world, primarily due to the market size, but also, the perception is Australian watch enthusiasts are gravitating towards the mass brands. And it's easy to see why this perception exists, just look at the demand for certain steel sports watches over the past few years!
This doesn't phase Patrick however, as he sees a bright future for brands like Ulysse Nardin and Girard Peregaux out here.
"Last year was crazy for the watch industry, for plenty of reasons, and I think it has normalised now. I'm very optimistic, I think now and in the long run, the luxury watch industry has a lot of potential. There are more people buying watches and more often and they're more curious and they want independent watches and they want an exclusive brand, a brand that conveys something unique, and so we are there. We are not the only one, but we are there."
And when it comes to customers, there seems to be a shift. We see this at Watch Advice and the groups that we're involved in across the country – new customers are emerging who are wanting something unique and not the same brands and styles, and from a brand that stands for something. It seems this is another sentiment that Patrick echoes for his brand as well: "In the case of Ulysse Nardin, the average age of our consumers went down 15 years over the last 5-6 years, and I can see new customers coming in, that are interested in what we are doing but also want to understand the sustainability part"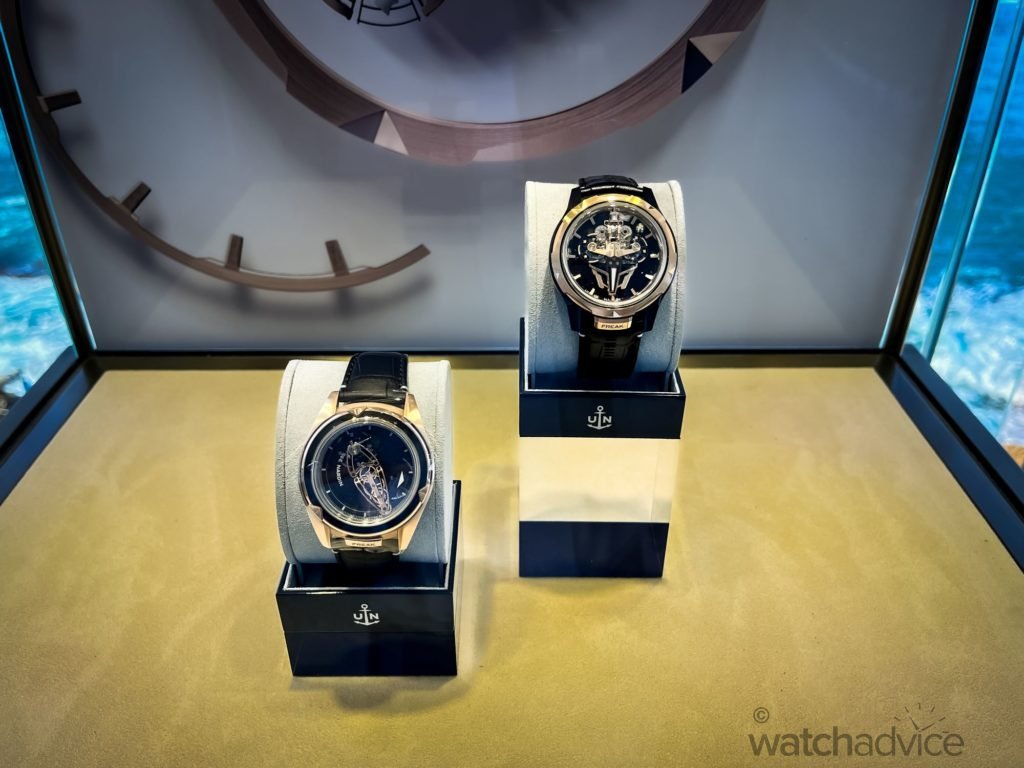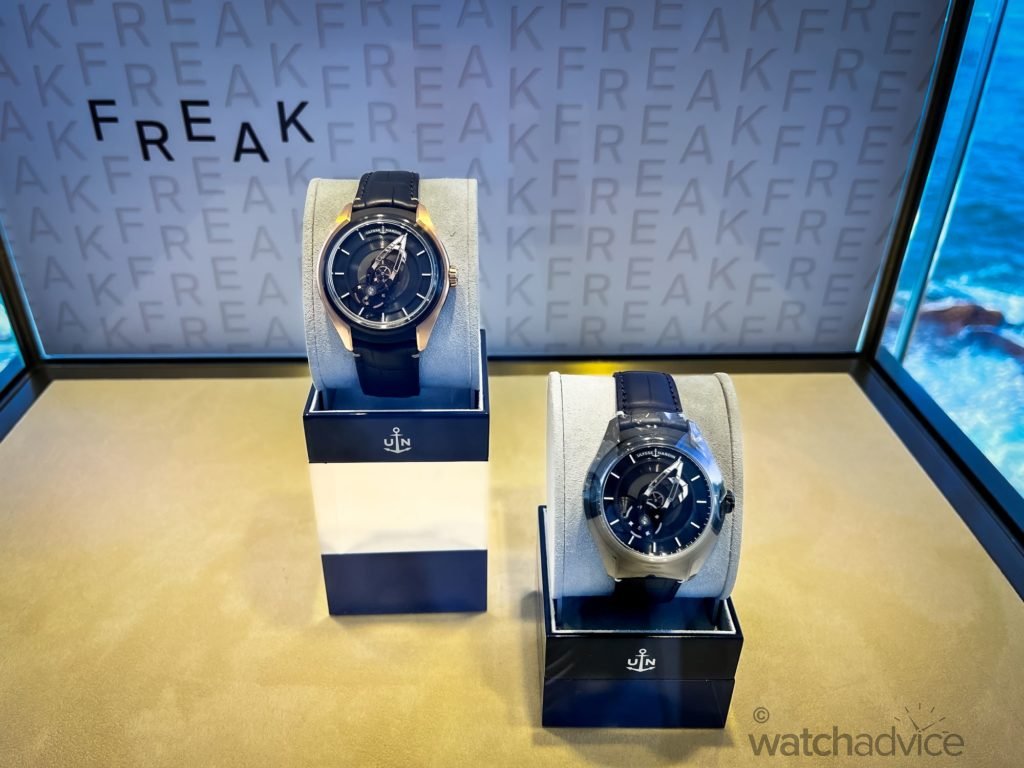 Sustainability is also an interesting area that Ulysse Nardin are tackling, from recycled ocean plastics, to their low carbon footprint. And in an interesting viewpoint I'd not considered before, the way he sees sustainability for Ulysse Nardin is even embodied in their watches themselves. He goes on to explain:
"When we talk about sustainability, the core value of sustainability probably can not be embodied in a better way than in a luxury watch, basically as long as you look after it, it could live forever, doesn't require any external energy, except you moving your wrist, and in our case, we spearhead what can be done with materials. Some of our watches use some unique materials, recycled plastics from the sea…"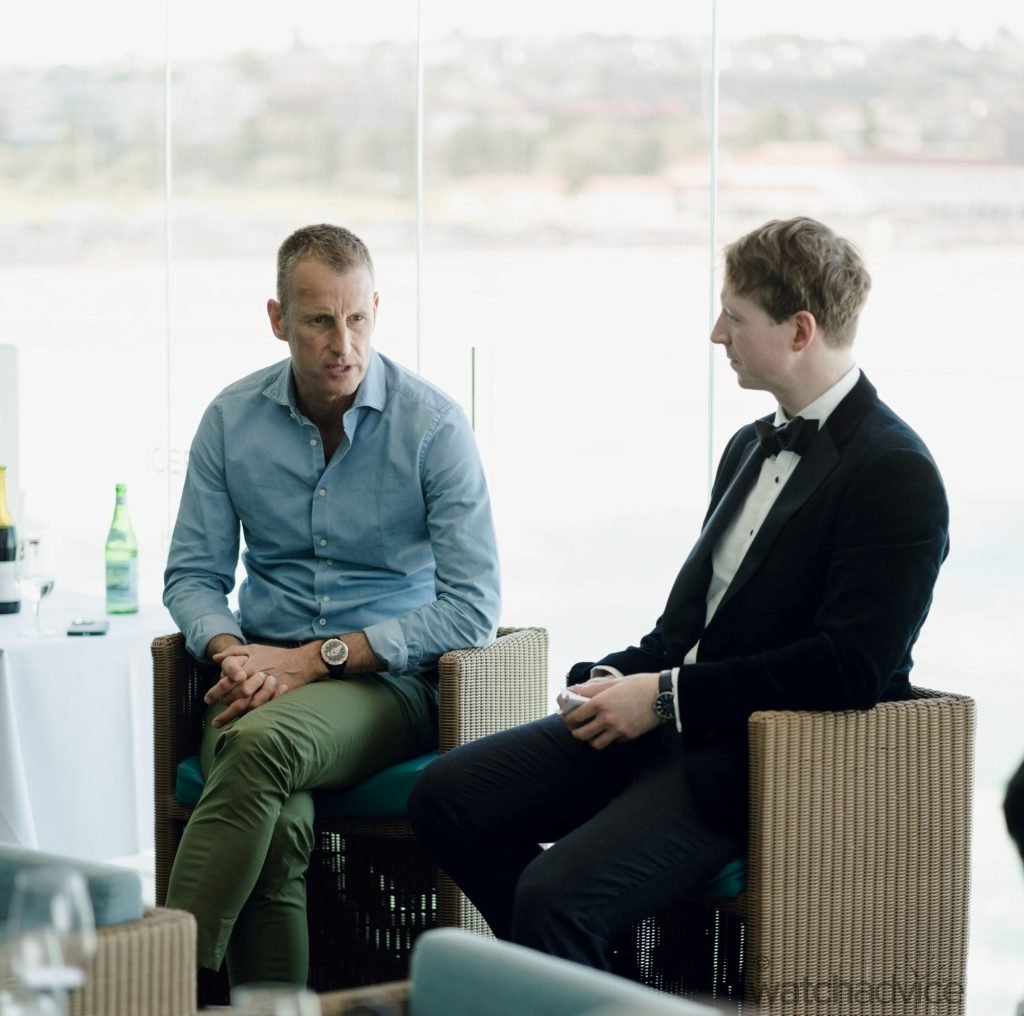 It's a different take on sustainability, but when you think about it, it's kind of true in the sense that a good mechanical watch has no wastage or bi-product one produced if the person keeps it and maintains it, should never end up in landfill, doesn't require fuel and if made using sustainable or recycled products, including the packaging, then it does have a very low footprint.
Coming back to their new found freedom since the buy back from Kering, whilst Patrick saw the partnership as one of shared values and support, his vision for Ulysse Nardin's future is long term. And in watchmaking you need to. "We are looking at things beyond 2030, we're planning some new movements that will take forever to develop." And given Patrick sees this as his last job, and potentially his legacy. "We're very stable, and I said it very openly that this is my last job, and I intend to live long!"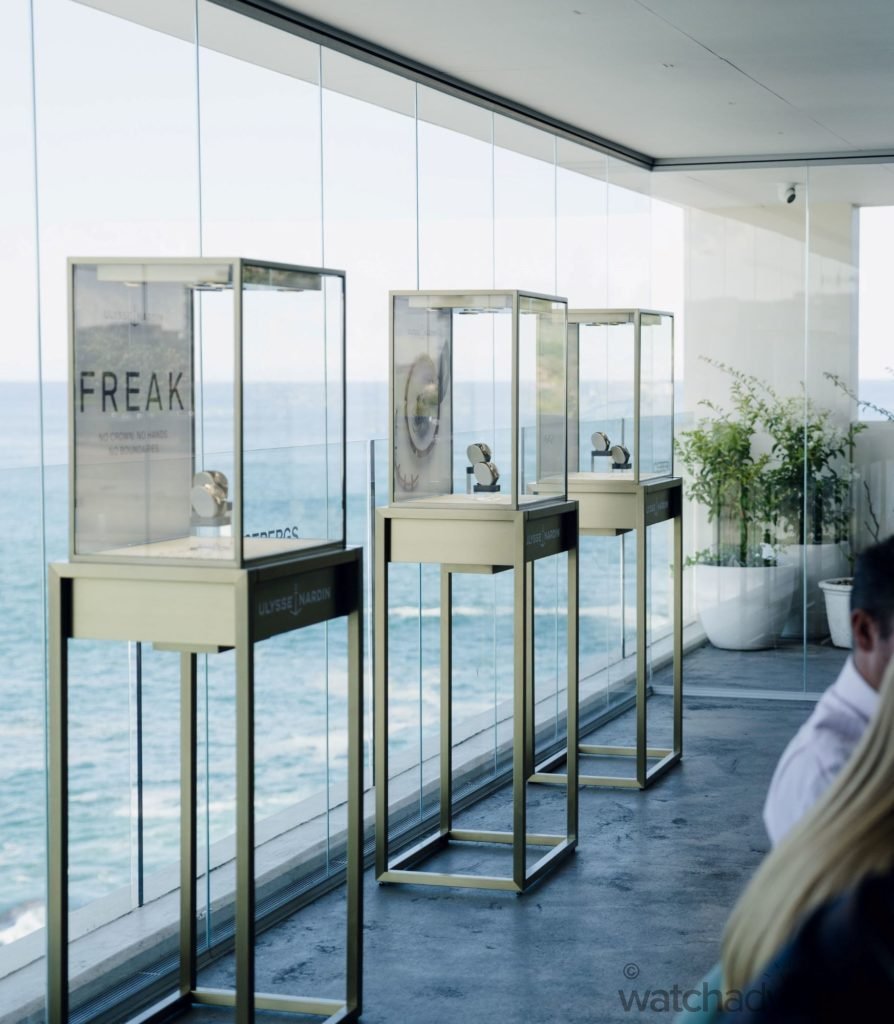 Patrick whilst very optimistic and charismatic, he is also introspective and knows the Ulysse Nardin can be better. Whilst they have had a long history of over 175 years, he admits that they've not done a very good job of educating people on the brand, its roots and heritage, something he wants to do better in the future.
"There is one thing that Ulysse Nardin doesn't do so well, and I can blame myself for that, but was already the case before that probably part of our DNA, we haven't and we could do better explaining what we do and where we come from. Even when you see our museum it's really nice, but its only scratching the surface of the story we can tell, and the craftsmanship, all the work behind it etc. This is why I spend all my time whenever I travel inviting people to come over because the only way we can do it, showcase the little things better. There is nothing to sacrifice in history, I think everything has to be explained and told."
I mentioned this point to Patrick when talking to him afterwards, that part of the love for a watch and brand, at least in my eyes and fellow collectors is that story, understanding where the brand comes from, what they stand for and the way they make their watches. It allows for novice and seasoned collectors to connect with the brand on a deeper level, and only when you know about that heritage and history, can you tell if this is a brand that resonates with you.
And speaking of this history and watchmaking credentials, he explained that Ulysse Nardin has devised and invented over 35 new movements in the past 25 years, which in my mind, is incredible! "Its actually very rare at that level of technology, I don't know many brands or many Maison's that would be so creative. And there is so much appetite or it internally! I can tell you, the product development team would knock on the door everyday with a new product. I mean these guys are just inventors!" And Patrick loves this energy and likes to nurture this culture, even if they won't use the movement just yet, he likes to keep the creative juices flowing.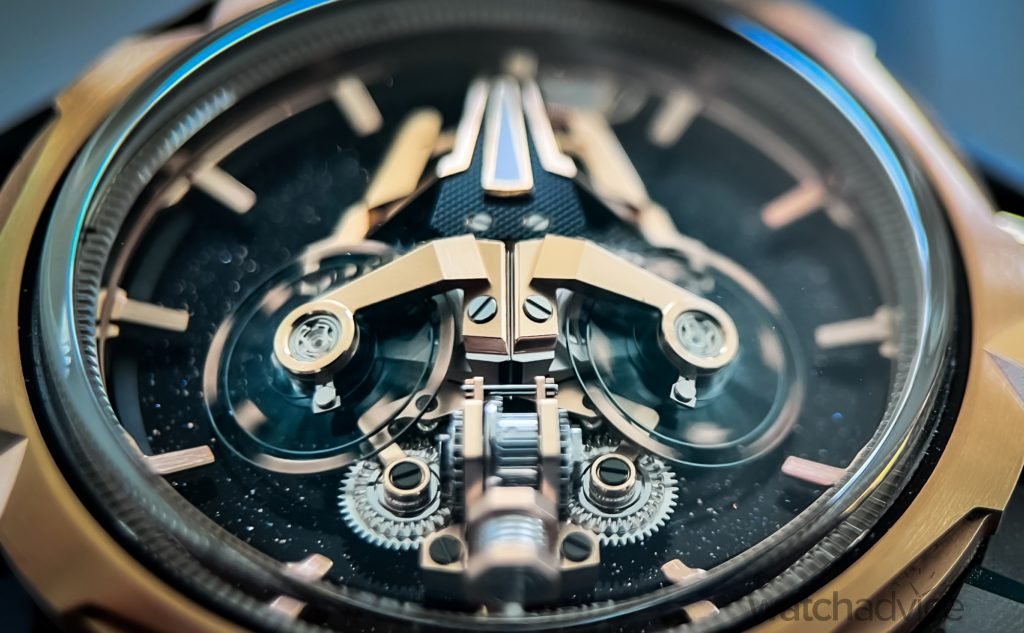 Admittedly, there is something a little poetic about watchmaking, and when a brand like Ulysse Nardin looks back at its heritage and models that set it apart, but re-imagines this for the present and future, you can see a special product. The Freak One is just that. UN has taken inspiration not from the models from the past few years, but from the original Freak developed in 2001. Next to each other, you can see the similarities and just where the 2023 version has spawned from.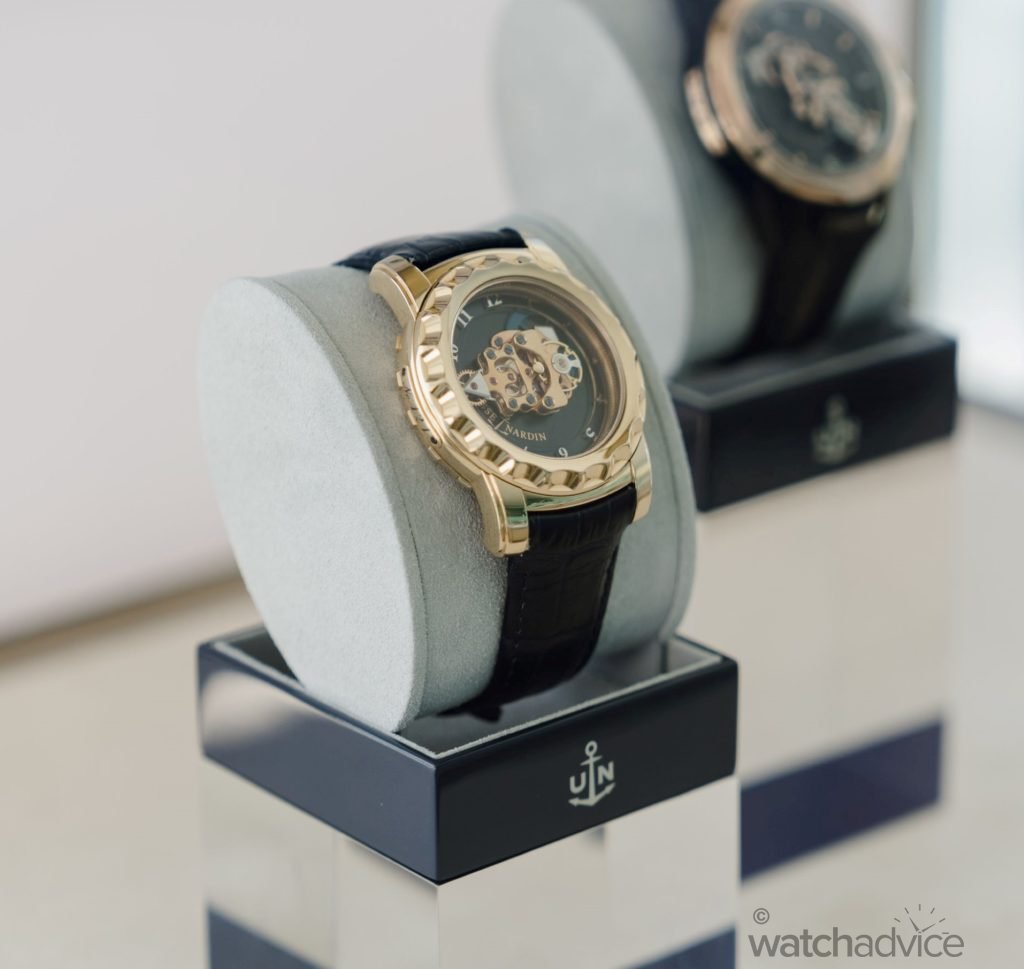 "Using the expertise that's been developed over centuries and reinventing some watches, and the Freak does that I think very well…Our technology is still progressing a lot, especially in our silicon technology. The new Freak One is superb, it's the ninth generation of the Freak. I mean we're basically every 2-3 years bringing novelties out. We brought something very important a couple of years ago called the 'grinder', it was the ultimate energy harvesting system, and only the grinder could enable a watch like the Freak to become automatic and we wanted to make the movement slimmer, which it did."
So in essence, the Freak One is an evolution of previous Freaks, but taking inspiration directly from the original 2001 model and in true Ulysee Nardin fashion, evolved and iterated to make it better, more wearable and true to UN's DNA. And this is something that Patrick and Ulysse Nardin are proud of – high horology that is wearable everyday, comfortable and easy to read, something many other brands are not these days.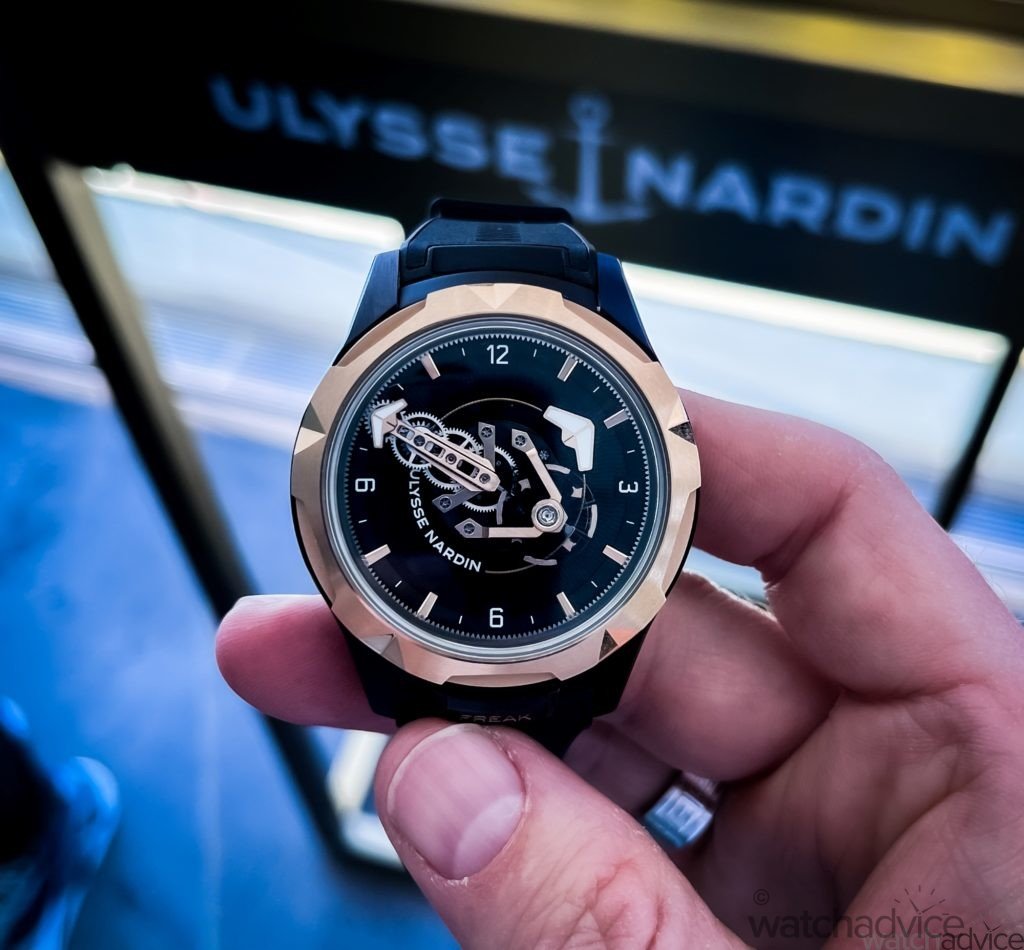 Whilst I won't go into details to much as we've covered the Freak One when it was released at Watches and Wonders earlier in the year, which you can read about here, it is a wearable watch even at 44mm, it's light thanks to its Titanium case and hugs the wrist thanks to its case design. And yes, it looks as good in person as it does in the press photos!
The Hour Glass are the official retail partner here in Australia, and I for one am excited to see more of the brand in Australia. Post the watch hype of the past few years, it is good to see some higher horology brands with unique pieces and movements, like that of the Freak One hitting our shores, and I for one will be keeping an eye on Ulysse Nardin to see how the Australian watch enthusiasts embrace them – with open arms I hope!
Patrick is big on his outdoors sports and loves swimming, climbing, hiking and just about anything nature has to offer. Throughout the event, he kept glancing at the Icebergs pool below (more so as he wanted to go for a swim), but for a bit of fun, he wanted to see if he could do something with the pool – he liked the idea of a Freak you could see from space. So the challenge was thrown out to The Hour Glass and Ulysee Nardin, could they turn the Bondi Icebergs pool into a Freak? Challenge accepted and we will see if they are able to pull it off! As soon as we know, you will!
And for another little bit of fun to end this article, check out our video below that captures some of the Australian Launch, and at the end, a bit of a cheeky interview with Patrick, posing the same three questions to him that Ulysse Nardin asked us at Watches and Wonders this year. Enjoy!
The Hour Glass are the official retail partner for Ulysee Nardin in Australia, and if you're wanting to check out the UN range, then head into The Hour Glass in your nearest capital city to check them out.
For more information on Ulysse Nardin, and the Freak, head over to ulysse-nardin.com for more.