What we love:
Great colour combinations are available, our pick is the green dial
A watch you can buy now, no waitlists
Legibility and dial design and layout and good-looking movement through the caseback
What we don't love:
The watch will wear big for wrist sizes smaller than 6.5 inches
Some may find the push-button clasp dig into the underside of the wrist
Some may find the lugs to protrude on the leather and aid in wearing large
Overall rating: 7.75/10
Value for money: 7.5/10
Wearability: 7.5/ 10
Design: 8.0/10
Build quality: 8.0/10
RAYMOND WEIL is one of the few mainstream watch brands that are still independent and family-owned. So it is no surprise that they have re-invigorated their flagship Freelancer line and taken it up a notch for their 2022 release of the new Freelancer Chronograph 7741 line. I had the privilege of going hands-on with the new releases; the black and white 'Panda' on both steel bracelet and black leather strap, the two-tone with Rose Gold on the brown strap, and a striking green dial and bezel with silver Tri-Compax dials on the green leather strap.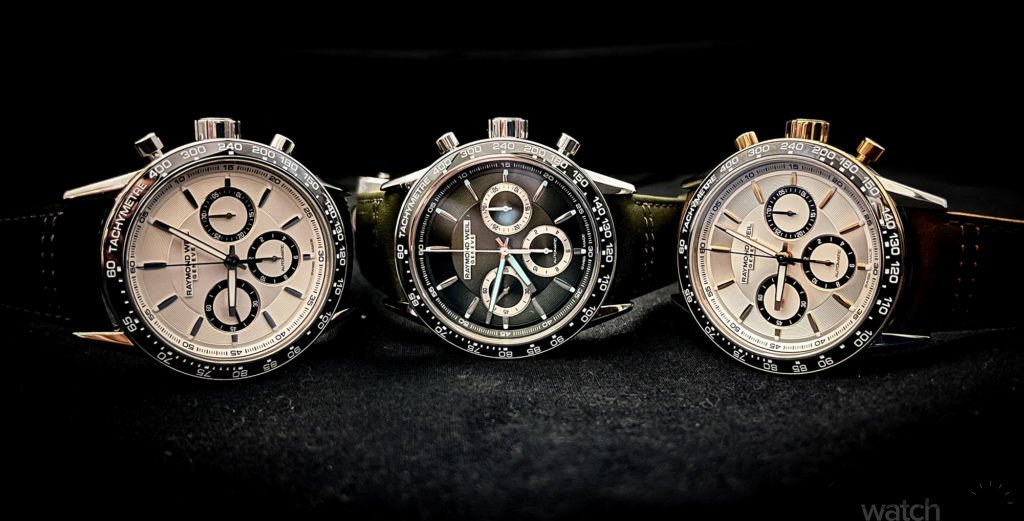 Young in Age, but Mature in Nature
RAYMOND WEIL is a young brand in terms of watchmaking. Compared to other brands that have their roots put down in the 1800s and in some cases, late 1700s, this makes RAYMOND WEIL, born in 1976, a horological child in age (so to speak!) RAYMOND WEIL is known for style and being heavily aligned to music, and looking at RAYMOND WEIL watches, you'd be forgiven if you mistook the brand for one that's been in business for 100+ years or more. Still, family-owned and now with the 3rd generation of the family at the helm, being nimble and innovative is key to taking on the bigger brands that compete in the same price range. And this is what they have done with the new Freelancer Chronograph – taken a classically designed Chronograph and given it a makeover for 2022.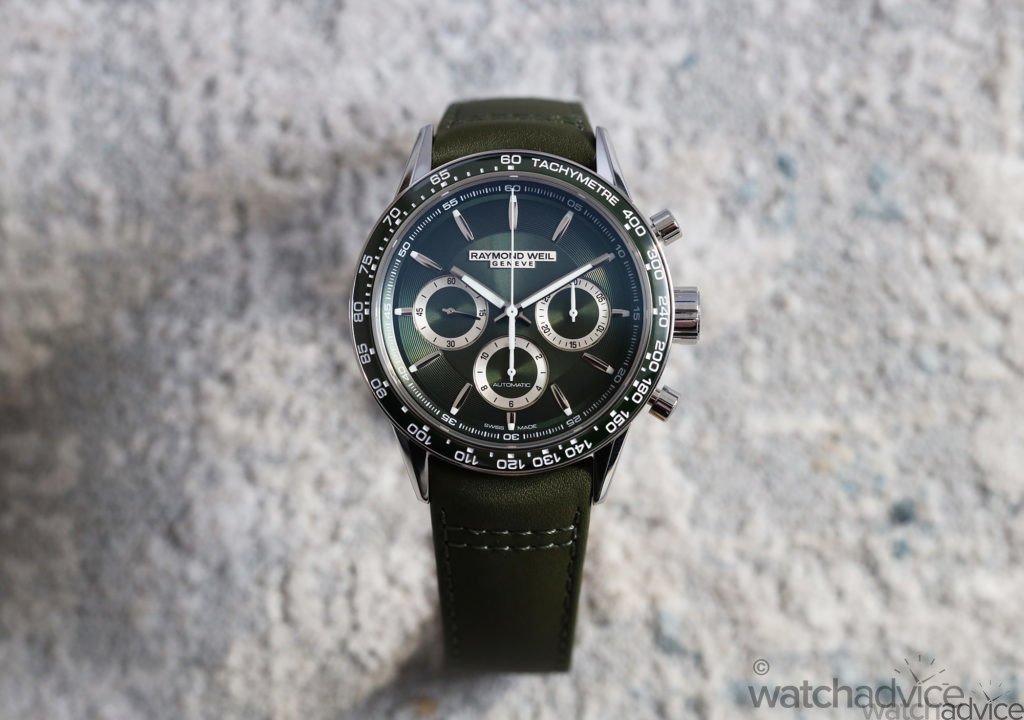 How it wears:
At 43.5mm, 13.7mm high and 52mm lug to lug, this is a larger watch, and a bold move by RAYMOND WEIL given the trend back to the more wearable smaller and slimmer watches these days. The case is comfortable on the wrist given the flat see-through crystal case back, and when the strap and bracelet are adjusted to fit snug on the wrist, very little movement occurs. The lugs do protrude somewhat, due to only a slight taper. On my 17-18cm wrist (my wrist does shrink a little in winter), these don't sit flush, meaning the lugs have some overhang past the leather. This does give the impression of wearing larger than the dimensions on paper, and to give you a comparison, wears noticeably bigger than my Sea-Dweller at 43mm and even larger than my 44mm Breitling SuperOcean Chrono, which when on a leather strap, sits nice a flush on the wrist due to the taper of the lugs. This is a watch that may not fit under shirt cuffs, but will a jacket, and to be honest, these are good-looking watches, so I very much doubt that you would want to have it hidden away.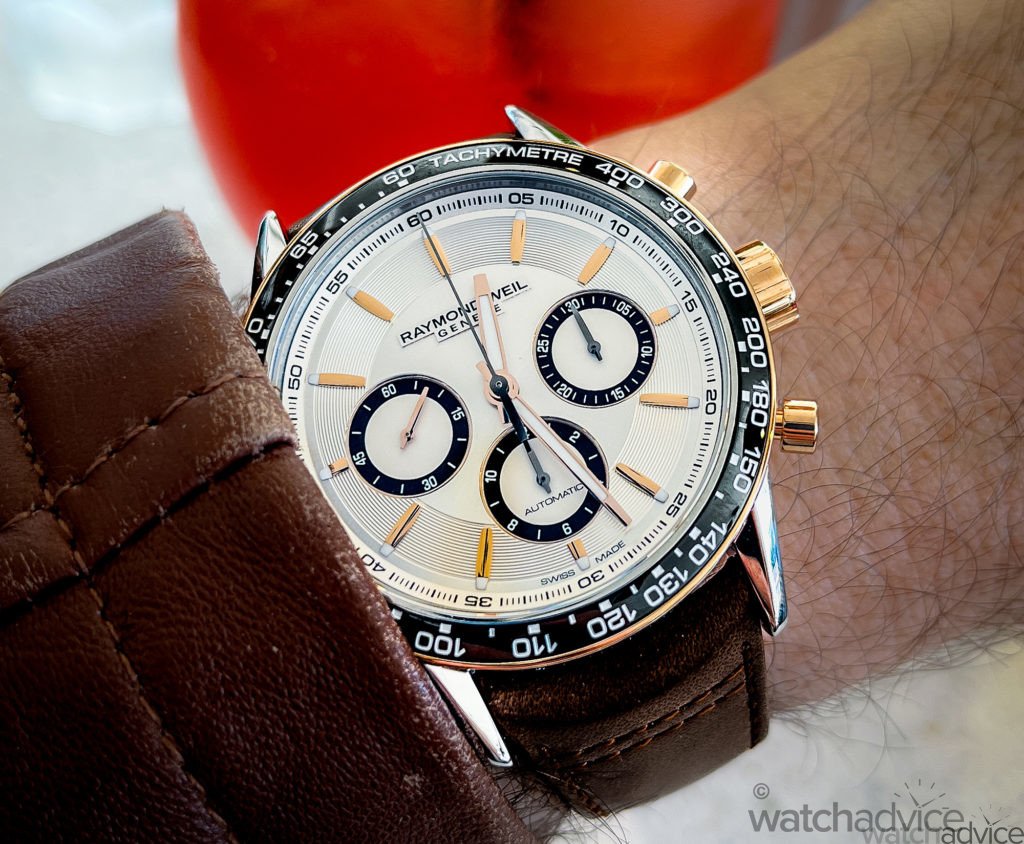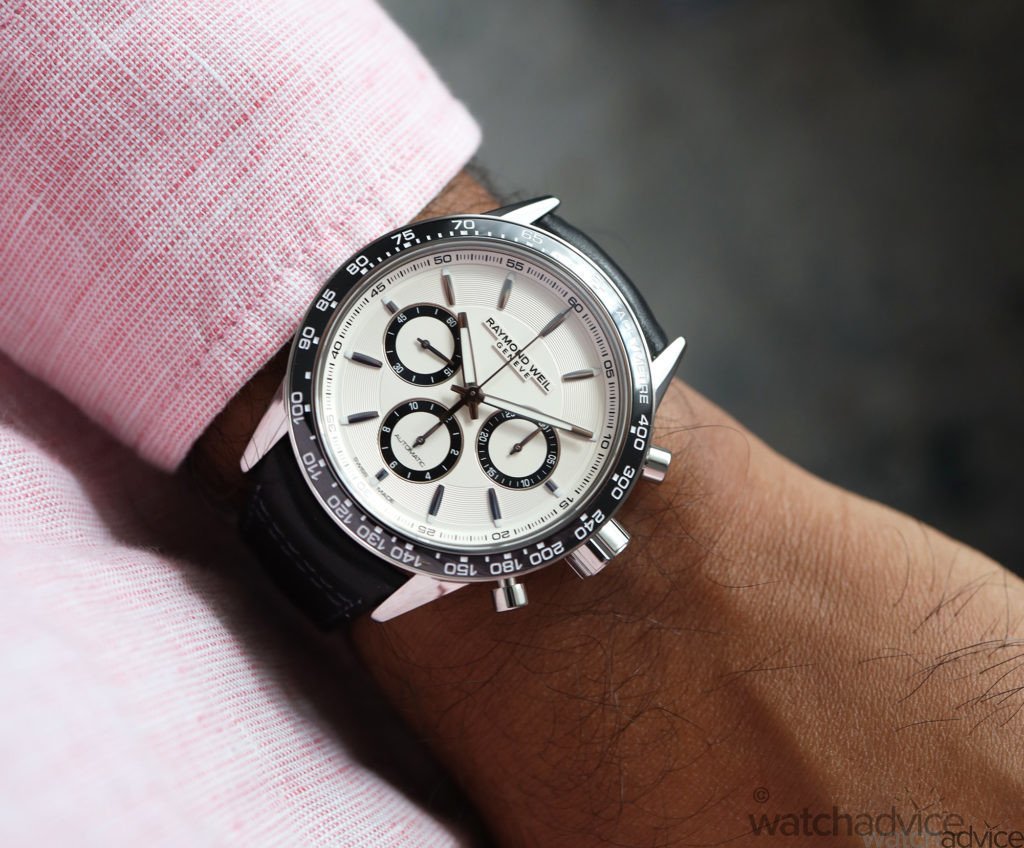 And in the case that your wrist does fluctuate with the weather like mine does, you can adjust the folding double pusher clasp up and down the strap fairly easily when off the wrist. My only gripe here is with the clasp. It does feel somewhat lacking in sturdiness, with a bit of movement in the clasp head when shut, and the finishing is not as refined as others at a similar price point. The other thing I did note is that due to the way it's designed, it did dig into the underside of my wrists and was a little uncomfortable. If there was a sizing on the strap in between where I had it set and the next size to make it looser, I'd say it wouldn't have been much of an issue. This issue is however resolved with the steel bracelet, which sits fairly comfortable on the wrist and is easy to slip on and off.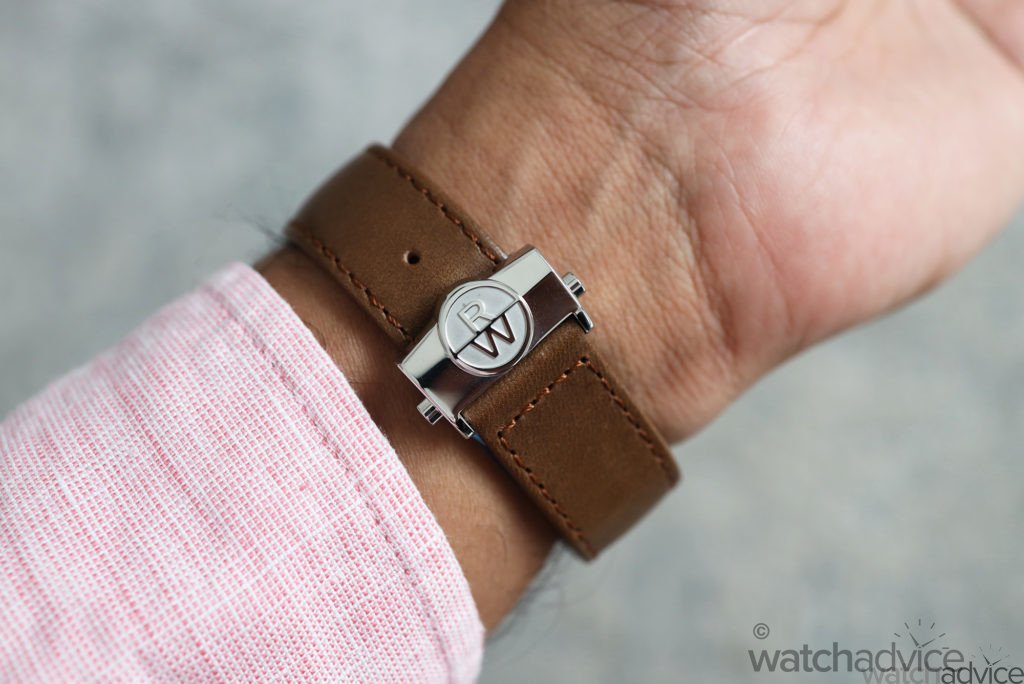 The Design:
One word – Bold! Whilst the previous iteration of the Freelancer Chronograph was slightly smaller and a little more subtle and subdued, these are anything but. With three colour choices, there is a look to suit most tastes. The two-tone with its silver dial and Rose Gold PVD coated bezel, crown, Chrono pushers and hour indices looks great and is beautifully offset with a dark tan leather strap – a nod back to a more classic time. The black and white 'Panda' version does look somewhat familiar and similar to a more well-known chronograph. However, aside from the black and white Tri-compax dial design, this is about as far as the comparison goes. But, the best version is quite possibly the green version, with its beautiful sunburst dial, matching bezel with tachymeter scale and green strap, this is my pick of the 3. Green is definitely the colour of the year, and like quite a few others that have launched this year (Omega's Seamaster, Rado Captain Cook and JLC's Polaris Date to name a few) the RAYMOND WEIL green is a stunning shade that dances from a Khaki/olive green to a darker sea green depending on the light.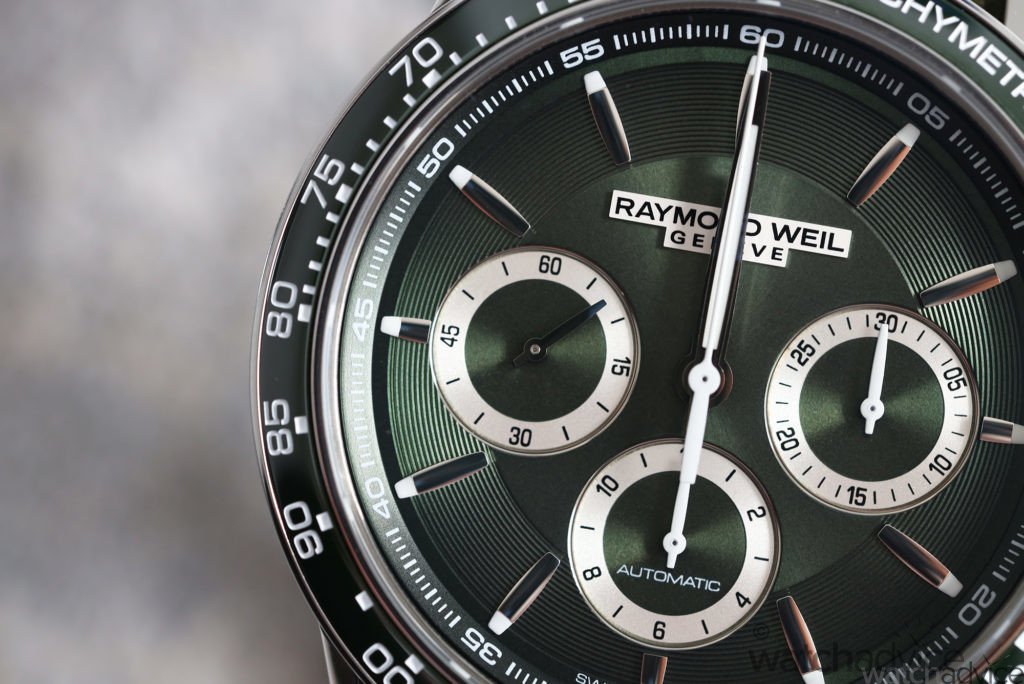 But this is only where the overhauled dial design starts. RAYMOND WEIL has stepped up its game on these watches. The dial has some subtle and not-so-subtle details, starting with the outer grooves, or as RAYMOND WEIL describes it, 'snailed' with applied indices that give it a great 3D textured effect.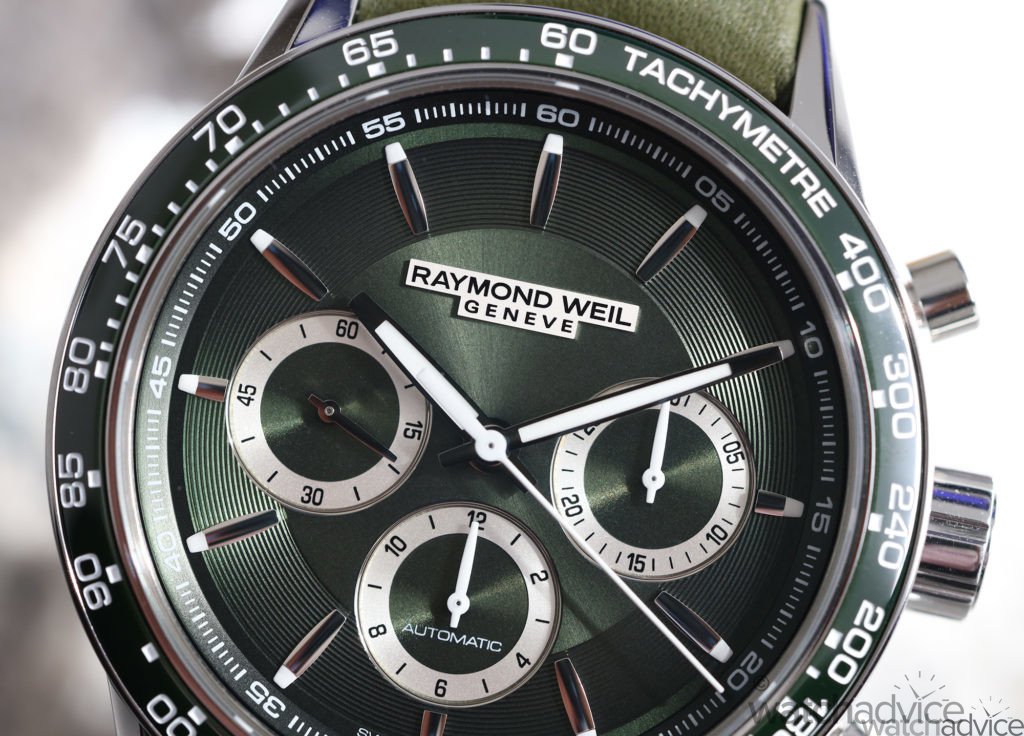 The Tri-compax dial configuration is classic and with each sub-dial, having a silver outer dial on the green, and black outer dials on the black and white and two-toned gives the dial further contrast and texture. The brand logo is also applied on the inner circle of the main dial, and the indices in silver contrast with the green. The Two-Tone boasts the rose gold PVD indices and works against the silver dial, and the Panda has probably the least contrasting indices in silver, which in some light, can blend slightly with the white dial.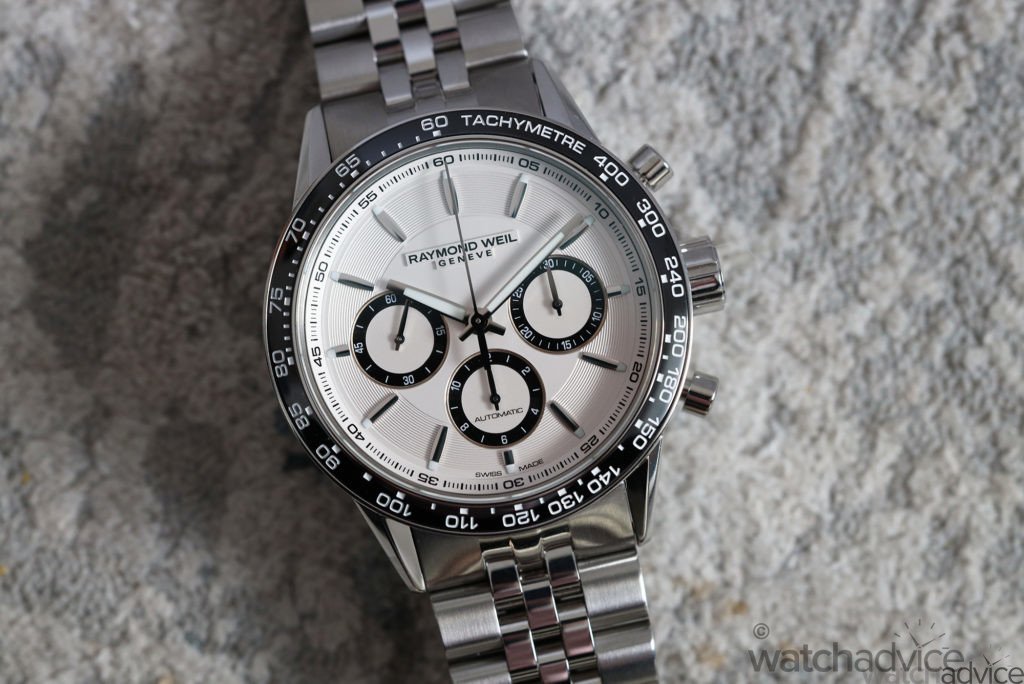 The one area where these dials do lack is the lume. Like many racing-styled chronographs, the hands are well lumed with Super-Luminova, however, the indices have only small lume pips on the very edges, meaning that unless the watch has been in full light just prior to being in low light, these don't stand out in the dark easily. In saying this, the Freelancer is not a dive watch, nor would I classify this as a tool watch where you would need highly visible lume, so unless you're timing hot laps at night, this shouldn't be an issue!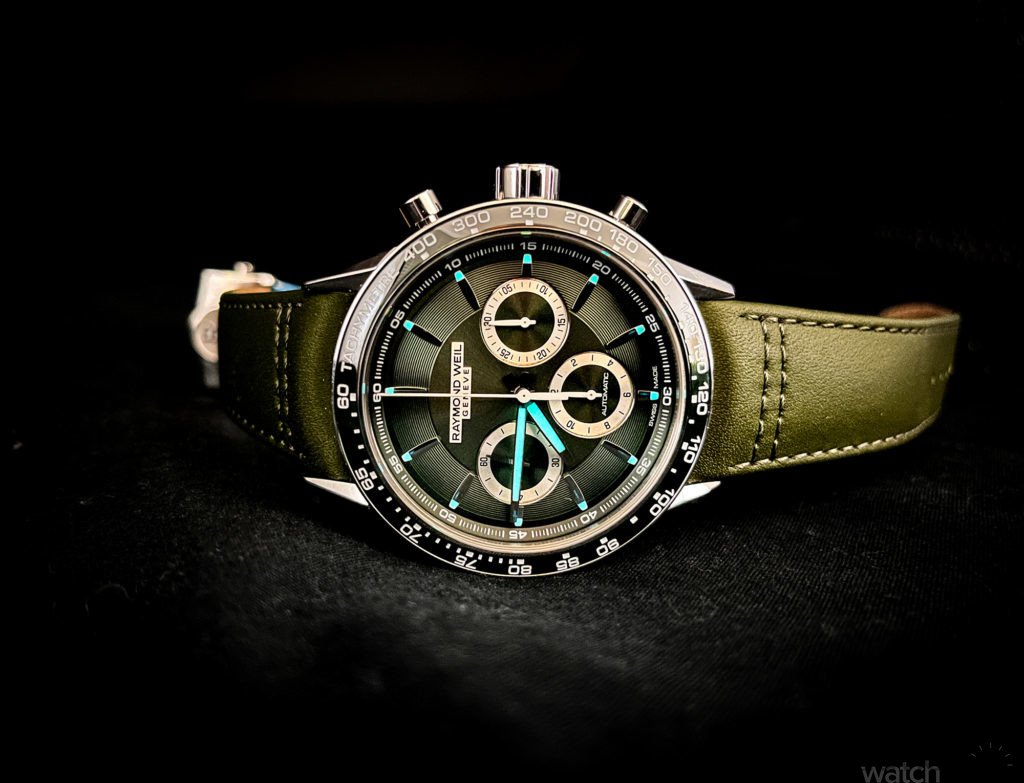 New to the Freelancer is the ceramic bezel with Tachymeter scale around the dial, and like many racing-styled Chronos before it, is classic and familiar. One aspect I do like is the way RAYMOND WEIL has used silver on the Two-Toned dial, compared to just taking the white dial and adding the rose gold elements to the watch. This differentiates it from the white dial and gives it a little more of a classic look.
The case seems relatively well made, sturdy and with brushed or satinated finishing. They have given the lugs a bit of extra luxury with polished beveling on the top, sides and underside which adds to the wrist presence and look.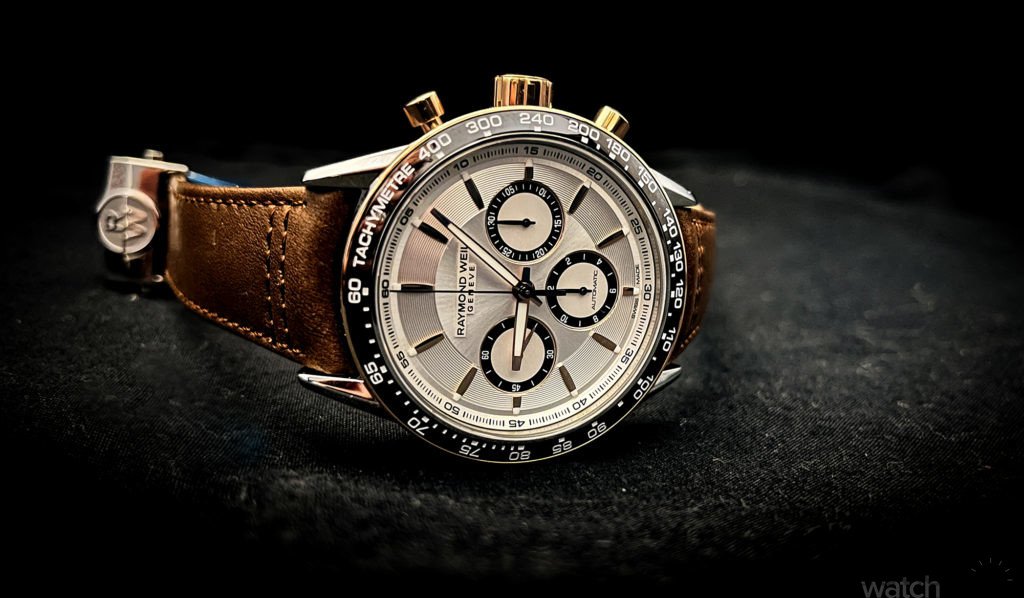 Movement:
Flipping the case over, the see-through case-back reveals the RW 5030 Caliber. The movement is nicely finished, with a combination of Pearlage and Cotes de Geneve on the rotor, bridges and main plates. Whilst the RW5030 isn't an in-house movement, but rather an in-house modified Sellita movement, it is still nice looking nonetheless with a lot on display to admire.
With 56 hours of power reserve, it's not groundbreaking compared to the many brands that have 3 days, but with over 2 days, the chances of it running out if you're wearing it at least every second day is low. One drawback of the Caliber RW5030 Chronograph is it doesn't use a column wheel and vertical clutch like many modern chronograph functions, but rather a cam system, meaning that whilst a great workhorse movement, could be susceptible to greater wear and tear over time. However, if you're like me and others I know, using the chronograph once every few months won't really make any difference to the service intervals of this.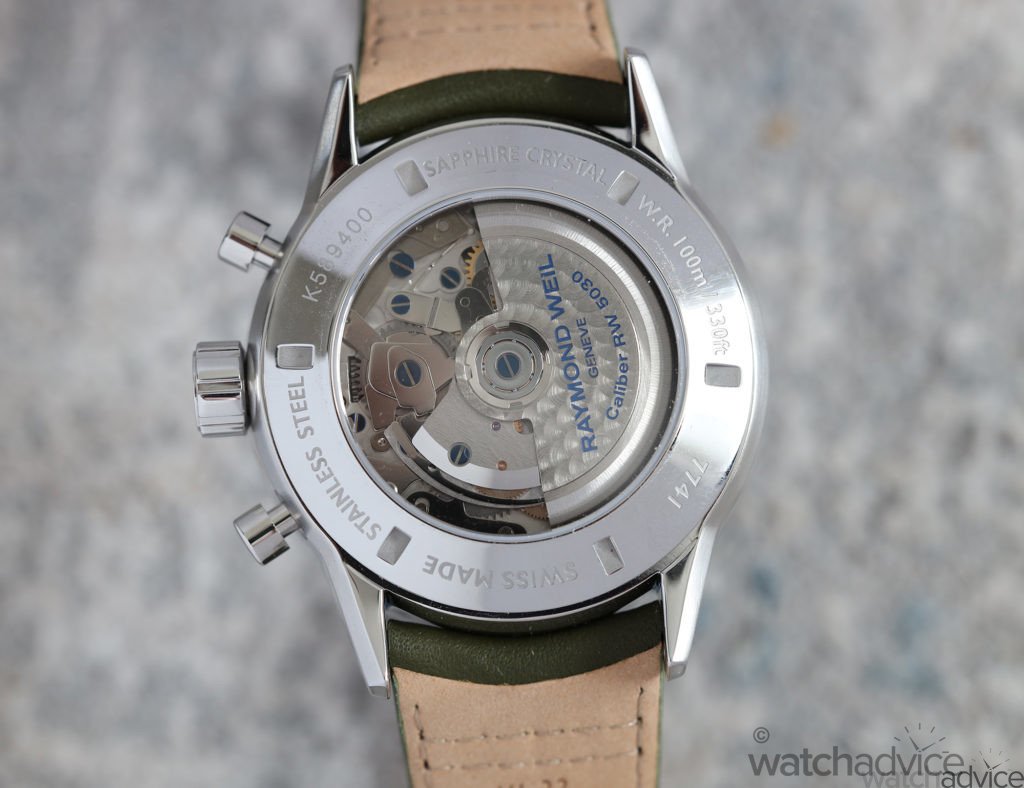 Final Thoughts:
RAYMOND WEIL has stepped up the game with the new Freelancer Chronograph 7741 line in terms of look, style (and size!). These are larger watches, that wear larger than the paper specs, and if you have a wrist that's less than about 16cm, I feel you'll struggle to wear this well and comfortably. However, if you like a bigger watch, or have a larger wrist, then these do have a great presence and in 3 colour combinations, plus the option of a steel bracelet on the Panda, there is a variant to suit most tastes.
Priced between $5,695 and $5,895 AUD, these are fairly priced when taking into account what else is in this price bracket, or compared to similar watches at a much higher price. RAYMOND WEIL may not be a brand with film stars or ambassadors, nor does it throw around big marketing budgets and may therefore be sometimes overlooked, but I would suggest that people give them a second look and try them on.
The new Freelancer collection shows that they are heading into a new era for their watches, and the new Freelancer Chronograph is a great mix of modern watch-making mixed with a classic sense of style. If you are looking for something fresh to add to your collection or starting out with your first Swiss auto chronograph, you won't be disappointed with the new RAYMOND WEIL 7741 chronograph.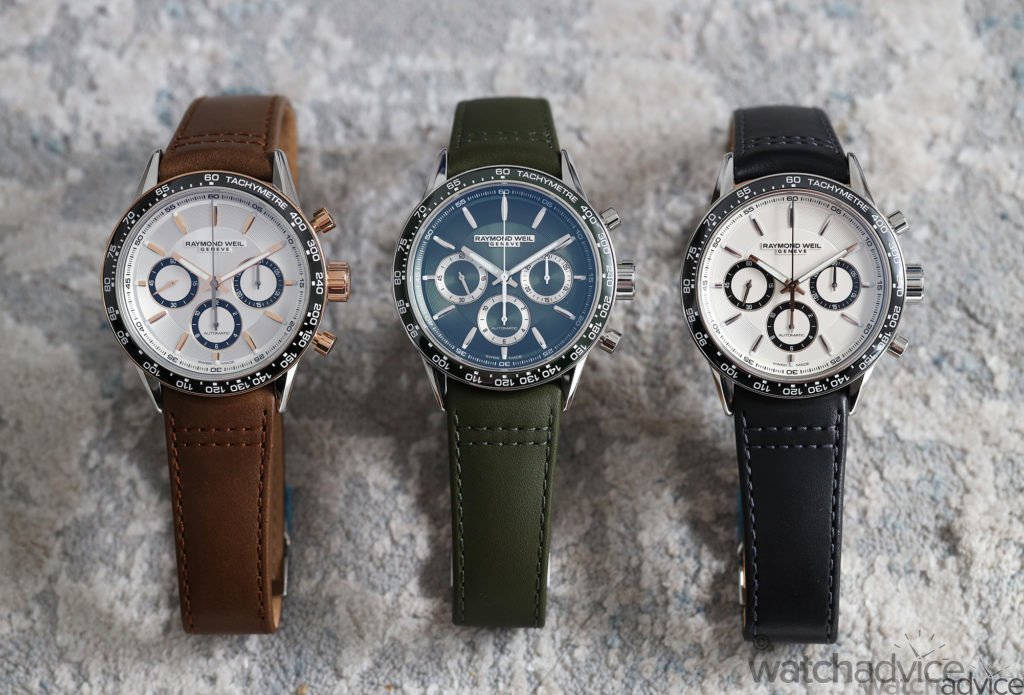 References: 7741-SC1-30021 (B&W on Leather), 7741-SC7-52021 (Green), 7741-S51-65021 (Two-Tone Rose Gold) and 7741-ST1-30021 (B&W on Bracelet)
Specification:
Case: 43.5 mm, Lug-Lug 52mm and thickness 13.7mm
Case Material: Brushed and polished steel (Green and Panda)/ Steel and Rose Gold PVD
Dial: Satin brushed green/silver or white matte encircled by grooves. Applique indexes enhanced with white Super-Luminova
Crystal: Sapphire crystal with anti-reflective coating inside
Water resistance: 100 meters
Movement: RW5030 Automatic Tri-Compax Chronograph
Power reserve: 56 Hours
Bracelet: Calfskin leather with stainless steel RW folding clasp with the double push-security system. Option of steel bracelet on B&W Panda variant
Australian Recommended Retail Price: $5,695 for B&W and Green variants on leather, $5,795 for B&W on the bracelet, $5,895 for steel and rose gold PVD
Availability: Available now. For more information visit RAYMOND WEIL