Jacob & Co, best known for their high end Astronomia complications have launched into Australia with Hardy Brothers named as official Authorised Dealer for the brand. Watch Advice was there with an exclusive look into the brand and partnership!
When you're launching a brand like Jacob & Co into a market, just like their time pieces you want to go big! And this is exactly what the brand did recently at their official launch party on the Gold Coast, taking a penthouse on the top level of The Star with stunning views of the beach, high rises and hinterland. and if this wasn't enough, the Pacific Air Show was on, and guests were treated to some spectacular aerial displays from the best aviators around the world. Not a bad way to spend an afternoon!
When it comes to watch making, Jacob & Co are relatively new comparatively speaking. Jacob Arabo, an immigrant to the US from the former USSR fell in love with watch making at the age of 13, after his father gifted him a dual timezone watch. This started the love affair with watches, watchmaking and after doing an apprenticeship, fine jewellery. His dream was to create unique pieces that were not mass market pieces.
In his words "I wanted to make it more stylish. I grew up with five women in my house, my sisters and my mother, and I was always fixing their earrings, their bracelets, and I was good with my hands. I knew that I could do better than what the company I was working for was doing." Thus Jacob & Co was born in 1986 as a jewellery company, but watches were not far behind.
Since then, the brand has gone from strength to strength, and after a few well placed pieces on the wrists of Naomi Campbell and Quentin Tarantino, Jacob & Co watches have taken on a life of their own. Super creative and artistic pieces, more wearable sculptures and art than anything that just happen to tell time. When you see these pieces up close and put them on your wrist, you start to understand just why these pieces command the piece tags they do – with many of the high end Astronomia pieces in excess of AUD $1.5M.
It would seem that now the time is right for Jacob & Co to enter the Australian market with a retail partner, and they've found this in Hardy Brothers, the Australian owned Jewellery and Watch retailer. This was solidified and officially launched last week on the Gold Coast, which provided the perfect backdrop for the brand to be welcomed into the Australian market.
Watch Advice was lucky enough to get an exclusive invite to the event, and talk to Nicholas Hooper, Director for Jacob & Co Australia on their launch, as well as get some quality hands on time with all their pieces. Some of which are out of this world! Guests were treated to canapes and drinks, whilst a DJ spun the decks with tunes that gave the whole afternoon a relaxed Mediterranean vibe – perfect for a warm sunny afternoon in Queensland on top of The Star Casino and Residences.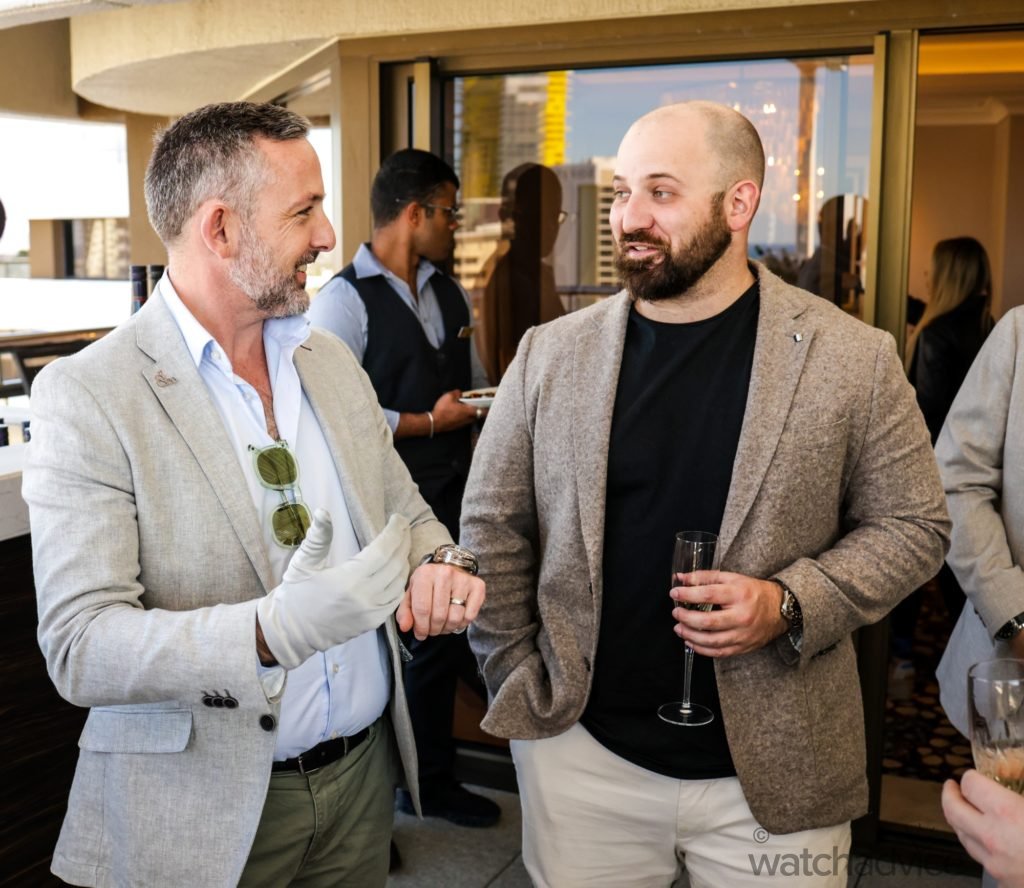 Whilst there, all the guests were able to see and experience a range of pieces from several collections, including the Astronomia collection, arguably the most famous collection in the Jacob & Co line up. Some of these included the Astronomia Black Dragon and the Astronomia Art Static Panda in Rose Gold and whilst not an Astronomia but one of my personal favourites, the Bugatti Chiron Tourbillon Rose Gold.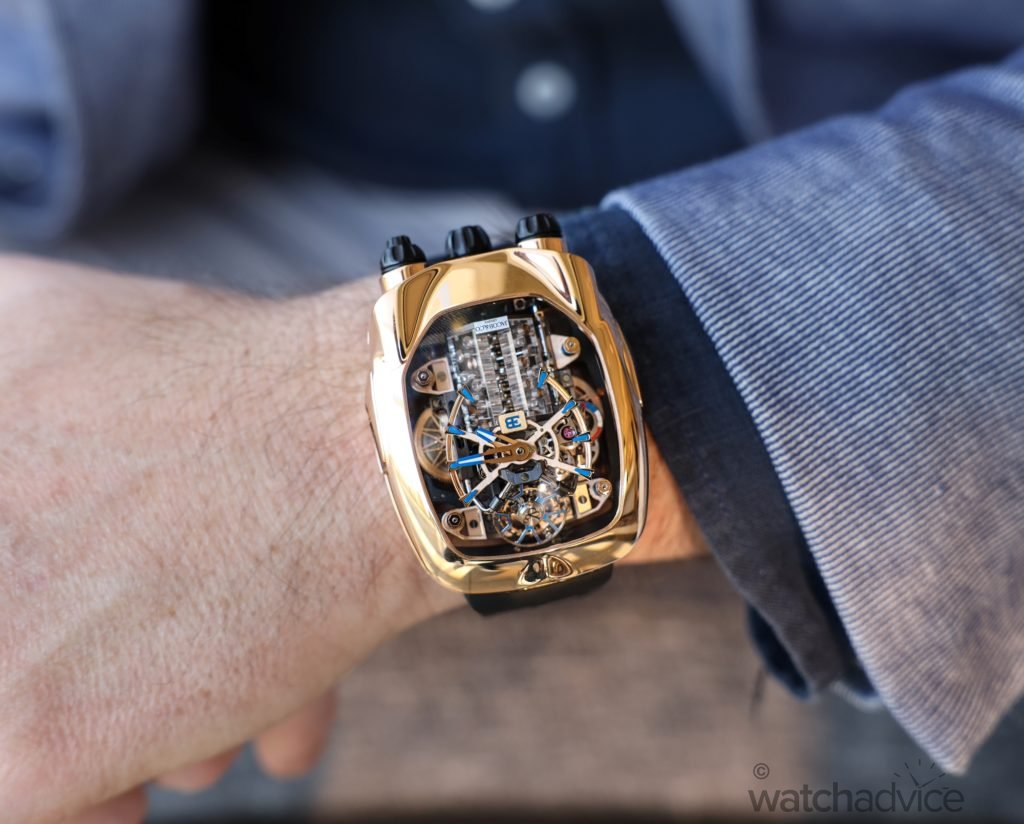 It's one thing to see these time telling pieces of art and engineering in photos, but t's another to have them on the wrist and moving, with the ability to appreciate all the detail that goes into making them.
Whilst we're all familiar with these high end pieces, several of their lesser known, more wearable pieces were on display from their Epic X , Brilliant and Palatial range. Whilst having an Astronomia Tourbillon on the wrist is super cool, these are statement pieces and only for those of us who can afford to spend over AUD $1M on a watch. For us mere mortals, the Epic X, Brilliant and Palatial range of watches are much more wearable and at a more sensible price point in comparison, with the Palatial starting at around AUD $26,000.
Perhaps the favourite of these with the guests was the Epic X Titanium Sky Blue – a fully skeletonised 44mm sports watch on a very soft (like buttery soft) sky blue rubber strap. At only 12.3mm thick, and made from titanium it's super light and super wearable. Plus it looks great on the wrist.
And at AUD $34,750 it's not out of the realms of affordability when you compare to the other pieces in the Jacob & Co line up. You would pay the same money for a Chopard Alpine Eagle Two-Tone, or a Jaeger-LeCoultre Reverso Tribute Small Seconds Rose Gold, or a range of Rolex's on the secondary market, none of which are as impressive on the wrist or unique looking at this.
Between the watches, canapes, drinks and tunes, it was the perfect day to see some of the aerial displays on show from the Pacific Airshow, which was in full flight across the weekend. We were fortunate enough to have great views of the planes and fighters showcasing their skills over the Gold Coast beaches and skyline, and seeing fighter jets like the F-18 Superhornet doing tactical manoeuvres and firing off flares close up just added to the afternoon experience.
The watch scene in Australia is changing, and it's great to see a brand like Jacob & Co coming into the market. Talking to some of the guests at the event, there were some people who were eyeing off several pieces on display and talking to Jacob & Co they're seeing strong demand out here for both the high end and standard time pieces. If this isn't a sign that the Australia watch market is maturing, I don't know what is.
Jacob & Co will be available exclusively at Hardy Brothers on the Gold Coast and Sydney and selected pieces available now. For more information, availability and pricing, head to Hardybrothers.com.au