Seiko watches need no introduction. Started as a clock making company in 1800 called Seikosha, their name roughly translated meant "House of Exquisite Workmanship". This changed to Seiko in the 1920's and is a company associated with many first before any others even thought about it in R&D ie. first to produce a production quartz (1969), first for an automatic quartz (1980) and the list goes on. This company needs no introduction and I am hard press to say anything negative about any of their watches, they are just robust, value for money and have created a cult following.
In the 80's Arnold Schwarzenegger wore a watch in movies like Commando, Running Man, and Predator. It was a Seiko H558-5000 and Analogue-Digital combo that has created lovers of the actor, movies and merchandise to be immortalised and coined the term Seiko Arnie.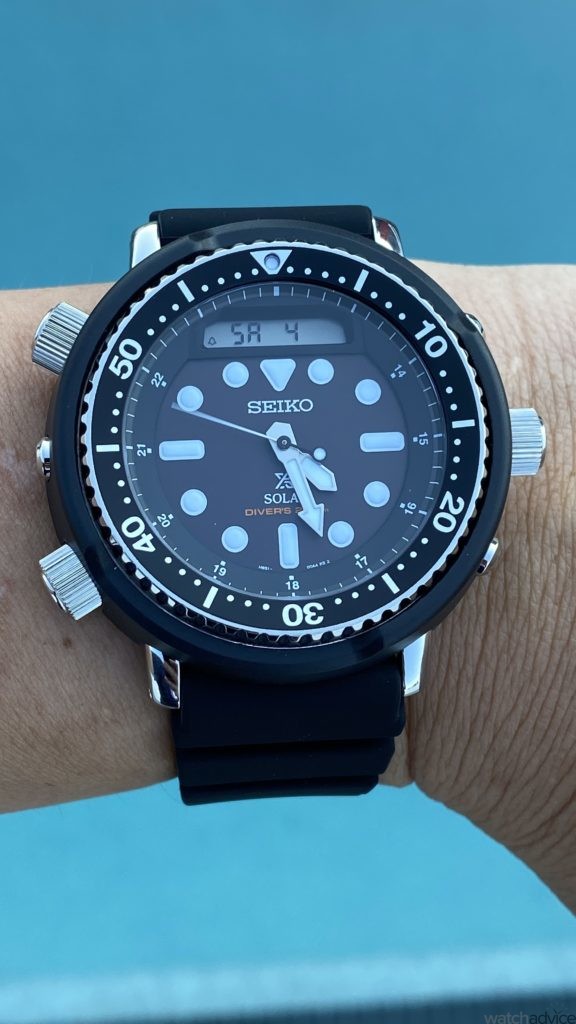 The re-release of the Seiko Arnie doesn't fit in the ho hum sequel category. The first thing you will notice about the SNJ025 is its size. 47.8mm according to Seiko Specs it is a relatively beefy watch at 13.8mm thick. The other noticeable thing is like most Seiko Prospex you will either love it or hate it. There are three variants Black with Black Bezel SNJ025, Black with Red and Blue Bezel SNJ027 and a Black PVD, Gold Bezel version and I unsure if available online.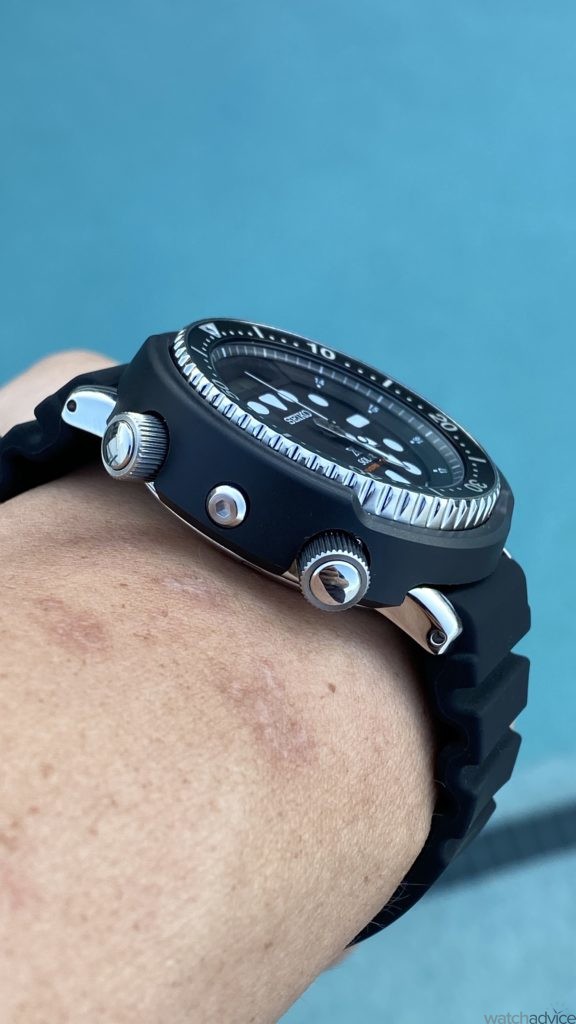 One of the most significant things to note here is this watch is a solar powered watch. Yes !. Functionality wise it is amazing. Given it's a dive watch, it can go to depths of 200m. It has a dual time, stopwatch function, alarm, date to 31.12.2100 and LCD light. For the divers out there it has a directional bezel for true dive time and the chapter ring has a depth indicator for the second you need from a depth to surface safely when the bezel is at 12, if you had eyes good enough to read it. eg 50m 22sec, 15m 12sec etc. It's actually pretty cool when you set the time via the digital display and the hands and second hand move automatically to this time.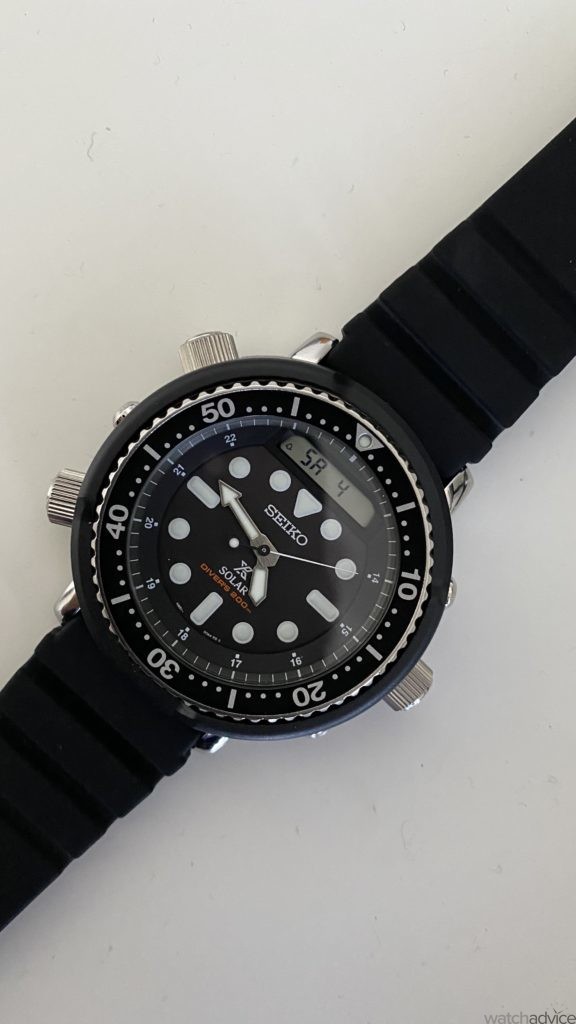 Containing Seiko's H851 movement it has a rating of ± 15sec per month, Hardlex crystal, Lumibrite hands and screw down crown and pushers. There is a plastic guard protector that is removable around the case for cleaning. I was told and this is unconfirmed that Seiko installed these to protect the case when diving on oil rigs and you are banging these against steel etc. It has a screw down crown for adjustments, and two buttons for the digital on the left hand side of the case. These are locked by turning it reverse to the norm to secure ie anti clockwise. Once the crown and the digital buttons are down, you have waterproofness to 200m/660ft.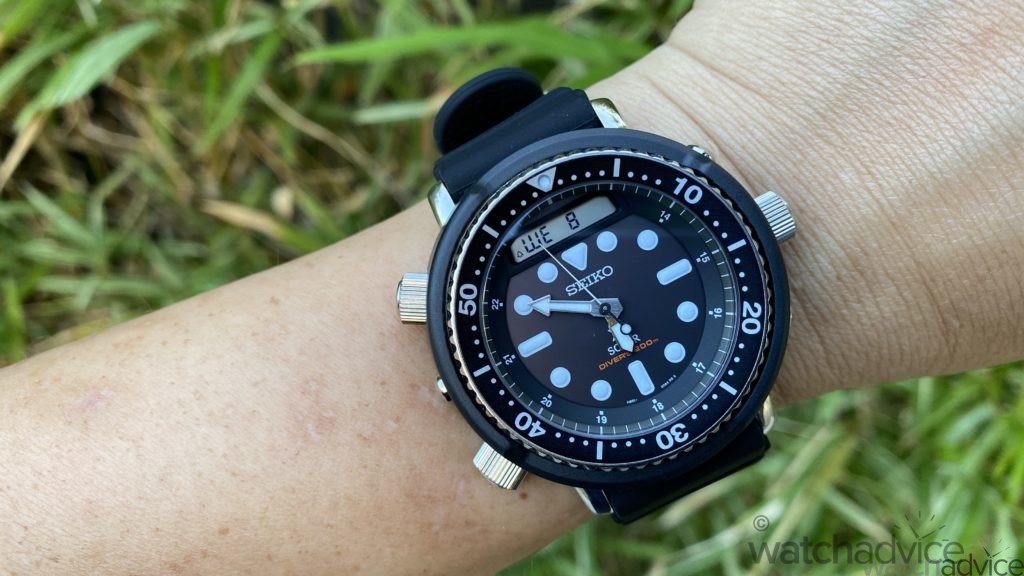 The watch wears great, it comes with a silicone strap and the only criticism is the steel end tie that digs into you at times. It is very very light for a larger watch and although it does not fit nicely under a cuff, you do forget you are actually wearing it now and then. Aesthetically like I mentioned you will either hate or love it. It's not a chronograph just a unique analogue\digital watch that is solar powered.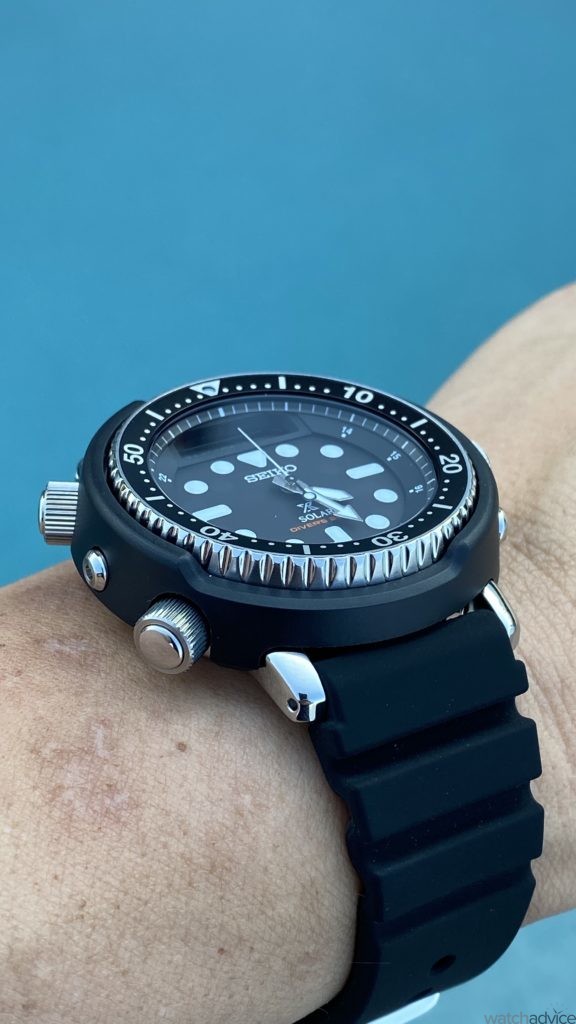 Yeah ok it has some squashed up dial to accommodate the digital display, yes there are some other things we may pick on, but let's face it who really likes a sequel to a movie? There has been minimal success in Hollywood for sequels but Seiko nails it with the SNJ025 for functionality, wear and just full on geekiness. And the most important thing a great functional dive watch.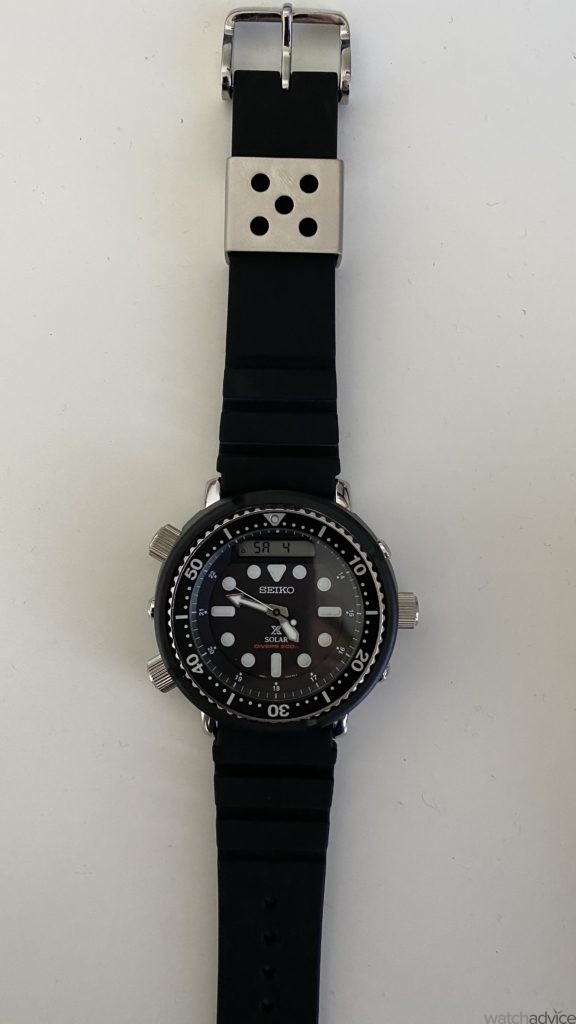 This watch will appeal to many a crowd. The ones who aspired to be Duke fighting the Predator, the corny lines from Commando or just Arnold Schwarzenegger. The other flipside is that you are a full on geek and know that this is pretty well a cool piece of kit, solar powered, digital and analogue watch. Either way doesn't matter who you aspire to be, I think Arnie himself would be proud of this piece and to be unique and stand out a little from the G-Shock crowd, you won't go wrong with this timepiece as long as there is light.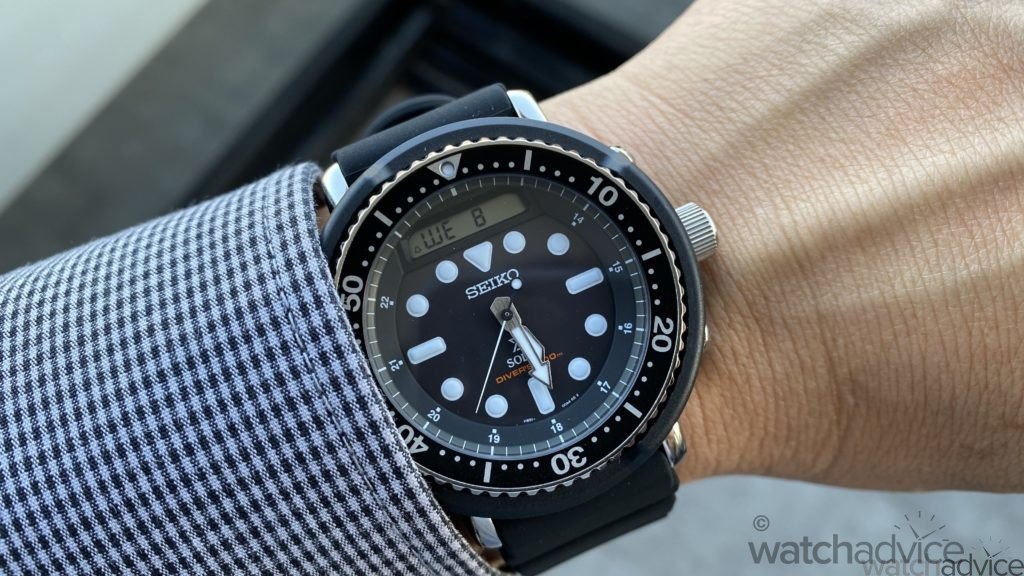 RRP $799 from most Seiko dealers.