Ever wondered what a giant watch at the bottom of a pool would look like? Well, wait no more as Ulysse Nardin in conjunction with The Hour Glass take over the iconic Icebergs pool at Bondi Beach in Sydney in a first for both Ulysse Nardin and Icebergs!
Two weeks ago a few of the Watch Advice team, along with other media and industry people were at a lunch at Iceberg's Dining with Ulysse Nardin and The Hour Glass, helping to launch the new Freak One in Australia. If you want to read more about that, along with the interview with Ulysse Nardin's CEO, Patrick Pruniaux, then read all about it here.
At the lunch and launch, Patrick had an idea to takeover the Iceberg's pool with a giant Freak One that could be seen from above. Fast forward to two weeks later and Ulysse Nardin and The Hour Glass have done it – put a giant Freak One at the bottom of the Iceberg's pool with a massive takeover!
Why Bondi and why Icebergs? The answer is simple. Ulysse Nardin is a brand that has it's history tied to the ocean, dating way back to 1846 when Ulysse Nardin himself set out to develop his own marine chronometers for navigation, and subsequently pocket watches and then wrist watches. So why not do something big next to the ocean and in water?!
Freak ONE is the quintessence of Freak: as the direct descendent of the original Freak 2001, it features its three signature characteristics: no crown, no hands, and no dial. Movement is king as it tells time.
The most thrilling element of the new Freak ONE is the oversized and highly complex, aerodynamic, and inertia-optimized balance wheel crafted entirely from one piece of silicon, and a lever escapement executed in DIAMonSIL (a patented form of diamond-coated silicon). This is the result of Ulysse Nardin's unrivalled expertise in silicon technology and represents the single most advanced oscillator in the watch industry.
The Freak ONE is also the first Freak with an integrated rubber strap, made of 30 percent recycled rubber from production waste by BIWI, a local Swiss Jura based rubber straps manufacturer. It becomes Ulysse Nardin's flagship watch and the Manufacture's centre of gravity as it defines its new independence.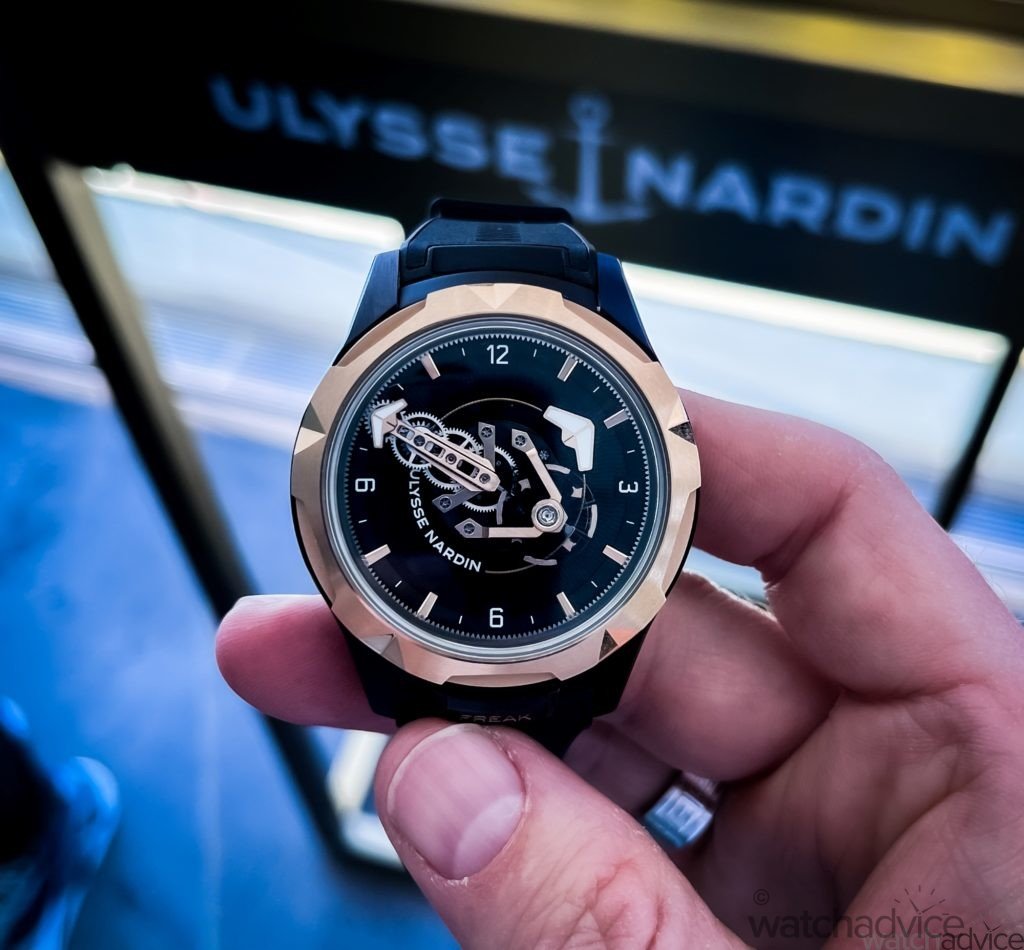 When asked about the location to launch the Freak One here in Australia, Patrick Pruniaux comments "I'm so pleased and glad that I'm here, and I think this place (Talking about Bondi) represents and illustrates very well what we stand for, I mean there couldn't be any better place than this one. Actually when you think of it, in a country like Australia, its almost the perfect fit. I mean the mindset here, the evolution of Luxury in the Australian market which is absolutely stunning, I really feel there is a great fit in the Australian market!"
The takeover of the Iceberg's pool showcases Ulysse Nardin's boldness and innovative nature, and in doing so, cements itself as a truly emblematic brand when it comes to wearable high horology that likes to push the boundaries, the way only a Freak can!
For those wanting to check out the Dive Into Freak takeover of Icebergs, then hurry as it's only there for a couple of days and Saturday 27th is the last day to see it in person.