It's was the most beautiful day and we were expecting to come home with goggle tans as the sun was shining with the runs in immaculate Swiss condition, glittering under the clear skies.
At the summit of the ski resort Minschuns – Val Müstair (Santa Maria Val Müstair) with the clear blue skies it seemed we could see forever; it was warm, and we were skiing and boarding with our jackets open. Later the weather turned to be cloudy and cold, so we went for lunch and hot chocolates which warmed our belly and gave us the energy to get out again as the weather began to lift, together and alone. After a full day of skiing, we turned for our last run before catching the 4(ish) bus home. The weather had become beautifully clear again, however, we were somewhat rushing to get to the bus in time.
On this last run we agreed to take the easy run down, but at the last second Sascha (my brother) chose the black run and I followed him. I hadn't been down that run before and it was much steeper than I had mentally prepared for, especially so late in the day. My options were to take my skis off and walk back up the hill and go down the easier run or put in the effort and get down the black run. It was within my ability; it just wasn't what I had planned, and my life then changed forever, that split-second decision would lead to various life-changing outcomes.
Halfway down the steep slope, I had to jump to turn – something I had done 100s of times before, however, this time when I landed it was on an uneven divot which spat me up with my momentum. I landed with my leg fully extended and it felt as though I had jarred my knee, no biggie, right? I sat there for a moment in the snow, thinking to myself that I will need to ice it that evening and that I really need to get down to the bus.
I attempted to get up but couldn't stand on my left leg and fell back down, I made a couple of attempts before I realised that I wasn't going to get down on my own. I couldn't get my skis off, so I put my stocks up in a cross asking for help. My brother was waiting down by the cafe waving at me and called my phone to asked if I was taking a break. I explained I couldn't get up; he was the size of an ant to me at the time and I watched as the little ant ran in a circle a few times and then said, "don't worry I'm getting help".
Moments later a group of skiers came down the hill, saw me and came to assist. One of the men advised he was a doctor and asked to feel my leg, he then established that it felt fine and attempted to help me up, the only problem was I couldn't stand. Assistance had been raised by my brother and first aiders we're arriving with the assistance sleigh. But they couldn't get me into the sleigh and the Doctor that examined my leg called for a helicopter on his phone.
He stayed with me as we waited, the REGA helicopter came through the valley below and hovered above us as there was nowhere to land given the steep slope. A paramedic came down with the basket, assessed me, administered a brace on my leg and a dose of morphine. I was then winched by the friendly helicopter crew to the flat ground where they were able to land to load me into the helicopter and transport me on the most beautiful flight (probably the morphine, more likely the stunning Swiss mountains) to Scuol hospital.
I arrived in the afternoon and had a 4-hour surgery at 8 am the next morning where a plate and several screws were inserted in my leg. I had fractures where my Tibia had shattered due to the impact with my Femur, pieces of my hip grafted to repair the bone. I later found out that the man that called for the helicopter was the CEO of REGA at the time, what are the chances?
Overall, I was lucky to have travel insurance and amazing medical help and two months later I was able to fly home to Australia with my grandmother. This accident resulted in me returning home instead of staying overseas as I had planned. The sliding doors moment lead me to a new job and shortly after meeting the love of my life and producing our most amazing little boy.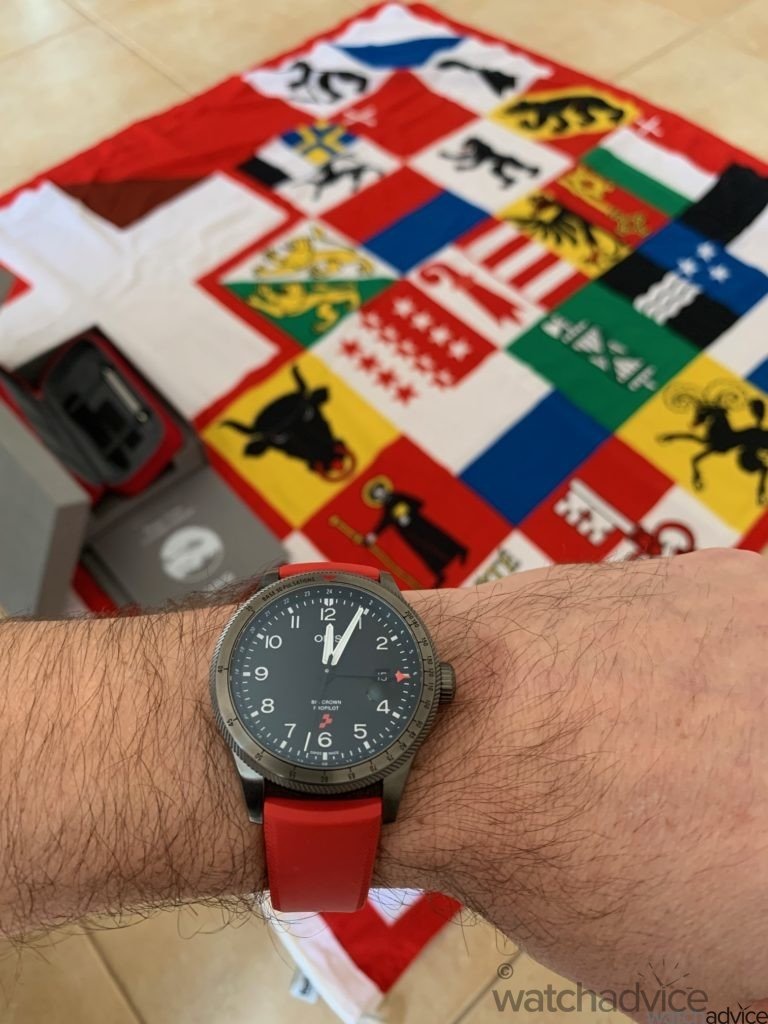 ORIS releasing the REGA watch was something we had to have, with the AgustaWestland Da Vinci REGA rescue helicopter case back (the same as rescued me). Financially it stretched us and is not something we considered lightly, however, this watch means more than using the GMT function to keep both Melbourne and Solothurn time (where my family still live). It shows the amazing job REGA do for so many people and the start of our little family. We cannot wait to get back to Switzerland, to home, to family and to share this story with REGA and ORIS and one day have our little boy wear it and remember how we all came to be.