The 2021 edition of the Grand Prix D'Horlogerie De Genève (GPHG) began earlier in June this year, with entries from watch brands being taken until 5 July 2021. For the 2021 edition, there are over several hundred watches for competition thanks to the GPHG Academy, which was created last year brings together 500 stakeholders from the watch industry.
The purpose of the Grand Prix d'Horlogerie de Genève is to be used as a "strategic instrument" to promote the industry's latest products. This competition allows the international audience to keep up to date with the evolution of the art of watchmaking. The first round of voting for the entries will begin in September, in which a select few watches will be nominated for the final prize in each category. The final round of voting will then commence at the beginning of November to determine the 2021 prize list.
A total of 14 categories exist. Watch advice over the next few weeks will pick what we think is the top 5 in each category and present it to you, with hopefully Grand Prix d'Horlogerie de Genève matching our personal taste and following suit!
To start things off is the Ladies category, with a total of twelve watches being presented for nomination, we have narrowed it down with great difficulty to what we think is the best five.
Grand Prix D'Horlogerie De Genève – Ladies
Emile Chouriet – Pearl
Being a part of their Original DNA collection, Emile Chouriet Pearl timepiece was chosen as the dial is quite simply beautiful. Reminiscent of a stary night sky, the Pearl model is also filled with gemstones and diamonds (12 on the dial). The dial is kept to just show the time and date at 6 o'clock, which allows the diamonds and glitter night sky to make an impact on the viewer.
The Pearl line also brings quite a history with it. The line pays homage to the very first commercial relations between Swiss watchmakers and the great Emperors of China centuries ago. Some of these timepieces made their way to the courts of Emperors Qianlong and Kangxi. 
Artya – Precious Butterfly 
The Artya Precious Butterfly is a mechanical self-winding timepiece that is pure artistry on your wrist. This is exactly why we have chosen it to be on our top five list. What's truly unique about this dial is that it uses genuine pieces of nature to create beautiful art. The 40mm dial is made from pink gold to match the gold shown throughout the dial.
The artist D. Arpa-Cirpka has been successfully using actual parts of tropical butterfly wings since 2010, on watch dials to represent miniature artwork. Artya explains that these timepieces are all "unique, tailor-made watches that are highly creative – and completely unprecedented in the field of watchmaking". Each individual watch offers a new creative artwork each time. In this piece presented for the competition, not only are the butterfly wings used genuine, but also the gold leaves. Combine this with the different colour palette and the dial truly comes to life.
BOVET 1822 – Miss Audrey Sweet Art
The BOVET 1822 Miss Audrey Sweet Art is a truly unique piece in watchmaking. Throughout BOVET 1822's history, the brand has made dials from a variety of different materials such as precious metals, enamel, miniature painting, guilloche, engraving, mother-of-pearl, aventurine, and skeleton. This latest release for the Grand Prix d'Horlogerie de Genève 2021 sees BOVET 1822 create something entirely new, a dial that has never been seen before in the watchmaking industry. The dial is made from pure sugar!
This kind of dial is a breakthrough in not only innovative engineering but also engraving and miniature painting, which are fortunately all hallmarks of BOVET 1822. Making a dial like this is sure to have an extraordinarily complex process. BOVET explains that " First, the pure sugar crystals are prepared so their structure will not change when exposed to light or heat. Then the sweet crystals are chosen for size, then combined with special paints and hand-applied to the dial by one of BOVET's miniature painting artisans. This demanding process, protected by a patent, leaves no room for error. One misstep and the entire process has to start again."
The results from this process lead to a dial unlike any other. As the work is done by hand by experienced artisans, every dial that's made is a unique piece. Another beautiful touch that BOVET 1822 has included is the hour and minute hands. Shaped a bit unorthodoxly, when the hands come together and touch each other every hour, they form a beautiful heart shape, reminding the wearer of the loved ones in their lives. 
Van Cleef & Arpels – Alhambra secret pendant watch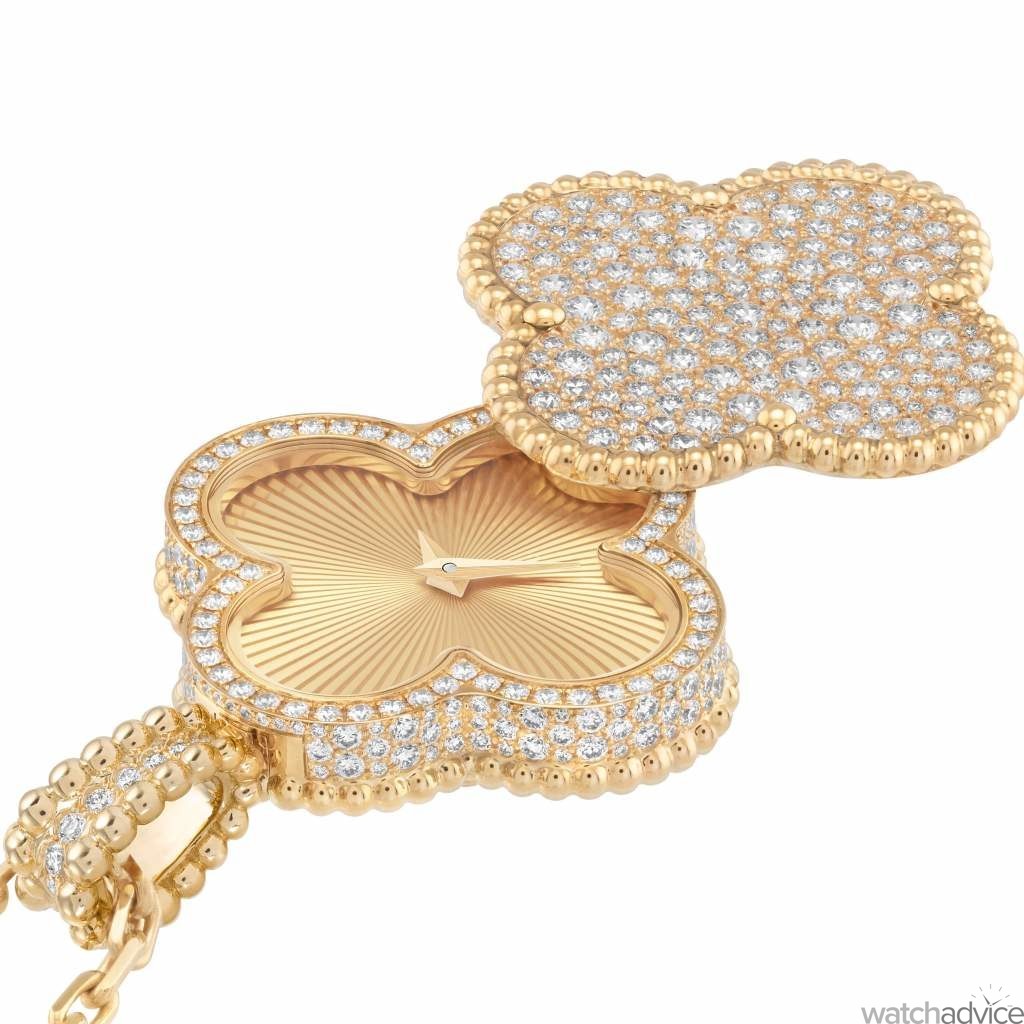 Van Cleef & Arpels entry for the Grand Prix d'Horlogerie de Genève 2021 is quite different from the rest, in that it's not meant for the wrist. This latest piece falls into their Alhambra collection which was created back in 1968. The Maison is a big believer in luck and that "to be lucky, you have to believe in luck first". The Alhambra collection is an elegant icon of luck with many different jewellery pieces, however now is joined by pendant watch models. 
Watches that form part of a pendant are certainly something different, which is why we have chosen it as a contender for the Ladies category. The time for this piece can be revealed by a simple action that pivots the stone-set motif which unveils the dial.
The Alhambra secret pendant watch conceals a dial-in guilloche yellow gold which is enclosed in a sparkling case. The case is entirely set with diamonds by a snow setting technique, where different size stones and put together to cover as much area as possible. A total of fifteen stages of selection, workmanship, and checking is carried out which ultimately results in each Alhambra Secret Pendant watch being able to stand the test of time. 
Parmigiani Fleurier Tonda Sélène Rose Gold White Mop
The Parmigiani Fleurier Tonda Sélène Rose Gold White Mop is a little more down to earth compared to the other creations in our selection, however, this doesn't mean it's any less special. This timepiece was designed with the pure intention of bringing as much feminity to the watch as possible which is exactly why we chose it for this list. Parmigiani Fleurier has a rich history in designing pieces that appeal to all women around the world and this particular watch is no different.
The dial design tries to maximize the play with light, with different diamond cuts (a total of 60 diamonds on the bezel = 0.8ct) and sidereal reflections of the aventurine or golden lacework which has been applied over the mother-of-pearl, giving out beautiful reflections. The 33.7mm case is made from pink gold, with the hands hour markers and lacework made to match. The mother-of-pearl in the background gives the dial elegance and an almost cloudy-like appearance, which connects really well with the moon phase indicator at the 12 o'clock position.
The Parmigiani Fleurier Tonda Sélène Rose Gold features luxurious design codes that envoke the beauty of feminity, all the while still having several complications to make it more than a piece that just tells the time.