In 2020, Hublot released their Big Bang Integral in three variants; titanium, King Gold, and black ceramic. Now, for the Swiss brand's latest release in LVMH watch week, they are unveiling three new ceramic models. Equipped with built-in scratch-resistance, durability, and hypoallergenic properties, the new ceramic colours white, navy blue, and grey add a good variety of colours to the Big Bang Integral collection. 
The three new releases come with an integrated bracelet, where the first link of the bracelet is "fused" with the case. The bracelet is of the same colour as the case which goes with Hublot's style of an integral single-colour, single material style. 
Initial Thoughts:
The ceramic colours chosen will certainly appeal to a wide variety of tastes. In saying that however, the pick of the bunch has to be the blue ceramic. The way the blue ceramic directly contrasts with the white on the dial is certainly beautiful to look at. The grey and white ceramic models have their own appeal as well.
The grey ceramic model looks almost as deep as titanium itself, but if you're after a piece that stands out from some distance, the white ceramic model is sure to do the job. 
Ceramic has been used several times by Hublot before and is somewhat of a signature material to the brand. Offering both hardness and lightness, ceramic is roughly two to three times harder than steel while being almost 30% lighter.
What makes the Big Bang Integral Ceramic noticeable and distinguishable from other Big Bang models is the integrated bracelet. First released in 2020, the integrated bracelet features several different finishes, bevelling and chamfering to make the case smoothly transition in the bracelet. The three timepieces all come with a 42mm case size, which can be on the large side for some, however with the angular lugs, it may still provide a snap-fit to the wrist.
Inside Hublot's new Big Bang Inergral Ceramic models are the Unico Proprietary manufacture movement, the HUB120. This is a modified version of the brand's own Unico HUB1242, with changes that include the loss of escapement platform, thinner automatic winding system, and the movement now being overall 1.3mm slimmer. Hublot has also put in four new patented technical innovations which are; oscillating seconds clutch, chronograph friction system with ball-bearing adjustment, ratchet retaining system with unidirectional gears, and index-assembly fine adjustment system. All of these meant a new redesigned architecture for the movement so that not only the functions on the dial can be more legible, but also manufacturing and assembly can be easier as well.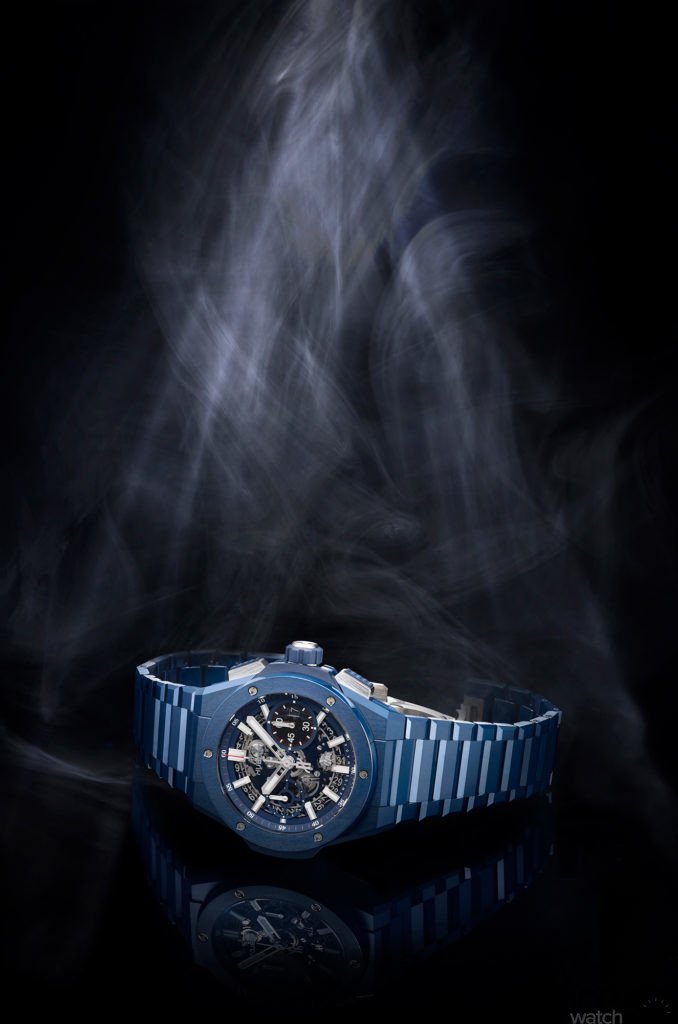 The three new colour choices in ceramic sure do add a lot more appeal to Hublot's Integral Ceramic collection. Tell us your thoughts on this latest reveal from Hublot, and which colour is the most stand-out-worthy?