The MB&F M.A.D (Mechanical Art Devices) Gallery was founded by the Swiss watchmaker, where Horological Machines reign supreme. It was first created as a way to showcase the brand's Horological and Legacy Machines, however, along the way they found that there is so much more mechanical art in the world around us. So MB&F went about collecting some of the finest Mechanical art and machines to show to the general public. Feels almost like a Da Vinci style laboratory.
MB&F Founder and Creator Maximilian Büsser say that the gallery was created because "We saw the M.A.D.Gallery as the perfect platform to showcase our own Machines as well as other pieces of kinetic art by other creators whom we greatly admire. MB&F create Machines that tell the time, not to tell the time. They are unique examples of mechanical horology but, more than that, they are pieces of three-dimensional kinetic art. The same goes for all the creators featured in the gallery: their craft transcends a practical purpose and their creations assume the status of artworks. Thanks to the M.A.D.Gallery, we are meeting like-minded artists operating in parallel worlds; people who think like us and share our passion for creating mechanical art."
One of the latest collections to hit the M.A.D Gallery is the "Forward Motion". This collection is made up of some remarkable kinetic artworks by American artist Pedro Sanches de Movellán. Pedro Sanches de Movellán has always had a passion for creativity and even more so for kinetic art. He states that "Ever since I was a boy, I loved making things, fixing things, and figuring out how things work. There was something about this triad that has stayed in me over the years," the artist shares. "One of the first explorations of balance involved finding a way to balance a stick on a rock and have it seesaw gently up and down. Something about that captivated me."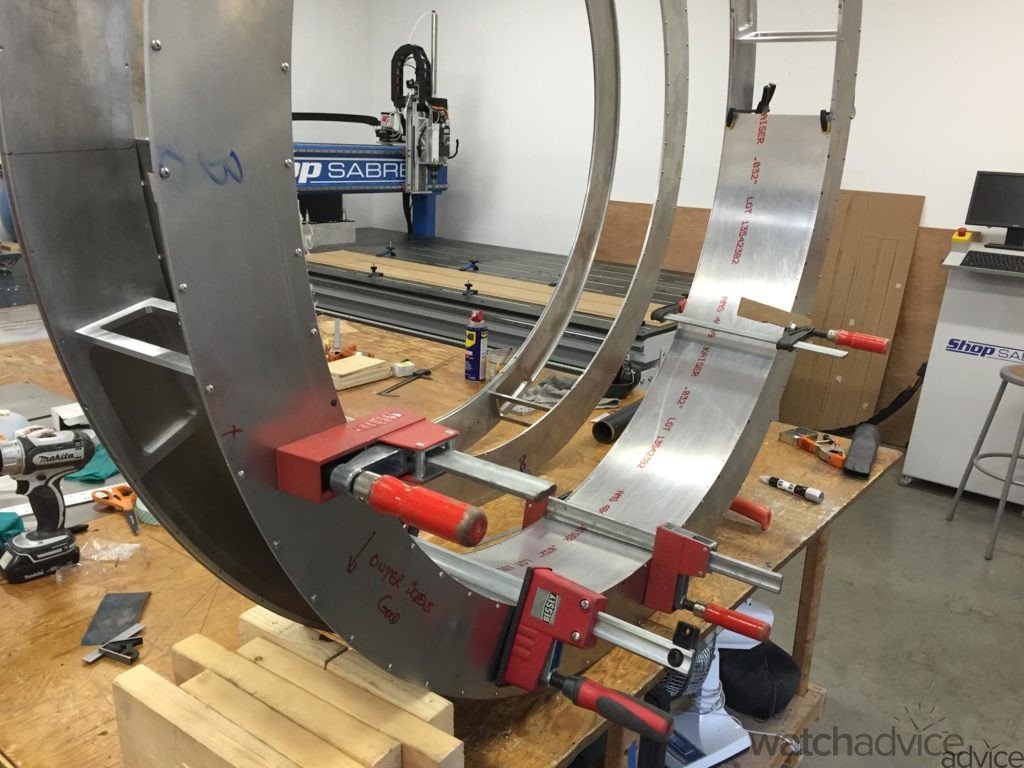 The kinetic pieces in Pedro's collection all have different timelines from design to the construction stage, which at the most can take up to 6 months for completion. The artist states that "Most of the time, the challenge is making a sculpture that moves incredibly gracefully and light as a feather, yet remains strong and durable."
"Flying Dutchman"
The Flying Dutchman is made up of five oblong shapes that sweep and loop around. Very similar to the motion of a rollercoaster, the Flying Dutchman takes everyone that sees the presence of this artwork for a wild ride, as it speeds up for a small amount of time before slowing down to gain momentum. This artwork stands at 88.9cm (35 inches) tall and is made up of black-anodized, nickel-plated aluminum and stainless steel material.
"Dihedral Green"
Similar in design and construction to the "Flying Dutchman", the Dihedral Green is smaller in size yet moves just as elegantly. Dihedral Green spins two arms with teardrop-shaped extensions, with the brushed surfaces having a mint powder-coated edge.
"Lunette"
Creating what seems like choreographed movements, "Lunette" adds an extra dimension to Pedro Sanches de Movellán's work. The artist has carefully and strategically placed six arms that have spinning teardrops on one axis, which when in movement creates quite the dazzling show.
This kinetic sculpture is roughly 91.4cm (36 inches) tall. Pedro has used materials such as brass, stainless steel, and brushed aluminum which has a rich green powder-coated edge.
This green powder-coated edge is what makes the choreographed motion of movement stand out to the viewer, as they see the endless geometric patterns unfolding in this work of art.
"Halcyon"
The Halcyon is an artwork that is resembling of a kaleidoscope. In this artwork, de Movellán has positioned four golden arms which end in open-worked circles and crescent shapes that fluidly fluctuate with one another creating an evolving scene of shapes. The golden finish of the shapes against the deep black backdrop provides a rich contrast to this artistic movement. The movement of this kinetic piece is powered by electricity.
This artwork is made up of powder-coated aluminum, acrylic paint on aluminum, powder-coated brass, and stainless steel materials. The Halycon measures 86.4cm (34 inches) in height.
"Ephemeri"
Ephemeris is certainly a unique artwork that hangs on the wall. This animated composition has an open structure that shows colour depending on the angle that it is seen. This round piece measures 40.6cm (16 inches) in diameter and makes use of aluminum semicircles which are powder coated in black. These semi-circles swing and turn into each other as if they are on a collision course!
The aesthetic beauty of this piece is enhanced with each of the shapes having accents in vibrant red lighting gel sheet, which is primarily used to change or filter the colour of light.
"Eclipse"
Eclipse is another special piece of art that through sound and motion encapsulates the hypnotic power of kinetic art. The artwork is powered by a weighted pendulum which moves gracefully thanks to the time-portioning escapement; a clutch bearing that only allows forward movement. Once the movement has begun though, the arm swings in a circular motion, mimicking the motions of hands on a clock. This artwork measures 76cm (30 inches) wide and 86cm (34 inches) tall and makes use of bold gold leaf accents to really make it stand out.