Jaquet Droz the watchmaker made exceptional and complex timepieces in eighteenth century. His most complex accomplishments were when he designed and built mechanical automated dolls, called automata. These mechanical pieces fascinated the kings and emperor of Europe, China, Japan, and India. The timepieces he created were mechanically astounding and incorporated a pleasant visual element to time keeping.
The latest edition to Jaquet Droz exceptional timepieces is the Grand Seconde Moon Phase Lunar edition. The intense and mystical timepiece revives the Grand Seconde aesthetic soaring over an astronomical Moon Phase. As the saying goes, "You can't dispute taste." The word "dispute" originally meant that there was no use trying to reconcile aesthetic preferences. There is no better adage to describe the new Grande Seconde Moon by Jaquet Droz. The piece currently has one of the largest followings out of the Maison's collections. And in the interest of granting collectors their wish, Jaquet Droz has remodelled the now legendary creation.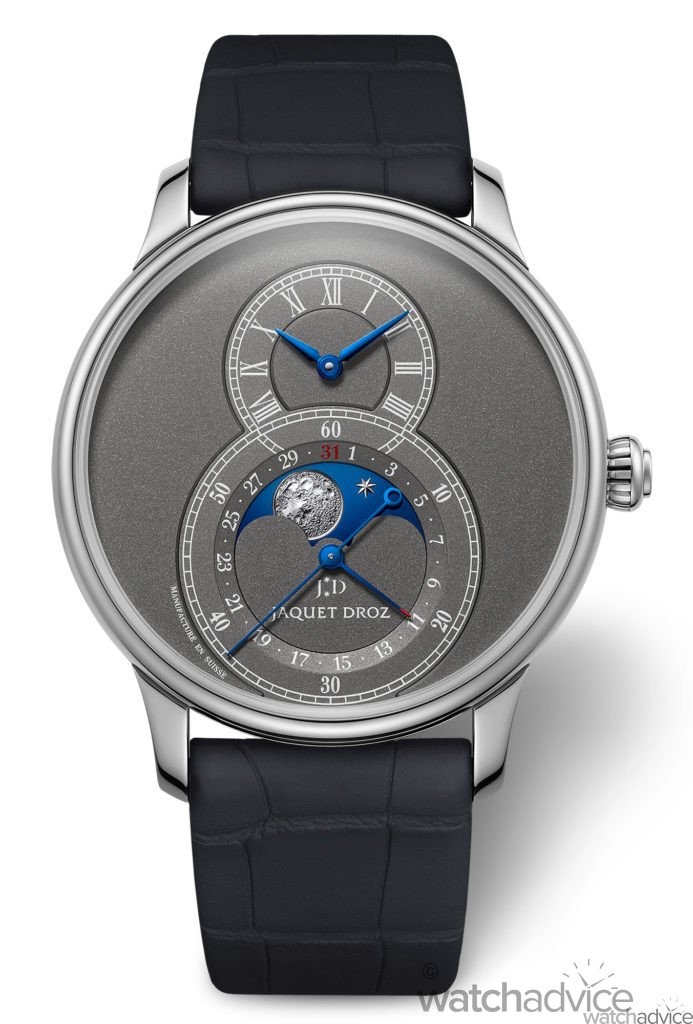 Jaque Droz had a silver iteration of the Grand Seconde Moon, the new watch now comes in anthracite. A bit darker shade of grey changes how the watch is perceived. This dial is sandblasted, which makes it more vivid and striking – not to mention it casts a striking resemblance to the surface of the moon. The lunar display sits poised at 6 o'clock as the large seconds hand and perpetual date hand fly over it. With the utmost regard to watchmaking tradition, these hands are blued, as are those marking the hours and minutes. Thus, the hands boldly and seamlessly blend into the cosmic backdrop with a blue reminiscent of outer space.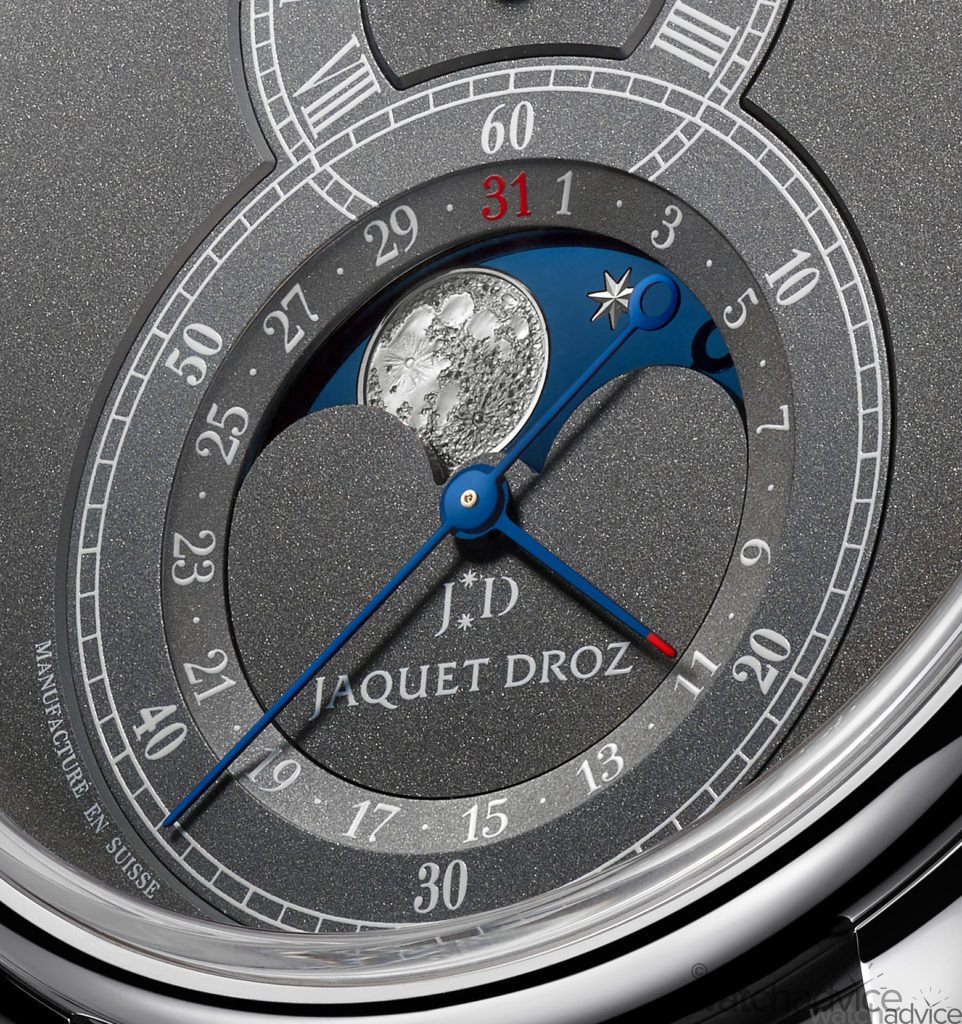 Six white gold stars strike forth against this solid background as a subtle nod to the Jaquet Droz two-star emblem. They are joined by the 22-karat white gold moon, which was drawn by hand to capture its naturally cratered surface, moved by a so-called 'astronomical' Moon Phase.
It is powered by a new movement called Mechanism 135 that runs with a 135-tooth wheel. While a traditional 59-tooth movement accumulates an error of one day every 2 years, 7 months and 20 days, the Jaquet Droz Moon Phase only requires a single adjustment every 122 years and 46 days. The movement's precision is thus closer to the actual lunar month: 29 days, 12 hours, 44 minutes, 2.8 seconds.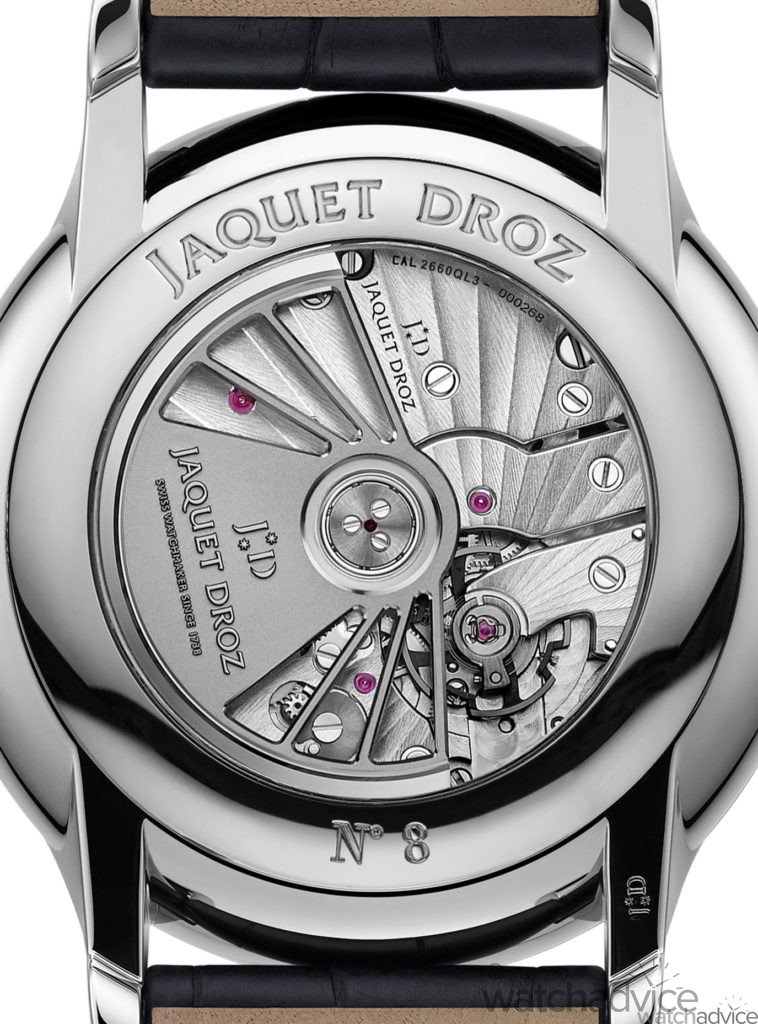 This new Anthracite Grande Seconde Moon comes on a handmade rolled-edge alligator strap with a sleek, silky rubber-like finish. The 43 mm steel case features a sapphire crystal back designed for admiring the movement's Côtes de Genève finishes and openwork Sunray finished oscillating weight. With a double barrel enabling the 68-hour power reserve, this Jaquet Droz 2660QL3 self-winding mechanical movement has a silicon balance spring and pallet lugs, making it virtually impervious to magnetic fields and temperature fluctuations. When the height of tradition meets modern advances, the Grande Seconde Moon calmly gazes upon a legacy over 280 years in the making.