Playing with depth.
Hublot has recently teamed up with Maxime Plescia-Büchi and his tattoo studio Sang Bleu, to bring us the Hublot Big Bang Unico Sang Bleu II. The Hublot Big Bang Unico Sang Bleu II is all about shapes and geometry and the creator Maxime Plescia-Büchi has brought all of together in what is a very unique and artistic timepiece.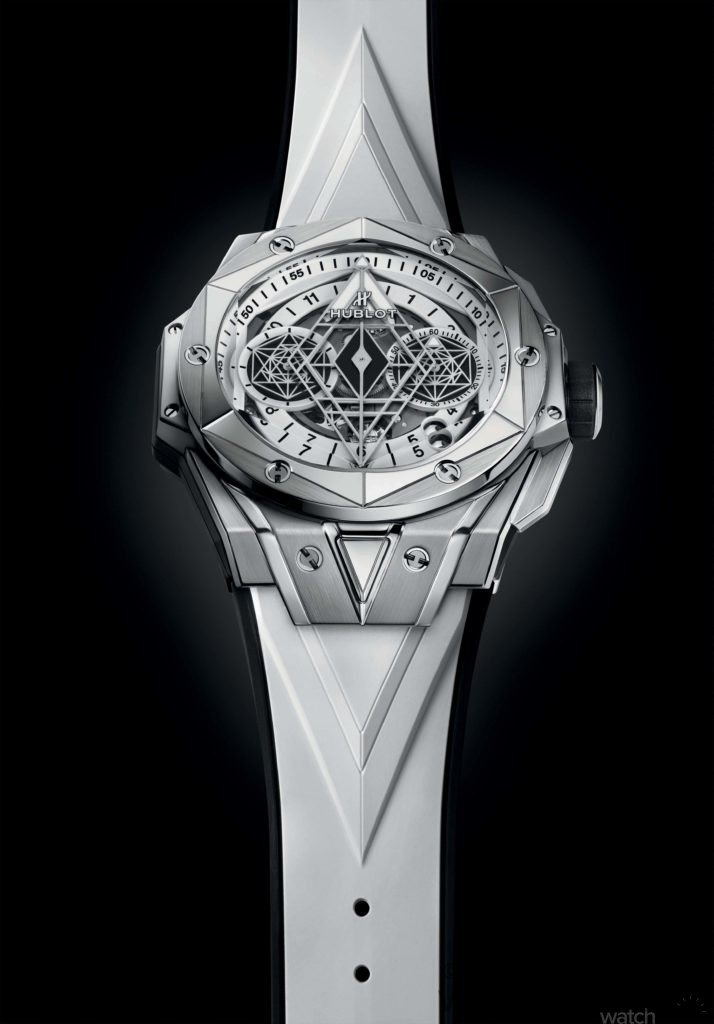 Maxime Plescia-Büchi is a Swiss-born tattoo artist and creative director. Throughout his life, he has lived in Zurich, Paris and London to work in design and hone his craft. He started Sang Bleu magazine after working in London. Sang Bleu magazine is a publication that is centred around contemporary art fashion, culture, fine art, literature, performance art, sociology, and tattooing. Maxime Plescia-Büchi also opened up the Sang Bleu tattoo studio along with Swiss typefaces and Novembre Magazine. Maxime Plescia-Büchi performs as a tattoo artist along with a dozen or so other tattoo artists and temporary resident artists. Sang Bleu is known for creating logos for the likes of Balenciaga, Rick Owens, City of Stockholm, Esquire magazine and also Vogue. They have done collaborations work as well alongside Kanye West, FKA Twigs and in the watchmaking world, Hublot.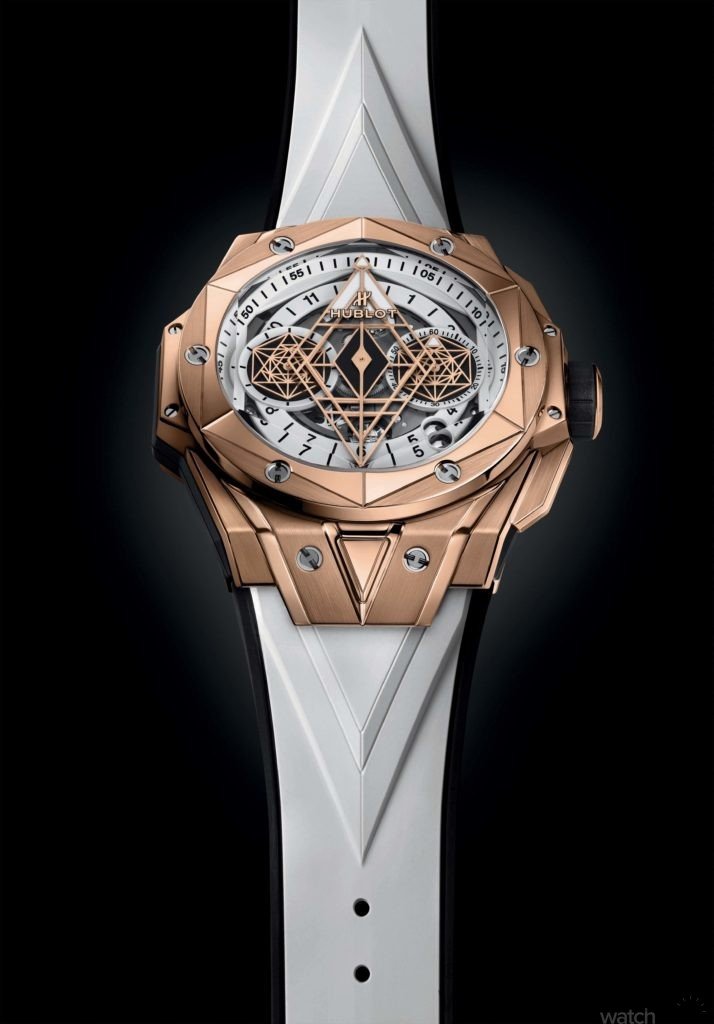 Maxime Plescia-Büchi has a thought-provoking artistic style, in which he has a confident stroke, perfect lines and a vision of perspectives, which all come together to converge and become something hypnotic.
The Big Bang Unico Sang Bleu II comes in two variants; a Titanium White and a King Gold white. The differences between the two are purely the materials used for the construction. Both options come in a 45mm casing which has a water resistance of approx 100m. The first variant (Titanium White) comes in a satin-finished and polished titanium casing with a matching bezel to suit. The shapes and lines on the dial are made from a similar finish to match the case. The second variant (King Gold White) uses satin-finished and polished King Gold for the case and bezel. Like the Titanium White variation, the King Gold uses gold for intricate structure on the dial.

The dial is of course where most of Maxime Plescia-Büchi work has been directed to. The Big Bang Unico Sang Bleu II has hexagons, rhombuses and triangles which are all intricately shaped together within the round circle of the dial in a three-dimensional like feature. The main chronograph hand is a diamond-like shape, with superluminova set on the tip to indicate the reference to time. Two counters are also present at 3 o'clock and 9 o'clock for the chronograph functions and constant seconds. Both the chronograph hand and counters have been hollowed out to leave just the latticework behind. This also helps to see the movement underneath, albeit still being tricky with the complex artwork overlayed on top.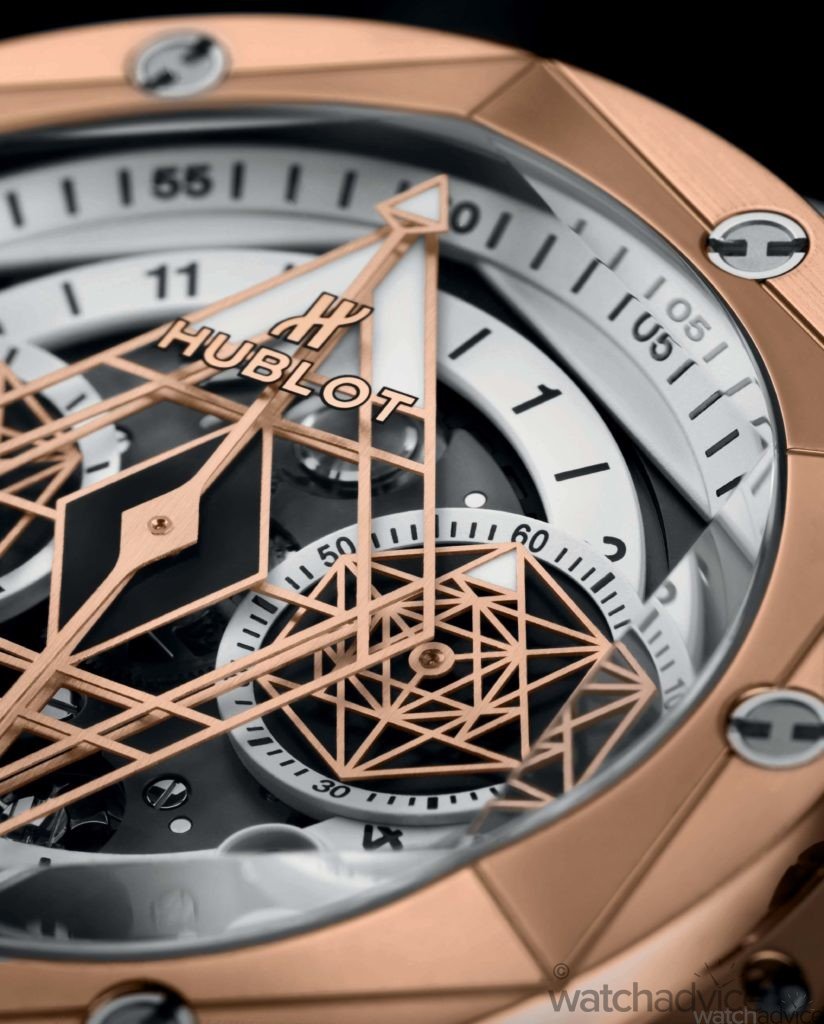 The movement used inside Hublot's Big Bang Unico Sang Bleu II is the brands own Unico manufacture HUB1240 automatic chronograph movement. The Hub1240 movement pulsates at a beat of 28, 800 vibrations per hour and has a frequency of 4Hz. The HUB1240 movement has a power reserve of approximately 72 hours.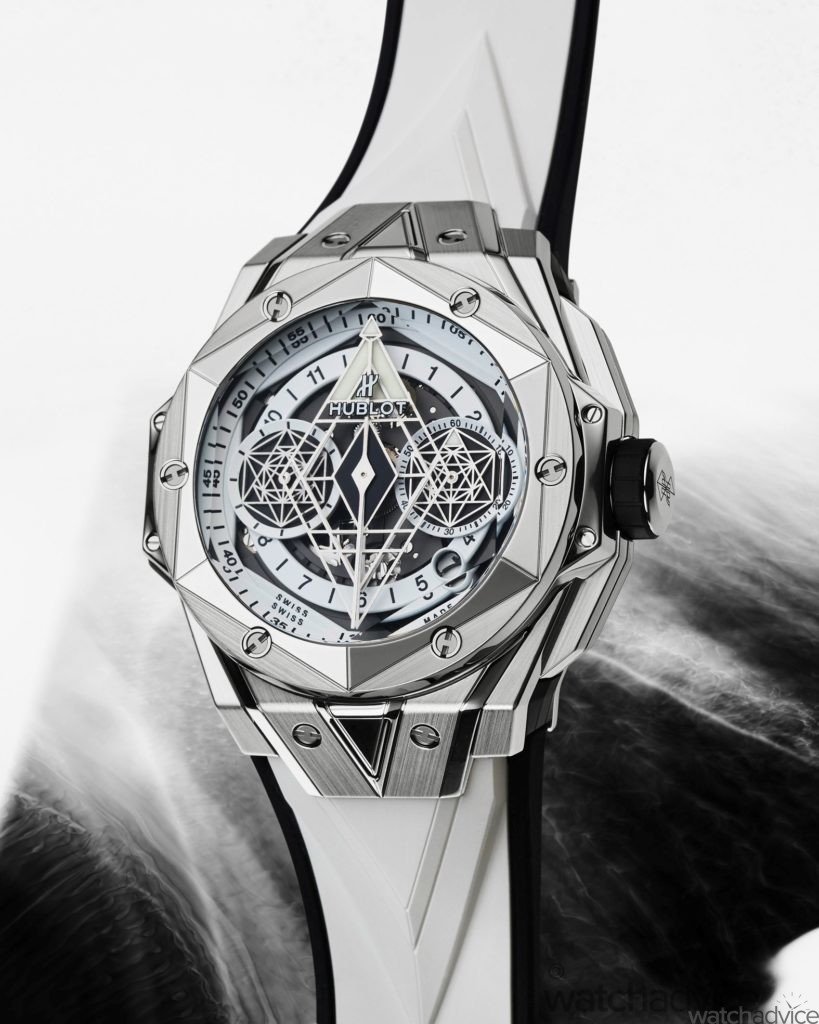 Both variants of the Big Bang Unico Sang Bleu II is offered in white rubber strap that has black rolled-edges. This strap is also fitted with Hublot's patented One Click System. These limited edition timepieces will be rolled out in set numbers. A limit of 200 pieces for the Titanium White and 100 pieces for the King Gold White.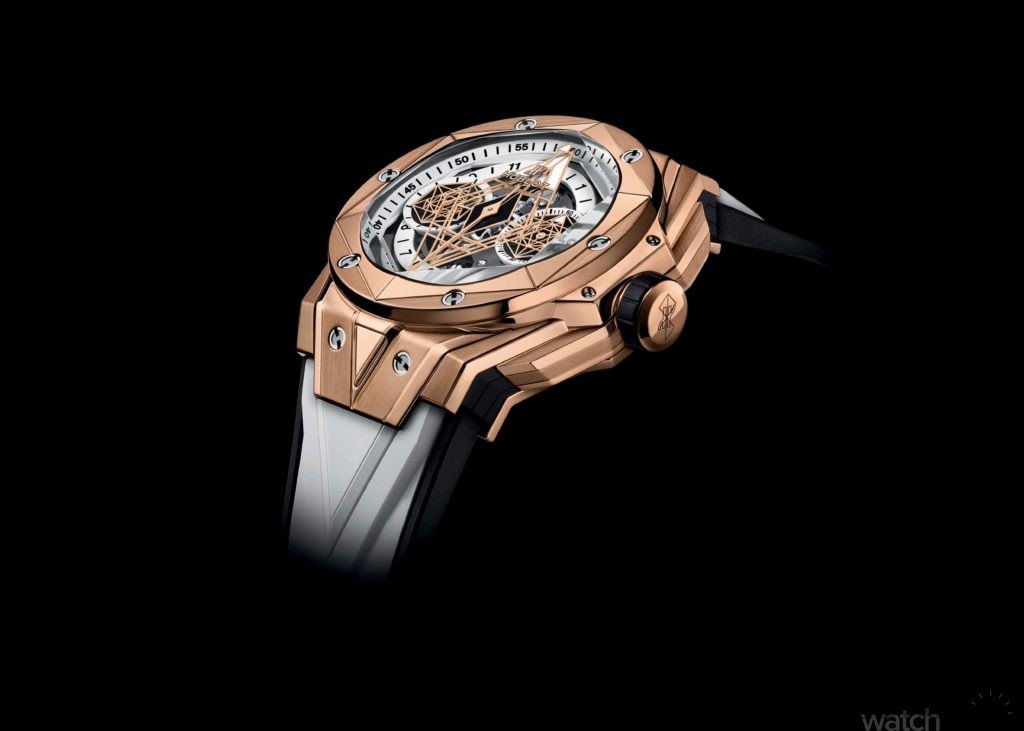 Just as he draws on the skin, the key to Maxime Plescia-Büchi artistic style is finding harmony within complex lines and geometry, which he has achieved quite aesthetically on the Hublot Big Bang Unico Sang Bleu II.