Patrick Mouratoglou; famous French tennis coach, sports commentator and life coach extraordinaire, is also a friend of the renowned Swiss watchmaker. Patrick Mouratoglou's passion for the game combined with tireless work ethic has made him one of the most influential coaches in the world of tennis. He has taken under his wing many up-and-coming players including Marcos Baghdatis. He started training Baghdatis in Mouratoglou's Tennis Academy, one he founded in 1996 near Paris. At the time of training Baghdatis, the player was deemed not to be an athlete at all. However, within seven years of Patrick Mouratoglou's coaching, Marcos Baghdatis would become junior world No.1, win the 2003 Australian Open boys title and also reach the final of the same competition in 2006.
Another notable Tennis superstar coached by Patrick Mouratoglou is Serena Willams. Before taking over as coach, Serena had just suffered a shock defeat in her career, exiting a Grand Slam tournament in the first round. Since taking her under his wing in 2012, Patrick Mouratoglou has been able to lead Serena Williams onto her fifth, sixth and seventh Wimbledon titles. That wasn't all, however, as she would also go onto win the Olympic-Gold Medal, her fourth, fifth and sixth US Open Titles, second and third French Open Titles, her Sixth and Seventh Australian Open Titles and three-consecutive year-end championship titles.
The sport of tennis and Swiss watchmaking draw many parallels, including the importance of tradition. Zenith is known for upholding traditions of the past while paving the way for the future using their knowledge and expertise. Something that Patrick Mouratoglou identifies and resonates so closely with as well. The Tennis coach has left an everlasting mark in the game of tennis, through his knowledge and unique approach to coaching, which has given incredible success to some of the students he has trained. Just as the Zenith star is an indication of reaching the highest point, Patrick Mouratoglou has been able to do so through his dedication to the craft, all the while guiding others to the pinnacle of their careers using his knowledge, passion and experience.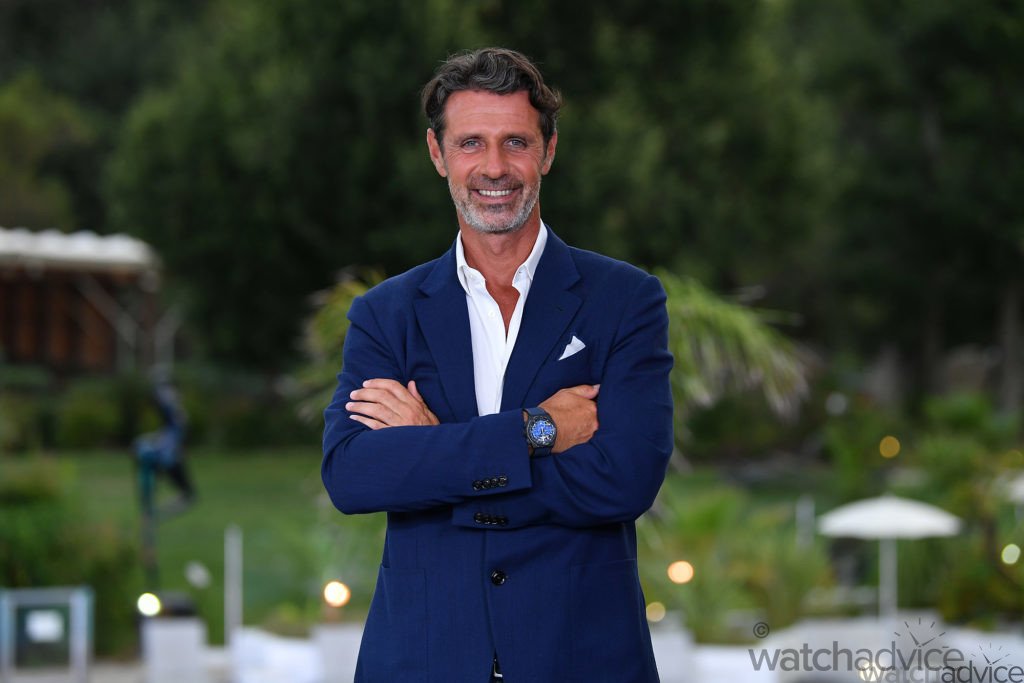 Patrick Mouratoglou is about to embark on another highlight of his Tennis coaching career. During the COVID-19 pandemic, Patrick Mouratoglou has decided to create his tennis league, which has a brand new and innovative format, that seeks to appeal to the younger demographic. The tournament named "Ultimate Tennis Showdown" is a way to bring tennis to the masses of people, which will feature a lighter code of conduct and a higher sense of entertainment.
Regarding the Ultimate Tennis Showdown tournament, Patrick Mouratoglou states "Since many years, I have realised that tennis stands in a danger zone. The world around us has changed, but tennis has failed to adapt to those changes. Although I love it just as it is, it desperately needs to reinvent itself. I decided to turn these challenging times into an opportunity: the opportunity to modernise tennis. This is why I have created UTS, a new independent and innovative tennis league that puts forward suspense, emotion and immersion with the dual objective of attracting a larger audience and younger tennis fans".
Zenith is also in full support of Patrick Mouratoglou and his latest endeavour. Zenith CEO Julien Tornare said "Here in Switzerland, tennis is something of a national sport", said Zenith CEO Julien Tornare. "We've all grown up watching local players battle on the court to become global sensations. But today, there is something of a disconnection between younger sports fans and tennis, which is often perceived by them as rigid and elitist. Just like Zenith strives to bring the codes of watchmaking into the 21st century, our dear friend Patrick Mouratoglou is revolutionising tennis to keep the sport relevant for future generations".
To celebrate this latest project by Patrick Mouratoglou and show full support for the "Ultimate Tennis Showdown", the luxury Swiss watch brand has created a special 50-piece limited edition model. This limited-edition model is based on the brands famous 1/100th of a second chronograph watch, dubbed; DEFY 21 Patrick Mouratoglou edition.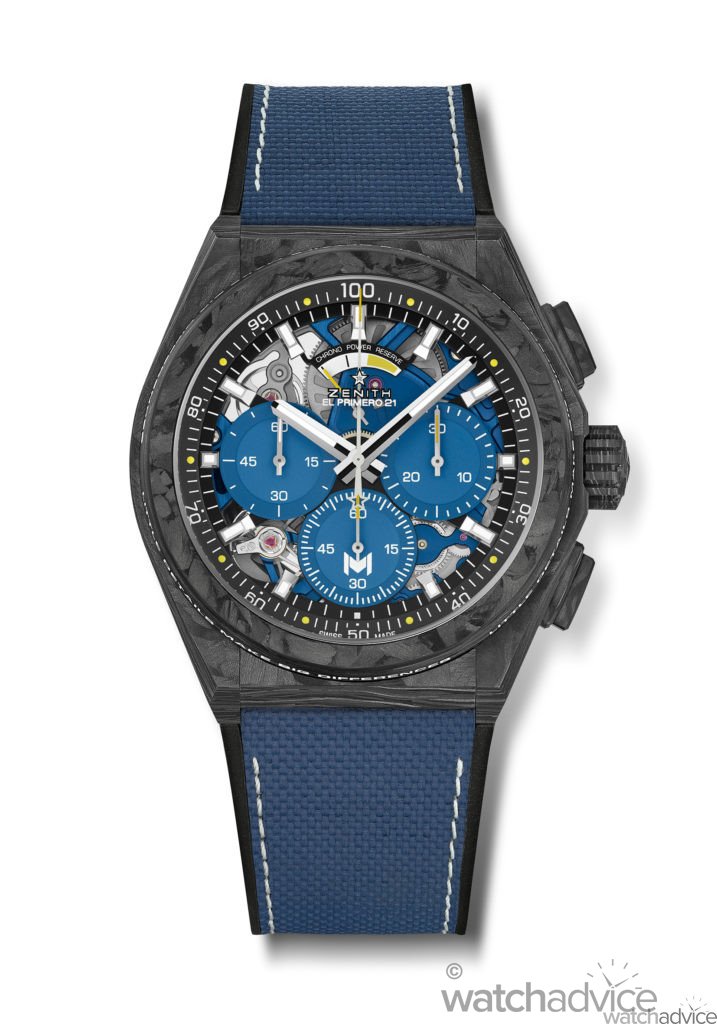 The DEFY 21 Patrick Mouratoglou edition features the case, bezel, pushers, crown and buckle head all made from full carbon. On the side of the bezel, there is an inscription in white with Patrick Mouratoglou's motto; "Little details make big difference". The sentence has also been filled with SuperLuminova so that even at night, the motto shines bright.
The dial of the DEFY 21 Patrick Mouratoglou edition has a similar design to other Defy 21 models except for the counters. The 30-minute counter at 3 o'clock, 60-second counter and 6 o'clock and the 60 minute counter at 9 o'clock have all been done in blue to represent the tennis courts used in the Ultimate Tennis Showdown tournament. The 6 o'clock counter also features the "M" Mouratoglou logo.
Hints of yellow have been used throughout the dial as well, such as the power reserve indicator at 12 o'clock position and the hands for the three counters. The 1/100th of second chronograph scale features yellow dots as well, representing tennis balls.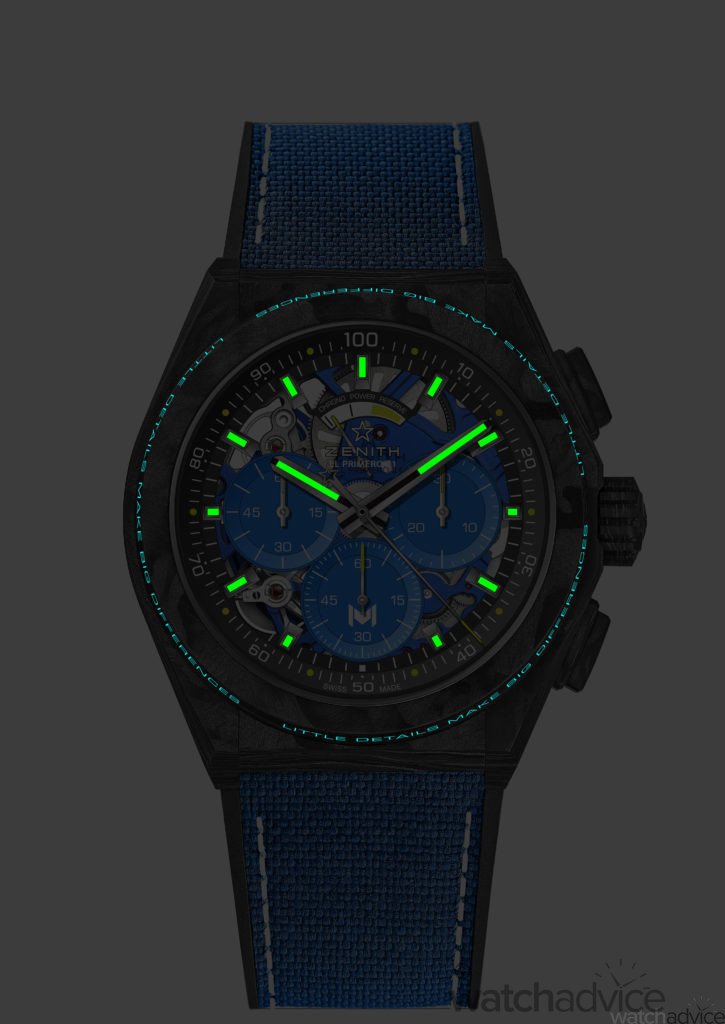 The movement used for the DEFY 21 Patrick Mouratoglou edition is Zeniths in-house El Primero 9004 automatic movement. This iconic movement carries a power reserve of approximately 50 hours. The main plate of the movement, as well as the rotor, has been done in blue to match the counters and keep with the overall blue theme on the watch.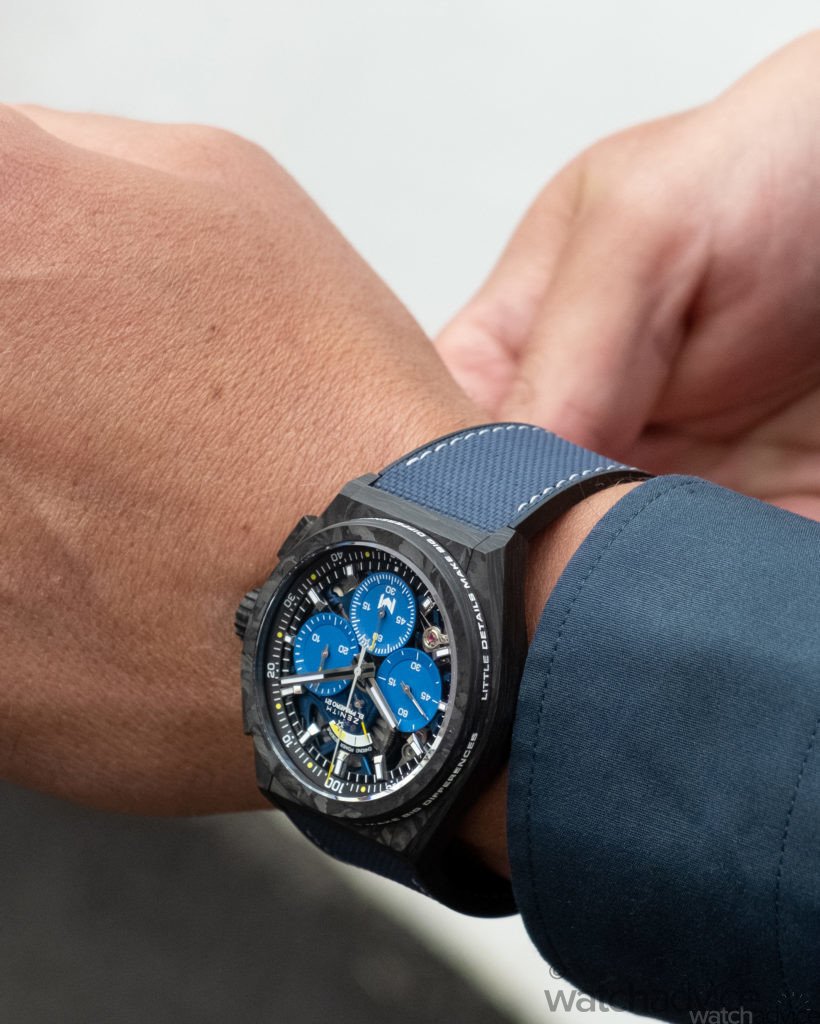 As we mentioned earlier, the Zenith DEFY 21 Patrick Mouratoglou edition is only limited to 50 pieces and is scheduled for commercial release in November 2020 at Zenith Boutiques and Zenith Online Boutiques. The winner of the Ultimate Tennis Showdown tournament will also be awarded the watch as a commemorative prize. For the 50 lucky owners that will be fortunate enough to own this special timepiece, they will have an exclusive opportunity to spend one night at the Mouratoglou Academy in France. Not only this, but they will also be able to enjoy a unique one-on-one training session with none other than Patrick Mouratoglou himself!