Watches are functional items and fashion items. In the age of "brand loyalty" created by big budget advertising campaigns, product placements, and the use of high-profile brand ambassadors and social influencers, how can you explain a manufacturer with zero branding or logos on any part of any piece in their entire range? Read on …
Ochs und Junior was founded in 2006 in Switzerland. Their timepieces focus on simplicity instead of complication. Manufacturing around 130 watches per annum, they are able to offer each customer a personal sales experience and after-sales service directly from the CEO. They measure their growth in terms of quality, not quantity. Sales are direct only, and not through distributors or retailers.
Ochs und Junior watches are developed by Dr. Ludwig Oechslin, the man behind some of the most awarded watches of the past 30 years. He was responsible for a number of Ulysse Nardin's best-known watches, including the ground-breaking "Trilogy Of Time" astronomical complications, and the original Ulysse Nardin "Freak". Oechslin is also the brains behind the amazing Türler astronomical clock (made for the 130 year old eponymous Zurich-based watch and jewellery retailer) which is a 2 metre tall, one ton monster that includes a planetarium and tellurium and even tracks the precession of the equinoxes – a period of 25,772 years. Oechslin's passion and drive is in radical and technical mechanical simplification focussing on reliability and serviceability.
Our featured watch is the 42mm ochs und junior annual calendar light. Only 10 or so annual calendar light are made each year, so don't expect to see another at your local watch get together. Oechslin invested 3 years developing a new annual calendar function comprising just 3 additional parts. Less parts means less interactions between parts and higher reliability. The dial, gears, case, crown, buckle, and hands are all individually manufactured. All functions are set by the crown – no additional buttons or keys.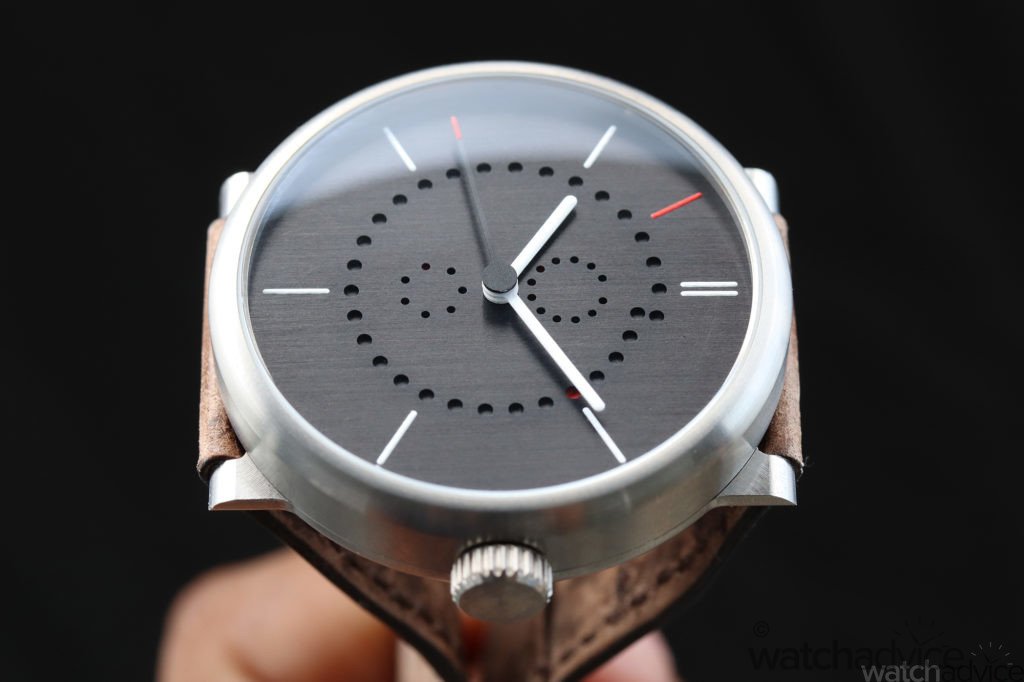 The base movement is the highly reliable and servicable Swiss-made ETA 2824-2 (38 hour power reserve) which is hand-regulated to 0/+5 seconds per day. The ochs und junior "standard" annual calendar is already a very light watch. In grade 5 titanium, it weighs a mere 61.99g (39mm model) and 70.83g (42mm model). The "Light" version weighs in at a stunning 39.97g (39mm model) and 42.94g (42mm model). Weight savings over the standard model are achieved by radical milling of the 2 part grade 5 titanium case, manufacturing the dial, gear wheels, hands, and crown in an aluminium alloy as against brass in standard version, and by redesigning the strap and buckle.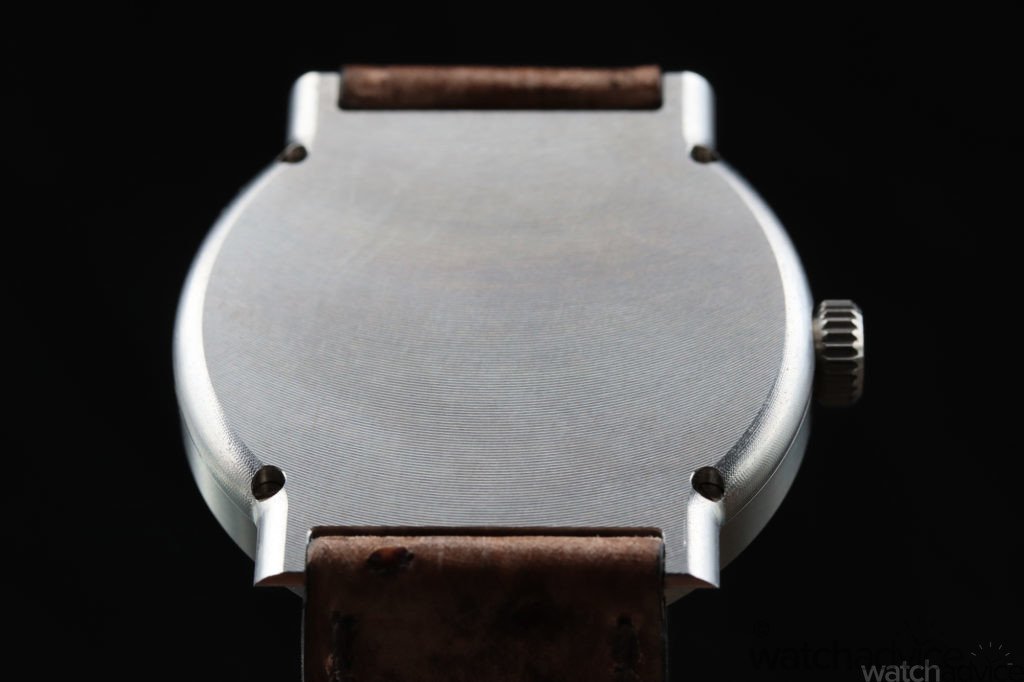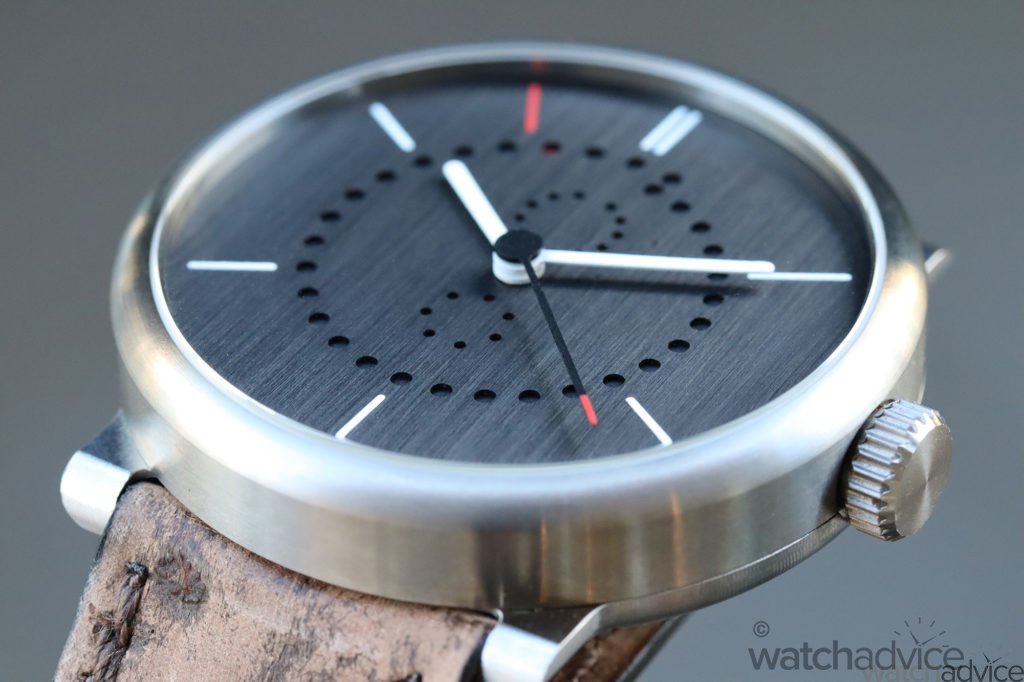 Peter Cantieni manufactures the annual calendar LIGHT's case (as well as its buckle, dial, hands and calendar function) in Hinwil, Switzerland. Peter previously machined high-performance titanium parts for the Swiss Sauber Formula 1 team, and also machines ochs und junior's original annual calendar, moon phase, date and two time zones watches.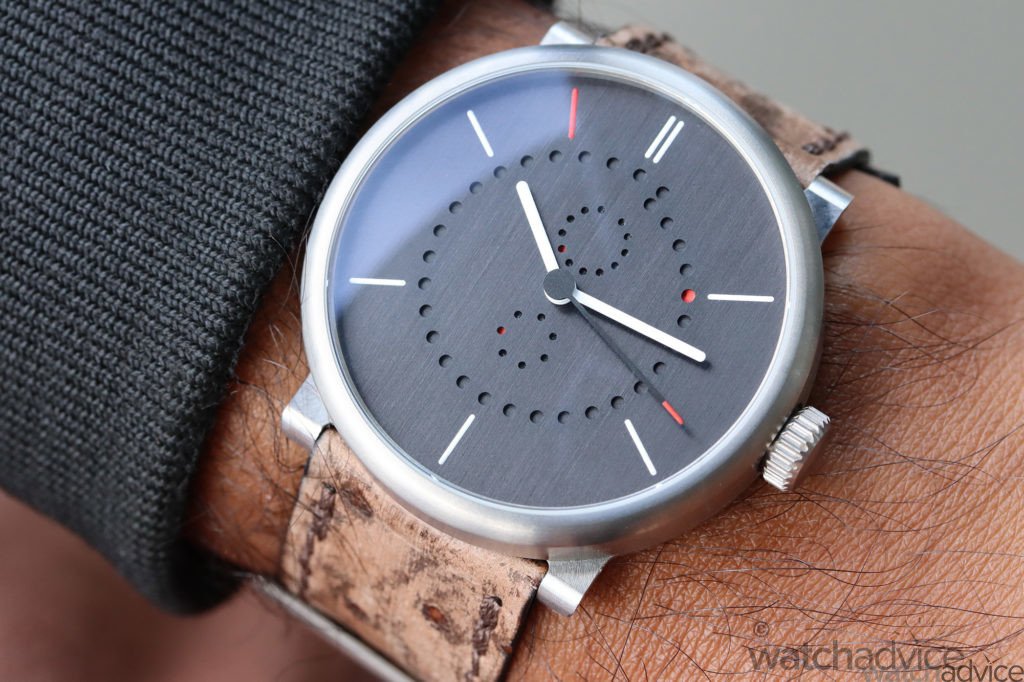 The unique 30+1 holes at the perimeter of the dial display the date, with the 10 minute markers serving as reference points – for example, the marker at 6 o'clock shows the 15th day of the month. The 7 holes below the hand cluster show the weekday in a counter clockwise rotation. You can choose which weekday you would like to display at the top. The 12 holes above the hand cluster display the month, again in a counter clockwise rotation.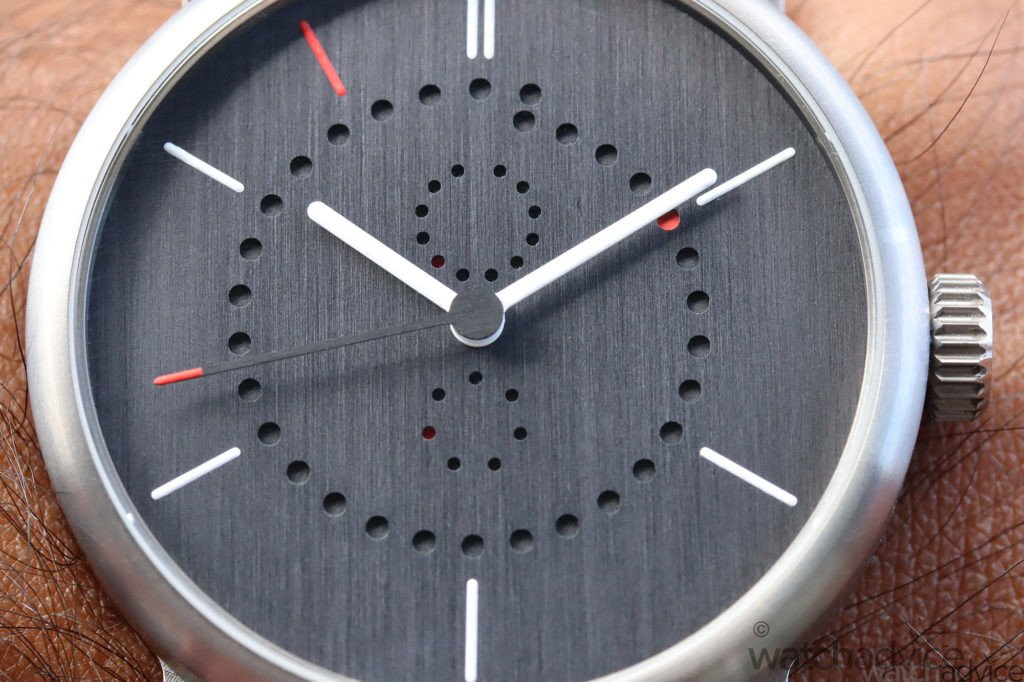 Ochs und junior watches are supremely legible and highly customisable. The dial colour and design is fully customisable. You can choose the colour of the hands (each hand can be a different colour), indices and the date, month and weekday discs from a huge selection of different colours. The ochs und junior website allows you to custom design your watch to your colour specifications. The latest version of Super-LumiNova is employed on the hands, indices and the date, month and weekday discs for low-light legibility. This latest version Super-LumiNova offers up to 2 x the brightness of standard Super-LumiNova after 12 hours.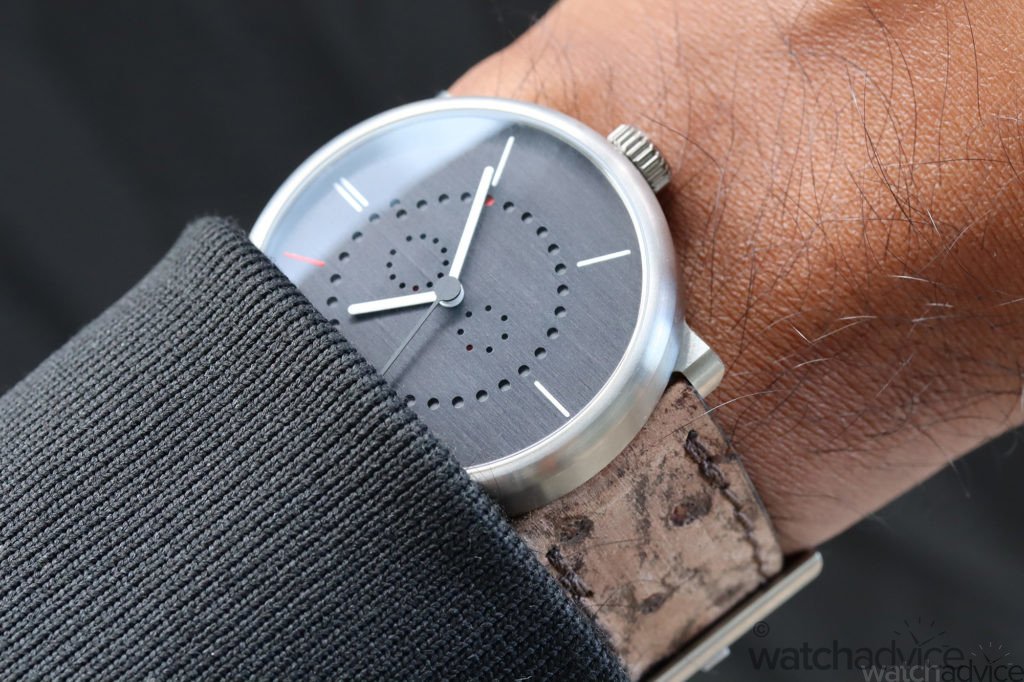 Ochs und junior also offer a large variety of straps in leathers, suedes, textiles, and rubber. The annual calendar light comes with its own special kevlar strap and carbon fibre buckle (the buckle also fabricated by Peter Cantieni), as well as another strap of your choice. The strap pictured is made of sturgeon –the same grand fish that gives us caviar. In addition to being stylish and long-lasting, the sturgeon leathers are of course naturally water-resistant and thus suitable for all of your aquatic activities.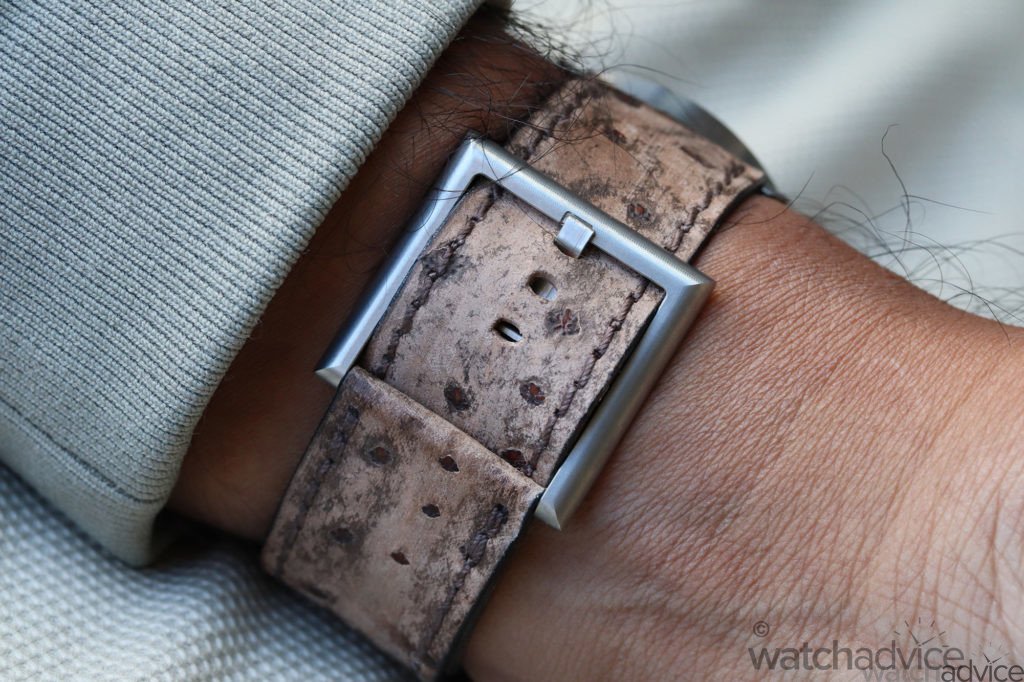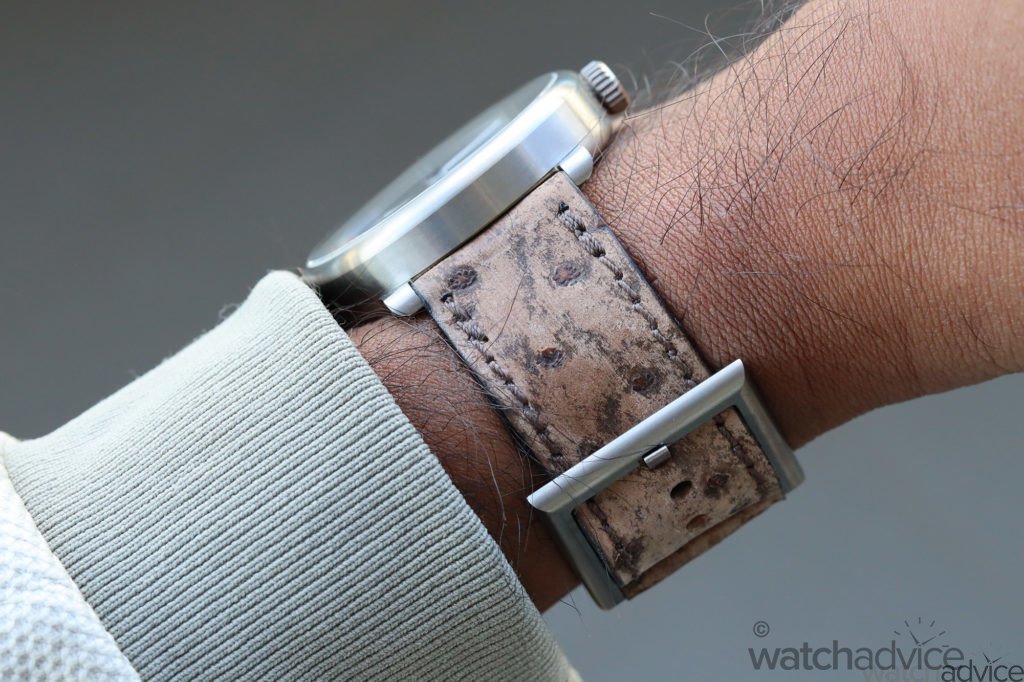 This is an incredibly comfortable watch to wear. It wears so light that you often forget you are wearing a watch. Even at 42mm it wears and sits well on large and small wrists due to its very short lug design. For reference, the wrist in our pictures is 6.5 inch. With a thickness of only 11mm including the sapphire crystal, it easily slides under a dress cuff. Water resistant to 100m, this is a truly "go anywhere; do anything" time piece.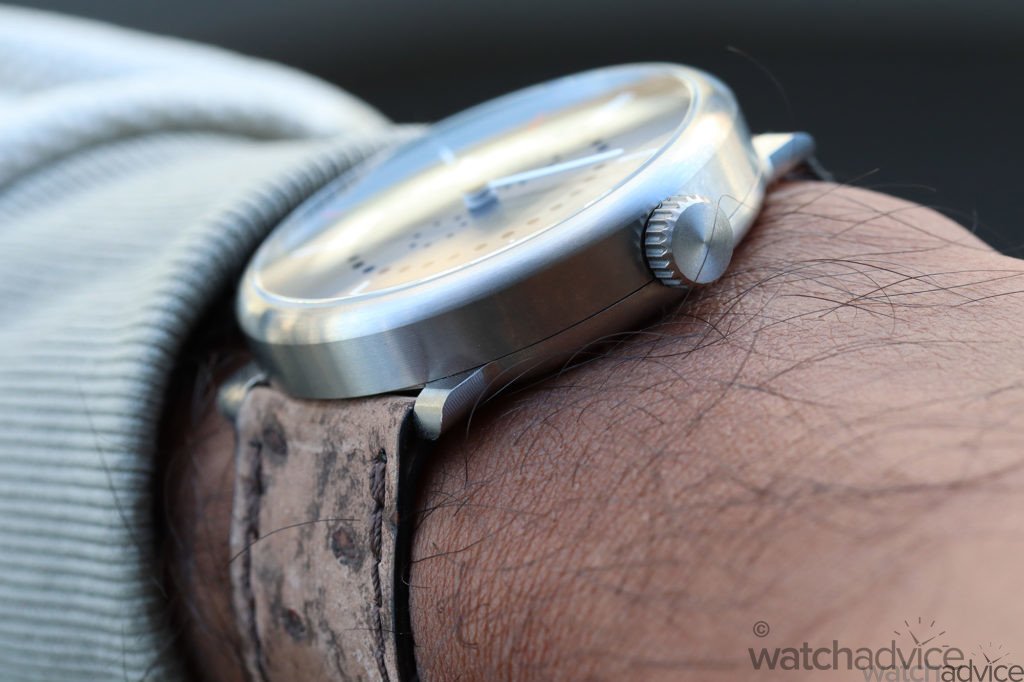 Ochs und junior strive to make technically elegant, reliable and robust watches and to provide a uniquely personalised design and buying experience for each customer. No logos anywhere. No name on the dial or even the case back. No middle-men. No advertising. They value quality over quantity and pursue high standards over scale. Their design ethos, technical innovation, quality of execution and customer service are the brand. You can visit them at Rue Numa-Droz 143 in La Chaux-de-Fonds, Switzerland, or through the ochs und junior website.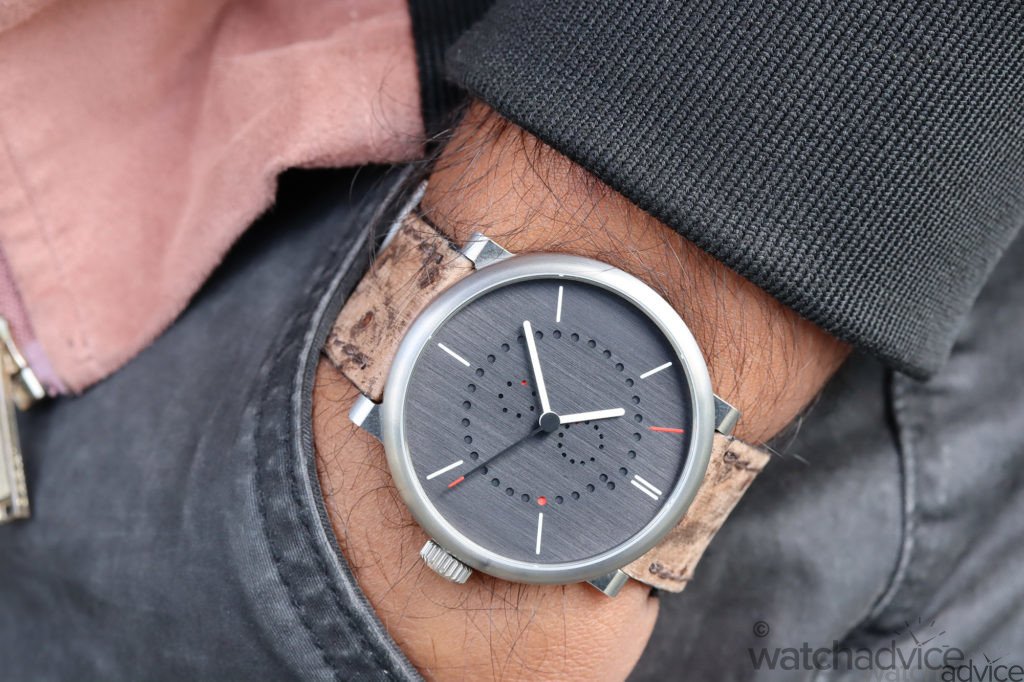 Photo Credit : Chamath Gamage
Australian Pricing : Approximately $15,750.00