INTRODUCTION
There is a story that is Bremont. One of hardship and loss. One of innovation and perseverance. A young brand, perhaps, in an industry filled with centuries-old maisons, but perhaps by virtue of this very fact, Bremont is not burdened by legacy approaches and is boldly pushing forward to create timepieces of exceptional character and quality in house, at their own workshop in Henley-on-Thames.
Aviation is the defining theme for the company, and it shows in their watches, their partnerships, and in the love of flight of brothers-founders Nick and Giles English.
I've had the pleasure of recently acquiring the distinctive MBII watch, and today I am glad to be sharing some words about my experience, feelings, and thoughts on it with you.
Nick and Giles love for aviation has heavily influenced Bremont's direction, from it's branding to partnerships. And, although Bremont has since expanded beyond the category, Pilots watches are still very much the essence of the brand, remaining its core focus since launch.
Over a decade ago, Bremont was approached by aviation company Martin-Baker, who supply over 70% of the world's air forces with ejection seats for their fighter jets, with collaboration in mind. In 2010 these discussions led to the development of the Martin-Baker (MB) range, which included the MBI, a model reserved solely for Martin-Baker ejectees. Now a decade into production, the MB range is quintessentially Bremont, and their most popular collection.
Luckily for the rest of us who have not ejected out of a moving aircraft, the MB Series includes several other models, including the MBII, featured here today. Let's go hands-on with the Bremont MBII White – my personal watch, featuring a distinctive green central barrel.
THE DIAL & HANDS
The MBII's crisp white dial is visible through a domed, anti-reflective, scratch-resistant sapphire crystal. The dome of the crystal is rather subtle, and ties in beautifully with the curvature on the watch. The dial features a well-proportioned day and date function at 3 o'clock, and a 60-second inner-bezel. Accents of red, including some anti-shock iconography and a red-tipped seconds hand, adds the perfect amount of vibrancy to the white dial.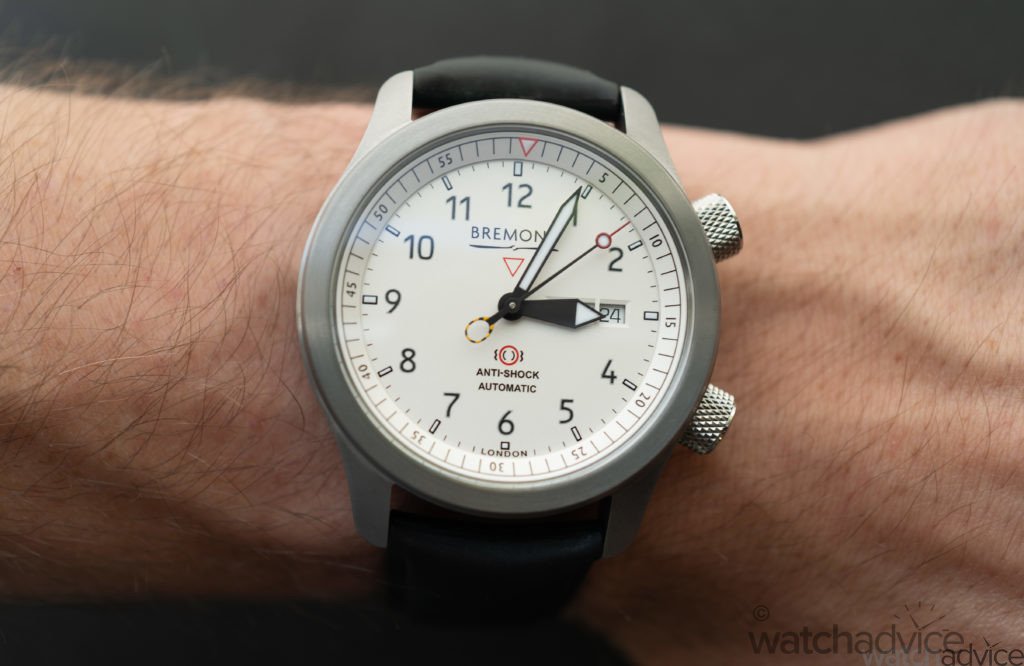 The large black handset contrasts with the white face and makes reading the time on the fly a breeze. Although featuring SuperLuminova on both the hands and dial, there's a noticeable difference in strength between the two. The lume is much stronger on the hands, and unfortunately quite weak on the markers and numerals.
The second hand features a yellow and black loop, in a direct reference to Martin Baker's distinctive ejection seat pull handles. It adds a welcome pop of colour and casts a lovely shadow as the second's sweep by.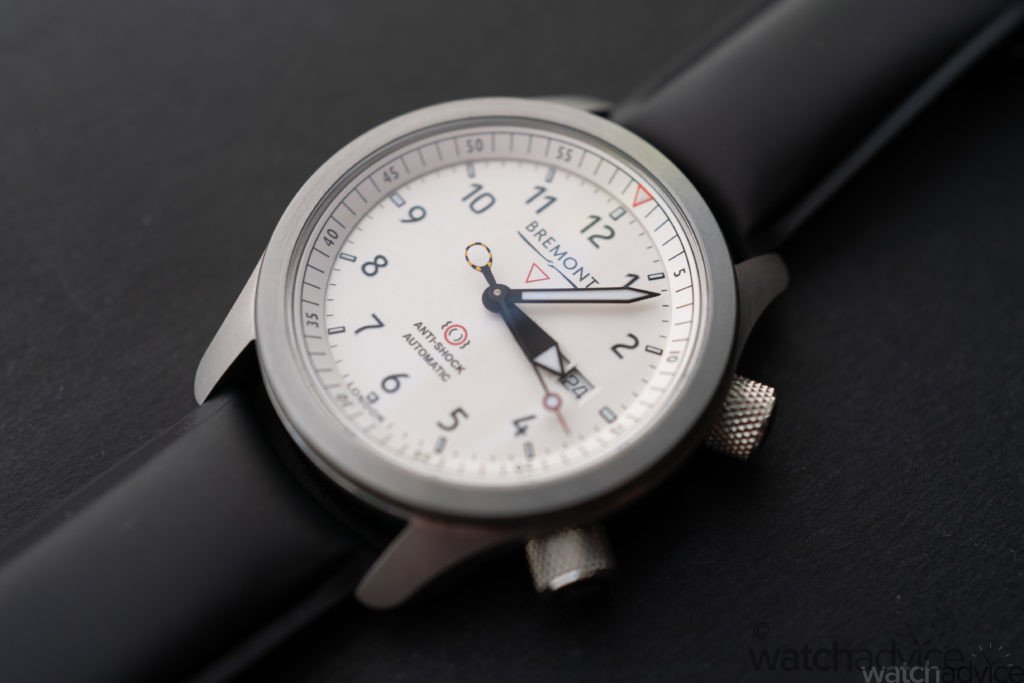 The MBII is also available with a black dial.
THE CASE
The MBII is constructed of hardened stainless steel, which has been built to be worn – and worn hard. In fact, the Bremont MB range is tough enough to endure the same extreme testing as Martin-Baker ejection seats themselves. This includes vibration, temperature extremes, salt fog – and of course – ejection. Having previously interviewed several Martin-Baker ejectees, I've heard first hand how extremely taxing, brutal, and sometimes lethal the experience is (RIP Goose).
Bremont's innovative shock protection includes its famous and unique Trip-Tick case technology. The Trip-Tick system is made up of three core parts – the case bezel, a separate case middle, and the case back. This highly unorthodox approach to case construction has helped Bremont establish individuality in design and brand identity.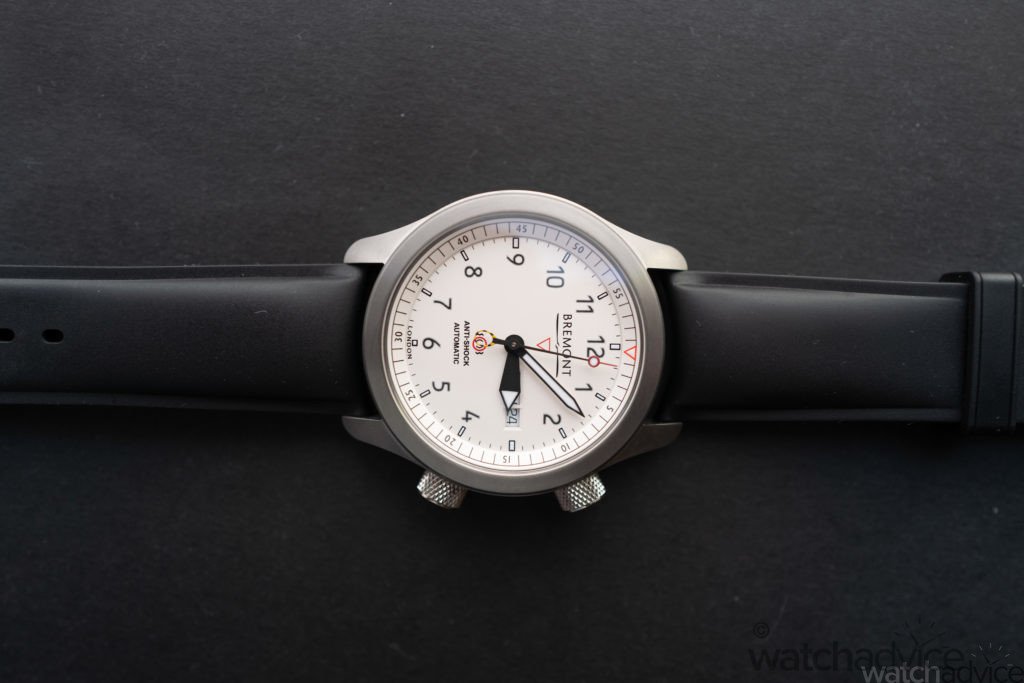 The MBII comes in at 43mm in diameter and 22mm between the lugs, which is ordinarily something too large for my tastes. On the wrist, however, the MBII wears smaller than one might expect thanks to a streamlined caseback and deceivingly compact lugs. The lugs and case were originally inspired by the 'leading edge' of a wing section, again a nod to Bremont's lineage in aviation.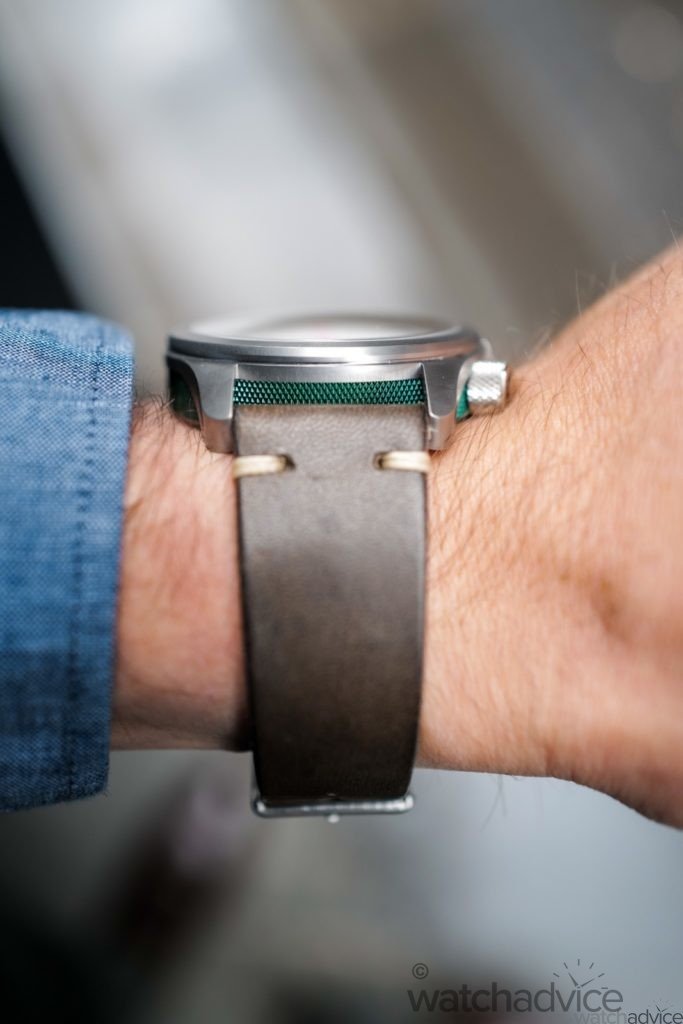 Propelling the MBII is the BE-36AE automatic chronometer. Based on an ever-reliable ETA movement, and featuring a 38-hour power reserve, the MBII is chronometer rated to ISO 3159 standard and is water-resistant to a handy 100 metres.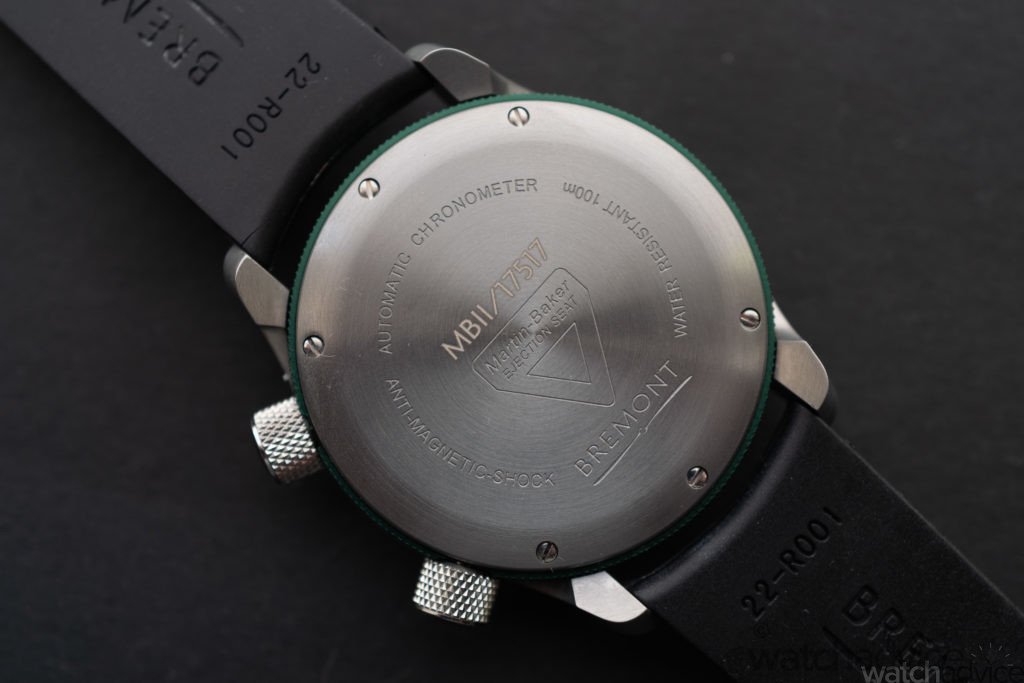 My favourite feature of the MBII is the knurled, green anodized aluminium central barrel. Bremont offers a variety of different barrel colour options in addition to green, including orange, blue, and anthracite. Red is also an option exclusive to the MBI, for those who choose to terminate their flight early by ejection.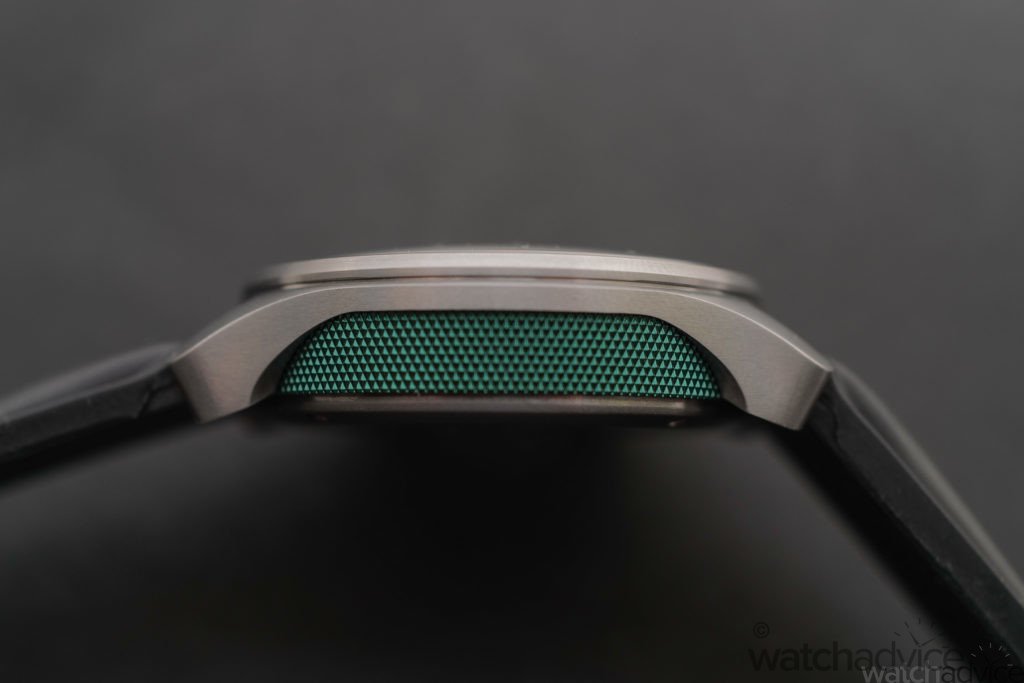 Adorning the right of the case are two grippy and decorated crowns set at 2 and 4. Featuring Bremont's trademark propellor motif, the crown at 2 quickly sets the day, date, and time. The crown at 4 features a bullseye and operates the MBII's internal bi-directional bezel with the brands incredibly smooth 'roto-click' technology, with a rewarding tactile click for every minute turned.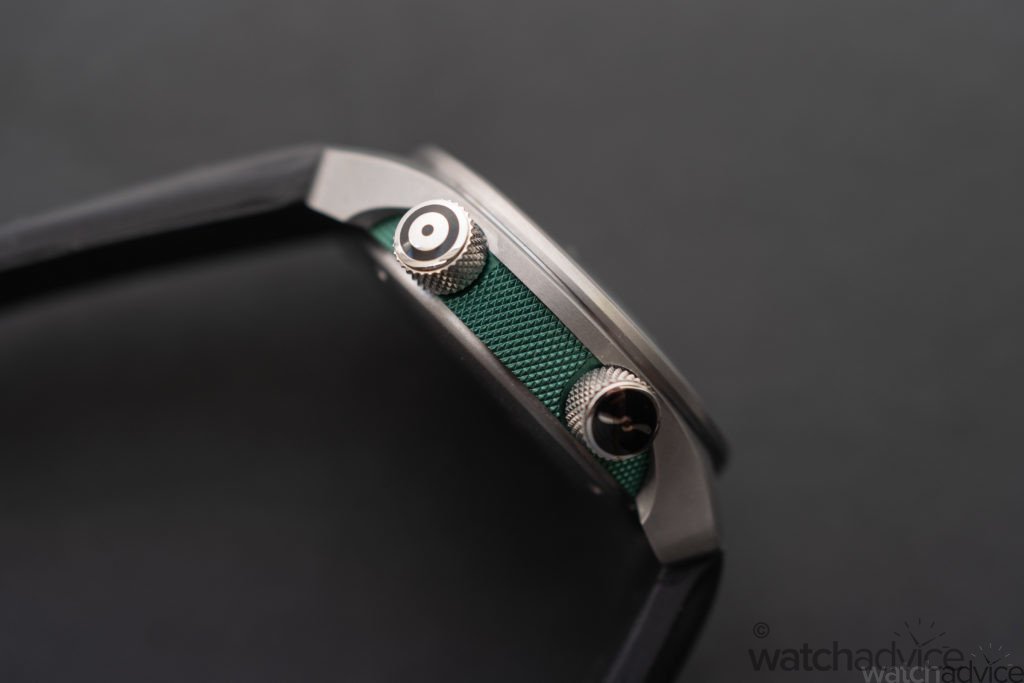 THE STRAP
The MBII is available on either a black leather strap or stainless steel bracelet, with all models accompanied with a bonus 'Temple Island' rubber strap. Knowing that this piece was destined for either a Rubber or NATO strap, I chose to pass on the bracelet. Bremont offers three different strap sizes, and it's worth sizing yourself properly when making your purchase.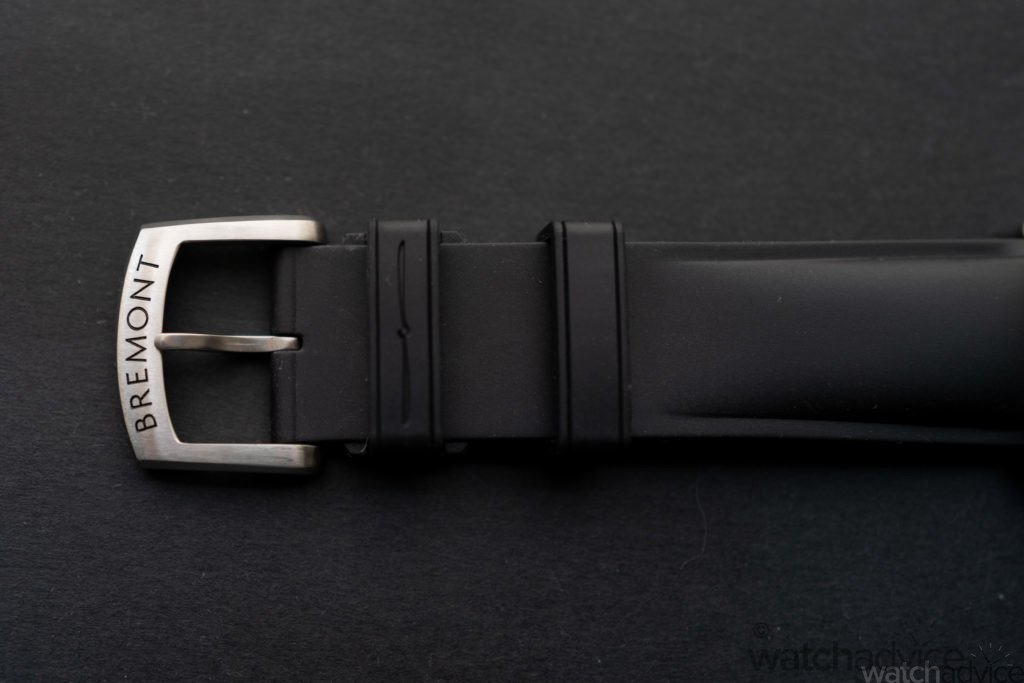 At 22mm between the lugs, the rubber strap is slightly chunkier than I'm used to, though after a week or so, it has broken in nicely and begun to mould to the shape of my wrist.
WHY I CHOSE IT?
Of all the watches Bremont makes, why did I choose this particular model as the one to get my feet wet with? A number of factors drew me to the MBII White.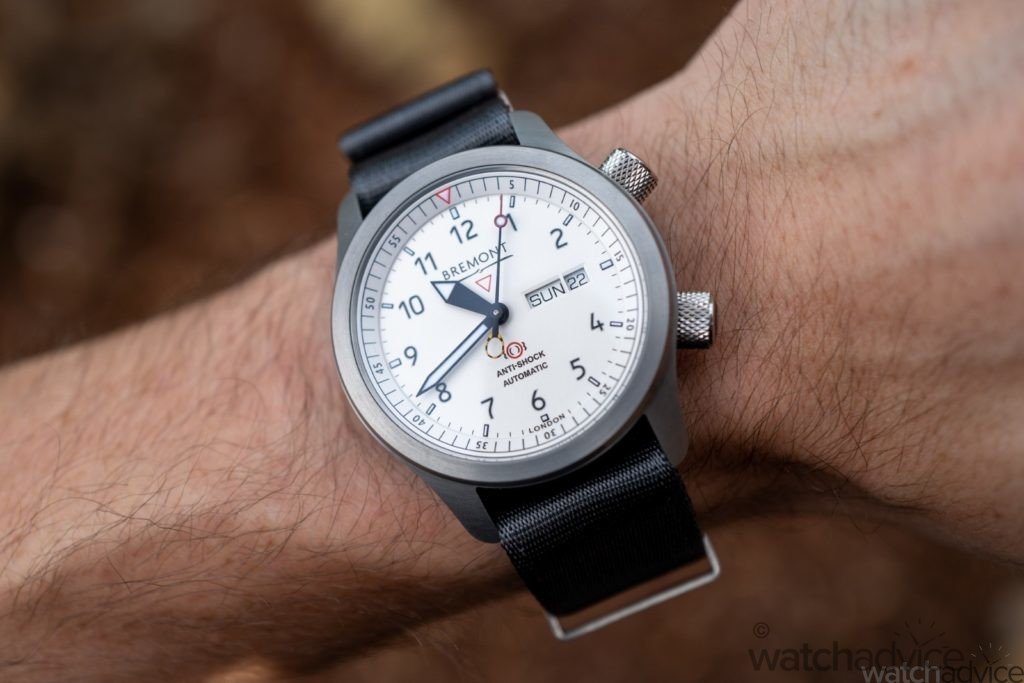 Firstly, the dial – which is surprisingly a colour I had not yet owned. It's a refreshing, clean, and fun alternative to the rest of my collection. The MBII is also impressively tough. Having never been one to spare my watches from their intended use, the all brushed design and lack of polished surfaces are absolutely perfect for me.
Functionally the MBII has everything I need and more, and the overall design allows enough versatility and variety to keep me interested. Couple this with a green central barrel, which for obvious reasons felt like the perfect fit.
A lovely design, a lovely dial, and a great bit of story make a compelling choice for anyone looking for a proper GMT sports watch for use inside and outside the cockpit.
Click here to read more about the Bremont MBII Range.