The age old debate, does size really matter? I am going to offer my biased view of this matter, substantiated from some unbiased fact and then see if we can tie it into horological hobbyist terms. Today I am offering my opinions on the Explorer 2, in my view one of the most understated watches in the history of Rolex and yet to go mad on the collector side…but getting there.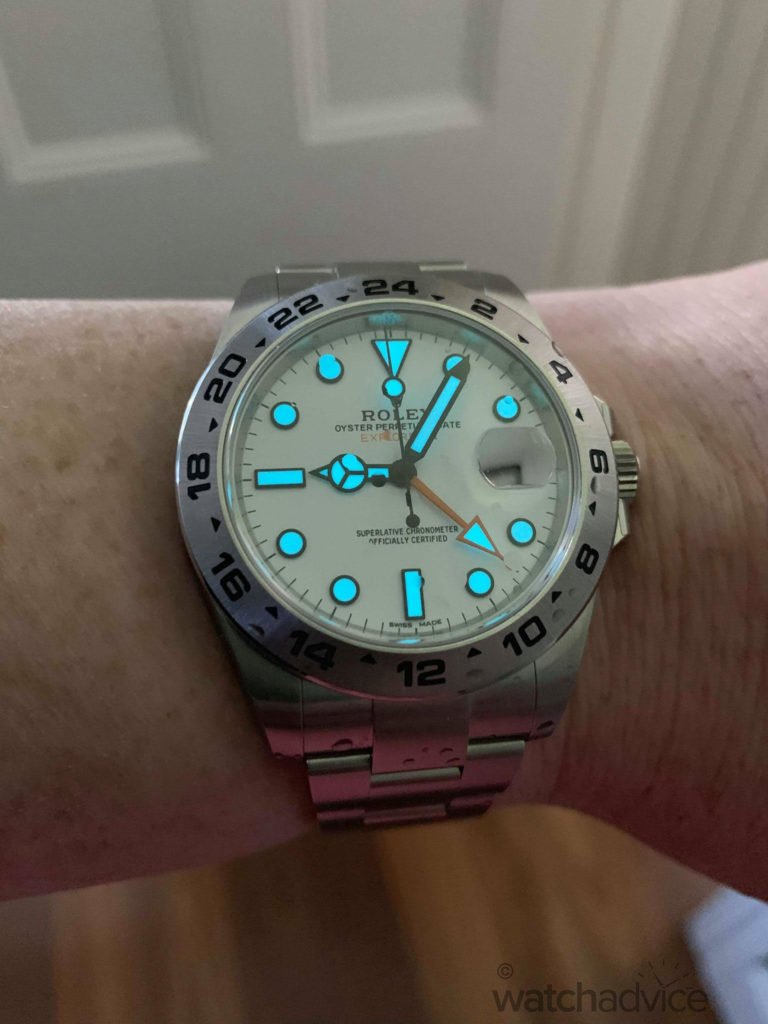 This watch started with humble beginnings and interesting enough was not meant for the purpose of a GMT, in fact the early ones were not designed for dual times at all. In 1971 1655 was released for exploration of caves where it was so dark that you lost track of day or night. The dual time hand was to determine if it was AM or PM against the fixed bezel and could not be set independently. 1655 was 39mm and if you are lucky to own one, you will realise this watch has evolve considerably however Rolex has managed to keep most of the heritage in each iteration to the present day. This was also known as the Steve McQueen watch and was made between 1971 – 1985, quite a long production with several iterations of the dials.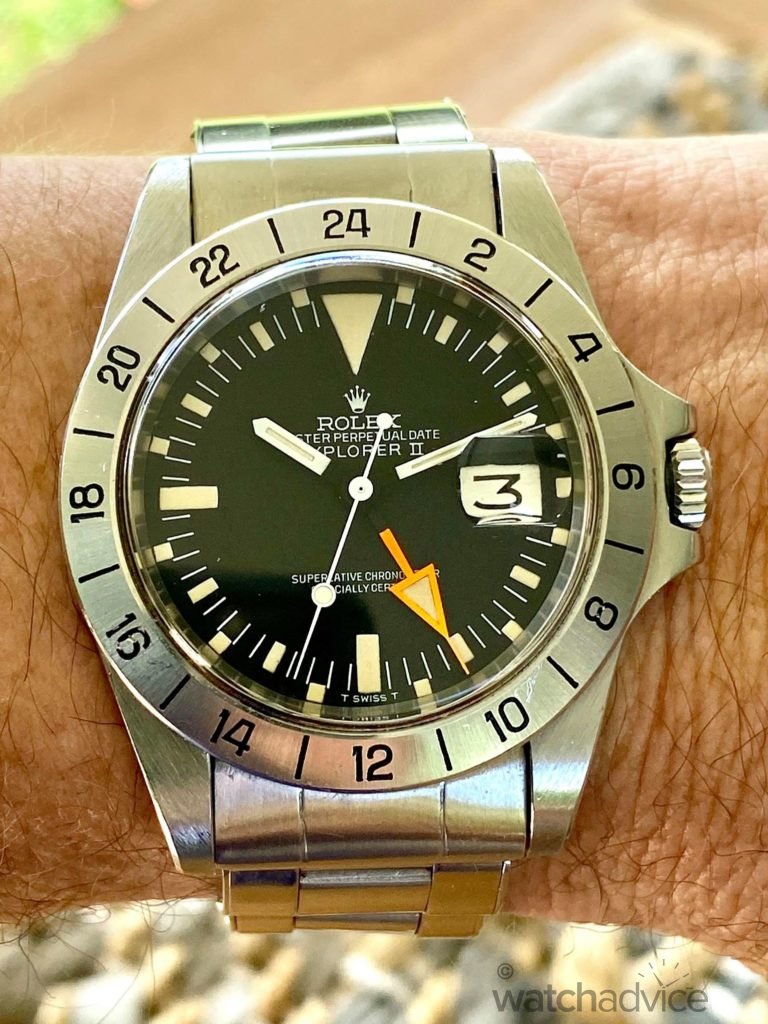 Unfortunately, I do not have a 1655 (Just a photo – thanks to Chris O) to compare and today we will be focusing on the Explorer II 40mm 16570 and Explorer II 42mm 216570.In 1985 there was a release of the Explorer II 16550, this was a larger case 40mm, sapphire crystal, new calibre 3085, longer 24hour hand, Mercedes style hands and option of a black or white dial. The new movement meant you had a far easier adjustment of the 24hour hand and the Explorer became a true GMT functional watch, allowing an independent setting to hour. In 1989 they brought out another iteration, which is the one I am reviewing today the 16570. This basically was the same as the previous with a new movement 3185, slight variations in the dials for more legibility of the markers with black surrounds on the white dial and white surrounds on the black dial. With a red 24 hour hand – incidentally the originals 1971 versions were red also, but over time they change to an orange. Given this model was made for 22 years the luminescence changed over production. Each variant, tritium, luminova and towards end of production Superluminova, marked by Swiss T <25, Swiss and Swiss Made respectively under 6 o'clock signified which was used on your dial. Some may also have a rehaut engraved with Rolex from about mid 2000 for theft and counterfeiting, but no random serials. The model here is mid 2000's, has a sapphire crystal and oyster bracelet with hollow end links making it quite a light watch to wear.
For the 40th anniversary of the model, Rolex released the 42mm 216570. This time piece pays homage to previous versions but benefits from a new movement cal 3187. The 24 hour hand became a vibrant orange and all of the markers and hands got larger to accommodate the larger case. 216570 also had a steel upgrade to 904L and the markers got a blue glow from the Chromalight used. It also has a black or white dial variant and is simply a tried and trusted design with some aesthetics enhancements in a larger 42mm case. As far as predictability this watch hasn't changed for over 40 years, has always had a dual time, fixed bezel and come on an oyster bracelet. Why touch something if you don't need to fix it.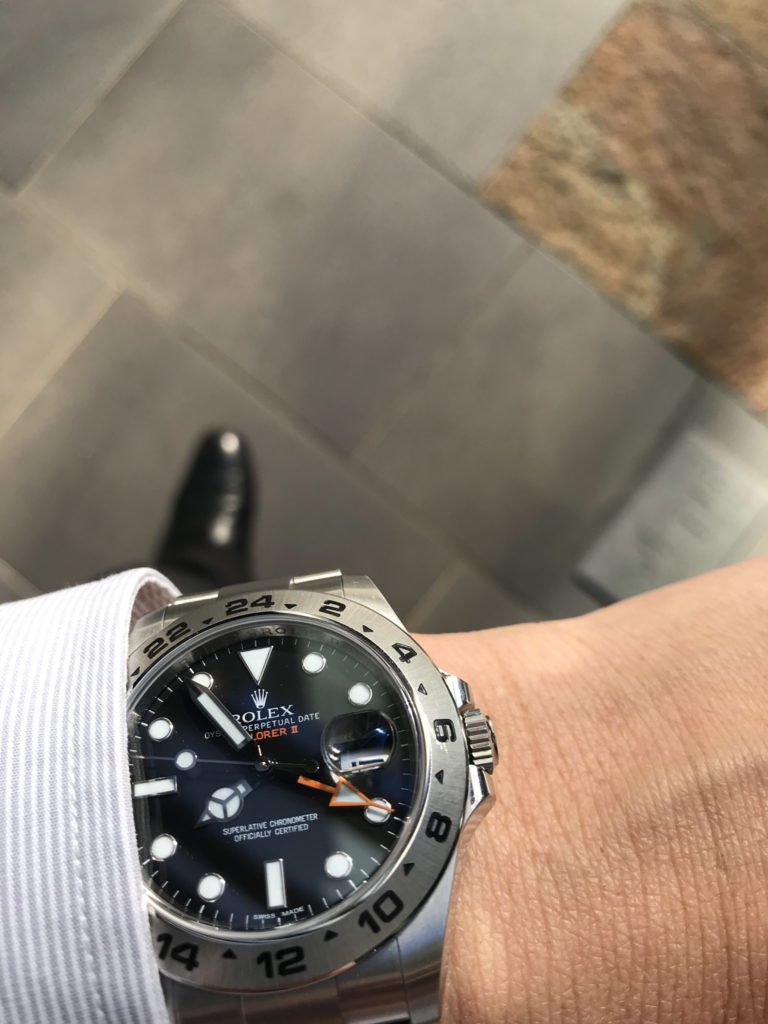 On the wrist the 216570 wears pretty much the same as most modern watches. Given the oyster bracelet has solid end links it is a weightier watch than the 16570. I gauge the feel by where the watch sits near my little knuckle for comfort. The 16570 sits where I prefer it, top right lug jammed into the knuckle whereas the 216570 sites over. Amazing what 2mm in case design and a different bracelet could make such a difference for my wrist, but it does. For a slight larger wrist, the 216570 is a perfect fit and given that I wore it for many years as a daily, it was pretty much the perfect watch, given the ability for bracelet adjustment. I know I may be persecuted for the next statement, but the older oyster bracelets were just light, felt flimsy and not as comfortable.
I have devised a rating system for my critique following. This was after extensive research and many many long hours of developing an algorithm. LOL. 1 Acceptable to 5 Fricken brilliant. See table below after my ranting.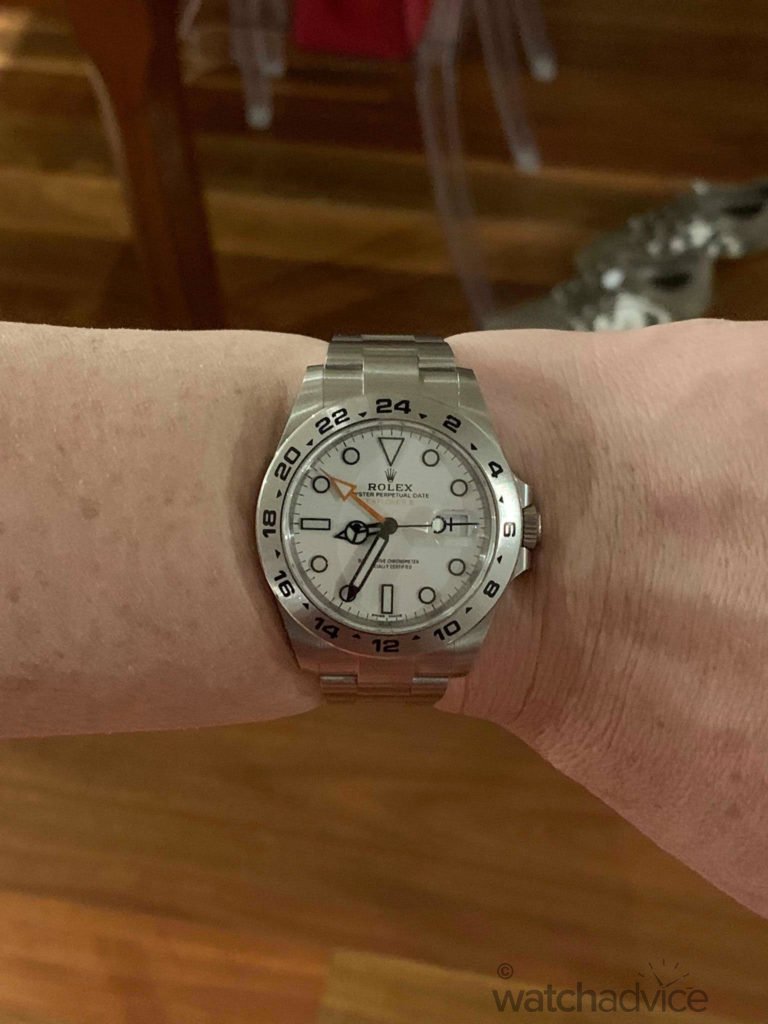 The dial, case, bezel and functionality on both are all pretty much on a par. The black or white dial are absolutely stunning, the 16570 with a beautiful red hand and the 216570 with a striking orange hand. For legibility the Chromalight used on 216570 wins hands down with a beautiful blue glow but being a more vintage old school, I still do like the green. One compliant I have with the 216570 Black dial is for some reason Rolex did not do full hands and painted the ends towards the centre black instead of leaving them white gold, whereas on the white dial they are full hands almost to the centre filled with Chromalight. It could be just me but being a little OCD that cracked me every time I saw a white dial one next to mine. Like I said little things LOL. The Bezel is fixed, and both actually tell the time, date and second time…go figure for a timepiece. 216570 with the new movement is destined to have a better power reserve but they should both keep you comfortable going into a cave for 30- 48 hours.
Complex rating algorithm for size matter factor summary.
Category
16570
216570
Notes
Bracelet
4
5
Different steel, hollow end links adjustment
Daily Wear
4
4.5
Weight
Dial \ Case \ Bezel \
Functionality
4.5
4.5
Black dial hands on 216570
Wow factor
4.5
4.5
White dial on both stunning
TOTAL
17
18.5


Now for the answer to the question: Does size really matter?
From the above complex rating algorithm to determine size relevancy, I can confidently say that they have absolutely no bearing to determine if size really matters. As I travel around the various horological groups, I get a sense of cynicism constantly with newbies. There are the usual viewpoints about brand, which one is best, how they align, not being able to get what you wanted due to a wait list, type of strap, weight, material etc etc etc. One discussion stands out consistently for me and I constantly overhear in conversations from newbies…what size is the best. Quite frankly if you are beefy builder and you're wearing a DJ 24 just because it's a Rolex and it shows you splashed wads and wads of cash and it makes you now an aficionado….well you may want to rethink your participation in the groups, because quite frankly you are a twonk and shouldn't be there. In this case size does matter!
For the 16570 and 216570 I am confident to say size does not matter. Both timepieces are exceptional and personally think they are just works of art. When on the topic of size, it really has no bearing when rating the 16570 and 216570. As everyone knows each watch irrelevant of size wear differently, 39's can wear like 41. It comes down to preference of contemporary or vintage and most importantly in this game what you like. Both of these time pieces have not gone as mad with availability and pricing as some of the other professional series and if you are an entry level hobbyist these are seriously something to consider (Note: Does not include 1655 these are rare). Both the 16570 and 216570 are by no means entry level and are significant timepieces with a great heritage.
So, for me it came down to one decision that gave the final overall rating. The 16570 wins just…because I like semi-vintage, old green colour lume and I think there is just something right about a 40mm on my wrist. At the end of the day it's just my opinion and what I like. We are in this game because we appreciate beautiful timepieces and I think the 16570 (as well as 216570) are just beautiful timepieces, owning them are a privilege and they are just like two kids of different ages. You always have a favourite, but this may change over time!