We have read so many comparison of new models against iterations of the same model MK1, 2 etc but thought I might pen some thoughts between models. I might start by saying I am a big fan with a long history of Submariners. I have let the ones I should of kept get away and have many stories of should of, could of, would of as we all do. Today it's the No Date Submariner 114060 and what I'm calling the Dodo, the extinct 116710 GMT Master II but also know as Green Arrow that I will offer some view on. Let's have a bit of fun first. In numerology (and I am no expert) the sub equates to a unified number of 3, the GMT is 7 based on reference, adding these number together to finally get a single digit. That in itself has absolutely no significance by the way to these timepieces, but thought it is interesting.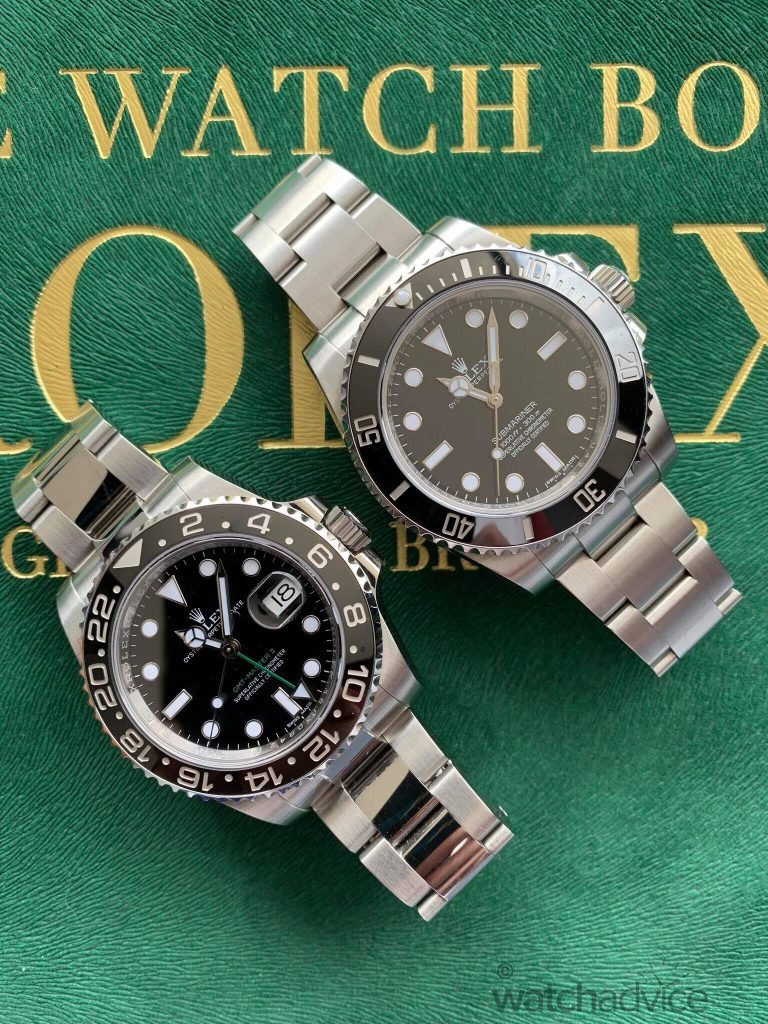 In all seriousness both these watches are almost perfect in my eyes. A lot of people are a little bit tired of Rolex and have a lot of criticism about the brand. No matter what perspective you have, there is one undeniable fact and that is these are made with quality. I love the Patek phrase of "you don't own a watch you are custodian of it for the next generation", with Rolex many generations will enjoy it after you have impregnated with your DNA for sure.
The 114060 Rolex Submariner No Date, pretty much exactly the same as 116610 Rolex Submariner Date. With some minor variations focused around the cyclops and date, 3135 and 3130 movement for Date and No Date respectively. Everything else is pretty much the same between these two models, 904L 40mm Oyster Case, Triple Lock Crown, Glidelock Bracelet, Ceramic Bezel and Sapphire Crystal. This next point is where opinion comes into perspective, I caveat it with I LOVE all Submariners, always have and always will. I wore a beautiful 16800 Date for over 10 years, never serviced it and used it as a everything watch. This was before all the madness of horology started in my life of course. I will also make a point here that I highly rate servicing your watch at RSC's and remember to always support your AD's and trusted dealers. Actually I still have this watch today, bracelet has stretched, been through a service and still working +2 sec, after being thrashed for years.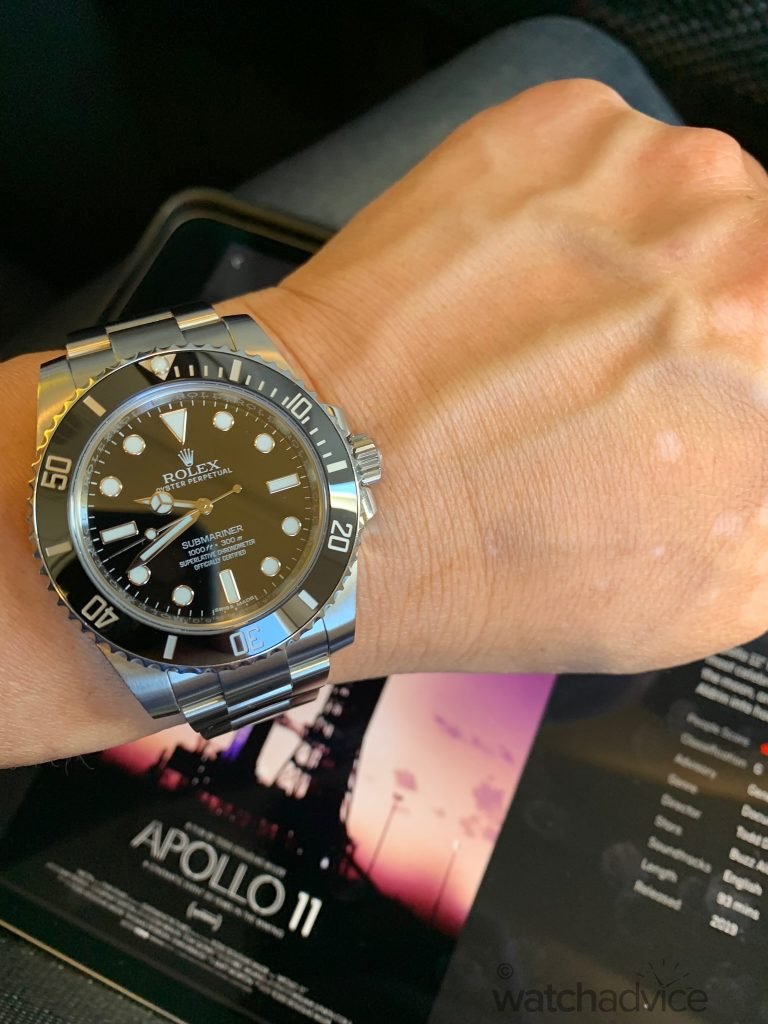 To me though the latest iteration 114060 No Date is where I have had the most content for years. For those that have never worn them they won't understand, there is something about the quality of build, materials and the absolute perfection of a Rolex that is striking. To me perfection is the 114060, compared to older models it has new steel, new Bezel and proportionally just amazing on my wrist. My only criticism is this watch with a two liner dial, rather than a four liner would make it the true definition of perfect, but happy with the dial for now. If Rolex released this I would be outside of the door of my AD like when people line up for tickets camped out for weeks, to put my name down for the long wait. For the moment however to me for my wrist and my love, this is an amazing time piece. With clean dial and subtle lines an sharp case, just feels great on your wrist thanks to the perfection of the Glidelock Oyster bracelet. The 114060 fits nicely on your wrist at the beach and equally nice under a cuff for your formal occasions, it is truly a versatile piece. Everyone has date Sub's for sure, but there ain't many No Date's out there these days and so much more
unassuming than a cyclop'ed version.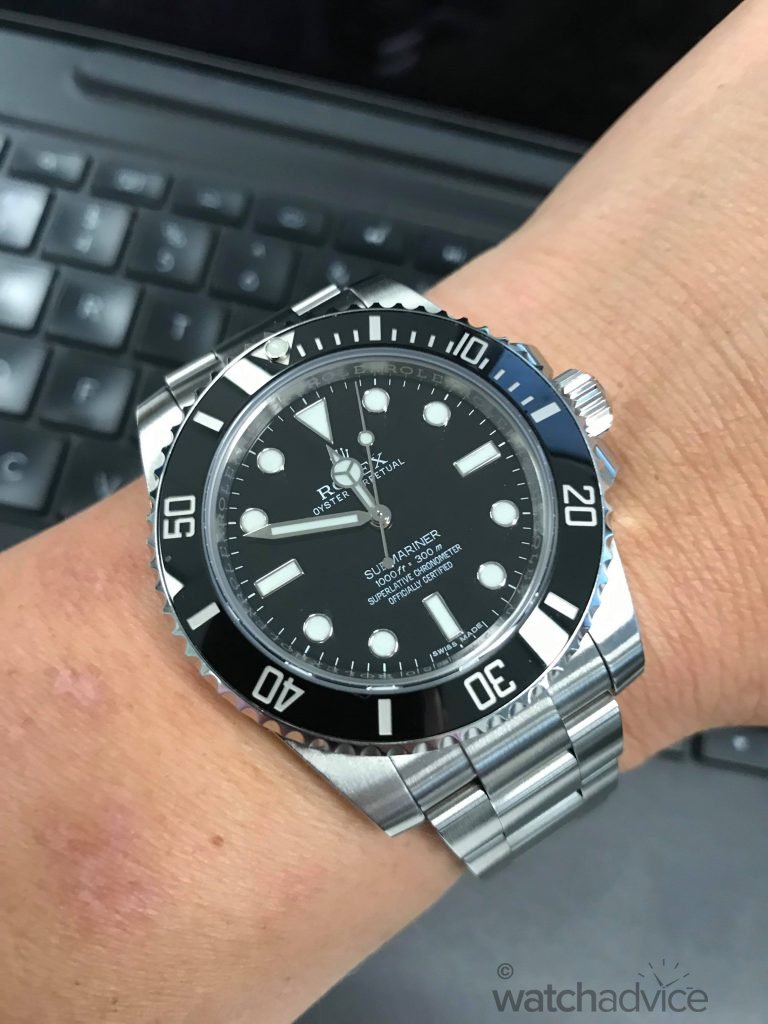 Enter the GMT Master II 116710LN a time piece with equal providence as the Submariner and something I have always gravitated towards. It has a black dial, tick, it had a black ceramic Bezel, tick, it was made by a brand starting with R, tick, tick and it looked like a dive watch. Easy to say, but this watch is so much more and by the way is not a dive watch. It has a 40mm Oyster Case, 904L steel, triple lock crown, Oyster bracelet with a EasyLink, multi-directional Ceramic Bezel or as Rolex calls it Cerachrom, cyclops and date and a 3186 movement. Pretty well the standout for any GMT is the striking GMT hand and in the case of this watch "Lynette Noir" or simply green black it is capturing. The Bezel goes both ways and there is a centre polished link on the oyster bracelet. This watch was designed for pilots travelling time zones. The complication allows the GMT hand to be set on local time, the normal hands to be set on destination time and the Bezel allows you to calculate the time as you travel between time zones with GMT increments plus or minus. Effectively three time zones, but I never have used it for that yet still wish I was a pilot to this day (jokes).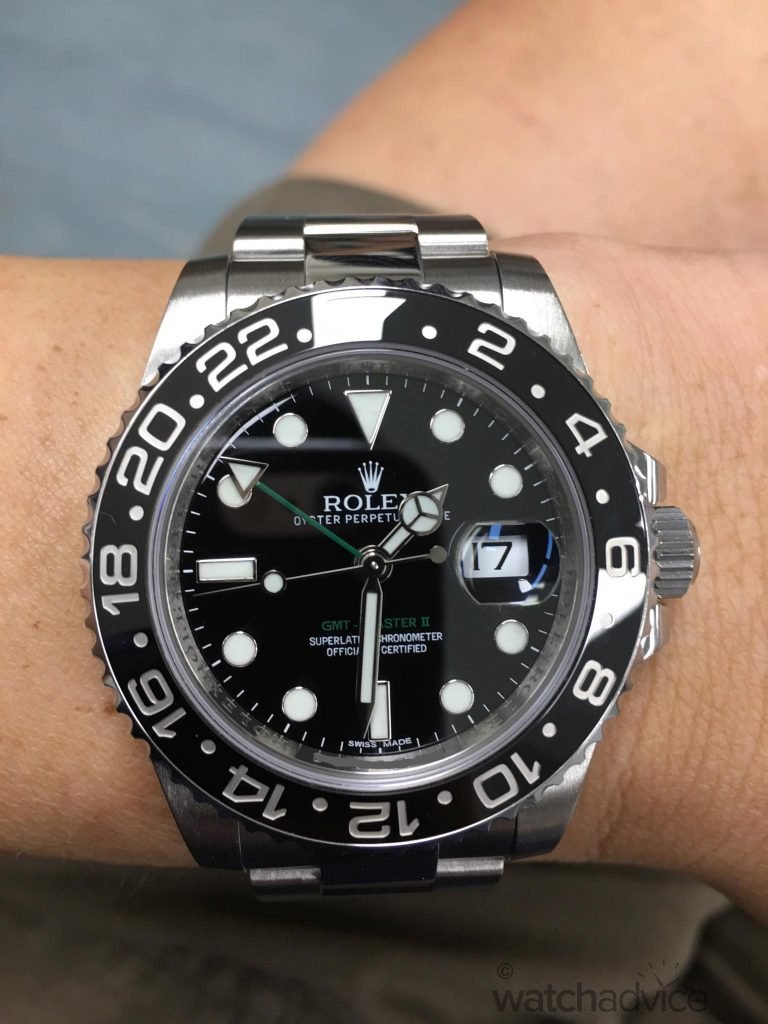 I guess to compare these two models as different is where I think there is a fine line. They are effectively the same case, same quality, same material and they both tell the time and in one case the date (more jokes). For me and on my wrist the 40mm casing is perfection plus, previously wearing a PAM or some 42mm these fit nicely snug on my wrist, just over that annoying knuckle I have and are weighted beautifully. The oyster bracelet is truly a modern engineering wonder, it feels right no matter what. The 114060 though takes this one step further with a Glidelock bracelet micro adjustments allowing it to adjust almost exactly to your wrist. For an OCD like myself this means that when you roll your wrist, the clasps sits nicely on the back in symmetry to the width of you wrist. The 116710LN has the same bracelet, polished centre links but comes with a Easylink clasp. Nothing wrong with this at all but doesn't allow the same micro adjustment of the Glidelock. It does employ another feature of Rolex engineering with an adjustment of 5mm of reprieve on hotter days. This does not allow an OCD to perfectly position the clasp in the centre of your wrist as exact as the Glidelock, but let's face it an oyster bracelet is an oyster bracelet and arguably one of the best in the business.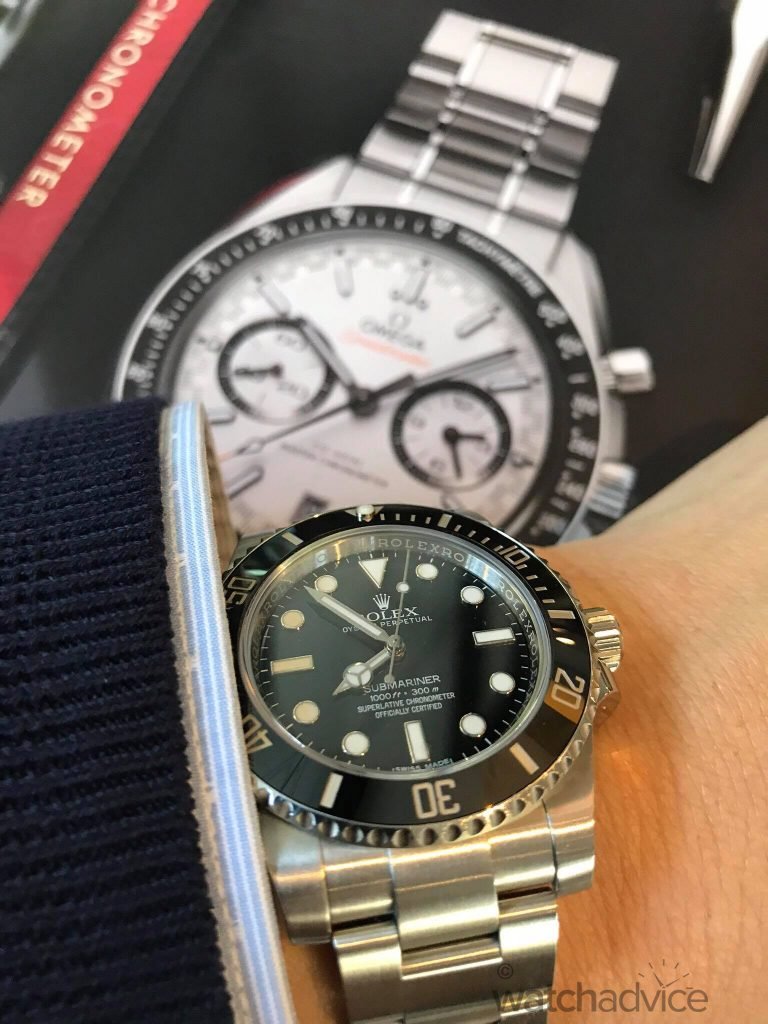 Both the 114060 and 116710 wear perfectly under your cuff, feel great and are weighted perfectly. I personally think the GMT is a little bit meatier and the profile is slightly higher under cuff, however do not know the technical specs intimately. It just feels like it maybe because I think the bezel is slightly thicker in depth aesthetically, narrowing the profile of the dial which gives an illusion of a larger watch. Honestly, on a day wear you never end up noticing the difference until you look at the time. The only other thing is the Centre Polished Links. Coming from old school brushed this does take and OCD like myself something to get used to. It does show up marks more easily especially on the clasp where you have actually worn the watch. It also shows up finger prints clearly, when you share your time piece at GTG's so bring your polishing cloth for sure. For me I think the centre polish does not allow you to unassumingly disappear into the ether, it is bling and is noticeable in a crowd from a far. Maybe not as noticeable as a big gold clock hanging around you neck like Ali G, but it's there.
I guess this is where it ends for comparing Apples and oranges. These two watches in my view are apples and apples. They wear pretty similar and I would say given the different designed use for both they are exceptional timepieces. I am spilt daily on what to wear only by the fact that Rolex discontinued the 116710LN in 2019 and I am a little more less sparing on the use of it due to their their extinction. I have preference the wearing of this timepiece for more formal occasions rather than daily, where a suit and a cuff offers a little more protection. The 114060 just gets worn everywhere and treated like the naughty child, really what it's designed to be.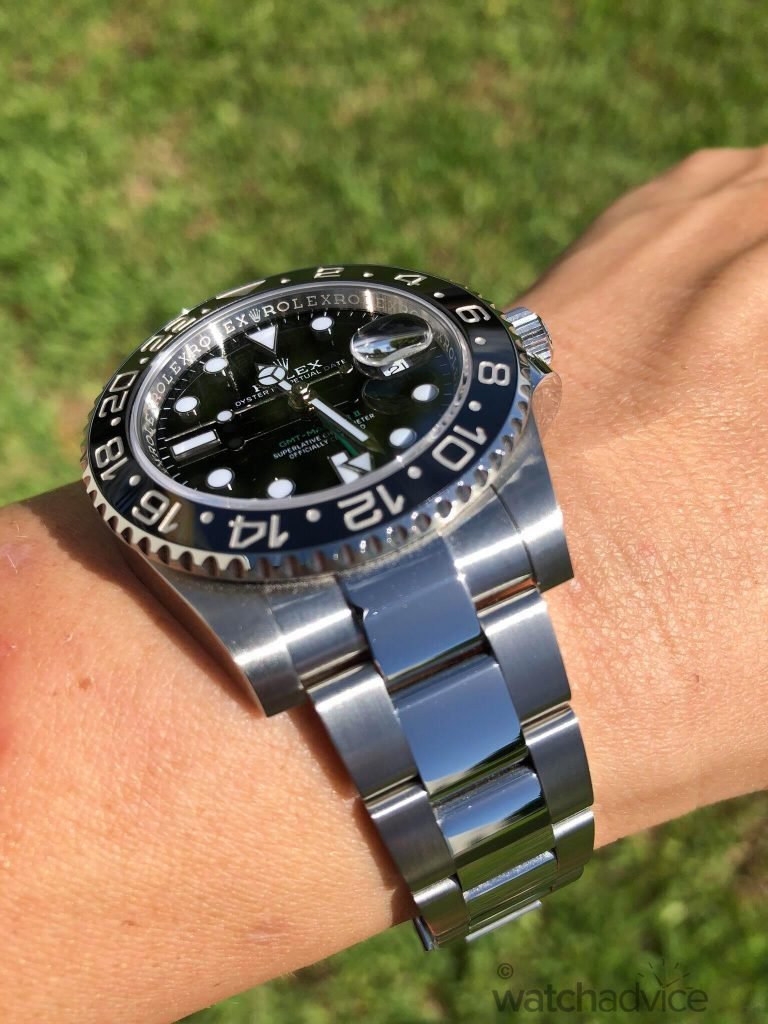 I will end my perspective with this, if you have the opportunity just wear them. In the watch world it should not be about brands or peoples opinion ever. They say if you have two kids you shouldn't have a favourite and this is certainly the case here. It should come down to what you love and what makes you look as close to a diver or pilot. Just enjoy them, admire their beauty and the amazing engineering of the brand.