SEIKO's that choose you.
So I have been toying with the idea of having what the horological community calls a beater for awhile. For the un-initiated, a "beater" is commonly used in lieu of your standard wear watches. You just didn't want to find yourself at a gym with your FP Journe on, like I did…well not a FP ☺
Personally I was fundamentally against the beater, I had a mindset of well you spend all this money and you should enjoy them and should wear the watches you purchased. After finding myself at gym a couple of times with my watches on it was time I think, with a somewhat active type lifestyle to invest.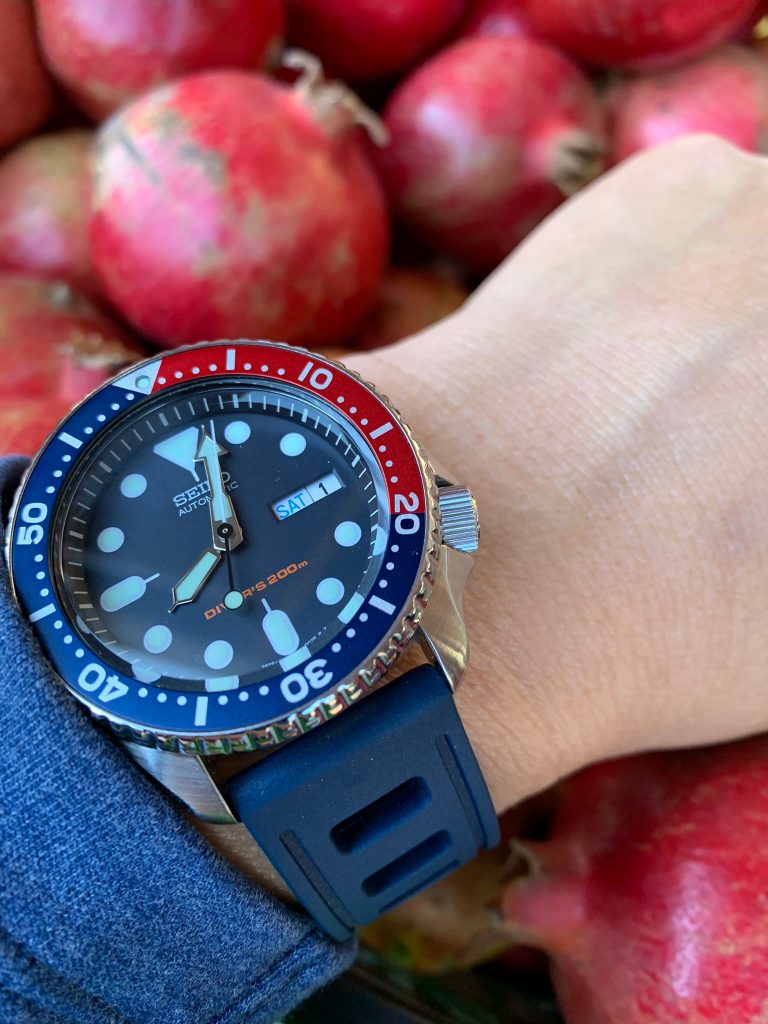 There were a few considerations, G-Shock, Garmin, Citizen and even Apple when I finally choose the Seiko SKX009. In retrospect I think the Seiko choose me over time and probably the brand that I can remember having many of as a kid. (No I did not keep any of those 70's, 80's or 90's dive watches – but hindsight is a lovely pair of glasses right !). Seiko is a fantastic company, spawned in 1881 by a 22 year old entrepreneur called Kintaro Hattori, their whole premise was about perfection and quality. In a world of Swiss watches and manufacture, Seiko slips under the radar frequently yet stands alone and in some ways are better in today's world.
The other consideration for my beater was some colour. I am a standard black dial, dive watch man blah, blah, blah, kind of guy really quite dull actually. Although I am waiting patiently on a BLRO or BNLR, heck any stainless professional range to be quite honest, I was drawn to the SKX009 immediately. I have a "some" Saturday's ritual where I pop into Vintage Watch Co, a shop in Brisbane and take the guys coffee, ask them to show me every watch in the shop and don't buy anything. For weeks I had been chatting with Gordon, whom I would say is a Seiko "freak", well Aficionado. Gordons knowledge and collection is infectious and his sequential Seiko dive collection is impressive.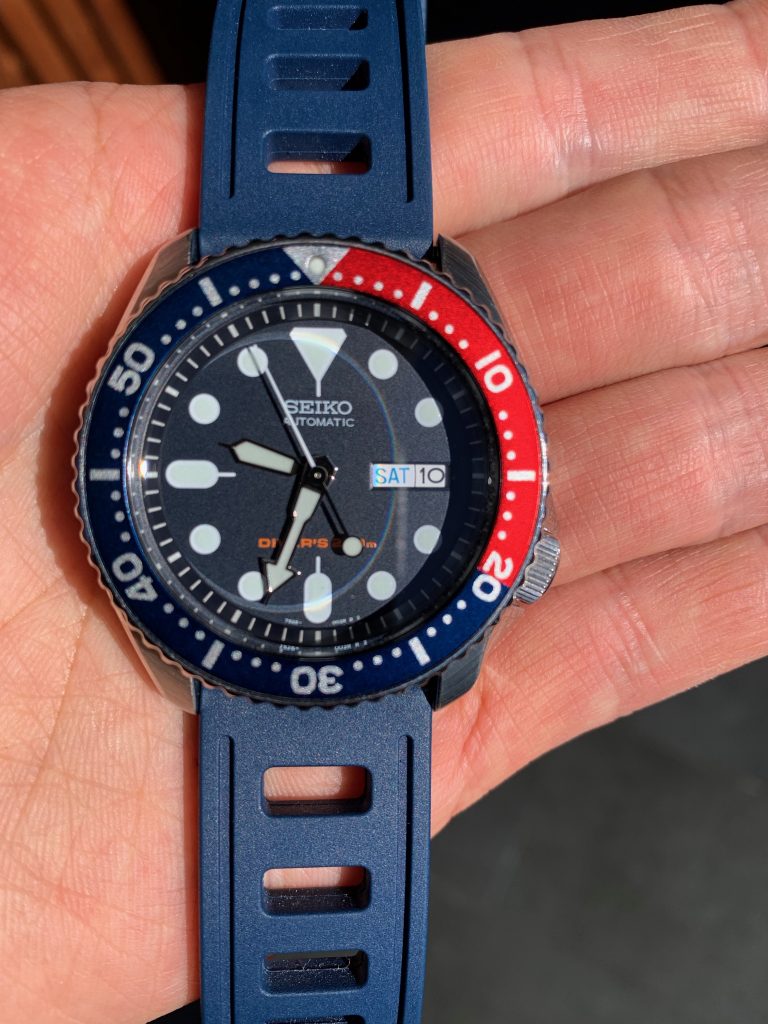 On a quiet day he was showing me his collection and pulled out a mod of a SKX007. I forgot to add these Seiko's are easily to make modifications, but we can go into that later. It looked like a Submariner, branded Seiko but on a Jubilee bracelet and the crown at 4 o'clock instead of 3. The other guy Chris, pulled out his wrist and showed me another modification of an SKX007, they were both wearing Seiko's. Again what I was told was that you can easily replace just about everything on them crystal, bezel, inner rings, dial etc. on these watches, almost without a horologist, as Chris flicked off his bezel to show me his reverse custom SKX. I was hooked, spent the rest of the afternoon at home researching modified SKX's and there are so many things you can do for sure.
Anyway my the story goes, one Saturday somebody had traded a SKX009J, it was almost unworn with box and papers and a Jubilee. During that time I was on a no purchase policy, but what the heck RRP is around about $450AUD and this was almost new. I also purchased the watch with a Blue Isofrane similar rubber bracelet and mounted that on straight away in lieu of the Jubilee. The SKX009 is a pretty version, it is the equivalent of a watch I am patiently waiting for but in many ways the Seiko version is just as good and definitely value for money. The SKX009J is a 2 liner text, it comes on a jubilee bracelet and has a bright red and blue bezel. I think what I find the most coolest out of the watch is the blue dial, it changes colour in many lights and has a day and date at 3 o'clock. The date change or day change does not happen when 12 o'clock kicks over, in fact they happen at different times, as every alternative day is written in another language, my version Japanese. Also Saturday is printed in a beautiful Cyan and Sunday in Red. The watch is striking.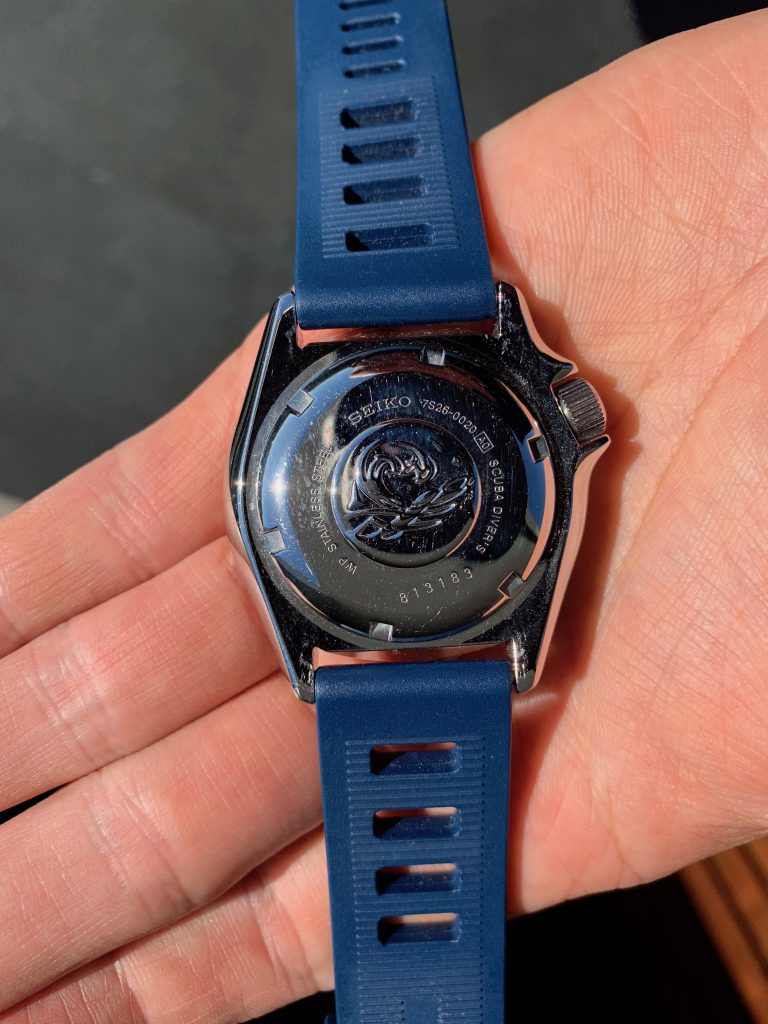 On the wrist, well for me it's a little chunky but let's not forget I brought it as a beater, it is a dive watch certified to 200m and ISO certified. The other day I was with my PT and had it on, he said we need to ramp up some weights so I'll chuck another 20kg on the bar, to with I remarked already wearing that on my wrist, he had no hesitation to give me 50 burpees. I have worn since I purchased it constantly and took it travelling recently instead of my usual travel buddy watch. It's been bush walking, in the surf and mountain biking. My normal day watch has never sparked as much conversation as this watch, there were many people firstly mistaking it for a BNRO on a rubber strap, then realising it's just as cool and could not believe it was a Seiko. It does stand out, the blue and the red is magical under some light, and as mesmerising as a tourbillion in the sunlight. Remember this is a dive watch, so the bezel is unidirectional, has great old school green lume and….it can actually tell you the time, day and date albeit minus a few seconds per day….yes unbelievable as that sound that a watch can do that ☺. The other main differentiator for me is that you can't wind the watch, in fact you have to shake it like a novice with a new Swiss watch, it give you about 40+ hours, but to be honest I never have really done a static test on it.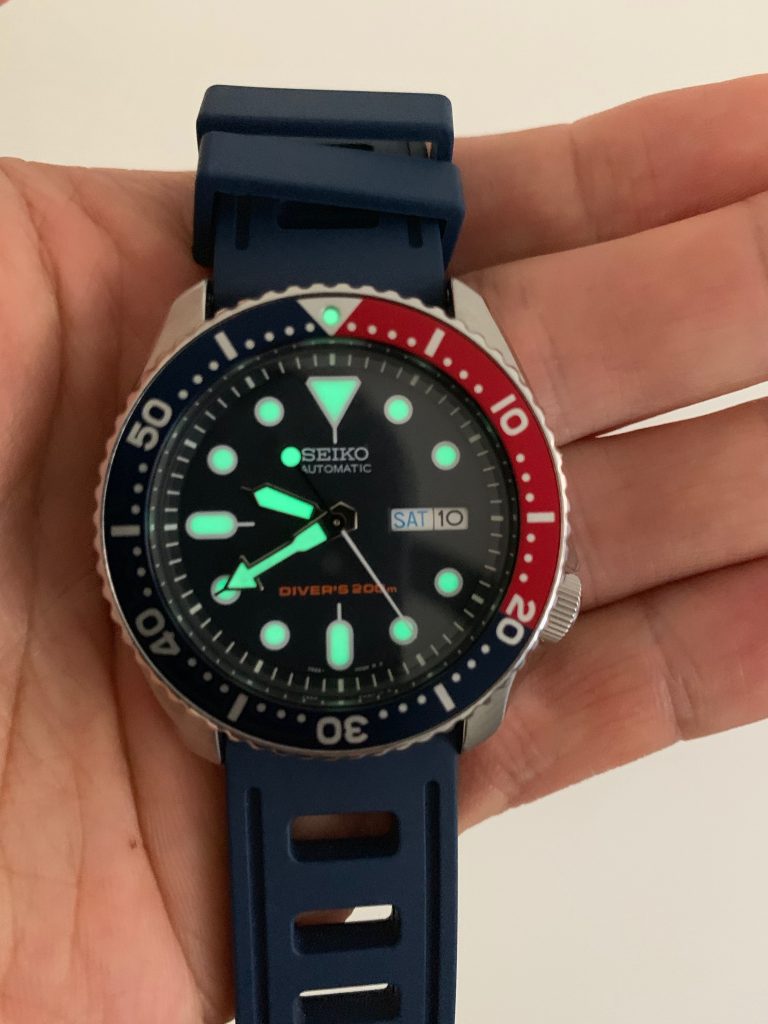 For me the SKX is a good all rounder. In the midst of Swiss timepieces and the unobtainable stainless professionals this is a good entry level watch for a starter in this weird game, a fashionista hipster or just someone who appreciates great value for money. Let me speak about entry level a little. The SKX certainly is not, it comes from thoroughbred stable of Seiko and this should never be overlooked. It can also fit well in amongst the professional time pieces at get togethers when substituted bracelets are fitted such as a StrapCo Oyster or rubber, my next purchase for my trusted beater.