Welcome to Part 2 of our recap of the Sydney International Watch Fair "Artisans of Time". This week, we look at the next three exhibiting brands and some of their standout pieces.
Last week, we introduced many of you to the Sydney International Watch Fair that was held at the Intercontinental Double Bay. A gathering of nine smaller independent Swiss brands that you may or may not have heard of. Admittedly, there were a couple that we weren't all that familiar with either, but then this is the point of the fair. Showcase these brands, most of whom don't yet have a presence in Australia, and shine a spotlight on them.
This week, working through in alphabetical order, we're going to look at Cvstos (pronounced Coos-stos), Cyrus and Mauron Musy.
Cvstos
Cvstos was one of these brands we'd not had much exposure to before. However, talking to their CEO and finding out about it, and being able to go hands on with all their pieces, we have to say, they are some very cool and unique watches. Ones like the Cvstos Double Tourbillon Titanium Challenge shown below.
Cvstos was started in 2005 by Sassoun Sirmakes, the son of Vartan Sirmakes, President of Franck Muller Watchland Group, at the age of 21, and safe to say, watchmaking was in his blood. He decided to team up with Antonio Terranova, a trained micro-technical specialist and the idea of Cvstos was born.
Cvstos make some very out-there pieces, and as you can see, keep within a similar theme and shape (with some design cues taken from Franck Muller). But each piece is a technical work of art, and designed to have great wrist presence and show off said technical expertise.
Many of their pieces are limited editions and limited in production, with some being produced in single digits, or like the Sealiner Tourbillon Sapphire Blue pictured below, just limited to 10 pieces.
Their sapphire cases are crazy comfortable and the skeletonisation allows for the movement to be on full display, which is the entire point of Cvstos. Outside their Sapphire pieces, the brand uses titanium, gold, and carbon for their cases predominantly or blends of the three to craft their watches.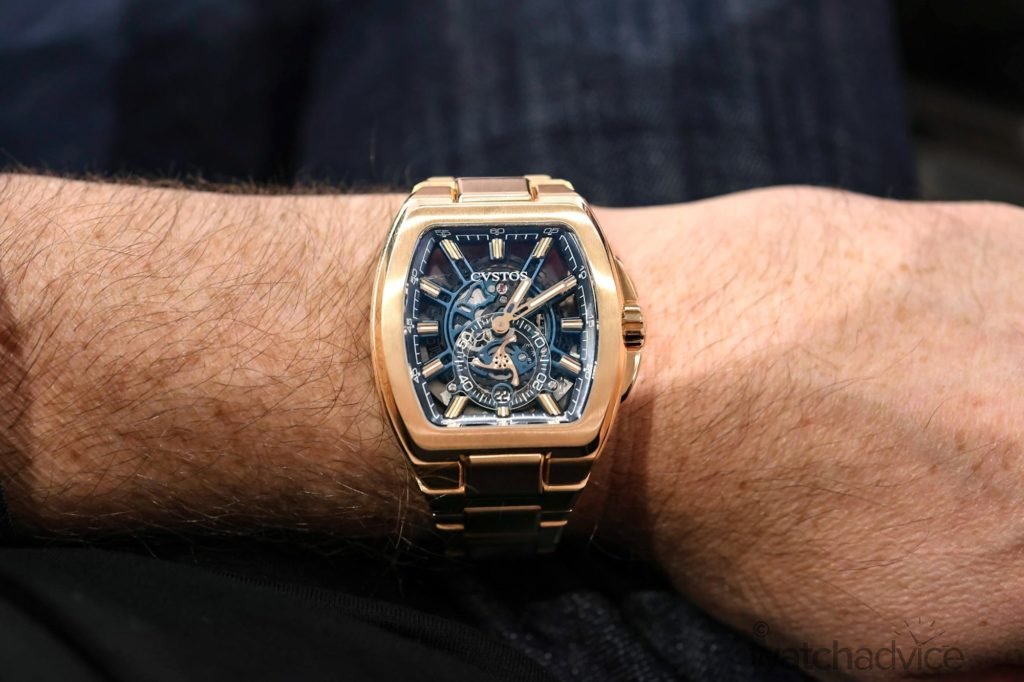 To see more Cvstos watches, head to Cvstos.com for their range. HBP Milestone Pty LTD is the local distributor in Australia
Cyrus
Cyrus is another one of those brands that's had very little exposure in Australia. Being founded in 2010 by the Richard Family, now run by Dr. Pablo Richard, they've partnered with Master Watchmaker, Jean-Francois Mojon, who has developed movements for the likes of MB&F, Czapek, HYT, Hermes and Harry Winston to name a few. The result is a brand that works in the high horology space, bringing movements to life that most other brands wouldn't even try – like the Double Independent Monopusher Chronograph in the Klepcys DICE Racing (pictured below)
Cyrus's designs are big, bold, and daring, and whilst most are lightweight due to the titanium and carbon, they're not small watches. They're designed to be seen and with major wrist presence, and always pushing the boundaries of what's possible. With only a few hundred watches produced each year, they can afford to be this, appealing to those buyers who have the same tastes and sensibilities as their owner.
Cyrus has even taken the standard chronograph and flipped it on its head, with its unique way of displaying the time and chronograph functions. It features the date arc at 9 o'clock, the minutes and hours counter at 12 and 6 o'clock, and the time in the offset dial at 3 o'clock. The stop/start pusher is at 3, and the reset at 9. It's not your normal watch!
On the whole, Cyrus has some very cool pieces, and even if you don't love some of their designs, you have to appreciate what they're doing and that these pieces are for someone who's after a watch that's not run of the mill!
To see more Cyrus watches, head to Cyrus-watches.ch for their range. HBP Milestone Pty LTD is the local distributor in Australia
Mauron Musy
Mauron Musy is the brainchild of two engineers; Eric Mauron and Christphe Musy who wanted to re-think the typical way of making a sports watch waterproof, and thus the service intervals. What they developed over a three-year period is a watch that is waterproof through mechanical sealing (called their nO Ring technology) due to compression and not an O ring. In a nutshell, as the watch gets exposed to more pressure as it goes deeper, the case clamps down more on the inner ring, sealing the internal mechanism hermetically.
While a lot of Swiss brands these days are not 100% Swiss Made, nor do they have to be to have the Swiss Made on their watch, Mauron Musy prides itself on being 100% Swiss Crafted. This means that all the components, manufacturing and assembly, including the design and R&D all done by Mauron Musy and its partners, and all within a 60km radius of their Manufacture not too far from Berne.
The watches are very much industrial in design and look, unsurprising given the founders' roots and the brand's ethos. A large part of this is the actual design mechanics to make the watch waterproof, with the 4 screwed clamps you can see around the edges which comprise the case and acts to seal the watch.
To learn more about Mauron Musy, head to Mauronmusy.com for their range. HBP Milestone Pty LTD is the local distributor in Australia.
Stay tuned for our last installment of the Sydney International Watch Fair later in the week where we will look at Perrelet, Rebellion and Speake-Marin. If you missed Part 1, then you can read it here.