The Aventi Golden Tiger is a watch that will definitely turn heads and have people stop you to ask, "What are you wearing?"
What We Love
Hand-engraved Sapphire and 24K Tiger head!
Sapphire case
Wrist presence
What We Don't
The buckle doesn't sit flush with the strap
It takes a while to wear the strap in
It will be large for some people
Overall Rating: 8.25/10
Value for money: 8/10
Wearability: 7.5/10
Design: 8.5/10
Build quality: 9/10
Aventi is a brand that has grown from strength to strength over the past few years. Aventi has gone from its small beginnings here in Australia to now being a fully-fledged Swiss manufacturer, using some of the best watchmakers and techniques in the business with a unique and disruptive business model.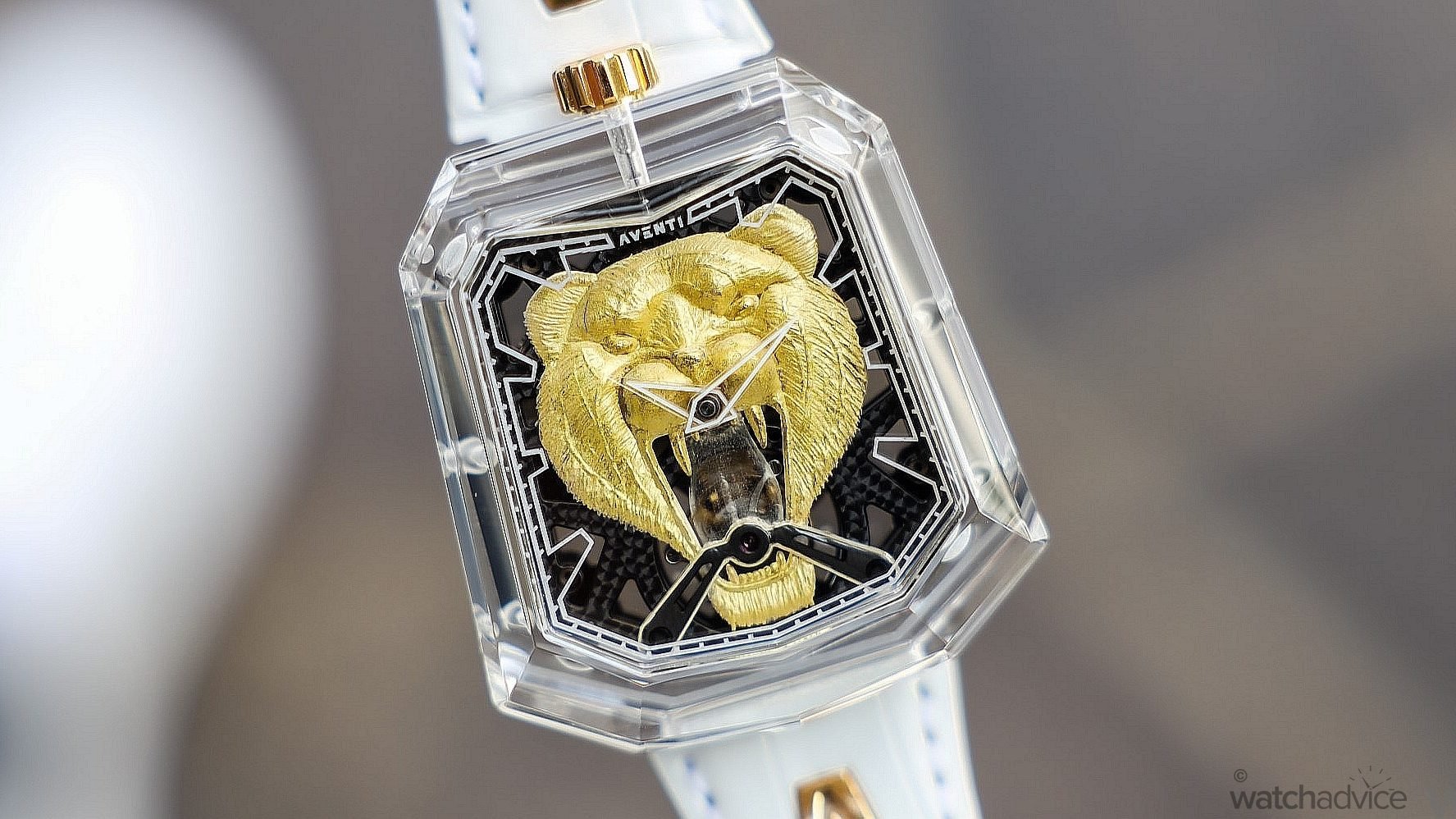 The brand has partnered with a range of watchmakers and component producers, some of the best in the industry, and utilises their on-demand system for their higher-end pieces, ensuring the quality isn't compromised and that each piece is finished to the highest standards. In addition, their Aventi GT-01S Calibre is a Swiss Made hand-wound Tourbillon movement with an accuracy of -4/+4 seconds per day, which is greater than COSC.
Initial Thoughts
Given Watch Advice's founder, Chamath (@champsg), has the Aventi Wraith in Sapphite, and having worn in and played around with it many times, I was confident in what I was getting myself into with the new Aventi Golden Tiger.
However, the Golden Tiger is a very different piece in person, with a completely different wrist presence than the Wraith. The white crocodile leather has a different look and feel to the white rubber, and the whole aesthetic of the piece has a vibe that is somewhere between a cool summer watch and just pure crazy!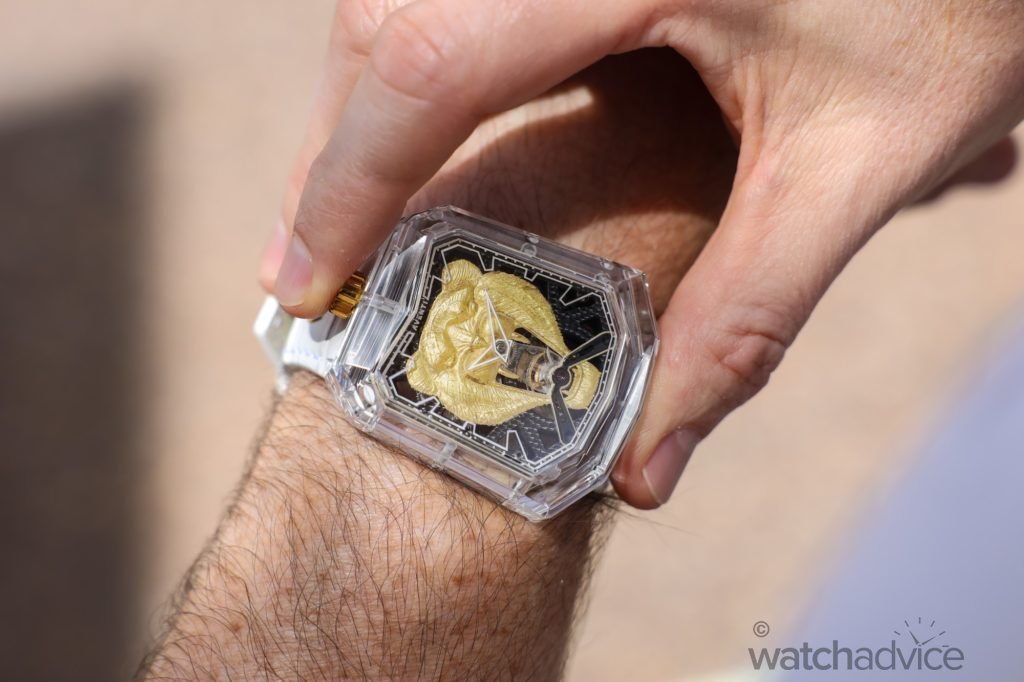 The Design
The first thing you notice with the Aventi Golden Tiger (apart from the gold tiger dial) is the case and shape. Aventi has a case shape that is totally unique as it's not round, square, rectangle, or tonneau. It's a non-equilateral nonagon when looking at it from the top, but when you take into account all the angles and facets, the Golden Tiger has 124 edges and 92 facets, which, when compared to other Sapphire case watches, is really insane!
The case is also designed from clear sapphire crystal with 14 layers of anti-reflective coating. Something you don't really think about with all sapphire watches is the aspect of their reflectiveness or lack thereof. You do need to apply the anti-reflective coating to the whole watch, not just the crystal on the dial. This shows in the Golden Tiger as whilst you do get some reflection on the watch, on the whole, it's not a lot, considering the whole case is crafted from sapphire crystal.
The dial is where this piece comes alive, almost literally. Between the sapphire case layers is a pressed tiger motif within the sapphire dial. This is then filled with 24k gold, filling the space in a reverse cast, so to speak. The result is a detailed golden tiger head roaring, and at the bottom of its mouth, the spinning Tourbillon attached by the boomerang-shaped bridge.
Just under the tiger's nose, the hour and minute hand are present, both made out of a 0.3mm thin layer of sapphire, outlined in SuperLuminova for visibility in the day and at night. There is also a thin line of SuperLuminova around the outside of the dial, which acts as the hour markers where you can see the lume jutting out into the dial. At night, the effect, as you can see below, is quite spectacular!
How It Wears
I'll start by saying that this is not a small watch. At 44mm at its widest and across the wrist, what would be your traditional lug to lug at 49mm and 14.5mm thick, it's definitely a watch not for the faint of the wrist. My wrists are 17.5cm in circumference, and it does look on the larger side when viewed straight on and from a bit of a distance. As you can see from the pocket shot below, it takes up a fair bit of real estate on the wrist, but not all of it.
However, this is a watch that you probably want on the larger side. What's the point of having a full sapphire-cased watch with a 24k golden tiger head inside if people are not going to notice? It's a bit like walking into a Lamborghini dealership and saying you want an Aventador that is subtle and people won't take much notice of. What's the point then? No this is a watch that's meant to be worn and noticed – the name basically screams it.
Whilst big, it does sit very flat on the wrist due to the case shape and flat back. In addition to this, being made of sapphire and carbon with little steel components, it's not heavy, especially when paired with the crocodile leather strap. On that note, the strap really suits this piece. Made from hand-stitched saltwater crocodile leather, the strap is solid and doesn't feel like it will wear out all that easily. The texture is so that you could mistake it for a soft rubber, but this is part of the look Aventi is going for here. Like most leather straps, it will take a small amount of time to break in and was stiff when I first tried it on. It didn't take too long to start to mould to my wrist, however, so I'd say give it a week, and it will fit well.
My only gripe with the strap is with the buckle. In keeping with the theme of the overall look of the watch and incorporating the Aventi logo, it's a little large. But this means that on my wrist, the buckle doesn't sit flush with the strap and sticks out a bit. Whilst not a deal breaker in any way, it was a slight annoyance. I do have to wonder if this will get better as the strap breaks in and gets softer?
The Movement
Within the Golden Tiger, Aventi has placed their own GT-01S movement. The Aventi GT-01S is a fully Swiss-made, hand-wound Tourbillon movement with shock protection and anti-magnetic to 2000 gauss. It's one of the few watches that have a carbon baseplate, and in fact, much of the GT-01S is carbon. The finishing is also very well done, with pearlage on the baseplate, and blue-fired screws, and it is also skeletonised. It's accurate to -4/+4 seconds per day, so it runs better than COSC at -4/+6s per day.
The Tourbillon has only 18 components, as opposed to over 40 in a traditional Tourbillon, and is constructed from grade 5 Titanium to ensure it's light and strong. All parts of the movement are finished with polished beveling and designed to look good from both the front and the back.
Final Thoughts
The Aventi Golden Tiger is one of those watches that you'll either connect with straight away or you won't. And that's ok as it's not a watch for everybody. In fact, you need to apply to Aventi in order to have this piece made, so it really isn't for everyone. The price will also count a lot of people out as well, being 55,000 CHF, or approximately $95,000 AUD, depending on the exchange rate at the time.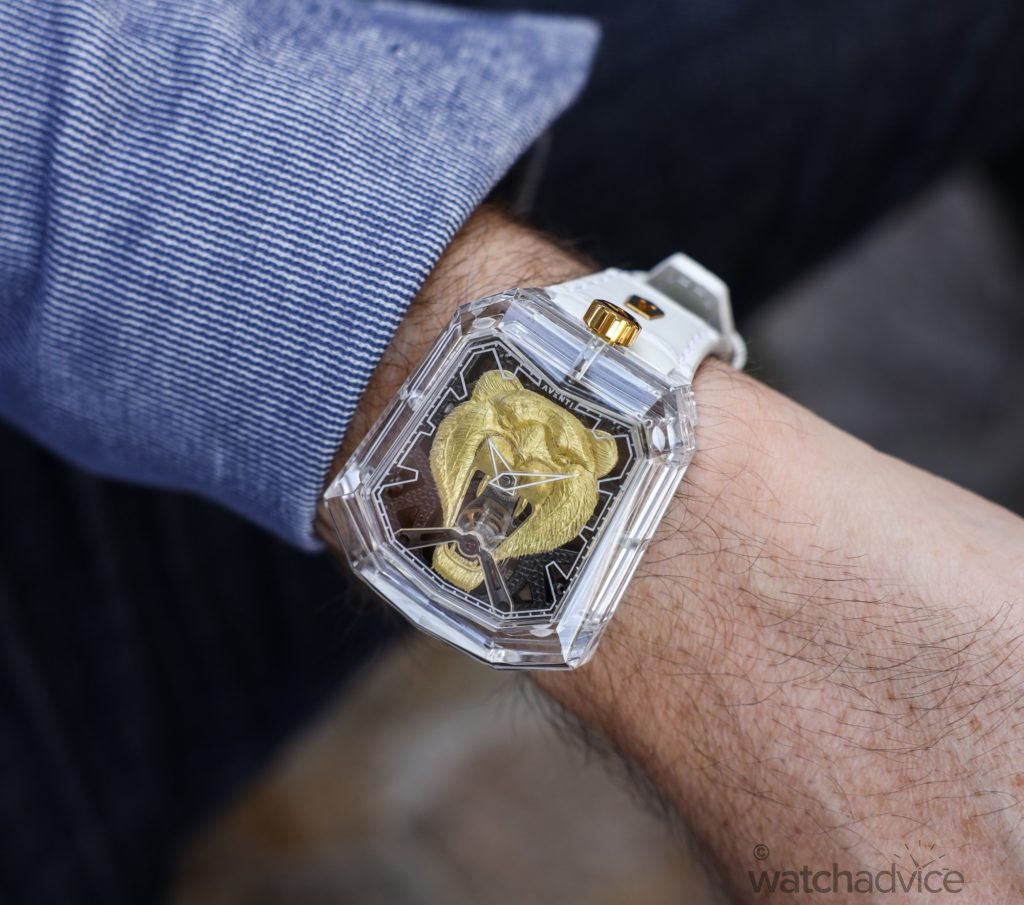 It's big and bold, it's ostentatious and, depending on your taste, quite striking on the wrist. This is a watch that's meant to be seen, admired, and appreciated for its art and material science. Admittedly, whilst wearing this about my daily activities, I found myself looking at the Golden Tiger a lot, and it did just make me smile. Partly because it is a very out-there piece, and one I wouldn't normally gravitate towards, and partly because I loved how it looked on the wrist.
Reference: Golden Tiger – Made by special request
Specification:
Case: 44mm diameter x 49mm across the wrist.
Case thickness: 14.5mm
Case Material: Clear scratch-resistant sapphire crystal with 124 edges & 92 facets. Coated with 14 layers of anti-reflective coating
Dial: Sapphire crystal with hand-engraved tiger, filled with 24 K gold. Laser-engraved hour markers and sapphire hands 0.3mm thick. Super-LumiNova coating on the outside of the hands and dial
Crystal: Sapphire crystal with anti-reflective coating inside
Water resistance: 50 meters / 5ATM
Movement: Aventi GT-01S. Hand-wound Tourbillon movement with shock protection and anti-magnetic to 2000 gauss. Carbon baseplate Accurate to -4/+4 seconds per day.
Power reserve: 105 hours
Strap: White hand-stitched saltwater crocodile strap with 18K Gold pin buckle.
Australian Recommended Retail Price: Approx AUD $95,000 (55,000 CHF)
Availability: Available directly from Aventi. To enquire, head to Aventi.com for more details.