If you're after an aviation styled watch, that can go from the beach to the boardroom, then the Bremont Fury may just be the watch for you! We wrist tested it for a couple of weeks, and here's what we thought…
What We Love
The textured dial
The aviation styling
Power reserve indicator at 6 o'clock
What We Don't
Lack of lume on the dial
Lack of character in the strap
Unsure of what category of watch to fit it in
Overall Rating: 8.5/10
Value for money: 8/10
Wearability: 8.5/10
Design: 8.5/10
Build quality: 9/10
As you may know from previous articles we've written on Bremont and its founders, Giles and Nick English, you no doubt be aware of their love of aviation, and the reasons for starting up Bremont over 20 years ago. If not, then you can get brought up to speed in our interview with Giles here. So it's no surprise that when they were designing their H1 series of watches with the Bremont assembled movement (the first for the brand) that one of these pieces had to be a pilots inspired watch.
The Fury was that piece in both a blue and black colourway, designed to be a contemporary take on the classic aviation watch. I first saw this piece in person when I caught up with Giles back in April, and liked what I saw. So needless to say it was one of their pieces that I immediately wanted to put on my wrist to see how it wore and looked as I went about my day to day. When asked which colour I wanted, I was torn, as the black looked nice and classic, but the blue was just something a little different, plus I like blue watches, so this is the variant I put through its paces.
The Design
The Fury as mentioned is a contemporary take on the classic pilot's watch. This comes through in spades when you first look at it, and Bremont have then given it their unique style with the Trip-Tick® case, now iconic in most of their models and collections. Everything from the hands, to the large onion screw down crown to the leather strap is all aviation in style, so when you're wearing this, there's no mistake where the inspiration came from. But, as aviation as it is, Bremont have fused the classic with the modern on this piece.
The dial is perhaps the star when it comes to the Fury. Bremont have given it a wonderfully textured look, that in the light really comes alive and makes the whole watch pop. The blue isn't an in your face blue either, so it really plays down the watch, which I feel is a benefit as it's not designed to be overly showy. In low light, it's subtle and subdued, perfect for evenings out or for more formal occasions as there is little light to catch the texture on the dial. In these situations, it makes it almost look either black or very dark blue and smooth.
Bremont have given the face a little more character with the addition of the power reserve indicator at 6 o'clock. At first, you may think it's a small seconds sub-dial, but then you realise it's the power reserve indicator, letting you know just how much of the 65 hours of fuel you have left. It is a nice touch, and moving the watch around, or winding the crown and seeing it power up was a bit of a novelty.
The hour markers and numerals are printed onto the dial, and are highly legible due to the bright white contrasting on the dark blue dial. However, most of these are not lumed, so this was one area I felt that Bremont could have improved upon. Instead, the triangle at 12 o'clock, and markers at 3, 6 and 9 are lumed in blue Super-LumiNova®, and the Fury has small lumed indicators on the very outer track of the dial in between. The hands are well lumed however, so checking the time at night isn't too bad as you instinctively know how far past the hour it is at every 15 minute interval.
The case is Bremont's Trip-Tick® design, meaning the case is built in three parts, with the middle part being a PVD treated case barrel, giving the watch less of a dress or formal look. This is something you don't normally see everyday on dress or sports watches, and something unique to Bremont. It does give the watch more character when you contrast the black with the rest of the case's high polish, which is also a part of it's appeal.
Whilst this is one way is a benefit, I also felt it left me wondering is this more of a dress watch or a sports watch? Could I wear this to dinner or with a suit, or would this be better suited to everyday casual attire? Maybe this is just a personal idiosyncrasy of mine, but I did struggle to work this out. Giles says this is designed to go from the beach to the boardroom, to be dressed up or down, and maybe I tend to agree here. It's not quite sports or dress, it's somewhere in between and almost a chameleon watch of sorts.
Continuing on this train of thought, the leather strap does accentuate the pilot's styling on the Fury. The blue leather with white stitching does match the dial perfectly, and allows this piece to be worn in multiple occasions without the need to change it. However, there were two small things that did bug me slightly. The blue strap seems to have less texturing than the black variant, and whilst it's a nicely designed and made strap, part of me wanted some more character. The other thing I felt was having a rubber strap as standard to go with this piece would alleviate my prior concerns on where the Fury sat in terms of dress or sports. The leather isn't really designed for water, even though you get 100m water resistance and a screw down crown on the watch, so a blue rubber strap would go along way to really make this a highly versatile piece.
How It Wears
For me, the Fury is almost a perfectly proportion watch. At 40mm in diameter, just under 13mm thick at 12.9mm and with a lug to lug of 49mm, it sits pretty well on my wrist, which is around 17cm in circumference in winter. The taper of the lugs helps with this as they angle down allowing the strap to sit flush with the wrist and not flare out any. This also helps to position the watch on the wrist too, and if worn snug but not tight, means you don't get a lot of movement on the wrist like you can with some watches on leather.
The leather strap is fairly comfortable, and was pretty flexible and not too stiff at all in the bottom half. I've said on numerous occasions that new leather straps shouldn't be too stiff, even when brand new. This all comes down to the type of leather used, and how the strap is made and if it's a single layer, dual layer, how much bolstering there is in the upper strap etc. I feel that Bremont have struck the right balance with this, having a decent amount of bolstering at the top where the strap joins the lugs, but then tappers and thins out, allowing the leather to give around the wrist, making it comfortable from first wear.
After wearing the Fury for a couple of weeks, the issue I raised earlier – is it better dressed up or down still wasn't resolved, so I did wear this with more casual clothes on the daily basis, but also dressed up in a suit to see how it would look on the wrist, fit under a shirt and jacket cuff etc. The watch does sit nicely under a standard dress shirt and jacket, so no issues there on sizing, but I did feel the blue lent itself to less formal occasions. The black would most likely pair better with a suit or for more formal occasions, but would also dress down just as easily too I feel. Perhaps something to consider here when considering a purchase.
Dressed down, you do get a sense you're being a little more classy with the Fury on. It's a different style to a steel sports watch, and a piece you would wear to make it look like you've gone to some effort. Admittedly, wearing the Fury with a t-shirt and jeans, or a Polo shirt and a nice pair of shorts does dress your outfit up a little, and when I think about scenarios in which would be perfect to wear it, an afternoon in the sun having drinks with friends at trendy outdoor bar, or a nice lunch with your partner or friends comes to mind.
The Movement
Bremont have equipped the Fury with their ENG300 series movement, now all assembled in house at The Wing. Bremont have been making the ENG300 since 2021 after bringing a majority of the manufacturing process in house and the firm's in-house technical team has re-engineered 80% of the base calibre, including making a number of design improvements, in order to build a proprietary movement to the brand's unique specification.
Inside the Fury is the ENG365 calibre. You can see this through the sapphire case back, and Bremont have done a great job with the finishing and look when you consider the price point. They've added in a skeletonised tungsten rotor that is rhodium plated, so it shows off the movement with the gold plated bridge clearly. Bremont have also used a combination of fine brushing, striping and graining on the movement, so there's plenty to admire when it's off the wrist.
The ENG365 calibre is an automatic movement with a 65 hour power reserve – meaning you've got almost 3 days worth in the tank, more than enough if this is your daily wearer or you're wearing it several times a week. The ENG365 powers up quickly too. I found that when you wind the crown or move the watch around to increase the power reserve, it does so fairly quickly. The 65 hours is pretty on the mark as well. I wore this around and had the watch at full power and let it run down strategically to check on the accuracy of this and it had just over 65 hours by my measure.
As with all Bremont watches, the movement is manufactured to be chronometer standard, but Bremont takes their H1 series further with their own in-house H1 Timing Standard. According to Bremont, this is is directly comparable to the ISO3159: 2009 Chronometer test but is then tested with the movement fully assembled and rotor attached to ensure it's accuracy and performance in real life conditions. Testing the accuracy whilst having the watch, it ran to approximately +3 seconds per day over a week with normal daily wear, falling within the Chronometer rating easily.
Final Thoughts
The Bremont Fury was a good watch to wear and test on the daily basis. This being the first piece I've had from the brand to really get hands on with, and wear like I do every other watch, I have to say, it stood up to my lifestyle perfectly. It's a nice wearing watch, that can be worn in a variety of circumstances and whilst I had it, enjoyed wearing it.
The dial was probably my favourite aspect of the watch, and being a watch photographer, I loved taking pics of the watch and capturing the texture on the dial. It is one of the more photogenic pieces I've had the pleasure of wearing this year, and I had fun taking pics for both the review and just for the fun of it.
The only downside of testing it out in Winter is that I wasn't outdoors as much as I am in the warmer months, so I can't comment on how this would go at the beach and pool. However talking to Bremont, you can get a rubber strap that you can fit so it's more readily a sports watch for outdoor use, so if you're considering this watch, then consider adding a rubber strap as well that you can change out for the warmer months.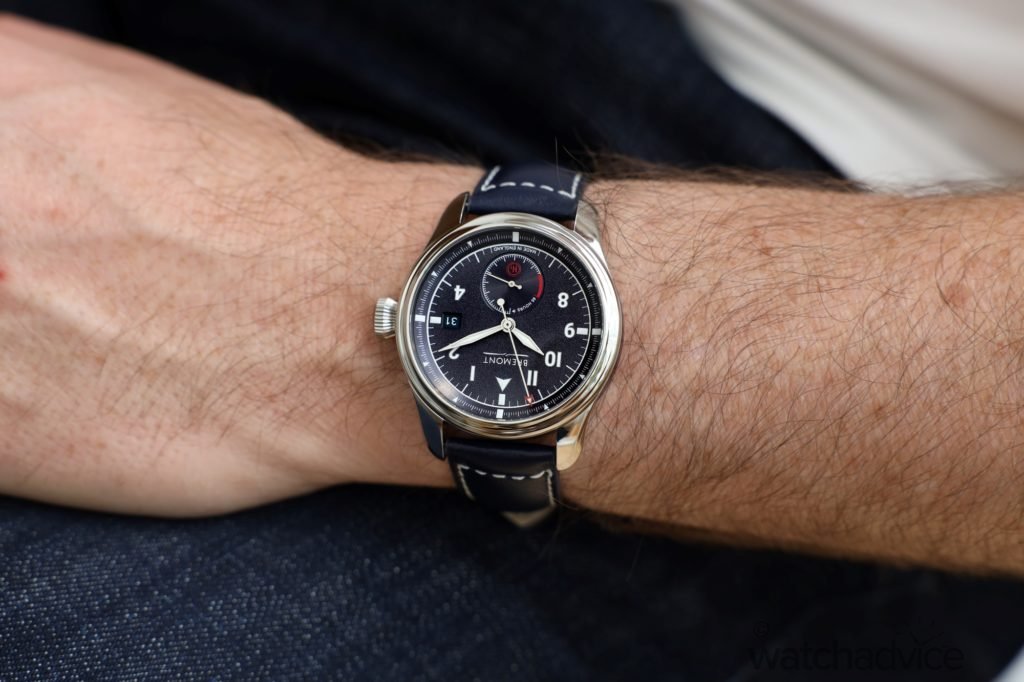 Overall, the Bremont Fury is a great option for those wanting an aviation or pilot's inspired watch, especially if you're after a piece with the feel of a pilot's watch without being too hardcore pilot's. It a good everyday watch that you can dress up or down, or maybe it dresses you up or down depending on what you're wearing. At AUD $9,750 it represents decent value for money based on my experience with it, compared to other pilot's watches on the market, like IWC or Breitling or Zenith to name a few which are all now over $10,000 for many of their pieces in the aviation style. For those that are looking for something a little different, and a well made and engineered British watch, then the Fury may just be right for you!
Reference: Bremont Fury Blue
Specification
Case: 40mm, 12.9mm thick and 49mm lug to lug
Case Material: Polished Stainless Steel Bremont Trip-Tick® case construction with scratch resistant PVD treated case barrel.
Dial: Grained metal dial with white printed Arabic numerals. Markers at 3, 9 & 12 Hour position printed with Super-LumiNova® (Blue emission).
Crystal: Domed anti-reflective, scratch resistant sapphire crystal.
Water Resistance: 100m (10ATM)
Movement: Bremont 11 1/2''' ENG365, pivoting on 22 Jewels with a Silicon escape wheel, free sprung hair spring with inertia weight timed balance and KIF shock protection and beating at 25,200bph (3.5Hz). H1 Timing Standard Certified
Power Reserve: 65 hours
Strap: Blue leather strap with polished stainless steel pin buckle.
Availability: Available through Bremont's Collins Street Boutique in Melbourne, Hardy Brothers in Sydney and Brisbane and online at Bremont.com
Australian Recommended Retail Price: AUD $9,750