Hublot is going back to its roots, to the watch that shook up the conventions of the day – audaciously pairing precious metals with a rubber strap!
In 1980 Hublot did something unthinkable – pairing a precious metal gold case with a rubber strap, turning fashion on its head (and turning heads in fashion as well!). This sent huge shockwaves through the world of fine watchmaking. But, by winning over an audience of connoisseurs who were searching for different watch products, so began a tireless visionary momentum impelled by audacity. And it's this vision that is carried through to the Classic Fusion Original, celebrating youthful maturity with timeless simplicity.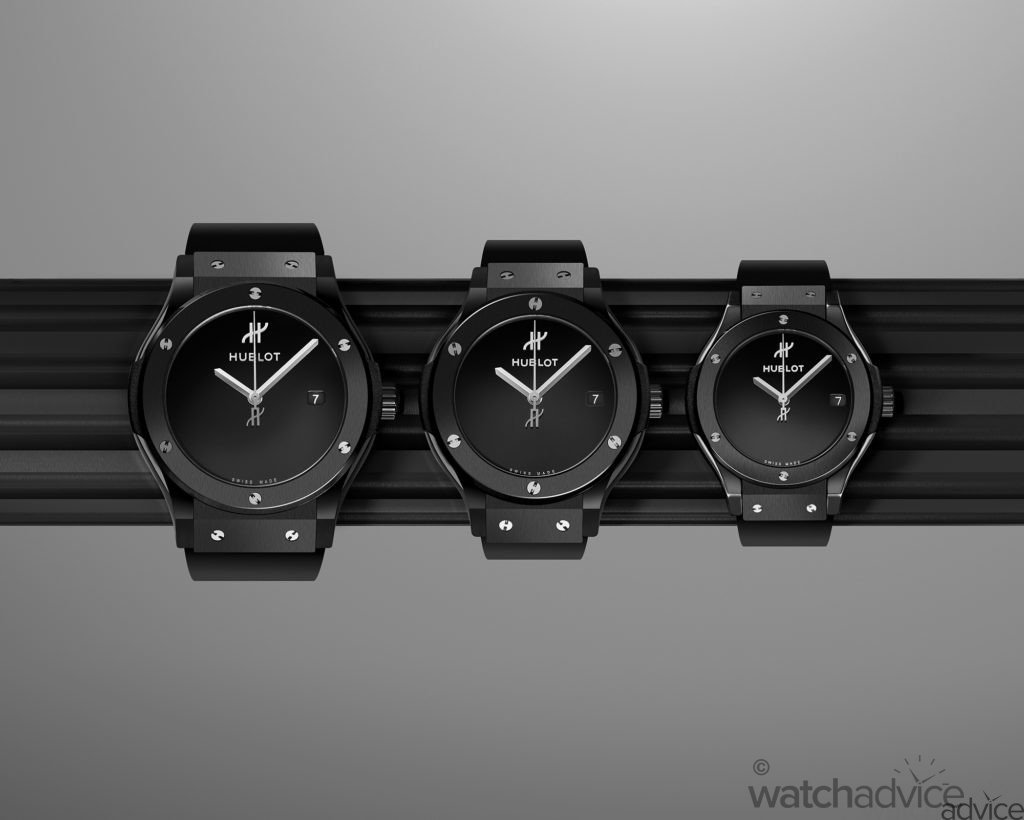 Echoes of Carlo Crocco's original design are recognisable in the rubber strap, the polished black lacquered dial that is only broken up by the hands and the date wheel. When comparing the 1980 version to the 2023 version, very little has changed in design and style. Other than the sizing and 3 case material variations, Hublot has kept the design almost seemly unchanged. However, there are some subtle differences when looking a little harder!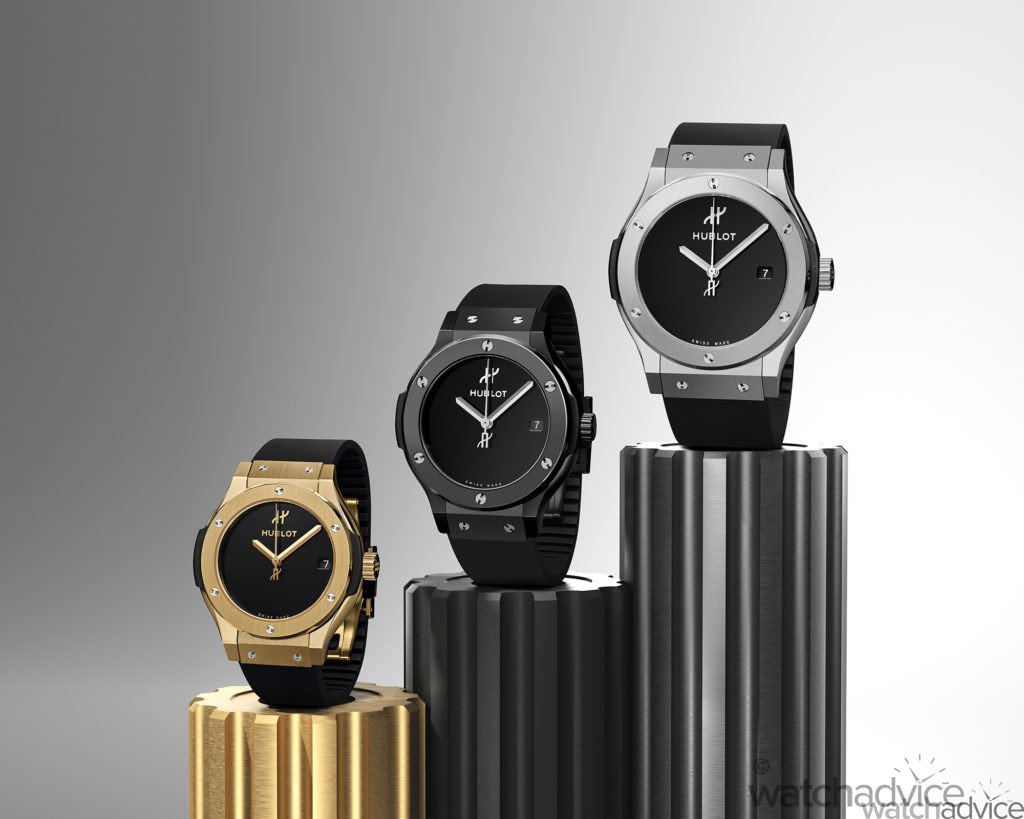 Today, the Classic Fusion Original is available in yellow gold, titanium and ceramic; the cases are available in 42, 38 and 33mm, making these perfect for both Men and Women and also versatile in look due to both size and case material. Sporty and elegant, and just a little bit dressy, come immediately to my mind.
You still have an all-black dial with basic three hands, logo and date window at 3 O'Clock. However, the logo is just a little more modern, showcasing Hublot's evolution over time. The hands are now a little more prominent, in a sword-style design, with the addition of the famous Hublot "H" logo balancing out the second hand. Hublot has made the dial even more minimalistic by making the date window black with gold writing, blending in much better than the original white window and black writing.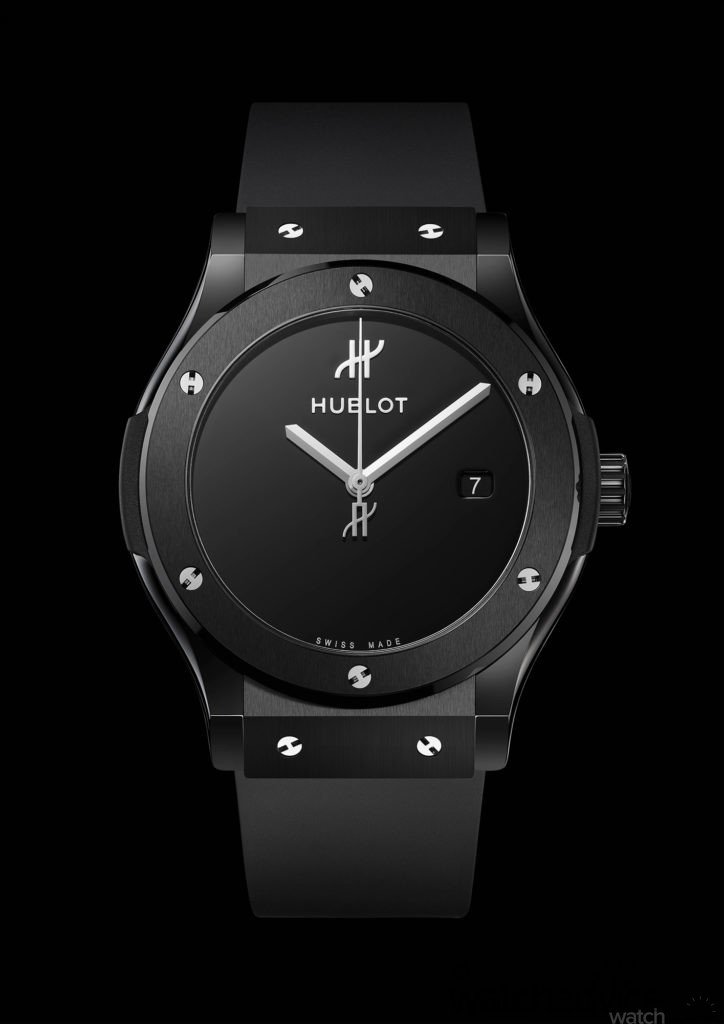 Hublot sees this model release as a case of returning to the past to better shape their future, and given the versatility and simplicity, they could be right!
There are just 500 pieces of this redesigned watch for both collectors and watch lovers alike.
References:
42mm – 542.NX.1270.RX.MDM (Titanium), 542.CX.1270.RX.MDM (Black Magic), 542.VX.1230.RX.MDM (Yellow Gold)
38mm – 565.NX.1270.RX.MDM (Titanium), 565.CX.1270.RX.MDM (Black Magic), 565.VX.1230.RX.MDM (Yellow Gold)
33mm – 581.NX.1270.RX.MDM (Titanium), 581.CX.1270.RX.MDM (Black Magic), 581.VX.1230.RX.MDM (Yellow Gold)
Specification:
Case: 42 mm, 38mm and 33mm
Case Material: Titanium, Black Magic and Yellow Gold
Dial: Sunray Black dial
Crystal: Sapphire crystal with anti-reflective coating 
Water resistance: 50 metres with screw-down crown
Movement: HUB1110 Self-winding Movement for 42mm and 38mm sizes and Quartz for 33mm
Power reserve: 42 Hours
Bracelet: Black Smooth Rubber Straps with Deployant Buckle Clasp
Australian Recommended Retail price:
Titanium: AUD 9,100 (33mm), AUD 11,000 (38mm) and AUD 11,500 (42mm)
Black Magic: AUD 10,200 (33mm), AUD 11,900 (38mm) and AUD 14,000 (42mm)
Yellow Gold: AUD 24,800 (33mm), AUD 28,600 (38mm) and AUD 33,600 (42mm)
Availability: Available now