Pros:
Bold rugged design
Contrasting golden bronze case with the deep blue dial and bezel
Numerous strap options as standard to interchange the look
Cons:
The Nato strap makes it wear higher on the wrist, as not as flush as we would like
It's a larger watch so not for the faint of wrist
Date wheel in white, not blue to blend in with the dial
Overall Rating: 8.125/10
Value for money: 8/10
Wearability: 7.5/10
Design: 9.0/10
Build quality: 8.0/10
Rado is one of those brands that does fly a little under the radar, in this writer's opinion. They have always had good watches, and when it comes to different design materials, like ceramic, they're up there with the best. I bought my wife a white Rado True Thinline in full ceramic about ten years ago, and it still looks as new as the day I bought it. She loves it and wears it all the time, and is quartz and keeps perfect time (until the battery goes dead, that is!) Which makes me think, why then do guys not think about Rado as they do other mainstream Swiss brands? Maybe it's because they don't put giant amounts into marketing with celebrities. Or maybe we're all too caught up on the hype watches to look elsewhere? In any case, I've had the good fortune to try on a few Captain Cook variants this year, and I think Rado is a winner with this model line.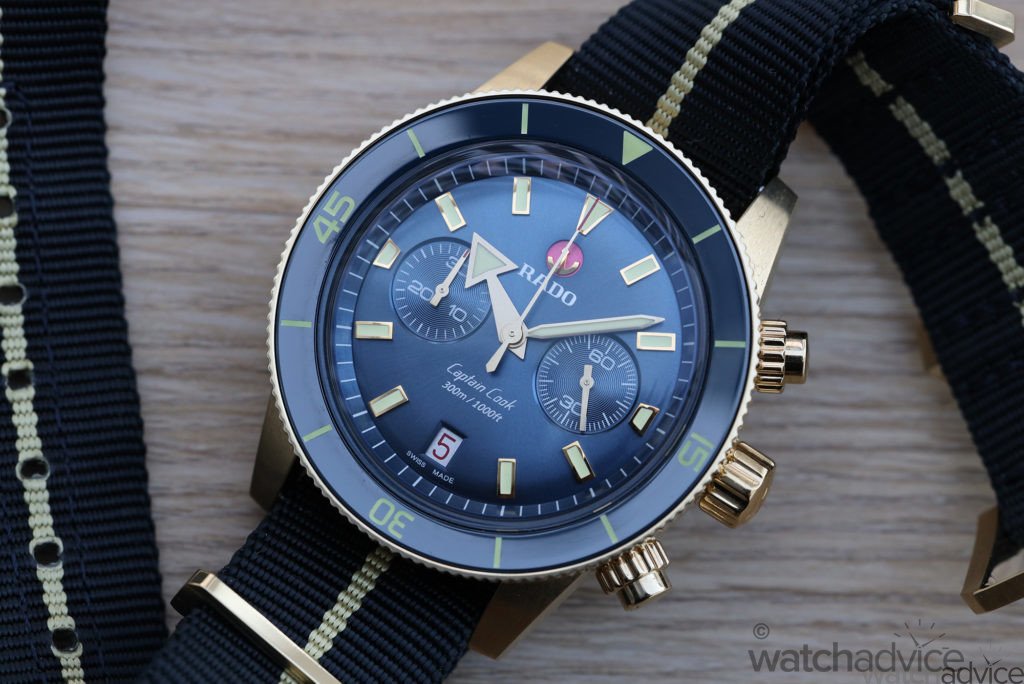 A Watch Line Named After An Adventurer
For those that don't know, the Captain Cook line goes back to 1962 and was aimed at doctors, engineers, athletes, deep sea divers and racing car drivers. Its signature was a pivoting anchor that indicated when the watch needed to be serviced – now more of a cool feature on a swivel on the dial that moves around. The Captain Cook variants are all robust, waterproof, and hardy, perfect for whatever life throws at you, and perfect for those that love adventure and the outdoors; or if you're like me, love the idea of adventure and outdoors as life often gets in the way from these pursuits. The new Rado Captain Cook Automatic Chronograph in Bronze is just this – the perfect watch to wear in the boardroom or out to dinner on the leather strap or a quick change to the Nato, and you're all set to tackle the beach, pool or for those lucky enough, adventuring through a foreign country.
How it wears?
At 43mm, with a 14.8mm height, this is a larger watch, so it's not for those with smaller wrists. However, the lug-to-lug isn't huge and wears fairly well on the wrist. It's a more snug fit on the leather because you don't have the Nato double pass strap between the wrist and the watch, adding another 2mm or so to the watch height. Regardless of the strap, it felt comfortable on my wrist for the week and playing with the Nato to get the right position on the watch and wrist did help, as with most double-pass Nato's. I'd also recommend breaking in the Nato and leather for a bit, as this helps with moulding both to the wrist and, after a few wears, will be much better fitted to the wearer's wrist.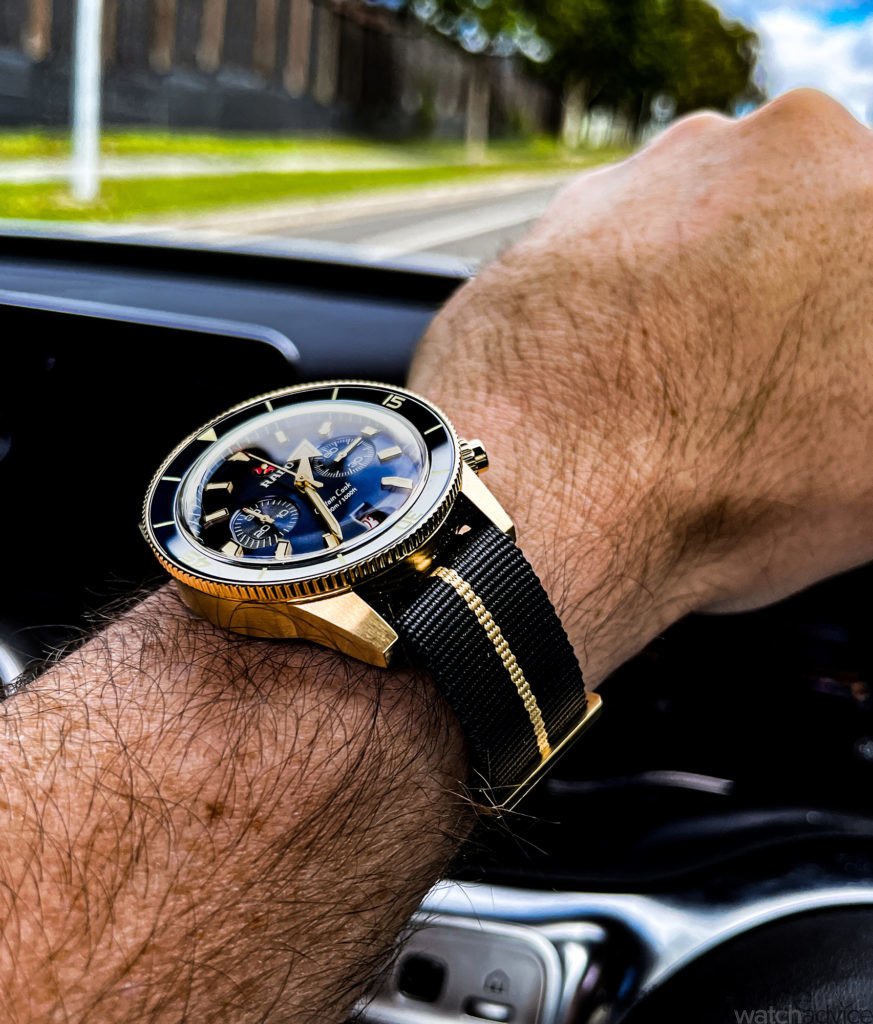 The Design
I'll preface that I'm a sucker for a gold/blue watch combo! Something about the contrast on the colours that just works, and with the Rado Captain Cook Chrono in Bronze, this is definitely the case. The bronze that Rado uses looks great when new – a more golden hue with a beautiful lustre that at a glance, could be mistaken for a blend of yellow and rose gold with a touch of bronze. This, contrasting with the dark blue of the dial and bezel just work well together, and the fact that Rado have brought the bronze into the hands, indices and sub-dial hands makes it super easy to read and stands out.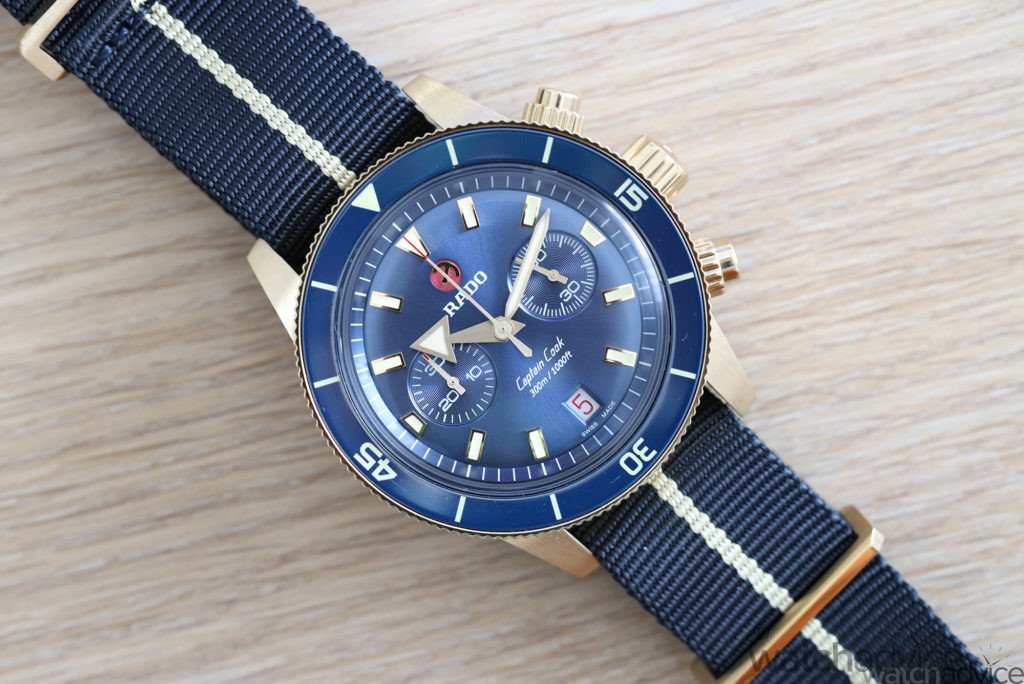 The blue sunray dial does change depending on the light too. In bright sunlight, it's more a mid-navy blue that gets darker in the centre or the edges depending on the angle, but in lower light or indoors, it becomes a darker hue. The romantic in me thinks this is a subtle nod to the ocean and the fact that its namesake was an oceanic adventurer. Whatever it is, it just works.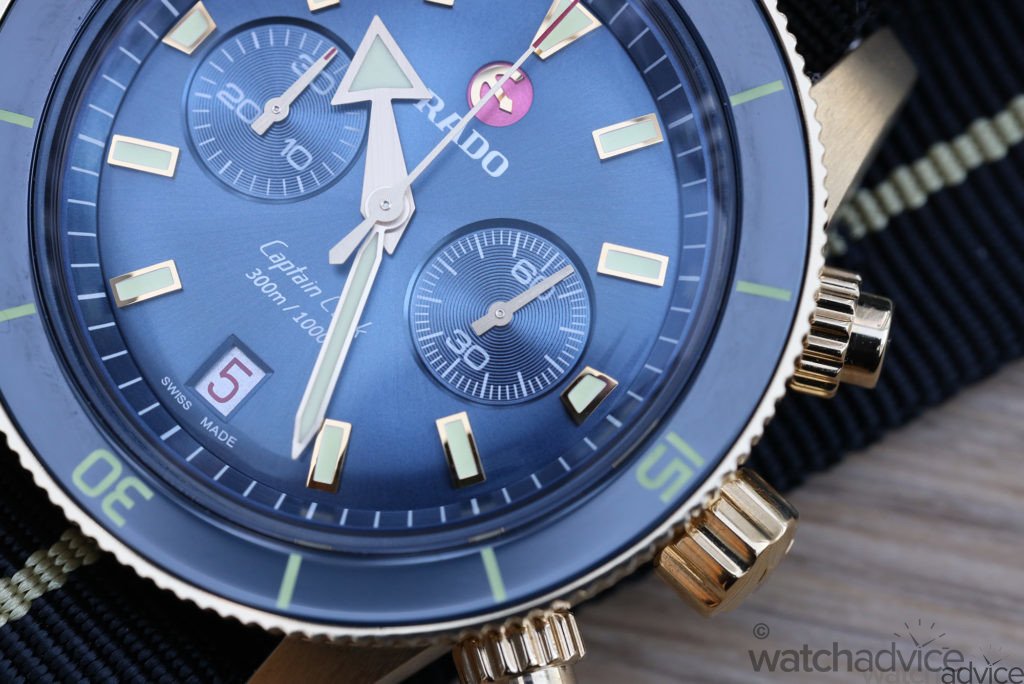 Given the Captain Cook line dates back to the early 60s, Rado has given the Chronograph version some nice vintage nods too. The screw-down pushers for the Chronograph make it reminiscent of racing timers from the 60s and 70s, and whilst slightly fiddly when you want to use them, are a nice touch. The screw-down crown with the Rado anchor on it also harks back to the original Captain Cook line from the '60s, and whilst the pivoting anchor on the dial isn't to indicate the service intervals anymore. However, more of a design aesthetic, I think it still works well and gives this watch a unique feel.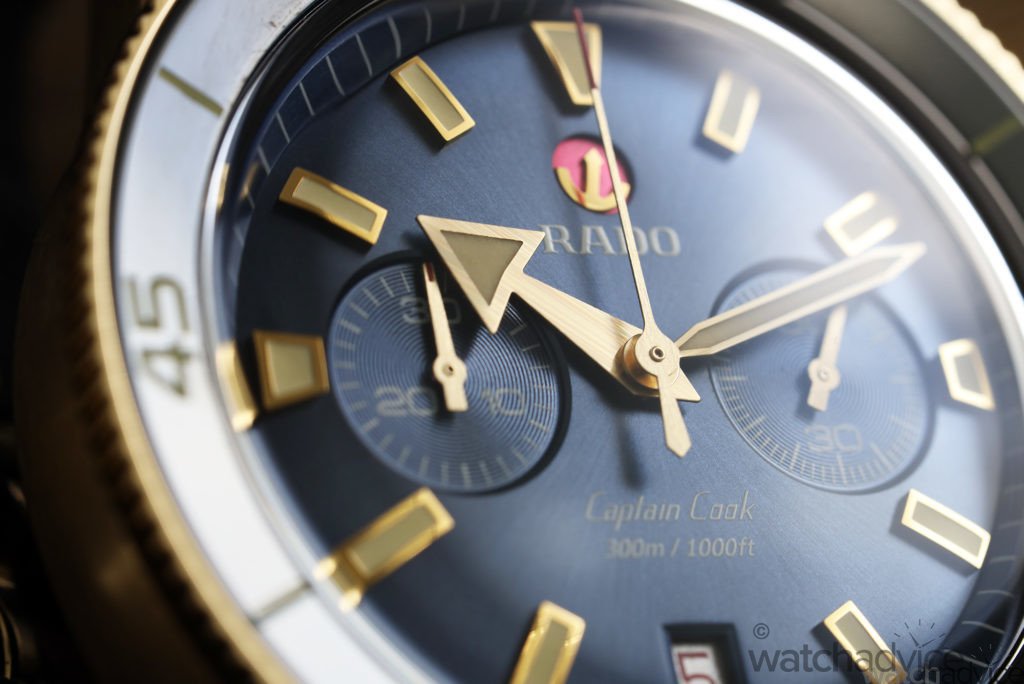 Given this is a tool watch through and through, Rado has gone the extra mile and given Captain Cook Chrono extra lume. Not only are the hands and indices well lumed, but the bezel is also filled with SupaLuminova on the numerals and 5-minute markers, making it easily read at night and countdown timing easy, whether you're under water, trekking through the jungle or sipping cocktails poolside in the evening! The other small detail that I liked is the bezel is sloped in, or concave, again, another subtle nod to those divers of the 60s.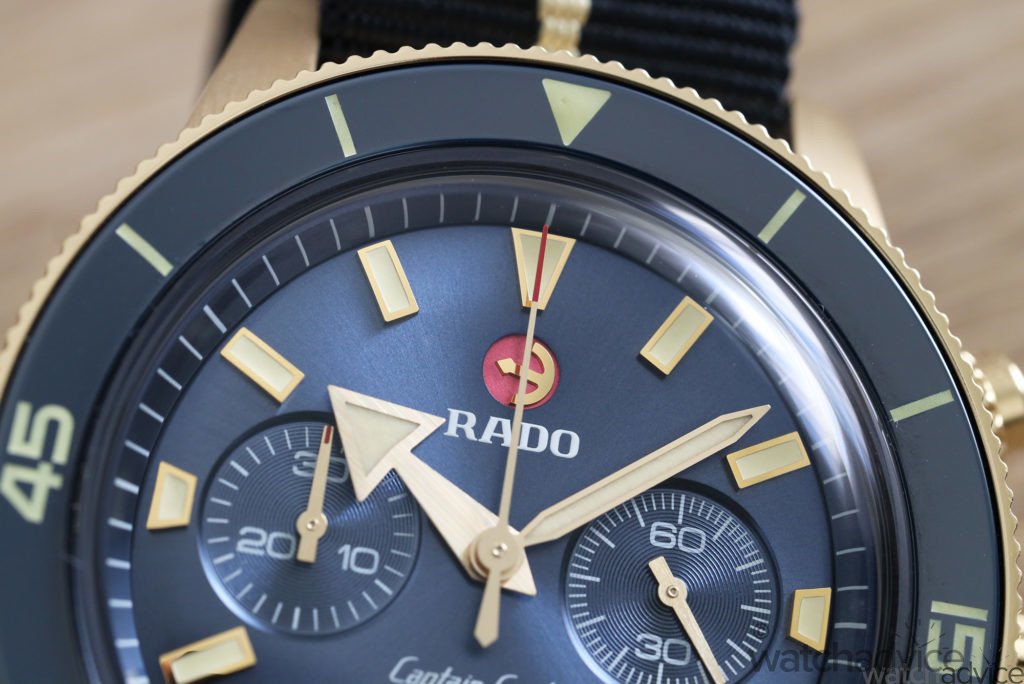 As mentioned earlier, the three straps look great on this watch, giving it a different look. Whilst the leather does class it up a little, and the watch sits a little more flush with the wrist, I still love the look of this watch on the blue and bronze nato. It takes the bronze and blue and flows this through, with the blue Nato and golden bronze stripe down the centre. The bronze buckle and strap minders also tie this whole look together nicely.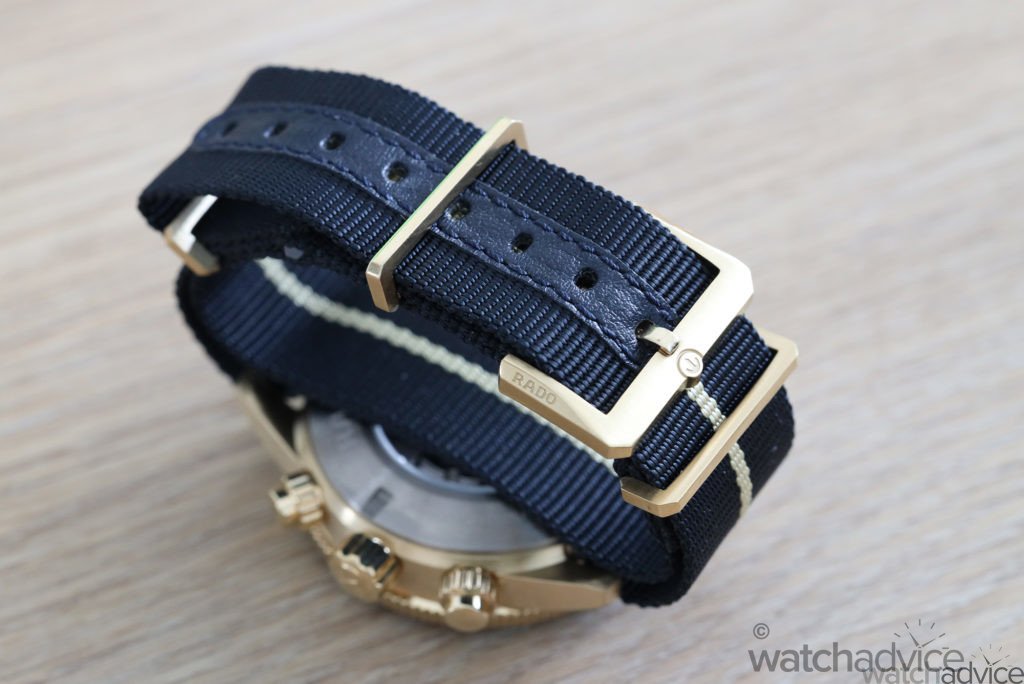 Movement
Rado has given the Captain Cook Chronograph in bronze a see-through case back, not something you often see on a bronze watch. Admittedly, the dial side is great to look at, so you probably won't be flipping the watch over much, and when on either of the nato straps, it's hard to see due to the strap covering the back. However, if you choose to wear it on leather, you can admire the new R801 automatic movement. Rado says this movement is a newer and thinner version of the older chronograph movements. With 37 jewels, five hands and 59 hours of power reserve thanks to an antimagnetic Nivachron™ hairspring, it exceeds standard test requirements from 3 to 5 positions for higher accuracy.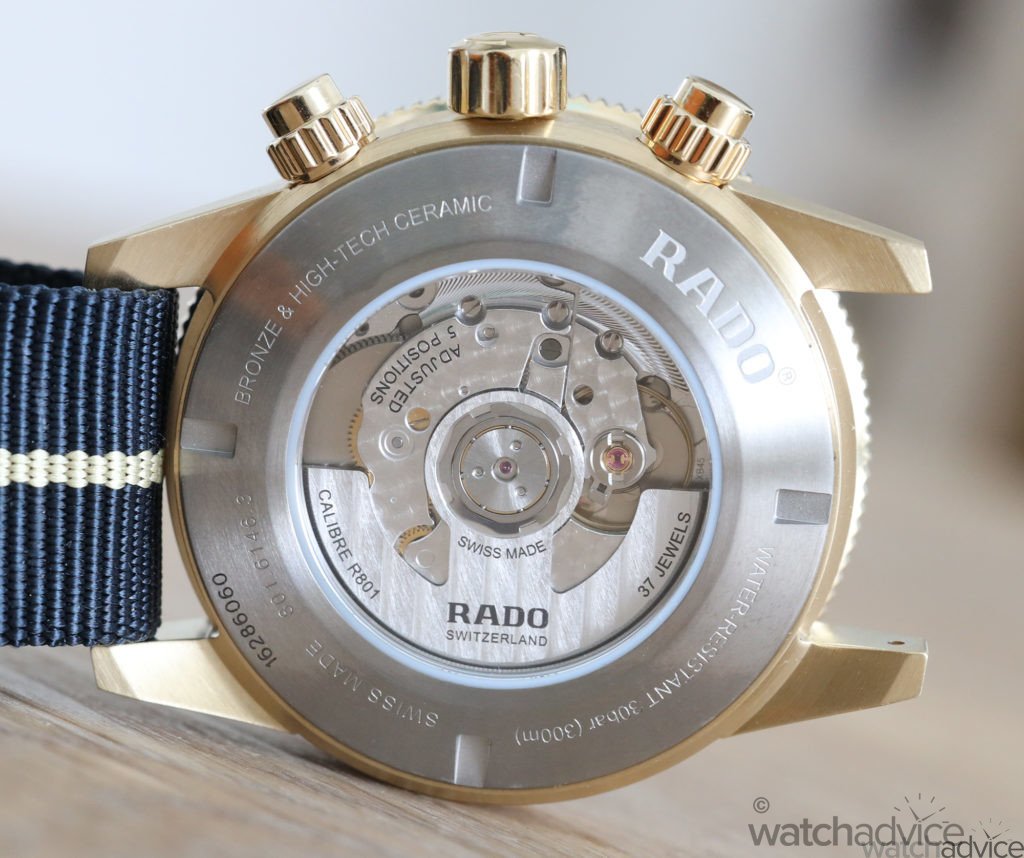 Whilst I had the watch, I didn't notice any real issues with keeping time, and each day I picked it up to wear, it was still running well, with no discernable differences from my other watches. Given the testing standards, which at five positions, are equal to that of COSC, I'd expect this to be fairly accurate.
Rado still only offers a 2-year warranty with this watch, which these days are slightly less than what a $7,000+ watch should be. At least three years, and with many brands now offering five years as standard or the ability to extend to 5 years and beyond when you register the watch on the site, this is one area where Rado falls slightly behind.
Final Thoughts
The new Rado Captain Cook Automatic Chronograph Bronze is a solid, sturdy and good-looking watch. Whilst not for the faint of the wrist, it wears well for a larger 43mm watch, and those with wrists that are around 7 inches or so in circumference will quite like wearing it. Whether in sunlight or no light, the watch pops and is easy to read in any situation.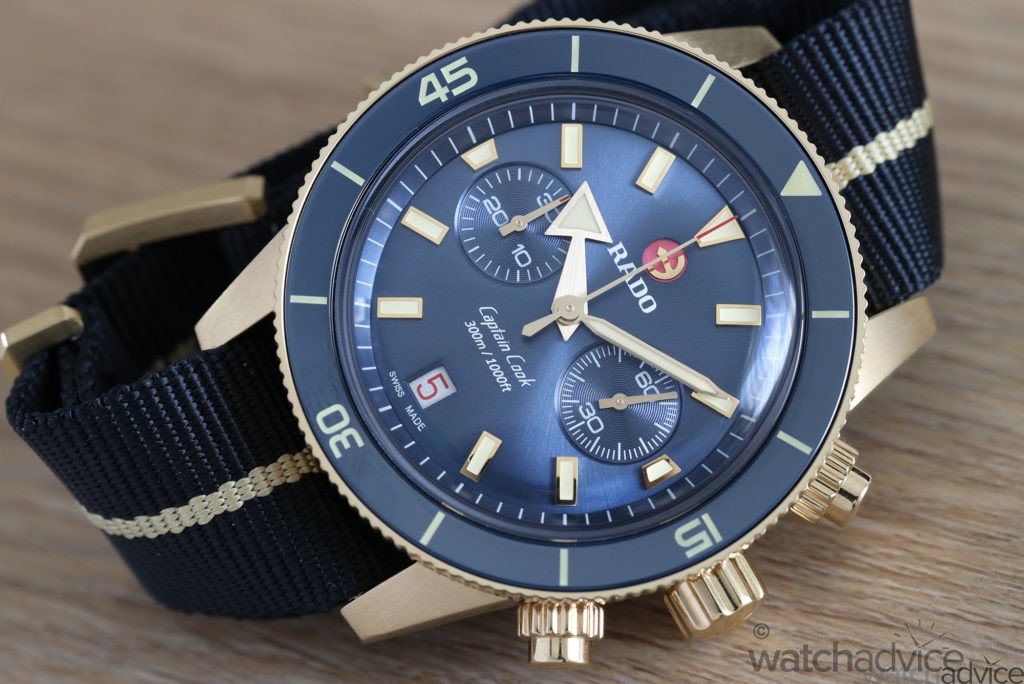 Having the three strap options is a definite bonus and adds to the already great value of this watch, making it more versatile than just on either one of the supplied nato straps or the leather.
At AUD 7,050 RRP, the Rado Captain Cook Automatic Chronograph Bronze is value for money and, to be very honest, punches above its weight in this category, even with other chronographs that are in the 5-figure price point.
Reference: R32146208
Specification:
Case: 43 mm, Lug-Lug 55mm and thickness 14.8mm
Case Material: Brushed Bronze
Dial:Satin brushed blue, Super-Luminova filled hands, indices and subdial hands. Polished ceramic bezel with Super-Luminova inset numerals and markers
Crystal: Sapphire crystal with anti-reflective coating inside
Water resistance: 300 meters
Movement: Automatic Chronograph movement reference 03.801.222, 37 jewels
Power reserve: 59 Hours
Bracelet: Blue leather, Navy Nato and Blue and Gold striped nato with Bronze buckles
Australian Recommended Retail Price: $7,050 AUD
Availability: Available now.