What we love:
Good size for most wrists
Modern design and unobtrusive
Great looking and long-lasting green and blue lume
What we don't love:
Some may find embossed case back can be a little irritating on the wrist
Less than the standard 38hr power reserve on the Automatic
Some wearers may find the large crown tends to stick out more and can irritate the wrist/back of the hand
Overall rating: 7.75/10
Value for money: 7.0/10
Wearability: 7.0/ 10
Design: 8.5/10
Build quality: 8.0/10
After reviewing the TAG Heuer 60th Anniversary Autavia Flyback Chronograph the last week, I was eager to see how this new era of TAG translated to the newly released Aquaracer Professional 200 – a modern take on the classic Aquaracer line. Whilst the watch is in no way in the same league as the Autavia, nor should it be at the price point ($4,000 AUD for the Auto, $2,950 for the Quartz), I came away with mixed feelings about this newly released line.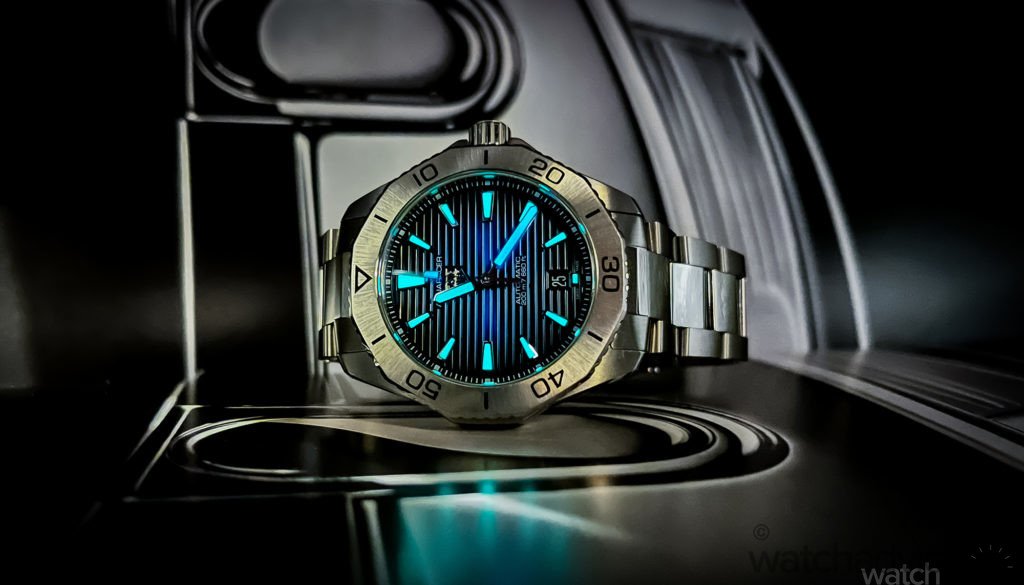 A New Chapter In The Story
The Aquaracer story began in 1978 when Jack Heuer introduced the Heuer Reference 844. Designed for men and women who loved outdoor sports and adventures in nature – on land or in the water – the watch defined a new high-performance category of versatile wristwatches that could be relied on in extreme conditions.
The Aquaracer name was added in 2004 and continued the legacy of the family's six design codes: a unidirectional rotating bezel; a screw-down crown; water resistance to at least 200 metres; luminous markings; a sapphire crystal; and a double safety clasp.
The new Aquaracer Professional 200 looks to build on this legacy and add what TAG calls a 'sister model' to the new Aquaracer 300 released last year, with a slightly paired back, smaller version of the 43mm diver, in both an Automatic and Quartz powered version.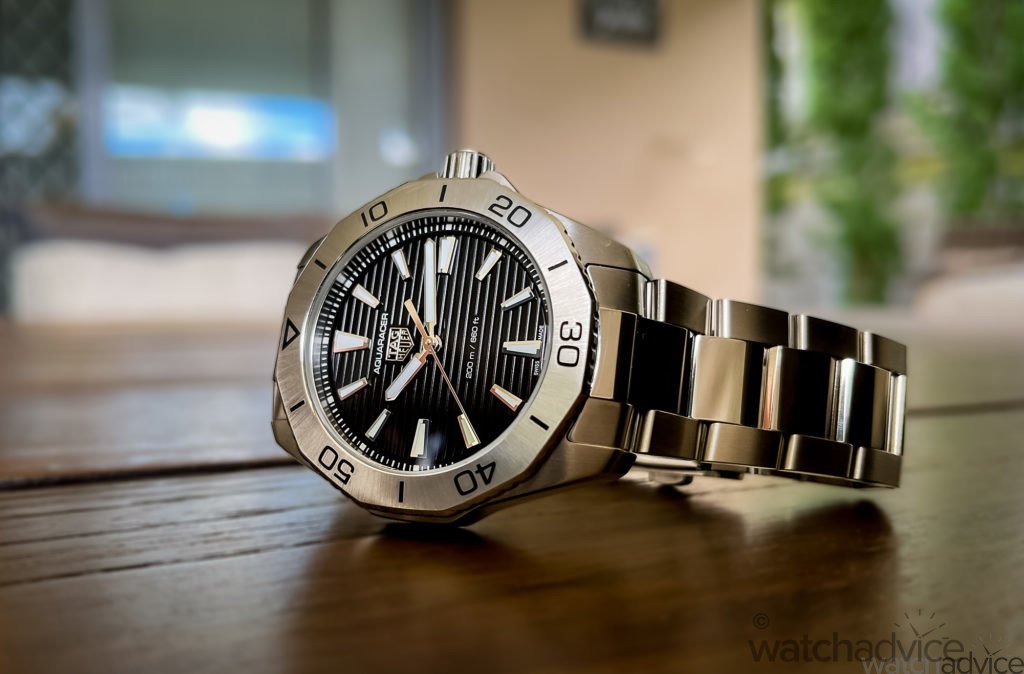 How It Wears
With a new slimmer and smaller case, measuring 40mm in diameter and only approx 12mm high (slightly slimmer for the Quartz), the watch wears well and won't look out of place on most wrists. Wearing pretty true to size, and for someone who's used to wearing 42mm and 44mm watches, I was pleasantly surprised with the dimensions of the new Aquaracer 200 and the way it sat. Maybe my tastes are changing, but I felt the 40mm was right at home on my 18cm/7 inch wrist, and what I thought initially was maybe a little too small for my tastes, proved just right in this case.
In case your wrist changes size a bit across the day or week depending on the weather (and mine does!), TAG has got a quick adjustable comfort link built into the push-button clasp. So on those hotter days, it's easy to just unclip the extension link and you get an additional 7mm of length in addition to the 3 holes micro adjuster on the clasp.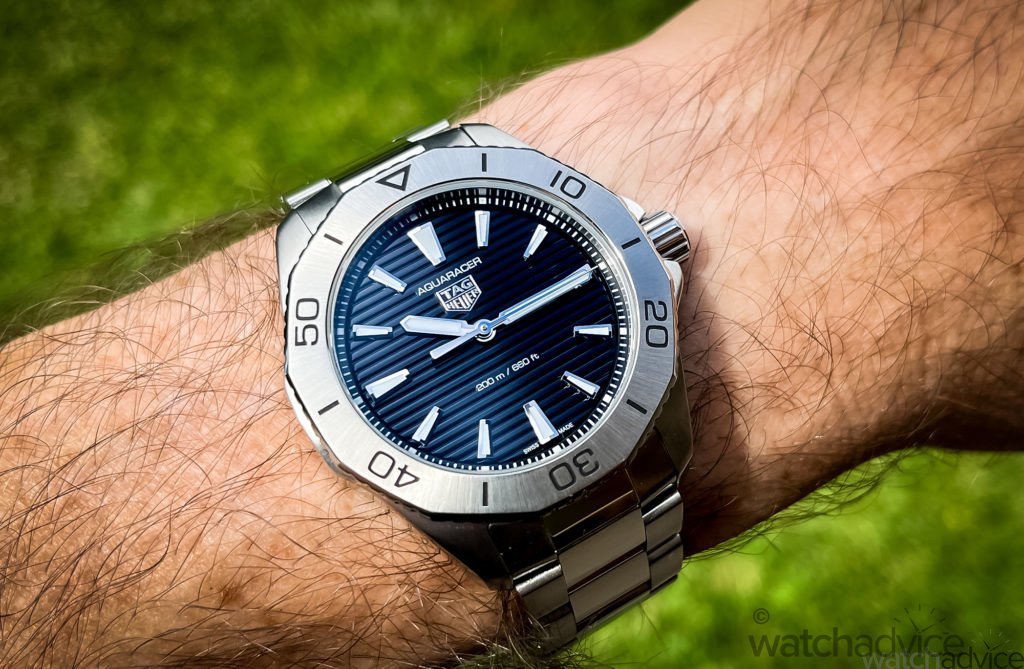 One aspect that I don't like about the Aquaracer Professional 200 is the case back design. Featuring a compass star that is embossed and raised within the inset portion of the case back, it does have a tendency to irritate the wrist on the warmer days when the watch is a little snugger on the wrist. Whilst these types of designs look nice, they can make the wearing experience less than perfect, an issue I had with an early model Omega Seamaster Diver with the Hippocampus embossed on the back – just plain annoyed me. If you can get over that, however, or if this is not an issue for you, then I feel you'll be fine.
The Design
According to Guy Bove, TAG Heuer's Creative Director: "If you look at the Aquaracer Professional 200, you can see our intention to create an everyday watch that still has the tool watch look that TAG Heuer lovers came to expect from the icons of the past, such as the Reference 844, 1000 and 2000 Series models. It's an evolution of all this history."
I have to agree with this statement. The new Aquaracer 200 is indeed a tool watch. With an elegant but minimalist design, brushed steel bezel and an easy to read dial, it ticks all these boxes. But let's delve a little deeper into these elements if we can.
TAG describes this watch just as at home on the wrist in a suit, or skiing or casual, and I think they've achieved this to an extent. The bracelet is a more classic style with polished inner links and brushed outer links, which gives this watch a more stylish appearance, and one that I quite like. This mixed with the brushed steel unidirectional 60 click bezel and inset black numerals does give it that "tool watch" vibe.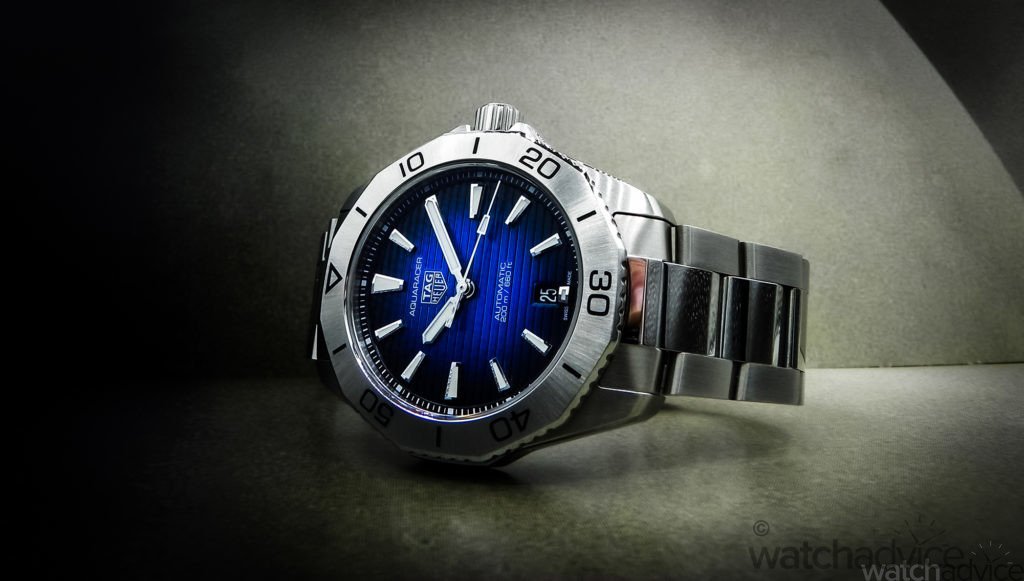 Where the watch does come alive is the dial. The new Aquaracer 200 Automatic versions come with a sunray style "Fume" dial in either a blue or grey smokey dial and in the Quartz, a black or white dial with no date. The particular models I went hands-on with were the blue dial automatic and black dial quartz. While the black is fairly standard and inconspicuous, perfect people wanted a more understated watch, the Blue dial is the standout of the range, even when compared to the metal with the others. 
The simple fact is that it just pops! The dial moves from a deep black at the edges to an iridescent blue in the centre, and with some light play in the sun, looking almost an aqua colour in bright sunlight, to a more deep darker blue in lower light. This is offset with the highly contrasted indices and hour and minute hands, filled with white SuperLuminova so it's super easy to read during the day.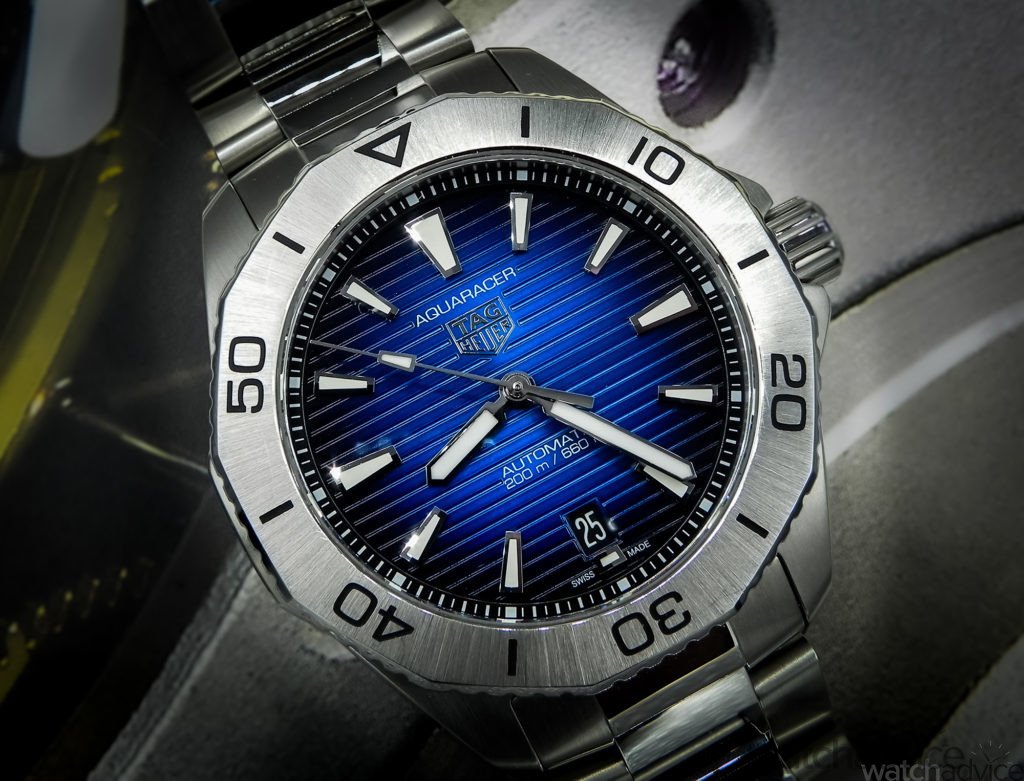 And at night, these come to life, with the hour markers and hour hand in green and the minute and seconds hand in a light blue, a colour I've not seen used before in blue lumed watches. It's somehow more pastel in colour than the classic blue lume used in say a Submariner or Seamaster.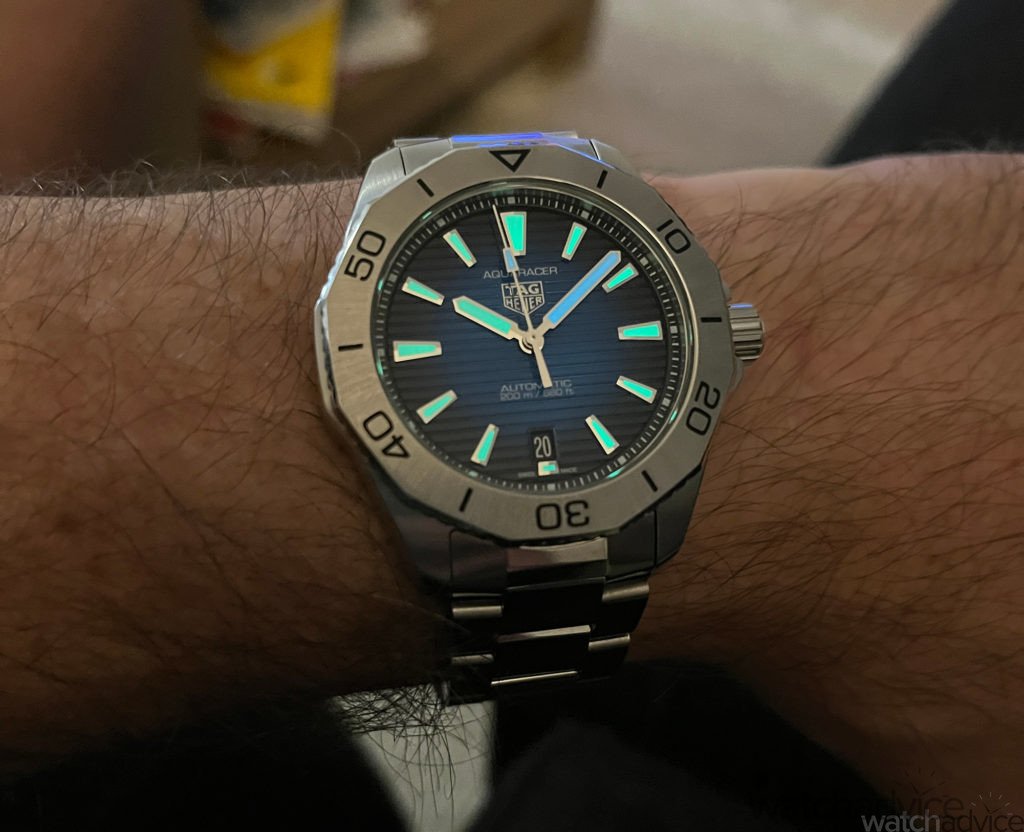 On the automatic, the date window at 6 O'clock blends into the dial well and is large enough to read, but small enough to not be in your face and ruin the symmetry of the dial. The quartz version has no date, and lacks the word 'Automatic' above the depth rating so keeps the dial clean,
Another small bugbear of mine whilst wearing the watch was the crown. TAG have used a longer than standard (in this reviewer's eyes at least) screw-down crown, which does stick a little further out of the crown guards compared to other dive watches I've worn in the past. This means that as the watch slips down the wearer's wrist, it will rub the back of the wearer's hand, and over time, develop those pesky rough crown marks.
Flipping the watch over, you'll find a solid caseback with the normal model and water resistance engravings. As mentioned earlier, the case back is adorned with an 8 point compass star that is inset from the main case back but embossed so the star is raised and can irritate the wrist. I found this more of an issue with the Automatic version, due to its slightly raised caseback to accommodate the movement, whereas the Quartz sits a little more flush to the wrist across the entire watch back, so this does help a little.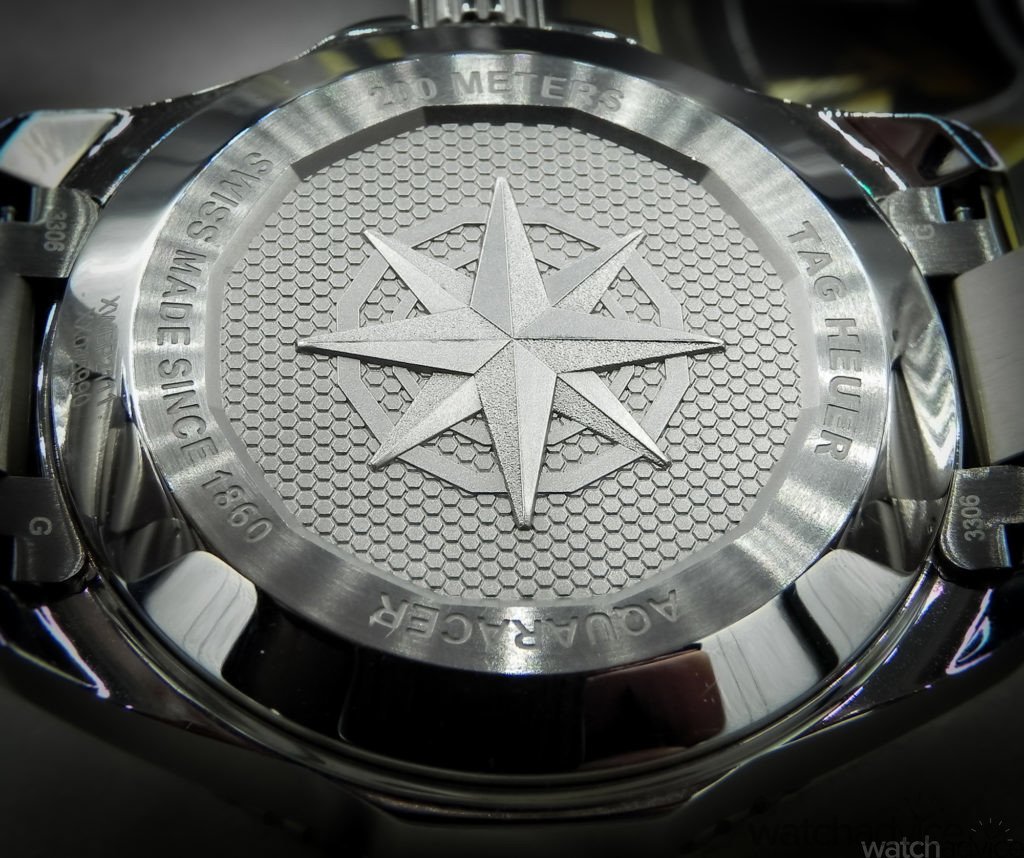 Movement
TAG has given buyers 2 choices in the new Aquaracer Professional 200 line which helps budget-wise. An Automatic, powered by the Calibre 5 movement, and an in-house Quartz, which according to TAG is highly accurate to a few seconds a month and packs several years of battery life. The Calibre 5 Automatic movement is based on a Sellita movement, sturdy and reliable, with a 38hr power reserve. The power reserve in the Automatic is one area I think TAG could have improved on. 
To have a sports steel watch these days with less than 2 days' power reserve is lacking, especially with a new model. Given that most competitors in the price range will have at least 48hrs or more, TAG could have either put an in-house movement into the new model or at least, gone with an updated movement with more power reserve. Whilst this could have increased the price, it would sit more on par with many $4,000 – $5,000 watches available today.
Final Thoughts
TAG has definitely achieved what it set out to do with the Aquaracer Professional 200 series. A slightly more elegant tool watch, that's more versatile and easy to wear than the original 300 Diver, paired back and slimmed down for everyday wear. If someone is after a daily wearer at a decent price point then the Aquaracer Professional 200 will do the trick. It probably won't turn heads, but that's not the point of this watch, and if you can get over a few of the shortcomings, such as the power reserve, or design elements that make it a little less comfortable to wear, then I think you'll be happy. 
However, at $4,000 AUD, the Aquaracer sits at a pretty competitive price point, where the offerings are getting better each year. If you can stretch the budget a little more, to say $5,000, then you're getting into watches like the Tudor Black Bay with 70hr power reserve, in-house COSC movement and a 5-year warranty (ok, just over $5k, but you get my point). So it may pay to save a little longer if you want some really great bang for buck pieces, and if not, then the TAG Aquaracer Professional 200 Automatic is a solid offering and will appeal to a lot of people.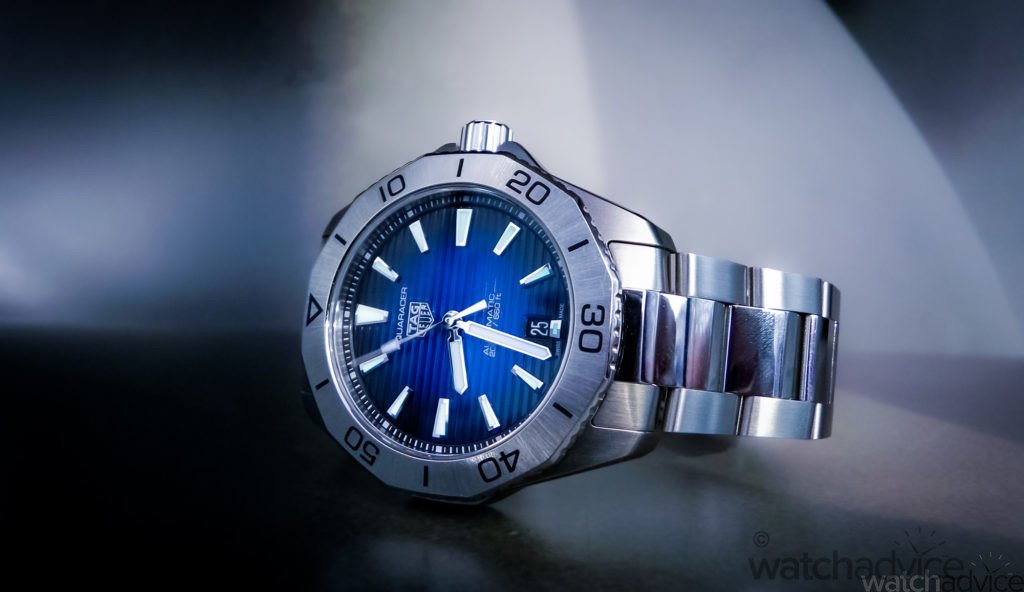 References: WBP2110.BA0627 (Automatic in blue) and WBP1110.BA0627 (Quartz in black)
Specification:
Case: 40 mm, Lug-Lug 47mm and thickness 12mm (slightly less in Quartz)
Case Material: Fine Brushed/Polished Steel
Dial: Blue or Grey sunray in Automatic. Black or White in Quartz
Crystal: Sapphire crystal with anti-reflective coating inside
Water resistance: 200 meters
Movement: Calibre 5 or In-house Quartz
Power reserve: 38hr in Automatic / Up to 3 years battery in Quartz
Bracelet: Brushed steel outer links, polished steel inner link with push-button folding clasp and extension link
Australian Recommended Retail Price: $4,000 AUD (Automatic) / $2,950 (Quartz)
Availability: Available now.