Jaeger-LeCoultre's Atmos clock remains to this day a unique timepiece in the world of horology. The Atmos clock was designed to be an art piece while also having a reliable movement behind it. The designers took careful consideration to make the Atmos as aesthetic as possible, as is the purpose of a desk clock. To be admired and in awe of the beauty of a working mechanical movement.
This year, Jaeger-Lecoultre is taking the Atmos clock one step further by unveiling the Atmos Infinite. An entirely new design is used for this stunning desk clock, and with the release of the Atmos Infinite, Jaeger-Lecoultre opens a brand new chapter not just for themselves but desk clock designs in general.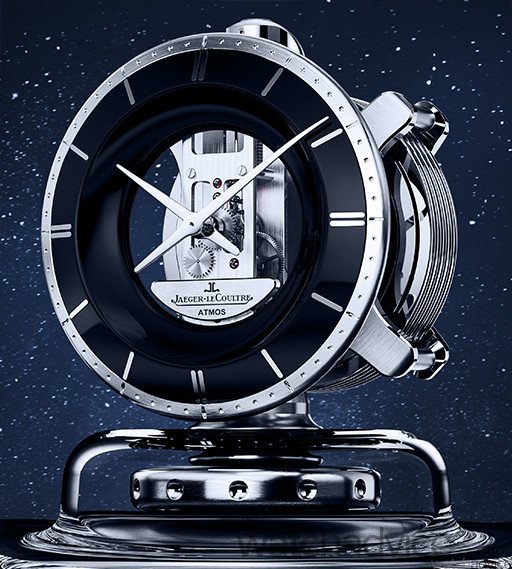 The Atmos Infinite is a nod to minimalistic and transparent design. The timepiece has a design that stays true to Jaeger-Lecoultre's design while having a modern outtake. A very 21st century Art Deco timeless design is incorporated into the Atmos Infinite as the clock is encased in a "glass box". Just this simple addition makes this desk clock much more visually pleasing and luxurious.
Jaeger-LeCoultre Design Director, Lionel Favre states 'the aesthetic of the Atmos is defined by the distinctive shape of its movement. With its complete absence of visual distraction, the seamless glass cabinet gives full value to the Atmos mechanism, which appears to float freely within it.'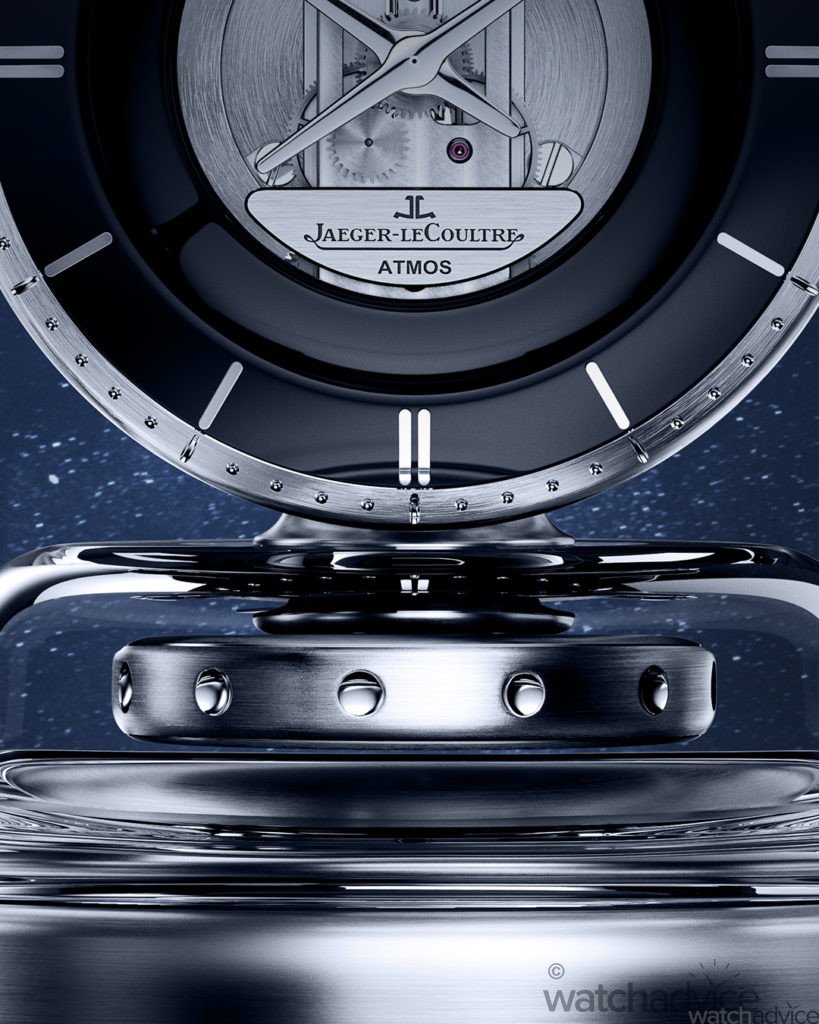 The mechanism of the Atmos clock is held by glass supports, which makes it blend with the surrounding glass structure and seem virtually invisible. The viewer gets an unrestricted view of the mechanism as they can see the bellows, chains, and gears that work to keep the clock ticking. The main movement that runs the Atmos Infinite has been designed in a minimalistic way as well. The Jaeger-Lecoultre Calibre 570 is a movement that shows only the hours and minutes. The construction of the movement has kept only the necessary components, however, these components have been finished to the highest degree with brushed surfaces, polished edges, and Côtes de Genève stripes.
The Atmos Infinite comes with a black lacquered dial that is made up of two concentric circles. The hour indices are polished baton-shaped and have been applied onto the dial. The sharp design of the hour indices is matched equally by the hour and minute hands which have a silvery rhodium finish. The minute track is done in a contrasting and stand-out manner as Jaeger-Lecoultre uses a metal outer ring with the minutes marked by indented dots. Beneath the dial and movement, the annular balance springs in mesmerising motions, as it slowly spins back and forth to keep the watch ticking up above.
A brilliant release by Jaeger-Lecoultre for Watches & Wonders 2022, the Atmos Infinite takes all the essential components of what made the original Atmos so great and turns it into a modern classic with beautiful aesthetics and luxurious style.
Reference: Q5405311
Specification:
Case: 215mm diameter x 253mm height
Case Material: Cylindrical glass
Movement: Perpetual Jaeger-LeCoultre Calibre 570
Australian Recommended Retail Price: $22,400.00 AUD
Availability: April 2022