Those of you who were long time readers of The Sydney Tarts blog will no doubt remember the good ol' days when we looked forward to new Top Gear episodes with Clarkson, Hammond and May, and we pause and squint to try and see what watches they had on their wrists. Clarkson eventually seems to have settled on the Omega Planet Ocean, whereas Hammond seemed to be wearing his Rolex most of the time, whereas May still rotated his watches.
However, there is a new trio in town and for me personally, they are quite possibly the best modern-day successors to the British trio of irreverent car journalists, and they're American! Hailing from the "new" media platform (as compared to the old tech of broadcast television) of something called YouTube, this trio of car journalists(?) whom, in their most sincere flattery of Top Gear, have developed a series of car-based adventure shows that are both entertaining and educational… somewhat.
The series is called Car Trek and can be found on Tavarish's (Freddy Hernandez) channel, however, each member has their own car-based YouTube channel, but apparently, the Car Trek series is shown on Tavarish's channel because it has the most followers. That was the logic presented on the show recently.
Now I did start watching them from the very first season, but I really didn't notice their wrist accessories until the current 6th season. (I may need to go back and re-watch them just so I can do a bit of #wristspotting). What really caught my eye was the watch on Freddy's wrist. It is a very fitting watch to what they do as a day job, and given Freddy's love of Aston Martin, it's practically a match made in heaven. At the same time, it is a watch that is very much overlooked and under-appreciated. Even by the brand themselves… ahem…
So the watch in question is actually the Jaeger-LeCoultre Amvox 2 Chronograph, which featured a patented vertical trigger for the chronograph functions, meaning there are no visible external pushers to start, stop, and reset the chronology functions. Instead, you press down on the case at 12:00 to start, and 6:00 to stop and reset. The whole case tilts one way and then another. It might be a novelty but I'm sure the engineering that went into making it work is no small feat. There is also a switch on the side of the case at 9:00 where you can lock the whole function so you won't accidentally trigger the chronograph if you don't want to.
The Amvox range at the time was a collaboration between Jaeger-LeCoultre and Aston Martin. The watches all had design cues inspired fro the car range, but they were subtly branded. So you wouldn't know it if you didn't look hard enough. Apart from the series of Amvox 2 Transponder which had overt car model branding on the dial, as each watch was linked to the model – where the watch acts as a remote transponder so you could lock and unlock your car from the watch, as well as a "find my car" function.
This partnership actually had a proper historical aspect as well, as Jaeger (of Jaeger-LeCoultre) used to make dashboard instruments for many cars back in the early days of motoring, including – you guessed it – Aston Martin cars.
The Amvox 2 chronograph is one of my all-time favourite watches from the brand, and it is very much still on my ever-expanding watch shopping list…
After spotting Freddy's watch I decided to look a little closer on the wrists of the other two hosts, and lo and behold I quickly spot the unmistakable IWC Pilot chronograph on Tyler's wrist. As he has a relatively slim build, the watch on this wrist was very noticeable.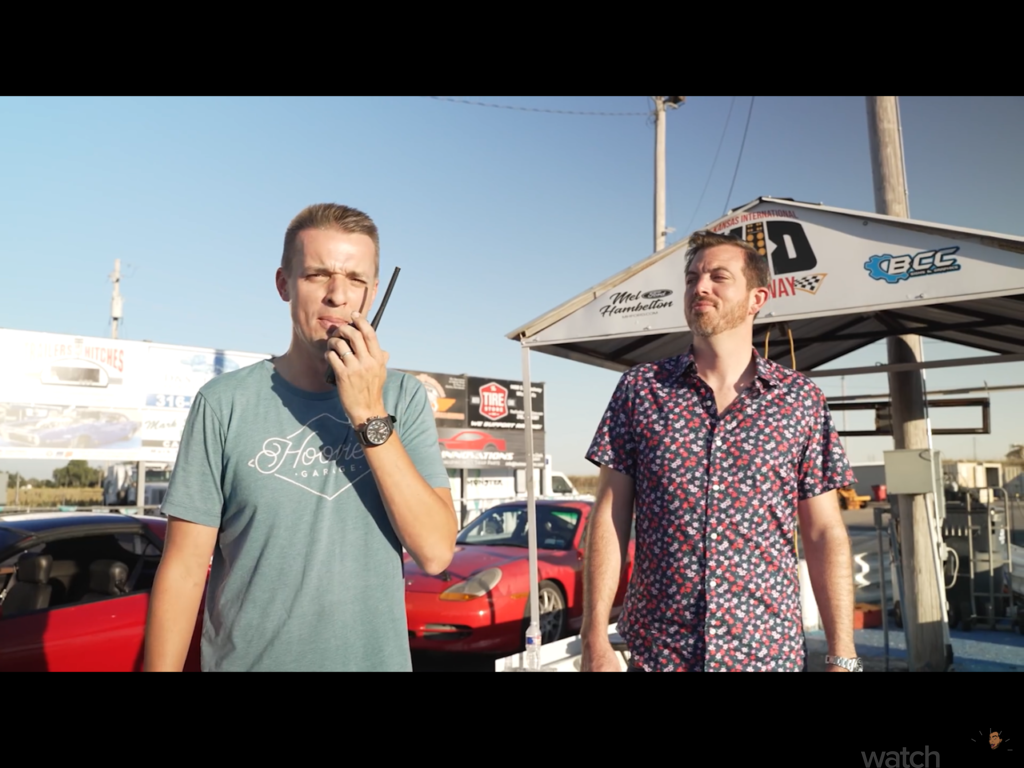 The version he has is the Top Gun chronograph ceramic (reference IW3880-07), introduced back in 2012, clocking in at a massive 46mm, with a distinctive multi-date aperture at 3:00, and sundials at 12 and 6:00. This watch is powered by the in-house IWC Calibre 89365, which has a flyback function and 68 hours power reserve, but you'll have to go without an hour counter.
Finally, we come to Ed, who has a Rolex Submariner on his wrist. Although which model exactly is a little bit more difficult to determine as he does talk with his hands, so it was difficult to try and get a clean screen cap. But judging from the size it is most likely a reference 16610.
It was quite exciting for me to spot these watches and you can be sure I'll be keeping an eye on their wrists on future episodes.